(Photo: Property of Christine Goudie, daughter of Frank Big Boy Goudie).


"Some American musicians were already in Europe about the time of World War I.
My brother came back from the war and told me how well musicians were doing and that got me interested."
-- Frank Big Boy Goudie, The San Francisco Examiner, 1963

Despite a 1947 autograph, this is probably a publicity shot from around 1939. Photo courtesy of and property of Christine Goudie, daughter of Frank Big Boy Goudie.




Frank Goudie was one of the earliest first-rate African American jazz musicians to emigrate to Europe in 1924. He was among a cadre of a few hundred musicians and entertainers who brought jazz to Paris, Europe and the world.

In Paris, Big Boy took up alto saxophone and later tenor showing strong influences of Coleman Hawkins. He played in the best jazz ensembles of Europe and dozens of venues in Paris, Holland, Britain and Belgium and Egypt.

Besides alto sax he continued to play clarinet and trumpet, famously recording a 1935 disc in Paris when he played all three instruments in succession.


Further explore Goudie in Paris 1924-39 at Syncopated Times.


Emigration to Paris 1924

After about half a decade working in New Orleans and on the road, Goudie moved to Paris. He was drawn by the newly found Parisian enthusiasm for black American jazz. Big Boy found work within days of arrival in Paris.

The recent biography, BIG BOY, by Dan Vernhettes, Christine Goudie and Tony Baldwin explores his French years in detail. Vernhettes documents more than 60 venues, concerts, tours and special events where he performed.

For three decades he worked steadily in France and Europe, except during World War II when he was stuck in South America. Sometimes he was a freelance, sometimes a headliner, occasionally running his own bands. He worked often for the top African-American impresario orchestra leaders in Europe. Mounting data strongly suggests that Frank Big Boy Goudie was central to European jazz, 1924-39.


Early Jazz in Paris

To Parisians "Jazz" was almost any music played by African-American musicians as long as there was a drum kit and some horns no matter how crudely played. Most so-called jazz in Paris prior to around 1927 was a melange of ragtime, brass band music and corny effects on horns, driven by excitable drummers making as much noise as possible.

Parisian cabaret operators often hired black Americans who were dancers not musicians, or drummers without training to run "jazz orchestras." With few exceptions the French were unable to swing or improvise until the mid-1930s when Django Reinhardt and the federated Hot Clubs of France became the nucleus around which a native jazz movement coalesced.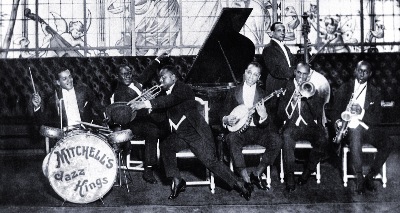 Louis Mitchell's Jazz Kings at Casino De Paris

The first jazz outfit in Paris was Louis Mitchell's Jazz Kings, c. 1920. A decent drummer, Mitchell was a close friend of early bandleader Jim Europe who first performed in London 1914, France 1917. Mitchell's antic syncopated two-beat and four-beat rhythms were the main attraction at Casino de Paris that set the mold for Parisian nightclubs and cabarets: the jazz ensemble played twenty to thirty minutes sets alternating with a dance orchestra playing waltzes, tangos or foxtrots.

Mitchell's Jazz Kings were primitive, similar to Original Dixieland Jazz Band though less strident and nowhere near as good. The 50-odd sides recorded in 1922-23 lacked swing. Goddard calls it: "A rough blend of brass band music and ragtime . . . mostly written out parts and little improvisation . . . closer to the cakewalk style of Jim Europe's 'Memphis Blues'."
"Montmartre Rag," Mitchell's Jazz Kings, Paris, 1923
"Stumbling," Mitchell's Jazz Kings, Paris, 1923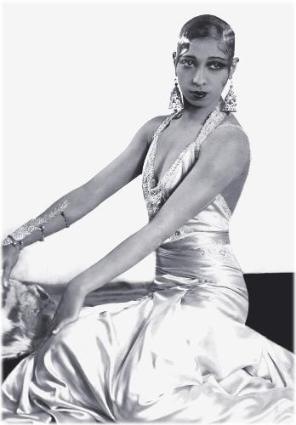 Frank Goudie and "Le Tumult Noir"

Jazz did not truly arrive in France until 1925 and the wild success of Josephine Baker and the "Revue Negre" show. The "tumult noir" set off by her popularity triggered an insatiable demand for black American music. Josephine drew in her wake musicians like Sidney Bechet, Frank Goudie, Alberta Hunter, Freddy Johnson, Arthur Briggs and Glover Compton. Others arrived on tour with bandleaders Benny Peyton, Noble Sissle, Leon Abbey or Sam Wooding and decided to stay.

In Paris Frank Goudie was a giant among pygmies in more ways than one; a competent musician, seasoned performer and one of the few to arrive on his own. He became ubiquitous in Paris, simultaneously working parallel gigs and venues at the very center of the action 1924-39.

When Big Boy showed up the Montmartre section of Paris was transforming into a booming Harlem-style Jazz district. The shabby, formerly working class district lit up at night with cabarets, American-style bars and vibrant nightlife. The jazz bars of Paris, Josephine Baker's nightclub and cabarets like Bricktop's became the rage among the elite of Paris, Europe and the world 1925-39.

Harlem-in-Montmartre

France drew black American writers, poets, painters and musicians like Goudie after World War I. An outpost of the Harlem Renaissance, Montmartre was where the Jazz revolution was most complete in Paris. A jazz mecca, it had the greatest influx of black musicians, most relaxed law enforcement and wildest jazz clubs. The few nightspots that weren't outright jazz cabarets presented music from Martinique or the West Indies.

As in each of his several musical lives, Goudie quickly maneuvered himself to a position near the summit of his professional and creative environment. Within days of landing in Paris he was working, and within a couple years was heard at the highest profile venues in Paris.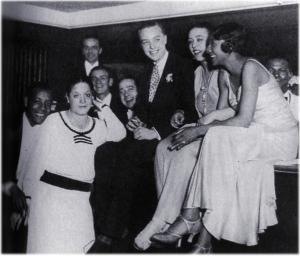 PODCAST AUDIO:

Harlem in Montmartre_1.mp3 (3:45)
Harlem in Montmartre_2.mp3 (8:00)
Introducing Bricktop.mp3 (2:30)
The Divas of Harlem in Montmartre.mp3 (5:45)
The Divas of Montmartre: Valaida Snow & Josephine Baker.mp3 (5:45)


Photo at Bricktops: Bricktop, left Alberta Hunter, right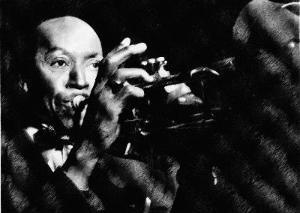 Bill Coleman recalled those balmy days in his autobiographical memoir, Trumpet Story: "It was a thrilling, wide open town. Paris had everything that New York had and then some. The cafes or bars stayed open 24 hours a day. Living was not expensive. The people were friendly and a jazz musician was considered a human being."



Frank Goudie main page - Overview of his sweeping sage.

More Goudie in Paris - meet his most illustrious associates

Frank Goudie in San Francisco - Unique view of Goudie's years on the West Coast.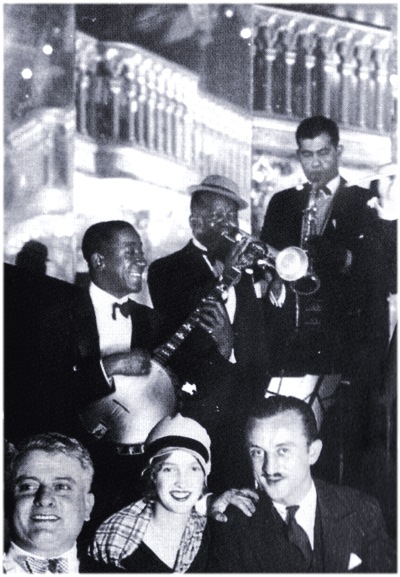 Wild Nights at
Zellis Royal Box


Zelli's Royal Box was a wild, boozy nightclub and high profile venue. Frank Goudie played alto sax and clarinet in the house band during 1927-30. Impresario Joe Zelli ran several cabarets including an after-hours club for musicians upstairs, The Tempo Club.

Photo: Cricket Smith (trumpet), Goudie (alto) at Zelli's

Zelli's was successful partly because it was what Americans called a "clip joint." Young ladies were surreptitiously employed by the club to encourage patrons to buy more champagne. After the first bottle they were paid a cut for each additional bottle consumed.

Besides Bullard and Goudie the band usually included trumpeter Cricket Smith (seen above) who'd been in Paris since 1922. A competent musician he performed at Zellis Royal Box, 1927-30. Traveling the world playing jazz without recording in his prime, Smith never returned to America. After he died in India 1947 his embalmed body was shipped home.
Sing 'em Blues, Mitchell's Jazz Kings, Paris, 1923
C'est Paris! Mitchell's Jazz Kings, Paris, 1923

Zelli's also featured piano player Glover Compton, a formidable fellow who cut a wide swath. In his storied career, Compton had been a professional cakewalk dancer, ragtime and stride pianist in the Willie-the-Lion mold.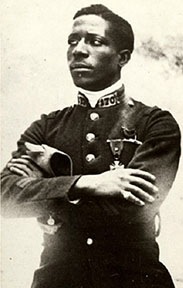 Eugene (Gene) Bullard ran the band and played drums. Bullard was a big personality in the black community of Montmartre. He was a First World War air ace who'd flown for France.

A former boxer, he functioned as an informal yet powerful counselor and enforcer at large for the African American community of Paris.

In his memoir Bullard wrote, "People felt they had to come to Zelli's. It was the only place in Paris that was open all night and everybody who was anybody went there."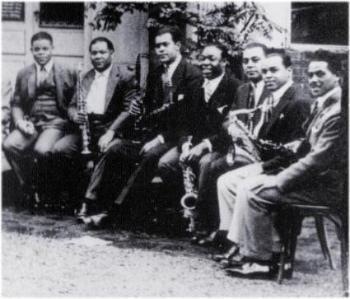 was antagonist in an infamous 1928 shooting incident. Missing the intended target, he wounded not only two Parisian matrons but pianist Glover Compton as well.

Photo: Bechet second from left, Goudie third, holding clarinet, 1927

Despite Bullard's attempts to intervene the authorities imprisoned Sidney. His eleven-month prison sentence ended prematurely with his expulsion from France. Not his first deportation, Bechet had been expelled from Great Britain in 1922 as the result of an assault on a prostitute.

Sidney Bechet

Big Boy Goudie at Bricktop's

Living and working in the district, "Big Boy" was seen often at Bricktop's 1927-30 and soon became ubiquitous in Paris, present at every major jazz event. By 1930 Bricktop's cabaret was the main attraction in Montmartre for a chic international set of celebrities, writers and royals. Besides Freddie Johnson the other house pianists included Garland Wilson and Herman Chittison.

Cabaret operator Bricktop Smith (photo below) was a bi-sexual mixed-race woman with a face full of freckles and shocking red hair, born Ada Beatrice Queen Victoria Louise Virginia Smith to a former slave in West Virginia. Before Europe she'd worked on the Vaudeville (TOBA) circuit with Jelly Roll Morton, at prizefighter Jack Johnson's Chicago Saloon, and Barron's on 7th Avenue, NYC 1922.

Bricktop's Paris cabarets drew songwriters Cole Porter and Noel Coward, writer F. Scott Fitzgerald and the Prince of Wales. Her cabaret was the "moveable feast" celebrated in literature by Earnest Hemingway that was Paris between the wars.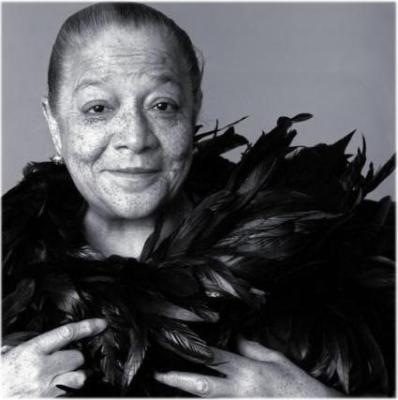 Her nightclub played a central role in the black community of Montmartre. At Bricktop's, like Le Grand Duc before it, cats hung out and jammed until the early morning hours. Musicians and black entertainers away from home could receive and send mail, catch-up on gossip and find jobs. Or get a down home meal of fried chicken, cooked greens and cornbread. "Brick" as her friends called her had a unique talent for making people feel welcome and was the matriarch of Montmartre for a decade.

An informally organized yet cohesive African-American community of a few hundred individuals welcomed men like Goudie to France. He was at the center of the action playing Bricktop's club in those halcyon Parisian years with bandleader Freddy Johnson. Johnson came to Europe with Sam Wooding and stayed, becoming a popular piano soloist and bandleader.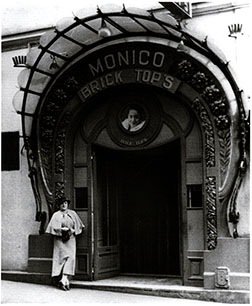 Johnson and Briggs probably played the lovely duet "Japanese Sandman" as part of their intimate fare at Bricktop's. According to Arthur Briggs the music was subdued, "It was society music. We'd take solos but with a mute -- softly so as not to disturb the guests."


Photo: Grand entrance to one of Bricktop's locations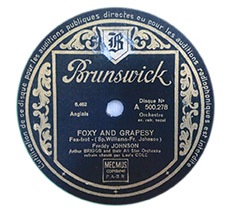 First Hot Solo on Disc, 1933

During the early 1930s Goudie worked in a hard-swinging Harlem-style jazz orchestra jointly run by Johnson with trumpeter Arthur Briggs. The Harlemites (aka) "All Star" orchestra was briefly the hottest jazz band on the continent, their profile high enough for radio broadcast and film sound tracks.

Goudie played his first solos on their 1933 discs. The flattering review at the time by Jazz Tango of Goudie's first recorded solo (at 1:30) on "Foxey and Grapsey" holds today:

"Big Boy's tenor chorus is definitely the best thing on the record, with a marvelous melodic structure that lends itself admirably to his swinging approach . . . Big Boy 's phrases are intelligently constructed and the chorus develops with implacable logic.
The sheer power and heat of this inspired solo are electrifying. Big Boy is one of the great black tenor players."

Sweet Georgia Brown, Johnson-Briggs Harlemites
Foxey and Grapsey, Johnson-Briggs Harlemites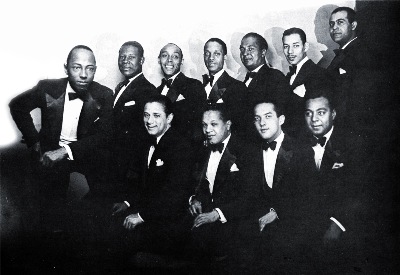 The Freddy Johnson - Arthur Briggs Harlemites
Paris, 1933

Standing L to R: Freddy Johnson, Arthur Briggs, Billy Taylor, Sterling Conaway, Juan Fernandez, Billy Burns, Frank Goudie

Seated L to R: Peter Du Conge, Teddy Brock, Alcide Castellanos, Bobby Jones

"Harlem Bound".mp3
Freddy Johnson and his outstanding Harlemites, Paris 1933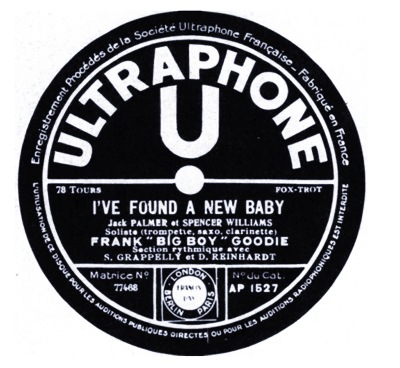 The astonishing Goudie triple-threat:

Recording on tenor sax, clarinet and trumpet, all on one disc, with Django and Grappelli (piano), 1935.


"I've Found a New Baby" mp3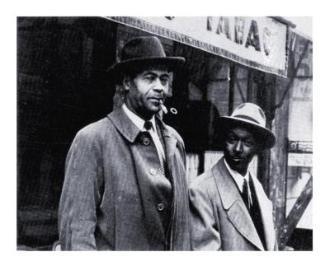 "A Little Harlem in the
Early Morning"

In his memoir Trumpet Story, Bill Coleman fondly recalled the camaraderie in Montmartre. Musicians gathered in the early morning hours at, "the bar and hotel Lisiuex's where many of the American musicians would congregate when they had finished their night's work."

Photo: Goudie and Coleman

Coleman notes that besides cafes, bars or billiard rooms musicians gathered at the corner tobacco and postage stamp vendors, the so-called "tabac" shops: "Between Boudon's and Lisieux's was a little Harlem in the early morning when all the night spots were closed. The American musicians and entertainers gathered in those bars and the stores with the 'tabac' signs."



Hangin' Around Boudon

Because most black Americans working in Paris were employed in entertainment it was usually 3:00-4:00 in the morning before their jobs were done. They convened afterwards at American-style bars or tiny cabarets.

Among their favorites were The Flea Pit and Boudon's Cafe. This famed location was lyrically memorialized in trombonist Dickie Wells' languorous "Hangin' Around Boudon," with a scat vocal by Bill Coleman, Django Reinhardt on guitar.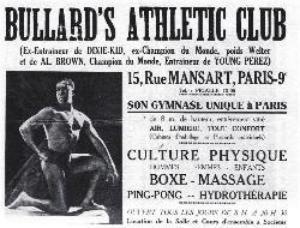 As for diversion and relaxation "Big Boy" may well have been drawn to Gene Bullard's Athletic Club. The gymnasium catered to the elite of Paris and the African American community. Gyms were a popular antidote to the partying and hard living of Paris, an attempt to counteract the nightly partying and champagne soaked nights with exercise, massage, hydrotherapy or coaching in boxing, very popular at the time. Bullard specialized in training championship pugilists. This is probably where Frank did the boxing he mentioned later in Berkeley to Bob Mielke.

The resourceful Big Boy was always productive and employed at multiple gigs, some five dozen can be cited during those years. And he had other handy skills like his upholstery trade to fall back on if his music income ran thin; he had a lifelong knack for engaging in multiple simultaneous jobs.

In the late 1930s Goudie settled into steady work and recording. After a conventional courtship he wed a French woman, Madeleine Boisson in 1939 and began enjoying French middle class life.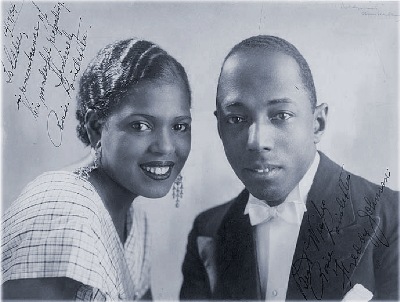 Freddy Johnson (piano)
(New York 1904 - New York 1961)

Pianist Freddie Johnson first arrived in Europe on tour with Sam Wooding in 1928. In Paris he became popular as a soloist and was heard at Bricktop's. Johnson went on to even greater success in Belgium and Holland.

Photo: Freddy Johnson with West Indies singer Rosie Poindexter, 1934

In Amsterdam he played with Coleman Hawkins, the visiting Willie Lewis orchestra and ran his own club, La Cubana. In 1941 Johnson was arrested by the Nazis and interned in Bavaria until 1944. After return to the USA he gradually swapped professional music for teaching voice and piano.


Big Boy and his Little Boys, 1936-39

Goudie ran his own band on the side for almost four years, Big Boy and his Little Boys documented for the first time in the book, BIG BOY. During his tenure with Willie Lewis, Frank built and maintained this sextet with other doubling horn players. The versatile ensemble played a wide range of instrumentation, arrangements and styles including Brazilian music. His bands played a blend of jazz and Cuban music and he often hired Caribbean or Brazilian musicians who were capable of beguines, the tango or jazz. They played for dancers at Le Coliseum, 1936.

Goudie and two band mates -- Brazilian Peter Wanderley (alto sax and violin) and trumpeter Bobby Jones -- were recruited for a while into the orchestra of Martinique-born clarinet, bassist and drummer Sam Castandet. They played a two-month stint on the Channel coast at Hotel Normandie's Sing, Sing nightclub, which according to Vernhettes generated useful contacts for Rio: "Frank was able to leave France with a Brazilian contract under his belt."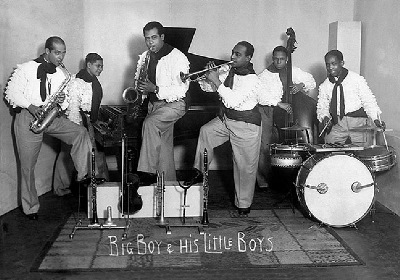 Big Boy and
his Little Boys
Studio photo.

Horns: Peter Wanderley (alto, violin), Goudie (tenor, trumpet, clarinet), Bobby Jones (trumpet)

Courtesy Jean-Pierre Meunier, and "Big Boy" by Dan Vernhettes, Christine Goudie, and Tony Baldwin (www.jazzedit.org)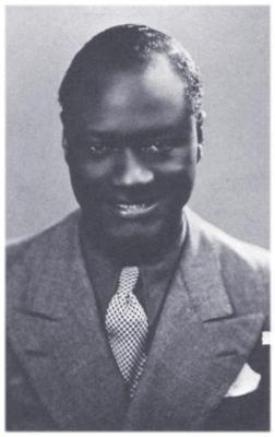 Willie Lewis and
his Entertainers,
1935-38

Goudie worked in the swing orchestra of Willie Lewis, a prominent black-American bandleader on the continent. Lewis played clarinet, tenor sax and was a fair singer. But his real talent was successfully leading a large African American jazz orchestra in Europe.

Sing, Sing, Sing, Willie Lewis and his Orchestra (Goudie, tenor solo) video montage

Re-launching in 1935 with great fanfare, they began a series of lengthy residencies at the prestigious Chez Florence, a Montmartre high society club of distinction. This celebrated cabaret had long been presenting black female singers and the African American staffed bands of Lewis, Arthur Briggs, Leon Abbey (with Goudie) and trumpeter Bobby Martin. Plus Django - Willie Lewis and Hermann Chittison , Poste Parisien, 1937

Willie Lewis Hermann Chittison Egovox- acetates
http://www.vjm.biz/sounds.html

Tony Baldwin Egovox article
http://www.vjm.biz/174-egoword.pdf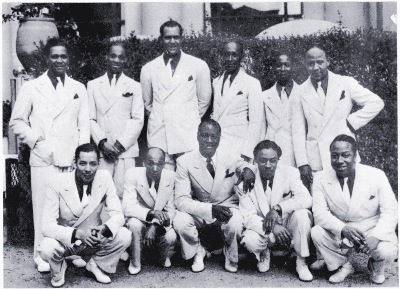 Willie Lewis and his Entertainers were a solid swing orchestra of three brass, four reeds, a very good pianist and strong rhythm section. Besides Goudie, the Lewis orchestra had several notable soloists: trumpeters Bill Coleman and Jack Butler, reed man George Johnson and the elegant swing pianist Herman Chittison. Big Boy played tenor sax and some clarinet on about half of their two-dozen records.


Photo L to R: Ted Fields, Jack Butler, Billy Burns, Herman Chittison, Frank Goudie, Willie Lewis, Bill Coleman, George Johnson, Wilson Myers, Joe Hayman, Johnny Mitchell


Bassist and versatile musician Wilson Meyers co-arranged the orchestra's 1937 sessions. Before Europe Myers worked with Jelly Roll Morton, King Oliver, Sidney Bechet, the Spirits of Rhythm and played drums for Bessie Smith. Afterwards he was with Benny Carter, Billie Holiday, Rex Stewart, Duke Ellington and arranged for Jimmy Dorsey.

Also notable was the brief tenure of Benny Carter mostly playing trumpet in 1935-36, adding prestige and leaving some good arrangements. Though Goudie is not on any of the sessions with Carter, their paths almost certainly crossed in the Lewis band.


Grove Dictionary of Jazz calls Lewis, "an able showman, singer, and instrumentalist, who engaged the best players he could affort and presented musicanly ensembles. His bands played mostly for royalty and the well-to-do patrons of Europes' best hotels, nightclubs and ballrooms."

The orchestra gradually dissolved in late 1938, but Lewis continued performing and broadcasting. In Holland he encountered the Nazi chaos that drove musicians out of Europe, arriving home in September 1941. During the 1950-60s in New York he dabbled in acting but mostly worked as a cook and waiter in Harlem.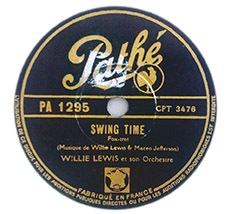 Willie Lewis and his Entertainers
Apr. 1936 - Oct. 1937

Frank Goudie, tenor saxophone and clarinet

Principal trumpeters, Bill Coleman or Jack Butler.

Swingin' for a Swiss Miss ( Goudie, tenor sax)
Organ Grinder's Swing (Goudie, clarinet)
Stompin' at the Savoy
Swing, Brother, Swing
Ol' Man River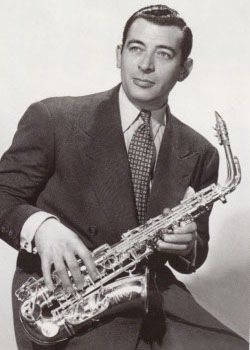 Andre Ekyan: France's Most Original Saxophonist

Through the mid and late-1930s Goudie was closely associated with the two most original jazz musicians in France, gypsy guitarist Django Reinhardt and dazzling alto saxophonist Andre Ekyan.

A noteworthy European jazz pioneer and activist Andre Ekyan led bands, organized concerts, jam sessions and recording dates in Paris and London. Unlike his contemporaries he did NOT simply adopt the style of Coleman Hawkins. Instead he synthesized his own fresh alto saxophone sound drawn only partially from Benny Carter, Frankie Trumbauer and Lester Young.

Ekyan sponsored and mentored Django's career, and they cut several brilliant duets together, also performing and recording with Goudie. Ekyan had a distinct talent for making good sounding records. He and Big Boy were paired-up for most of their 1939 discs on the French Swing label.



Frank Goudie, tenor sax and trumpet with Ekyan, 1939.

You and I, Babe
You in My Arms and Sweet Music
Darktown Strutters Ball (Goudie, trumpet)

Andre Ekyan, alto sax with Django
Hungaria, 1941
Rosetta, 1940
A Pretty Girl is Like a Melody, 1940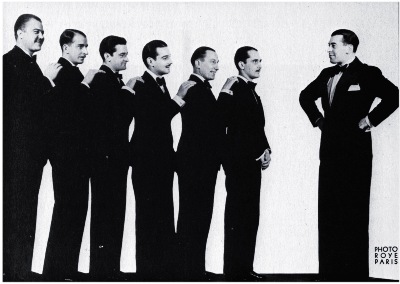 Andre Ekyan facing and his Orchestra


(Photo: Mme. Ekyan, no date, Goddard,
Jazz Away from Home)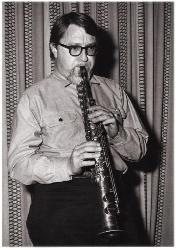 Richard Hadlock (photo right) wrote about Goudie's encounter with tenor sax giant Coleman Hawkins in The San Francisco Examiner, 1963:

"He told me once that he was very inspired by the visit of Coleman Hawkins to Europe. A lesser man might have said, 'Well, when Hawkins star went up in Europe, mine went down,' and be kind of petty about it. But not Frank. He said, 'You know, I listened to Hawkins in an all-night session. He played Stardust for half and hour and never repeated himself.' He said, 'I learned a lot from him. It was a fantastic experience'."

Goudie placed Hawkins in a rare category, quoted twenty years later by trombone player Jim Leigh in his jazz memoir, Heaven on the Side:

"Oh, Hawk. The man was just champion of the world, that's all. Saxo-tenor champion du monde. He showed everybody how to play that damn thing."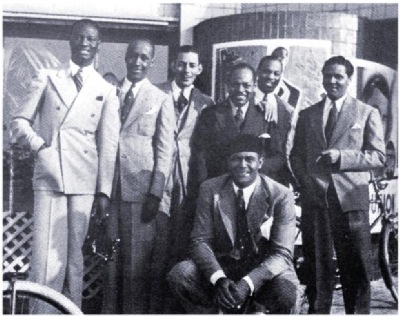 Meeting The Hawk: Coleman Hawkins

The Lewis band toured Belgium and Holland in Summer 1937. It must have been a great jazz holiday for Goudie. He probably ran into his old friend pianist Freddy Johnson who was having great success in Amsterdam, working and recording with Coleman Hawkins and running a nightclub, La Cubana.


L to R standing: Willie Lewis, Bill Coleman, Billy Burns,
Coleman Hawkins, Billy Butler, Ted Fields
Kneeling: Goudie
(Knokke-le-Zoute, Belgium, August 1938)


Well All Right Then, Coleman Hawkins (tenor), Freddy Johnson (piano)
Hilversum, Holland 1937

Way Down Yonder in New Orleans, Coleman Hawkins (tenor) Freddy Johnson (piano), Maurice van Cleef (drums)
Holland 1938

Frank got to hear one of his greatest inspirations, tenor sax master Coleman Hawkins then resident in Europe 1934-39. "Hawk" was famed for song variations lasting up to 90 minutes and Goudie was deeply impressed by his improvisational skill.

Saxophone quickly seized a role equal to the trumpet in Parisian Jazz, ascending early to lead instrument. This may well be due to the extended presence in Europe of strong American saxophone exemplars at the time: Sidney Bechet, Frank Goudie, Coleman Hawkins, Benny Carter and others. Inexplicably, Parisians seemed to have little use for trombones.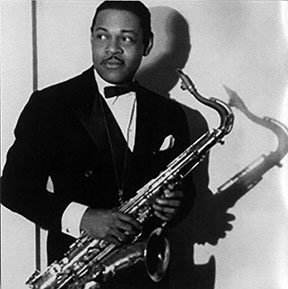 Coleman Hawkins Trio,
Belgium, 1938

Freddy Johnson (piano)
Maurice van Cleef (drums)

Dear Old Southland
I Know That You Know
When Buddha Smiles



The End of Jazz in Montmartre

Montmartre nightlife gradually sank into a rough trade of prostitution, drugs and gunplay in the streets. A local Corsican protection racket plagued the bars and cabarets. The negative side of allowing a thriving Harlem-style jazz district eventually provoked a strong reaction from the formerly tolerant inhabitants . . . and the authorities.

Beginning around 1933 -- between protests from out-of-work French musicians and tightening regulation -- performance of African-American jazz in Montmartre was curtailed. But by then bands were finding work outside Paris, in Monaco and on the Riviera. There was work in Germany, Belgium, Spain, Portugal, the Low Countries. Soon several bands set off for Istanbul, Bombay or beyond. Goudie toured Egypt more than once. And other developments -- like Paris discovering Django and the looming war -- ended a unique cultural era.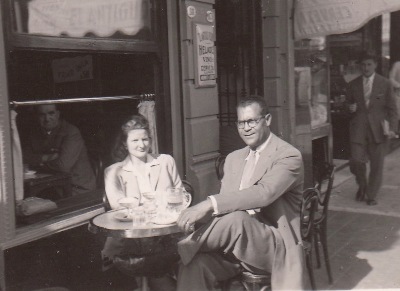 As war approached Goudie was willing to serve France but was ineligible as a non-citizen. Left few options, he obtained a visa and departed for Argentina in November 1939, his wife following a few months later.

Unable to return to France they remained more than five years, settling in Rio de Janeiro where Frank worked for the large samba-swing orchestra of Aristide Zaccarias at the famed Copacabana Casino.

Frank and Madeleine (photo right, c. 1944) operated a small café in Rio and visited nearby countries.



Frank Goudie main page - Overview of his sweeping sage.

More Goudie in Paris - meet his most illustrious associates

Frank Goudie in San Francisco - Unique view of Goudie's years on the West Coast.



Chronology: Goudie's Life in Europe



1924-1927

Goudie was among the earliest first-rate jazz men to immigrate to Paris finding work within days of arrival. There he switched to alto and tenor saxophone. He was soon playing at the heart of the thriving Montmartre jazz district and European jazz.



1927

With Spencer Williams at Chez Lisieux.
Zellis Royal Box, 1927-30.



1928-30

In Danny Polo's band.
At Bricktop's with Freddy Johnson's band.

1930-33
Clubs and dancehall dates; Caribbean and Brazilian groups.

1933
Recorded with in the Briggs-Johnson Harlemites, cutting his first saxophone solos on disc, and played concerts hosted by the nascent Hot Clubs of France society.


1934-36

Appearances at many concerts of the Hot Club of France and introducing Django to Parisians. 

Le Coliseum with broadcasts: Frankie Goudie and his Black Company.
The Music box with Arthur Briggs.

1936-39
Goudie maintained his band, Big Boy and his Little Boys on the side.


1936-38

Goudie played tenor saxophone with the Willie Lewis and his Entertainers orchestra at its peak including the Chez Florence residency and a Saturday night radio broadcast heard across the continent and on BBC.

1938-39
By the late 1930s Goudie had gigged with just about every European or American jazz musician in Europe, and most if not all the significant music venues in Paris.
He continued recording and teamed up with Argentine guitar wizard, Oscar Aleman at Le Chantilly.

November, 1939 

Departure for South America.

1940-45
In South America Goudie played in dance music with samba bands and jazz when he could. Operated a small café in Rio with his wife, Madeleine.
Return to France in early 1946.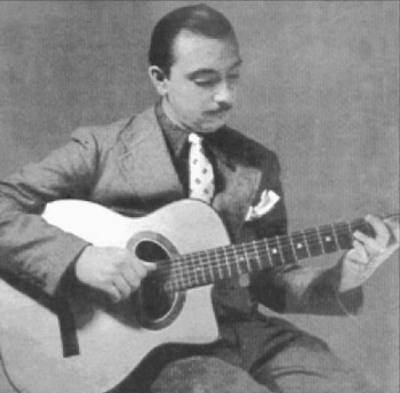 Django Reinhardt
(Belgium, 1910 - France, 1953)

Goudie was a well-known performer and headliner for several mid-1930s concerts introducing Django Reinhardt to Parisian audiences. Django and Big Boy became good friends and close associates sharing many late night jam sessions. Reinhardt was one-of-a-kind and a force of nature. He's on the first and best of Goudie's jazz records.

Later in California Frank vividly recalled the gypsy. In Heaven on the Side, Jim Leigh relays Frank's comments about Django's compulsive need to play endlessly after being away from Paris visiting his gypsy kin:

"He always wants to be playing, even when everybody else is falling out . . . three jobs, one day. Always some one little place he wanted to go . . . a little out of town, some cafe, some little kind of place . . . You better hide your head, go sleep at some woman's place, stay out of his way so he didn't keep you going three-four days, no stopping. The man will drive you to play, you understand?"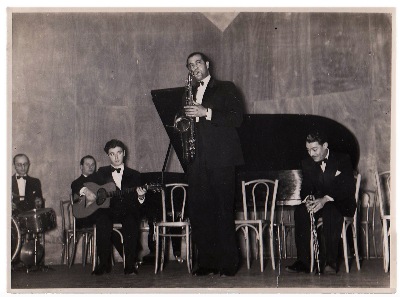 Where's Django?

This 1935 event with Frank Goudie was organized by the Hot Clubs of France to introduce Django to Parisian jazz audiences. True to form his attendance was unpredictable as seen here. The pianist is Stephane Grappelli.

Unpublished photo courtesy and property of Christine Goudie, daughter of Frank Goudie.


Paris Concerts with Django Reinhardt

Big Boy Goudie (iconic image, right) was well established in Paris when the nascent Hot Club de France sponsored the first music concerts introducing Django to Parisian audiences, with Goudie often among the headliners.

Feb 4, 1934
First concert. Frank helped introduce the unknown gypsy guitarist.

Mar 3, 1934 Ecole Central
Wrote the premier French jazz publication, Jazz-Tango-Dancing, "the concert was the living end . . . delirium incarnate."

Dec 2, 1934 Ecole Normale
An initial no show, Django was dragged there by associates.

Feb 16, 1935 Ecole Normale
Hosted by the Hot Clubs of France.

March, 1936 Salle Pleyel
Organized by the Hot Club society featuring pianist Chittison accompanied by Django, Big Boy and associates.

Dec 16, 1938 2nd Grand Nuit de Jazz
Hosted by Hot Clubs of France featuring Valaida Snow, Django, Willie Lewis, Bill Coleman, Herman Chittison, Garland Wilson, Una Mae Carlisle, Goudie and others.



For more Jazz from Paris see:

Divas, Jazz and Harlem-on-the-Seine Pt. 1
https://www.dagogo.com/divas-jazz-harlem-seine-paris-1924-39-part-1-2/

Divas, Jazz and Harlem-on-the-Seine Pt. 2
https://www.dagogo.com/divas-jazz-harlem-seine-paris-1924-39-part-2-2/

Frank Goudie's Paris

Frank Goudie in Paris 1924-39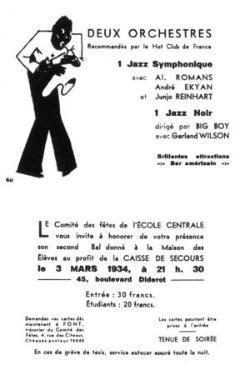 Today, this image might provoke mixed emotions or be considered racist. Yet the dimensions, pigeon-toed stance and context identify Big Boy as the iconic figure.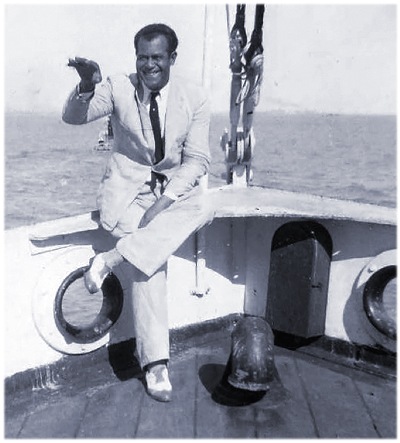 (Photo:
Property of
Christine Goudie,
daughter of Frank Big Boy Goudie)






Special thanks to Christine Goudie and Dan Vernhettes.



SOURCES:

Liner notes, articles, online sources & misc:


Driggs, Frank (liner notes for audio LP:) Willie Lewis and his Entertainers, Swing/DRG Records, SW 8400/01, 1985


Fox, Charles (liner notes for audio LP:) Bill Coleman a Paris 1936-38, Parlophone/EMI, n.d.


Goudie, Frank, Frank "Big Boy" Goudie with Amos White, American Music AMCD-50, 1991


Hadlock, Richard, "Towering Reedist Goudie: Clarinetist 'Home' After Years Abroad with Top Bands," San Francisco Examiner, Highlight, July 28, 1963


Hadlock, Richard, "Euology to a Gentleman of Jazz," San Francisco Examiner, January 19, 1964


Jazz in Paris 'Deluxe Edition' (CD box sets)
Vol. I Champs-Elysees 1917-1949, Universal Music 2004
Vol. II Montmartre 1924-1939, Universal Music 2004


Jazz Index, Switzerland, www.jazzindex.ch

Books:

Bricktop, Bricktop (Smith, Ada) with James Haskins, Welcome Rain Publishers, 2000


Carisella, P. J. and Ryan, James, W., The Black Swallow of Death: The Incredible Story of Eugene Jacques Bullard, the Worlds First Black Combat Aviator, Marlborough House, 1972


Chilton, John, Sidney Bechet: The Wizard of Jazz, University of Michigan Press, 1996


Chilton, John, The Song of the Hawk: The Life and Recordings of Coleman Hawkins, Da Capo, 1987


Chilton, John, Who's Who of Jazz: Storyville to Swing Street, Chilton Book Co, 1970


Coleman, Bill, Trumpet Story, Northeastern University Press, 1989 & 1991


Delaunay, Charles, Django Reinhardt, Da Capo Press, 1981


Dregni, Michael, Django: The Life and Music of a Gypsy Legend, Oxford University Press, 2004


Dregni, Michael, Django Reinhardt and the Illustrated History of Gypsy Jazz, Speck Press, 2006


Driggs, Frank and Lewine, Harris, Black Beauty, White Heat: A Pictorial History of Classic Jazz, Da Capo Press, 1995


Goddard, Chris, Jazz Away from Home, Paddington, 1979


Grove, The New Dictionary of Jazz, Kernfeld Barry, ed., St. Martin's Press, 1988/94


Hughes, Langston, The Big Sea: An Autobiography, Hill and Wang, 1993


Leigh, Jim Heaven on the Side: A Jazz Life, self published, 2000


Lloyd, Craig, Eugene Bullard: Black Expatriate in Jazz-Age Paris, University of Georgia Press, 2006


Rust, Brian, Jazz Records 1897-1942, Arlington House, 1978


Shack, William A., Harlem in Montmartre: A Paris Jazz Story Between the Great Wars, University of California Press, 2001


Stovall, Tyler Edward, Paris Noir: African Americans in the City of Light, Houghton Mifflin, 1996

Vernhettes, Dan with Christine Goudie and Tony Baldwin, BIG BOY: The Life and Music of Frank Goudie, Jazzedit, 2014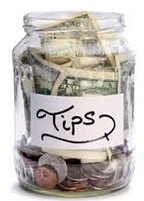 Tip Jar

This site is free. But you can help sustain it, and encourage me with donation to the tip jar. Secure payment through PayPal is anonymous, except that I will see your e-mail address.

Donation $5.00
Donation $10.00
Donation $20.00
Donation $35.00
Donation $50.00
Donation: You decide