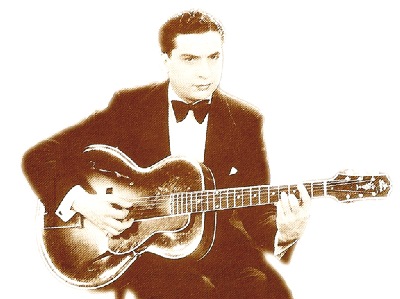 Eddie Lang:
Jazz Guitar Pioneer


Pioneers of Jazz Guitar: Eddie Lang

Eddie Lang Pt. 1.mp3
Goin' Places -- Joe Venuti & Eddie Lang, 1927
Add a Little Wiggle -- Eddie Lang guitar with Frank Signorelli piano, 1927
Pickin' My Way (Guitar Mania Pt. 1) -- Eddie Lang & Carl Kress, guitars 1932
Raggin' the Scale -- Joe Venuti's Blue Four, 1928
Wildcat -- JOE Venuti's Blue Four, 1927
I'll Never Be the Same -- Eddie Lang with Frank Signorelli piano, 1927
Melody Man's Dream -- Eddie Lang with Frank Signorelli piano, 1927
Litlle Girl [excerpt] -- Joe Venuti's Rhythm Boys, 1931

Eddie Lang Pt. 2.mp3
Stringin' the Blues (v2) -- Joe Venuti violin & Eddie Lang guitar, 1926
Singin' the Blues [excerpt] -- Frankie Trumbauer and his Orchestra, 1927
Clemeintine [excerpt] -- Gene Goldkette & his Orchestra, 1927
Handful of Riffs -- Blind Willie Dunn [Eddie Lang] & Lonnie Johnson, 1929
Jigsaw Puzzle Blues -- Joe Venuti's Blue Four, 1933
Eddie's Twister -- Eddie Lang & Arthur Schutt piano, 1927
Perfect -- Eddie Lang with Frank Signorelli, 1927



Explore other pioneers of Jazz guitar inspired by Lang, here


The First Guitarist of Jazz and Popular Music

Eddie Lang was the first guitar virtuoso of Jazz music and though largely fogotten today, he forged a pioneering path for Jazz guitar..

His innovative style -- playing chords alternating with single-string runs -- established the basic techniques of Jazz guitar before 1930.

He became the best-known guitarist of popular music before his sudden death at age 30 in 1933.

Melody Man's Dream - Eddie Lang.mp3
Add a Little Wiggle - Eddie Lang.mp3

Eddie Lang was remarkably successful in his time, and fluent in almost every genre of music outside classical. His wide-ranging popularity from the mid-'20s to the early-'30s was unusual for spanning the worlds of Jazz, dance bands, early swing and popular music.

Before the mid-1920s the guitar was heard in early country (and ethnic) music. But it was a novelty in Jazz and Popular music overshadowed by more popular plucked and strummed instruments: banjo, mandolin and ukulele. During Lang's career of 1926-33, guitar entered the mainstream of American Popular music and replaced banjo in the hottest Jazz and Swing ensembles.

Born Salvatore Massaro in 1902 to an Italian-American instrument maker (or luthier) it was not unusual that Eddie became a guitarist. What was unusual was his complete transformation of guitar in popular music. Lang was working steadily in the late 1920s and early '30s as accompanist to a surprising array of famous singers on records and radio -- among them Bessie Smith, Al jolson and Bing Crosby. At the same time he was radically transforming the role of guitar in Jazz music.

Fellow guitarist George Van Eps who knew Eddie, said that Lang's stylistic innovations came from:
* his excellent sense of harmonics;
* working the microphone like no guitarist before him; and
* "combining the punch of straight rhythm with the variety of chordal and single-string passages."

What's sad about Lang's story is his premature death. He died at age 31 in 1933 from a tonsillectomy gone bad . . . and equally sad is that this brilliant and original guitarist is almost completely forgotten today. But at the time Lang was so popular that announcing his unexpected death in March, 1933 the American radio networks observed a full minute of silence.


The Lang and Venuti Duets

His most spectacular early success came in recordings with Joe Venuti: the first, and most inventive, violinist of Jazz. In this odd couple, Eddie was the steady accompanist to the mercurial violinist: yet his solid guitar rhythms and bright, clever harmonic and melodic manipulations were a perfect match, and foundation for Venuti's explosive pyrotechnics.

Venuti was a cantankerous, unpredictable man; a garrulous, outgoing, raconteur legendary for pulling the most elaborate, outrageous pranks on friends and associates.

By contrast Eddie was polite, orderly, sober. other than a bit of gambling on pool and cards his personal life might even be called 'boring'. together Lang and Venuti were a perfect team to introduce a new style of string-based Jazz improvization: Eddie's solid rhythm and colorful harmonics provided a stable platform for Venuti's explosive violin style.

Lang and Venuti were each at their best as a team creating a new Jazz form: string-based small-ensemble hot Jazz.. Their records -- pairing guitar and violin in small, string-oriented bands -- are among the earliest and best of their kind . . . preceding the Hot club of France, Django Reinhard and Stephane Grappelli, by a decade.

More about Django and the Hot Club of France, here

Eddie and Joe were on several of Beiderbekes best records. Lang's sensitive guitar accompaniment delicately seconding and sustaining Bix's cornet solo in the 1927 FrankieTrumbauer recording of "Singin' the Blues" is now in the Hall of Fame of the National Academy of Recording Arts and Sciences.

Steady Eddie

By all accounts Eddie Lang was a quiet, studious, very polite, considerate, well-loved guy. A musician who worked hard, saved his money and yet . . . was known as a lethal eight-ball pool player. In the late 1920s he transformed the guitar in popular culture, virtually banishing the banjo from jazz and laying the foundations of Jazz guitar style.

Eddie Lang was especially in demand as accompanist to the most popular singers of his time. In fact, he became close friends with one of the most popular singer of his day, Bing Crosby.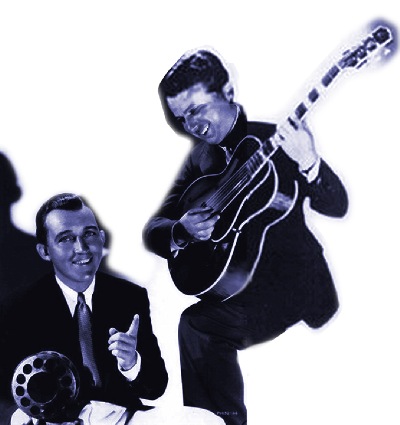 Eddie Lang
with Bing Crosby


Bing's Lucky Charm

More than a mere accompanist to Bing, Eddie became Crosby's best friend and most intimate confindant; and Lang is thought to be the one and only truly close friend Bing ever had. Besides being Crosby's favorite accompanist, Lang was Bing's personal banker.

Bing called Eddie his "lucky charm." He married a close friend of Bing's wife. Today on Youtube, you can see them briefly together in a clip from one of Bing's films. So they were the closest of friends.

Eddie and Bing film clip, 1932 on YouTube

In early 1933 Lang's life ended when he died quite suddenly from complications of a tonsillectomy. No one took Eddie's sudden death harder than Bing. After Eddie's passing, Crosby slipped into a long, deep funk; he never found such close friendship again.

In fact it's likely that Bing had recommended the tonsillectomy: apparently to improve Eddie's chronically hoarse voice for speaking acting roles in Bings hugely popular films -- which i think throws a different light on Crosby's deep mourning for his lost friend. In any case, a year later Bing gave one of his sons the middle name of 'Lang.'

http://jazzhotbigstep.com/GUITAR_MISC/Death_of_E_Lang.mp3

At the time of his unexpected death in March 1933 Lang was so popular that the American radio networks observed a full minute of silence. Yes, Lang's premature death was sad. Equally sad is that this brilliant and original guitarist is ALMOST completely forgotten today.

In his time Eddie Lang had no rivals. He was the best-known guitarist in Jazz or popular music, recording prolifically in solo, duet, small combo Jazz and full orchestra settings waxing dozens, possibly hundreds, of records with the likes of Paul Whiteman, King Oliver, Joe Venuti, Red Nichols and Bix Beiderbeke.

Not Forgotten

Today Eddie Lang is NOT forgotten:

* Recently he was inducted into the ASCAP (American Society of Composers, Authors and Publishers) Hall of Fame, he did, after all compose a couple of dozen tunes.

* For two decades there's been a Jazz festival held in his name in his grandfather's Italian hometown near Naples.

* There's a rich elegant, comprehensive website dedicated to him at: EddieLang.com.

Lang laid the cornerstone of Jazz guitar style before 1930. His primary innovation was playing rhythm and chords . . . alternating chords with single-string runs -- establishing the basics of Jazz guitar style. Like other musicians who died young, Lang's death at the relatively young age of 30 implies an arc of work left unwritten, unperformed, unrecorded.

But in just a few years Lang transformed guitar from its merely supporting role in the rhythm section to an independent and eloquent solo voice, in American Jazz and popular music.

http://jazzhotbigstep.com/GUITAR_MISC/LANG_&_KRESS_Pickin_My_Way.mp3
http://jazzhotbigstep.com/GUITAR_MISC/LANG&KRESS_Feeling_My_Way.mp3


LINKS:

Explore the guitar pioneers who followed after Lang, here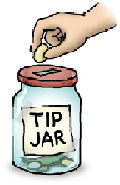 Tip Jar

This site is free. But you can help sustain it, and encourage me with donation to the tip jar. Secure payment through PayPal is anonymous, except that I will see your e-mail address.

Donation $5.00
Donation $10.00
Donation $20.00
Donation $35.00
Donation $50.00
Donation: You decide