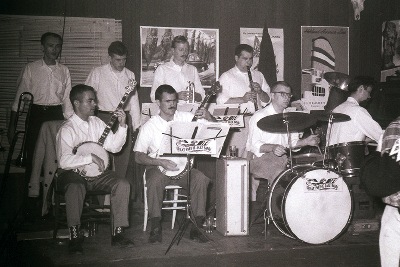 Great Pacific Jazz Band 1958-61


Great Pacific Jazz Band was a nine-piece group with second cornet and two banjos, consisting largely of former Bay City Jazz Band musicians.

GPJB was among numerous Frisco Trad Jazz ensembles modeled on Lu Watters Yerba Buena Jazz band, that were formed in the Fifties and Sixties.

(Not to be confused with Bob Ringwald's later Great Pacific band based in Los Angeles, 1979-95.)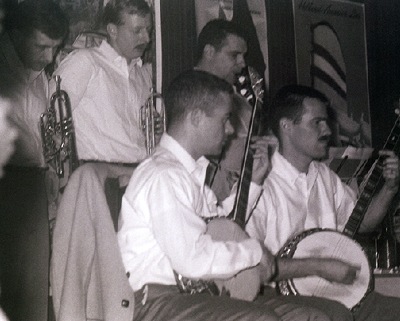 Sincere thanks to
Joe Spencer for providing the audio and photos from Lee Valencia on this page.

Organized by Charlie Sonnanstine and Robin Wetterau, Great Pacific Jazz Band played venues primarily at Muir Beach and Stinson Beach north of San Francisco, or at the Monkey Inn. The tape below originated with Ed Sprankle whose notes suggest they were playing there one or two nights per week from April through October of 1960.

Around this time Charlie Sonnanstine switched from trombone to cornet, which he played for more than 30 years. He and pianist Robin Wetterau wrote out several dozen lead sheets and arrangements of obscure traditional jazz numbers, as well as several originals for the Great Pacific. Their transcriptions became the book for many subsequent bands in the Trad Jazz genre, and were recorded by Ted Shafer's Jelly Roll Jazz Band in the mid-1960s.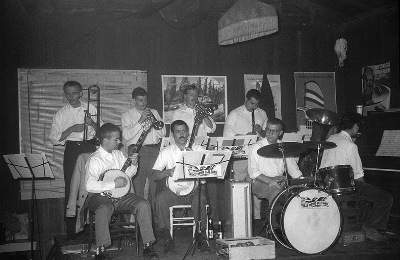 Notable personnel included horn players Frank Goulette, Charlie Sonnanstine, Birch Smith and Bob Hodes; clarinetists Roy Giomi and Phil Howe; Sanford Newbauer and Bob Short trombones; banjo players Tito Patri and Lee Valencia. Dick Lammi, Walt Yost and Bill Carpender played tuba. Lloyd Byasse was the band's drummer, and had been in the Bay City and and Canal Street bands. Bret Runkle occasionally sat in on washboard.

Thanks to Hal Smith for assistance.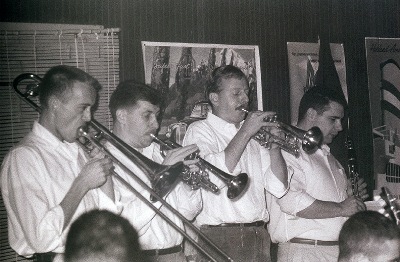 Joe Spencer comments:

"The GPJB never really evolved into its full potential due to a lack of gigs. Robin and Charlie both worked for a piano shop in San Francisco and tried to find gigs. Monkey Inn was probably the most steady—for several months, but often they only had one cornet: Charlie. By late 1960 or early 1961 the Sonanstines embarked for London and Robin and Amber followed soon after. The final gig (actually a party at the Patri School) took place in August 1961."

"Bob Helm was quite friendly with Robin and Charlie and participated in some of their initial rehearsals in the basement of the City Lights book store on Broadway in SF. Bob was also playing with Ev and the Bay City at the time, and might have joined the GPJB, but in mid-May 1958, just before the band's first job, he rejoined Turk. (Sonnanstine and Mayl had traveled to San Francisco in 1950 and sat in with Lu in the dying days of Hambone's. Flora Sonnanstine told me that Lu had actually offered Charlie the trombone job full-time but he decided to go back to Ohio.)"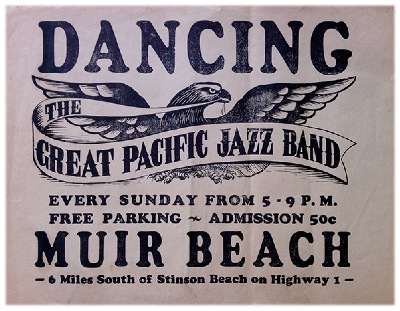 Additional notes:

Charlie and Robin had earlier been with the Red Onion JB in NYC 1952-53, and the Dixieland Rhythm Kings in Ohio 1953-55.

A very young Bob Neighbor was also one of the band cornetists, and Jerry Fredgren one of the tuba players.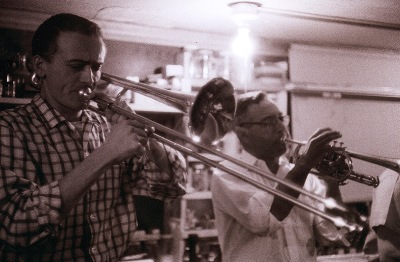 ARCHIVE MUSIC

Great Pacific
Jazz Band
Monkey Inn 4.10.1960

Charlie Sonnastine and Frank Goulette (cornets)
Roy Giomi (clarinet)
Sanford Newbauer (trombone)
Robin Wetterau (piano)
Lee Valencia and Tito Patri (banjos)
Bill Carpender (tuba)
Lloyd Byassee (drums)

Photo: Sanford Newbauer and Frank Goulette

Precious Lord.mp3
Working Man Blues.mp3
Messin' Around.mp3
Original Jelly Roll Blues.mp3
Bay City.mp3
Froggie Moore.mp3
Great Pacific Stomp.mp3 (band original)
Sweet Baby Doll.mp3
Snake Rag.mp3
Perdido Street Blues.mp3
Washboard Wiggles.mp3
I'm a Little Blackbird.mp3
Arab Strut.mp3
Friendless Blues.mp3
Emperor Norton's Hunch.mp3
Jazzin' Babies Blues.mp3
Mabel's Dream.mp3
Antigua Blues.mp3
Tuxedo Rag.mp3

Original recording by Ed Sprankle.
Photos and audio transfer thanks to Joe Spencer.



Joe Spencer further adds:
"Clarinetist Frank Powers has quoted Charlie as saying that he didn't believe in too much improvisation in Trad Jazz. Though it sounds odd, I think he meant that in the same way Jelly Roll, in the Victor studio, told the Peppers to 'just play those little dots of mine.' Charlie and Robin both felt that Carl Halen (cornet), by the mid-1950's had gone too Chicago, and his band was too busy. Charlie once commented about the Gin Bottle Seven to the effect that, 'there are only so many notes in the chords and everyone can't play them all'."

"After Robin left San Francisco in August 1961 and the GPJB disbanded, Phil Howe tried to carry on with a group called the Classic Jazz Band, with Bob Neighbor, Mike Starr, and Carpender among others. The band never played a gig but Ed Sprankle taped two rehearsals at Carpender's house. Howe was playing beautifully at that time."



The archival recordings heard on these pages contain musical and technical flaws,
and are offered as historic artifacts.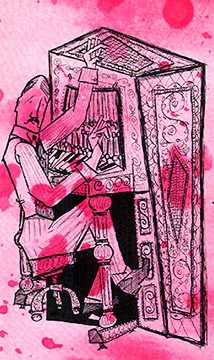 ARCHIVE AUDIO

Monkey Inn 10.14 & 10.20.60

Joe Spence: "Chelsea on Down is by Robin. Supposedly based on a lament by Robin in the 1950s about the terrible drive from Boston to NYC. He noted that there wasn't a decent restaurant from 'Chelsea on down.' The phrase stuck in his mind and he used it to name the tune."

Subs:
Phil Howe (clarinet)
Walt Yost (2nd cornet as noted: 2tpt)

Weeping_Willow-2tpt_Great_Pacific_JB.mp3
Messin_Around_Great_Pacific_JB.mp3
Merrymakers_Twine_Great_Pacific_JB.mp3
Mabels_Dream-2tpt_Great_Pacific_JB.mp3
Chelsea on Down_Great_Pacific_JB.mp3

Great_Pacific_JB_10.14.60_complete.mp3 18:32

Right: Drawing of Wetterau by Sonnanstine, 1954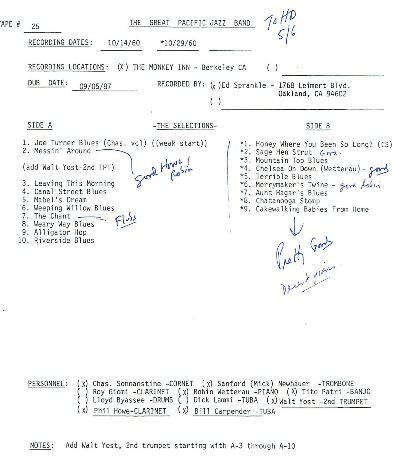 Recordist Ed Sprankle kept detailed rundown sheets of his many Monkey Inn recordings of GPJB.

They document the band's personnel and appearances there during mid-1960.

Thanks Joe Spencer.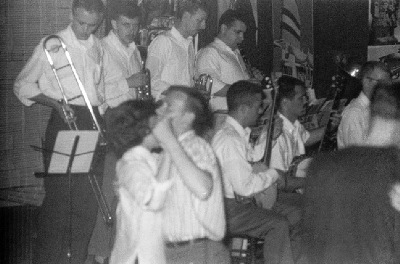 ARCHIVE MUSIC

GPJB Final Gig & Party at the Patri art school 8.19.61
The band ended, not with a whimper but a bang!

Frank Goulette and Bob Neighbor (cornets)
Tony Landphere (trombone, out on Palmer's GG and El Producto)
Roy Giomi and Phil Howe (clarinet)
Robin Wetterau (piano, co-leader)
Lee Valencia and Tito Patri (banjos)
Jerry Fredgren (tuba)
Lloyd Byassee (drums)

Black Bottom Stomp.mp3
El Producto.mp3 (band original)
Palmers Georgia Grind.mp3
Sunset Café Stomp.mp3
Weary Way Blues.mp3



This page is under construction. A great deal more audio will be forthcoming.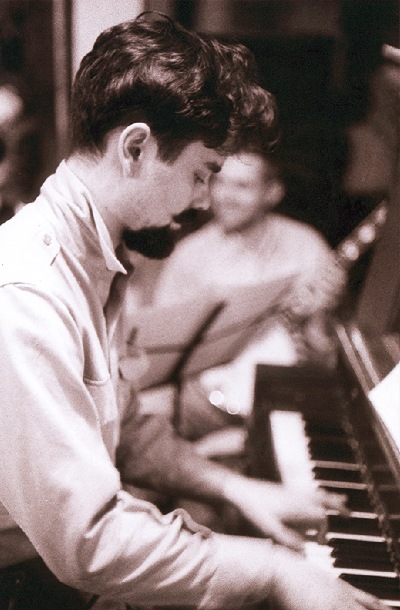 Robin Wetterau
band co-leader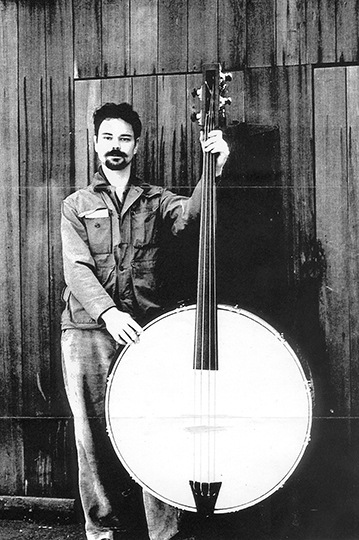 "Wetterau actually made a bass banjo while in SF; Lee Valencia described it as "beautiful, but tonally suspect."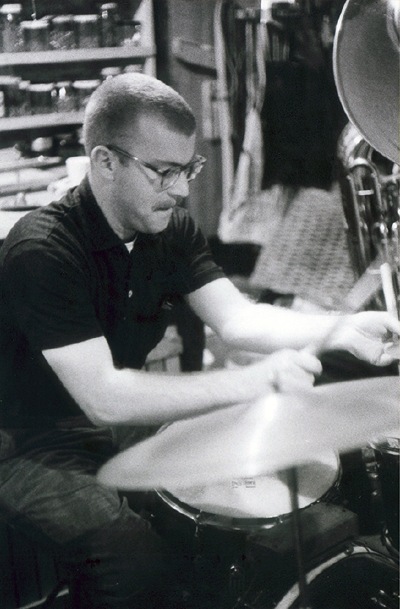 Lloyd Byassee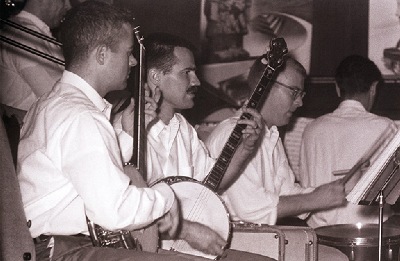 Joe Spencer notes:

"Following the early Watters mold, Robin and Charlie actually planned from the outset to have two banjos in the band. Possibly reflecting their sense of humor, or poor spelling, the Banjo parts in the arrangements are labeled 'Banji'."

Banji players, Lee Valencia and Tito Patri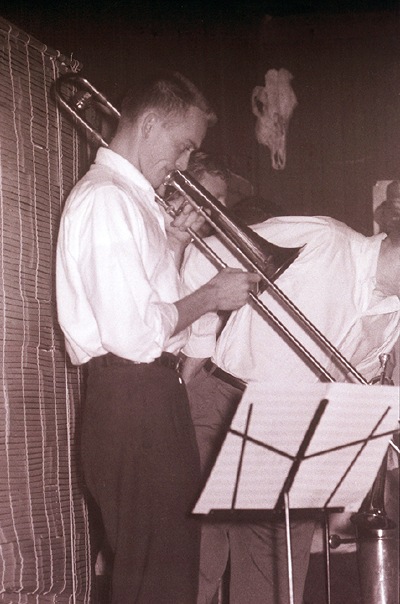 Sanford "Mick" Newbauer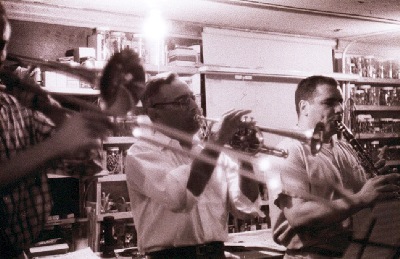 Frank Goulette
and Roy Giomi

Around this time Goulette was running the similarly-styled Original Inferior Jazz Band playing at The Honeybucket and Burp Hollow in San Francisco.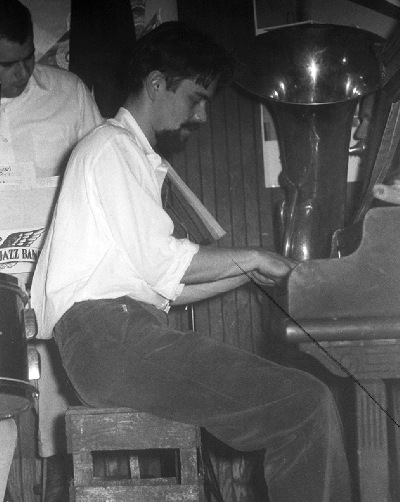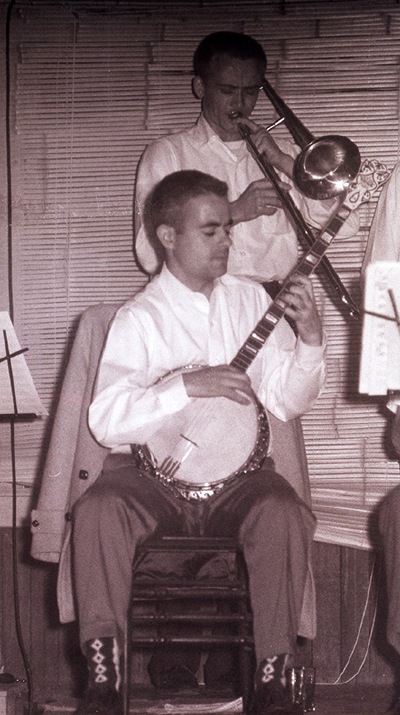 Sanford Newbauer
Lee Valencia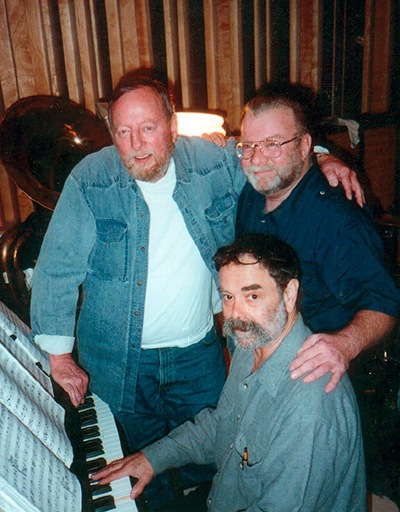 Old Friends:

Charlie Sonnanstine
Lloyd Byassee
Robin Wetterau

Courtesy Joe Spencer


Related band:
Phil Howe's Classic Jazz Band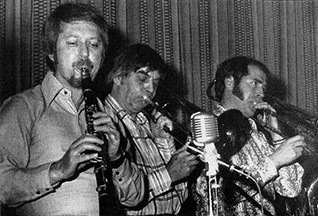 Phil Howe's Classic Jazz Band, November 1961


This band never performed in public. These rehearsal sessions were a failed attempt to continue the Great Pacific Jazz Band of Sonnanstine and Wetterau. The band was later reorganized as Great Pacific Jazz Band (II) under the leadership of Bob Ringwald in Southern California.

L to R: Phil Howe, Jerry Butzen, Jim Maihack

Clarinet and soprano saxophonist, Phil Howe (1931-2005) was a terrific musician with a clear personal voice and sense of direction. He performed with quite a few San Francisco ensembles over the decades: Turk Murphy, Phrisco Phunction, Jimmy Diamond, Pat Yankee and her Gentlemen of Jazz, Necklace of Lights (Lake Merritt, Oakland), and he led the Silver Dollar Jazz Band in Sacramento.


Archive Music

Phil Howe's Classic Jazz Band,
November 1961

Phil Howe (clarinet)
Bob Neighbor (trumpet) (out on 1 & 2)
Mike Starr (trombone)
Al Hall (piano)
Tito Patri (banjo)
Lloyd Byassee (drums)
Bill Carpender (bass)

Not all musicians are present on all tracks; some tracks are incomplete; recorded at Bill Carpender's home in Berkeley California.

Set A1
Come_Back_Sweet_Papa.mp3
My_Honeys_Lovin_Arms.mp3
Down_and_Out_Blues.mp3
Jimtown_Blues.mp3
Grandpa's_Spells.mp3
New_Orleans.mp3
Because_my_Baby_Do'nt_Mean_Maybe_Now.mp3
That_Certain_Party_T1.mp3
Of_All_the_Wrongs_You've_Done to Me.mp3

Phil_Howe's_CLASSIC_JAZZ_BAND_Set A1_complete.mp3 31:36

Set A2
Coal_Cart_Blues.mp3
Brother_Lowdown.mp3
Smokey_Mokes.mp3
King_Chanticleer.mp3
Strange_Blues.mp3
Dippermouth_Blues.mp3
Robert_E_Lee.mp3
All_Night_Blues.mp3
King_Bolden_On_Parade.mp3
Shake_That_Thing.mp3

Phil_Howe's_CLASSIC_JAZZ_BAND_Set A2_complete.mp3 35:30

Set B1
Dr_Jazz.mp3
Melancholy.mp3
At_the_Jazz_Band_Ball.mp3
China_Girl.mp3
Sidewalk_Blues_T1.mp3
Sidewalk_Blues_T3.mp3
Ory's_Creole_Trombone.mp3
Blues_My_Naughty_Sweetie_Give_to_Me.mp3
Working_Man_Blues.mp3

Phil_Howe's_CLASSIC_JAZZ_BAND_Set B1_complete.mp3 32:50

Set B2
Canal_Street_Blues.mp3
Rose_of_Washington_Square.mp3
When_You're_Smiling.mp3
Creole_Belles_T3.mp3
Creole_Belles_T4.mp3
See_See_Rider.mp3
Because_My_Baby_Don't_Mean_Maybe.mp3

Phil_Howe's_CLASSIC_JAZZ_BAND_Set B2_complete.mp3 25:32

Transfers thanks to Joe Spencer.



Hal Smith comments:
"Phil also played with The Swinging A's band, John Gill's San Francisco Jazz Band/Minstrels of Annie Street and in the late 1970s led a trio at the Leamington Hotel in Oakland with Devon Harkins on piano and Fred Higuera (ex-Bob Scobey) on drums.

His personal musical preference was Swing, a' la Benny Goodman, Peanuts Hucko et al. However, he was capable of playing great ensemble parts, with an appropriate period sound when he performed with Turk Murphy, the Swinging A's and other traditional groups."




Links to related (this site):

Yerba Buena Jazz Band

Burp Hollow tapes

The Honeybucket tapes

Monkey Inn tapes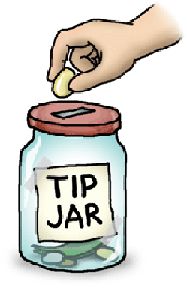 Tip Jar

This site is free. But you can help sustain it, and encourage me with donation to the tip jar. Secure payment through PayPal is anonymous, except that I will see your e-mail address.

Donation $5.00
Donation $10.00
Donation $20.00
Donation $35.00
Donation $50.00
Donation: You decide