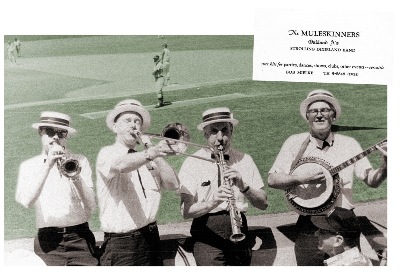 "Take Me Out to the Ball Game"

For nearly a quarter century Oakland A's Swingers Baseball Band brought vintage jazz to ballpark audiences, Traditional Jazz events and private parties, 1969-92). It was a solid musical ensemble with a limited role at games:

* Performing five or six minute sets of short "chorus and a half" tunes (:30 to :90 seconds) at each half-inning often standing atop the team dugout.

* Presenting peppy truncated jazz classics, novelties, polkas and fanfares.

* Mobile concertizing in the bleachers, hallways or tailgate lots.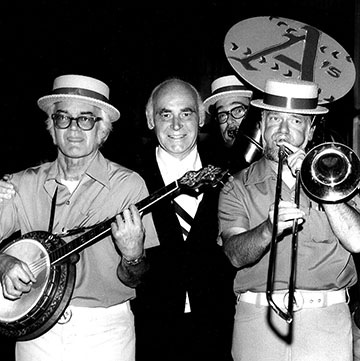 The gig hinged on team owner Charlie Finley, Mielke's skill at schmoozing him and his genuine love of the music.

Flying across the country with team and manager the musicians were often obliged to repeatedly play his favorite song, "Sugar in the Morning" to the persistent botheration of on board ball players.

Photo:
Finley with musicians.



The first season the band was a quartet: Bob Mielke (trombone) Bob Neighbor (trumpet), Bob Helm (soprano) and Dick Oxtot (banjo). The second year, tuba player John Moore was hired after the band complained to their boss, club owner, Charlie Finley about lacking a bass.

Bob Helm was replaced after a couple seasons by reed players Bill Napier, Richard Hadlock or others. Cornet players Jim Goodwin, Ev Farey and George Fleming were regular substitutes, especially after Bob Neighbor moved out of the area in 1987. In the 1980s Mielke booked the Swingin' A's on the jazz festival circuit or casual events in the greater Bay Area.

"Chicago"
"Yankee Doodle Dandy"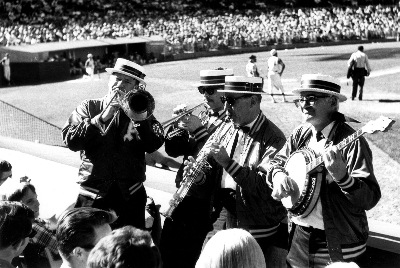 McNamara's Band, A's Ballgame
Coliseum, Oakland

Mother's Day, 1970

Here's the band at the stadium supplying the requisite "chorus and a half," served up with a bushel of 'corn.'

Bob Mielke (leader, trombone)
Bob Neighbor (cornet)
Bob Helm (reeds)
Dick Oxtot (banjo)
John Moore (tuba)

BALLPARK SET ONE - 8:51

That Certain Party
Four Leaf Clover
Shake That Thing
Turkey In The Straw
Slippery Hank
Wild Irish Rose
Bugle Boy March (Hallway)



An article in Dagogo further explores this jolly quintet.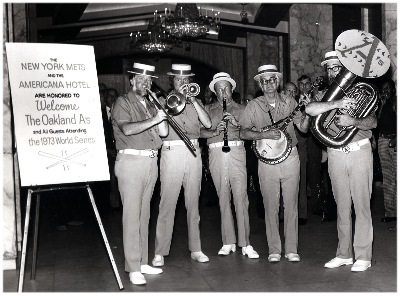 Early 1970s Salad Days

The Swingin' A's band rode the Oakland A's breakout from second division to pennant and World Series champions.


McNamara's Band
A's Ballgame Oakland Coliseum
July, 1970

Mielke, Neighbor, Helm, Oxtot, Moore

SET TWO - 8:03

Wolverine Blues (Hallway)
Floatin' Down to Cotton Town
Red Wing
I Want to Be Happy
Step to the Rear
Turkey in the Straw
Down Home Rag



Bob Mielke KNBR Radio Interview, Fall 1969

"We've had a really warm response. It's fun to be able to play to the people directly. Face to face, not through a microphone or anything. It's just a really rewarding experience." -- Bob Mielke, Interview, Radio KNBR, Nov 1969

Fluent in the language of public relations, Bob Mielke was the personable public voice of Oakland's Baseball Band. Below are quotes from his Nov. 12, 1969 interview on radio KNBR which broadcast the Oakland Athletics ballgames, accompanied by newly recovered ballpark images.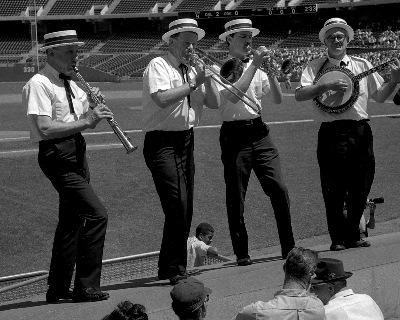 "Between innings it's just real snappy, just one chorus or so. We stand out there and entertain. People join in. They crowd around, clap hands and so on. It's a gas."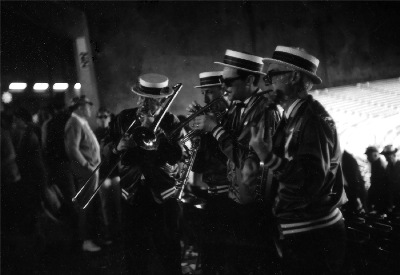 "After the game we usually play in the hallway as people are streaming out. Especially if the A's win, everybody's in a real gay mood. And we like that because we get to play the tunes longer."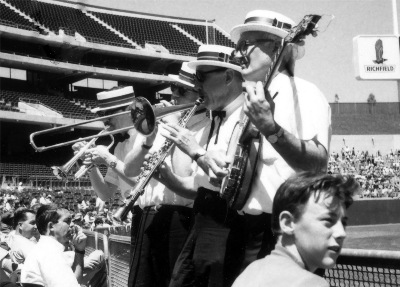 "Dick Oxtot is our banjo player. He and I have worked together from almost the very beginning of our careers. He's got a very solid rhythm."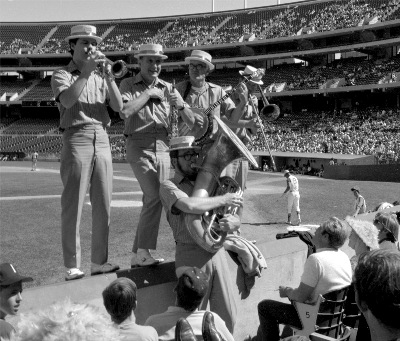 "We have Bob Helm playing the clarinet. Out here he actually plays the soprano sax because it has a little more power to it."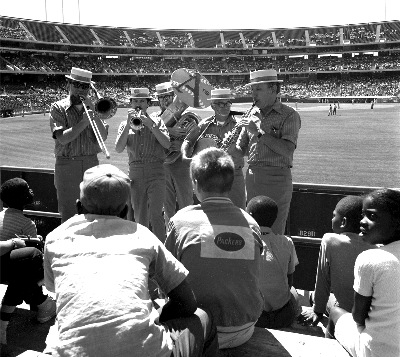 "Helm has got wide experience. He's recorded a lot. He played with the Lu Watters band. He played with Turk Murphy's band for many years, and Monte Ballou. It's a thrill to be able to work with him regularly, believe me."

Mielke went on to praise their youngest player, trumpeter Bob Neighbor. He noted that Bob's main professional jazz experience had been with Turk Murphy, including film and recording: "He plays a very, very solid right-straight-down-the-middle lead which is a real asset to us."

Bob stated that his musicians were all experienced and didn't need to rehearse the jazz numbers. But less familiar material required some rehearsal, such as the novelty "Slippery Hank" from before the First World War. Featuring trombone, it was suggested by Helm. Said Mielke, "It's fun but it's tricky. We had to rehearse it."

Bob Mielke (b. 1926) had a distinctive personal trombone style blending elements of New Orleans (Kid Ory), Harlem (Tricky Sam Nanton, J.C. Higginbotham) and Chicago (George Brunis with Muggsy Spanier, 1939). In a previous (era, c. 1955-65) Bob Mielke and The Bearcats forged a fresh alternative to the prevalent Dixieland format of Eddie Condon's Dixieland jam sessions or the Traditional Jazz of Lu Watters, Turk Murphy and Bob Scobey.



McNamara''s Band
Oakland Coliseum, July 1970

SET THREE - 8:35

I'm Gonna Sit Right Down and Write Myself a Letter
Pennsylvania Polka
Beer Barrel Polka, Sweet Sue
It's a Sin to Tell a Lie
Dippermouth Blues
Take Me Out to The Ball Game
My Honey's Lovin' Arms
Shout 'em Aunt Tillie (Hallway)



Notes on Performance

Performing inside Oakland Coliseum atop the team dugout or in the bleachers, tunes were radically abbreviated. "Dippermouth Blues" in :20 seconds anyone? Perhaps Mielke gathered tips for truncating songs from Helm, a veteran of more than three decades dating back to the dime-a-dance 'taxi dances' of the 1930s.

Yet the band took every opportunity to present full-length songs when playing in the stadium halls, often serenading the folks streaming out of the park. Some tapes conclude with hallway performances. In "Bugle Boy March" and "Gettysburg March" you can hear the musicians departing with the crowd, exiting to the open-air lot. Another hallway performance, "Canal Street Blues," is the jazz tune most often found in the extant tapes.

Most of these sounds were gathered at the ballpark in the open-air, in the middle of the action or the hallways. The excitement and high spirits are palpable in these portable open reel tapes that vividly captured the moment, despite numerous intrusions and distractions.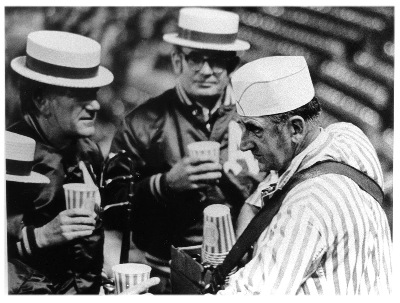 "The Best Band
in Baseball"

Promoting them in the San Francisco Chronicle 6/8/70, sports columnist Ron Fimrite touted: "the best band in baseball . . . one of the finest traditional bands in the United States . . . essentially Bob Mielke and his Bearcats . . . that has provided Bay Area music lovers with some of the best sounds in their genre."


That's only partially true. Resemblance to Mielke's previous band was nominal. Despite some similarity in personnel and repertoire this was not The Bearcats front line defined by P.T. Stanton's horn, nor their signature rhythm section.

Mielke's baseball outfit was a great little band. It had a distinctive, jolly sound of its own. Bob was proud to present it at ballparks, jazz events or casuals in the 1970s and '80s. For a while this quintet did double duty, booked and promoted as either Mielke's Bearcats or Dick Oxtot's Golden Age Jazz Band depending on who got the gig.

Oakland's Swingin' A's were a very good band that Mielke was proud to present at casuals and jazz festivals during the 1970s and '80s.

"That Certain Party"
"Pennsylvania Polka"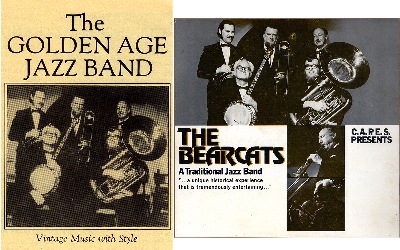 For a while the quintet fulfilled several roles, additionally promoted and booked as Mielke's Bearcats or Oxtot's Golden Age Jazz Band, depending on who got what gig.


Origins of the Oakland Swingin' A's

The former Kansas City Athletics (1955-68) had been a struggling second division team until Charley Finley moved it to the Bay Area and newly constructed Oakland Coliseum. He rapidly built up the roster, fortifying it with notable pitchers, power-sluggers and colorful personalities: Reggie Jackson, Vida Blue, Willie McCovey, Rollie Fingers, Catfish Hunter.

Image from the 1972 World Series program brochure.

The Oakland A's ball team emerged as a juggernaut winning 10 Division West titles and 6 pennant races. In a three-year streak they won the World Series, 1972-1974. Mielke's band rode their breakout to champions, flying with the team to Series away-games in Cincinnati and New York City.

The name Athletics dated back to the 1860s, suggesting a gentlemen's amateur sports club. The nickname "A's" was long used interchangeably with Athletics. Finley switched it officially to Oakland A's 1972-1980, informally the Swingin' A's.

The band started as the All Stars in 1968 playing for the San Francisco Seals hockey team owned by Finley. None of musicians were hockey fans wrote Oxtot, "but we enjoyed the fights that broke out in every game." The hockey team folded but Finley hired them for Oakland A's home games. After several names, team management imposed the designation Oakland A's Swingers, unaware of its ironic musical implications.

"Lassus Trombone"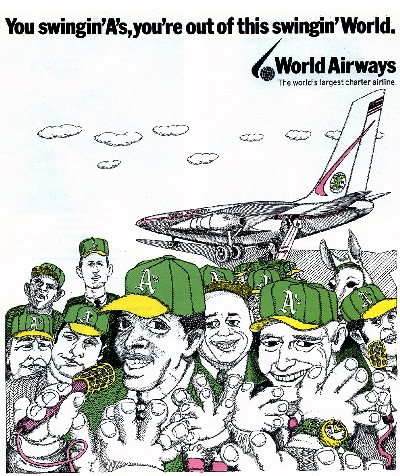 Image from the 1972 World Series program brochure.


McNamara's Band
A's Ballgame
Mother's Day 1970

Mielke, Neighbor, Helm, Oxtot, Moore

These were performed in the "hallway after game." Incidentally, "Canal Street Blues" is the most frequently performed title on extant tapes.

Copenhagen
Canal Street Blues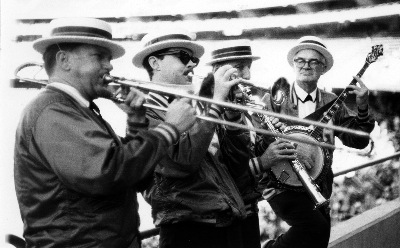 A Word on Bob Neighbor

Oakland native Bob Neighbor (b. 1937) was a fine cornet player who worked in the ensembles of Mielke, Oxtot, Don Ewell, Joe Sullivan, Kid Ory, Bob Scobey, Turk Murphy, Jack Buck, Wingy Manone, and played with many bands: Dixieland Rhythm Kings (OH), Golden State JB, Golden Age JB, Magnolia JB and The Bearcats.

Neighbor was also a great guy, fine graphic artist and wrote the foremost 'Fake Book' that provided lead sheets for over 313 Classic Jazz tunes utilized by Traditional Jazz musicians the world over.

Bob moved to Chicago in the late 1980s and now lives in New England.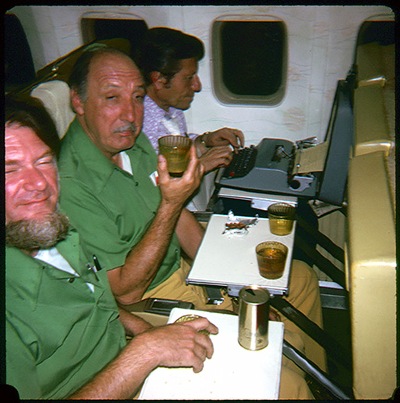 Wrote Oxtot in his 1994 memoir:

"Life on the road with Finely was a full-time party. Finley was a genial host. [In Detroit] he hosted a 7-course lobster dinner for a flock of dignitaries and the band. After the feast, which must have cost him a bundle, Finley called a cab and invited Mielke to ride back to the hotel with him. As the cab approached the hotel, Finley asked Mielke, 'Have you got five dollars for the cab?'"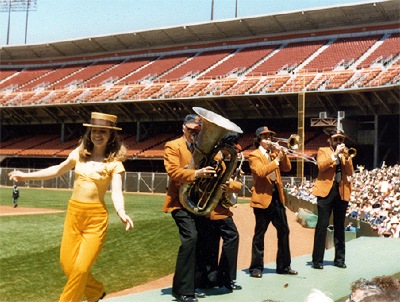 Oxtot on tuba,
playing pep for the competition.

Those are S.F. Giants colors!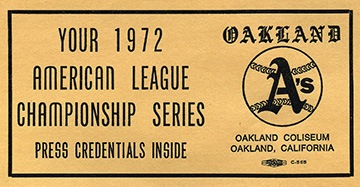 Oakland A's Swingers
Stockton Jazz Festival
Hilton Ballroom, Stockton, CA 10.3.82

Mielke, Neighbor, Bill Napier (clarinet), Oxtot, Walter Yost (tuba)

Set A
Take Me Out to the Ballgame
Canal St. Blues
You're the Cream in my Coffee (vocal, Oxtot)
New Orleans Stomp
Old Fashioned Love
Three Little Words
Lindberg, Eagle of the USA (vocal, Oxtot)

Set A complete 26:50

Set B
Down in Honky Tonk Town
That Certain Party (vocal, Oxtot)
Savoy Blues
High Society
(I'll Be Glad When You're Dead) You Rascal You (vocal, Mielke)

Set B complete 26:58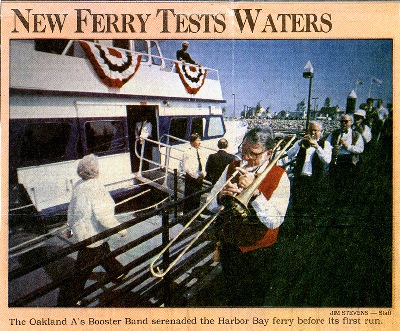 Festivals, Casuals
and Civic Venues, 1970s-80s

The baseball gig was seasonal of course, so Mielke sought other work at comparable civic venues. He booked jobs with Warriors basketball (1973), Bay Harbor Ferry Fleet (East Bay, 1982), even a grocery store opening. Bob gradually found them work at jazz festivals, casuals and civic venues.

Newspaper Caption:
"The Oakland A's Booster Band serenaded the Harbor Bay ferry before its first run."

Clever arranging, strong voicing and Mielke's faith in "standing on the chord" gave this little band a big sound. Presented here for the first time, concert, ballpark, party and festival tapes reveal a strong musical outfit. Its identity was rooted in Mielke's love for the ensemble, solid soloists, and a repertoire Mielke and Oxtot had played for decades. Presenting a broad range of moods, it had a sweet sensitivity for the blues, featuring the reed stylings of Bob Helm, Bill Napier or Richard Hadlock.

"Apex Blues"
"Panama"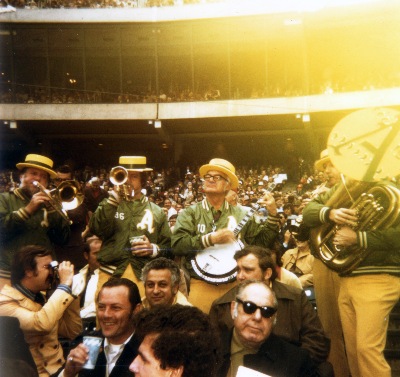 Oxtot recalled the 1973 World Series in his memoir:


"My last excursion to New York was with the A's band, and probably the most scary at first: the World Series against the New York Mets. The band's troubles began before the opening pitch of the first game, when . . . we began to play on top of the Mets' dugout. Immediately we were greeted by a barrage of beer bottles and other miscellaneous debris, thrown at us by the New York fans!

"

Photos: World Series away game, Oakland vs. New York Mets, New York City, 1973.

"We managed to dodge most of these flying missiles before the unfriendly atmosphere resulted in serious disaster, but the cops came to our rescue, post haste, made us get off of the dugout, and escorted us to some seats in the extreme rear of the grandstand where they instructed the band to 'play no more'."



[Lodged in the Americana Hotel, the musicians were invited to join jazz trumpet player Bobby Hackett:]

"We, of course, were delighted to have one of the tastiest trumpet players in the business play with us. We were honored, and considered the event to be the highlight of our visit to the 'Big Apple'."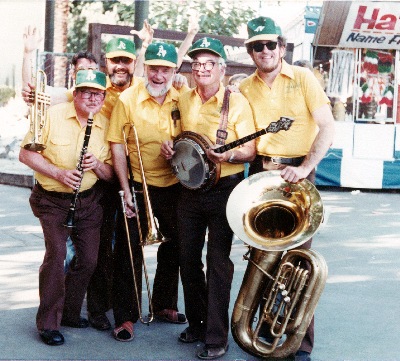 This 1981 photograph was reproduced by Mielke dozens of times for publicity and festival playbills.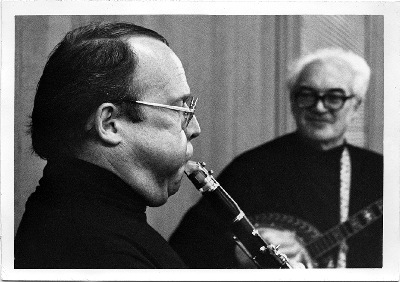 Oakland A's Swingers
Garden Party at Ingmire Residence
Alamo, CA, 8.11.84

Mielke, Neighbor, Bill Napier (reeds), Oxtot, Walter Yost (tuba)

Set A
My Blue Heaven
All the Girls Go Crazy
Canal Street Blues
Original Dixieland One-Step
Bourbon Street Parade
When I Take My Sugar to Tea (vocal, Mielke)
La Cucaracha

Ingmire Garden Party Set A complete 27:46


Set B
Just a Closer Walk
How come You Do Me Like You Do (vocal, Mielke)
Apex Blues
Down Home Rag
A Good Man is Hard To Find
In the Mood
Basin Street Blues

Ingmire Garden Party Set B complete 36:31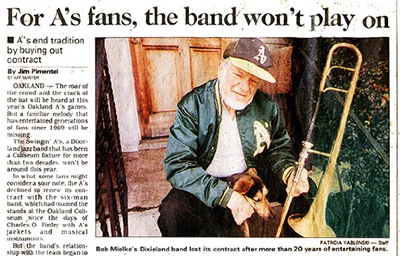 End of
The Swingin' A's

In 1992 Oakland A's Baseball was purchased by new management; sadly, they discharged the band. Mielke put up a brave public campaign, lobbying the team via letters and sympathetic newspaper columnists, but Oakland Baseball moved on.

Newspaper Caption:

"Bob Mielke's Dixieland band lost his contract after more than 20 years of entertaining fans."

Oakland Tribune, April 3, 1993



First season photo gallery.
Taken from a surviving 35mm contact sheet.
(click on the photos for larger images)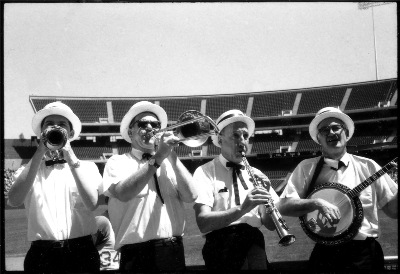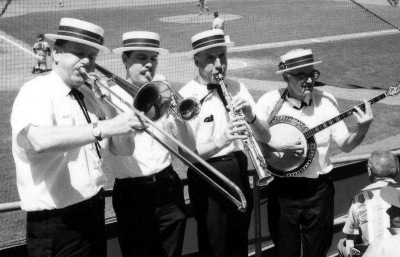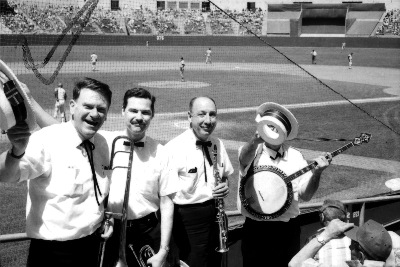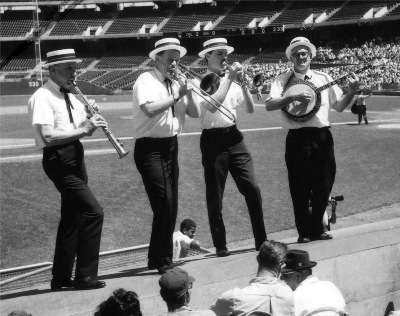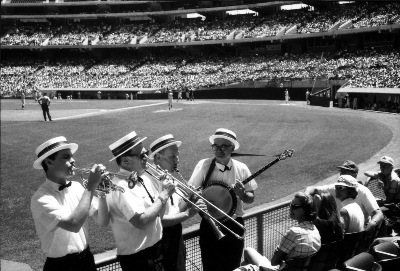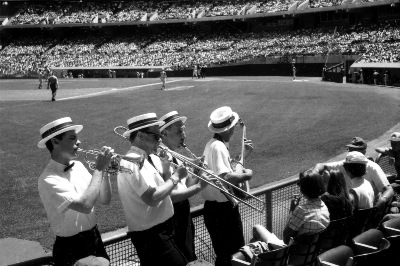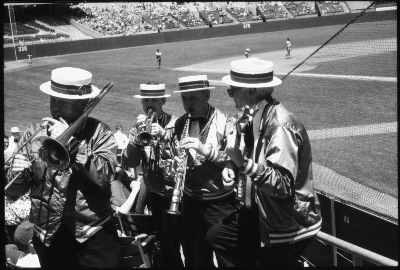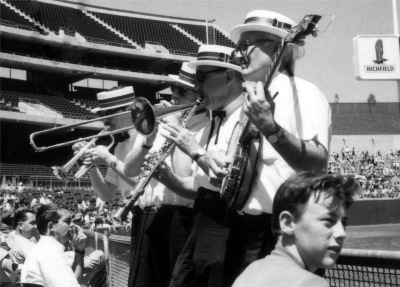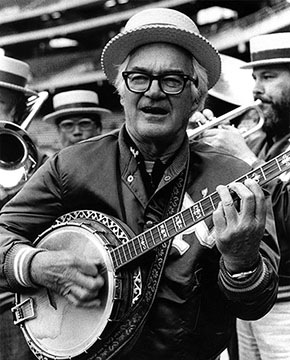 Photos of the quintet
Recovered from large-format negatives.
(click on the photos for larger images)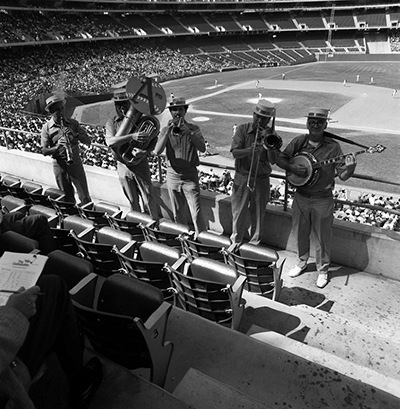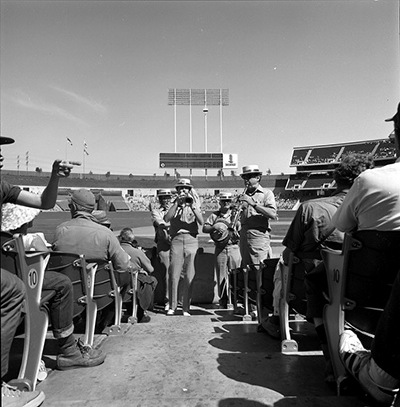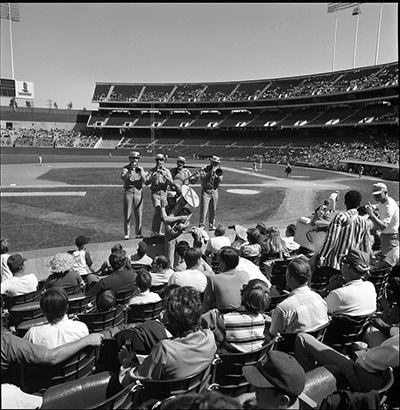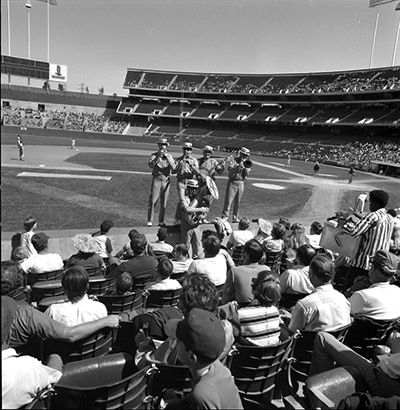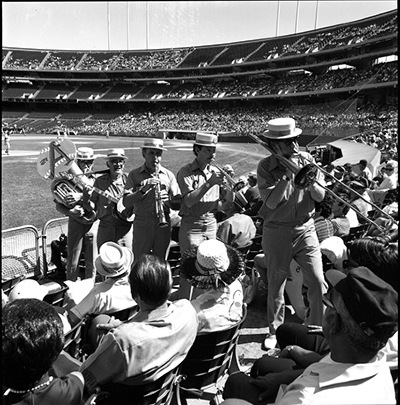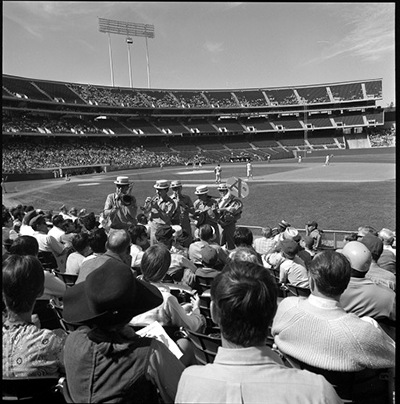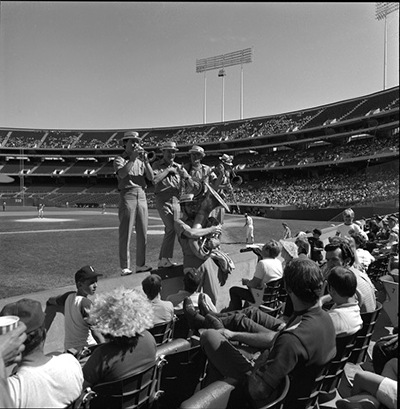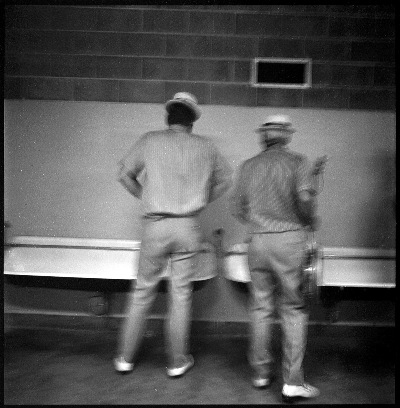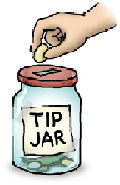 Tip Jar

This site is free. But you can help sustain it, and encourage me with donation to the tip jar. Secure payment through PayPal is anonymous, except that I will see your e-mail address.

Donation $5.00
Donation $10.00
Donation $20.00
Donation $35.00
Donation $50.00
Donation: You decide