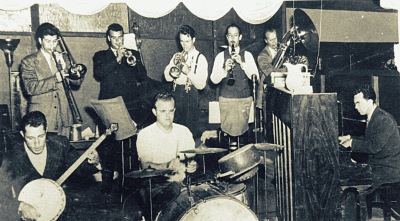 Yerba Buena Jazz Band

The west coast Traditional Jazz movement aspired to play authentic classic jazz from a generation earlier in the style of Jelly Roll Morton, King Oliver and the early New Orleans diaspora.

Included below are fresh transfers of some 20 rare Yerba Buena broadcast and performance discs from 1941-50. Noted as "Selman Collection," they're presented with great thanks to collector Frank Selman.



ARCHIVE MUSIC
Selman Collection:

CHIMES BLUES with intro - Dawn Club 10.24.41 - Selman Collection
MEMPHIS BLUES (annouce & DIPPERMOUTH fragment) - Dawn Club - Selman Collection
(noisy to :45)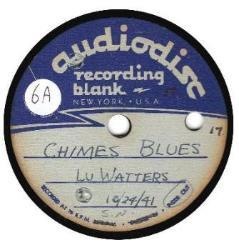 A Musical Rebellion
In 1940 the Lu Watters' Yerba Buena Jazz Band was formed in revolt against the Big Band swing of its day. They defiantly rejected what they saw as bland or overly sophisticated written arrangements: modern orchestras were stifling real jazz expression.

Lu Watters discarded any musical practice or technique after 1930. The band's tunes were arranged in relatively simple charts with instrumental solos and breaks. Watters kept the ensemble predominant, avoiding the Dixieland formula associated with Eddie Condon in the East. The hallmarks of this new 'tradition' were a pre-Swing perspective, and commitment to renewing the New Orleans ensemble style: interwoven polyphonic musical lines.

Yerba Buena was dedicated to an early, even primitive, jazz style rejecting the Hit Parade of the day for a repertoire from the first quarter of the 20th century. They set about reviving hundreds of long forgotten blues, ballads, early jazz and Tin Pan Alley tunes.


Phil Elwood on YBJB
Hear the legendary 1957/1966 radio broadcasts including:
interviews with Lu Watters and Bob Scobey, and 97 rare recordings and acetates.



CHRONOLOGY OF YBJB
(Abstracted in part from: Emperor Norton's Hunch, John Buchanan, Hambledon Productions, 1996.)

YBJB Pre-Chronology
1934 & 1936 - First meeting of Bob Helm and Turk Murphy in touring dance orchestras.

1936-37 - Lu Watters, weary of dance orchestras, decides to either play jazz professionally or quit music. Various bands are organized by Watters or Murphy with Bob Helm (clarinet), Bill Dart (drums), Byron Berry (trumpet) and others.



ARCHIVE MUSIC

Lu Watters' Sweets Ballroom Band, 1938-39

Floatin Down to Cotton Town.mp3
Shake That Thing.mp3
St James Infirmary.mp3

Thanks to San Francisco Traditional Jazz Foundation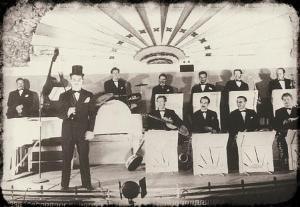 CHRONOLOGY:

1938-39
SWEETS BALLROOM
Watters organizes the successful Sweets Ballroom Orchestra, an eleven piece band with Bob Helm (reeds), Bob Scobey (trumpet) and Russ Bennett (banjo).

Engaged at the popular Oakland ballroom playing both conventional charts and jazz arrangements they break attendance records drawing over 3200. Bob Helm later called it the best big band he ever played in.



BIG BEAR TAVERN
The Traditional Jazz revival began at Big Bear Tavern in the Oakland Hills: "The tavern was an old fashioned roadhouse containing stables for horses and a dance floor for 400 people." Jam sessions at Big Bear draw jazz musicians from all over the Bay Area to what Helm called, "an experimental laboratory of jazz."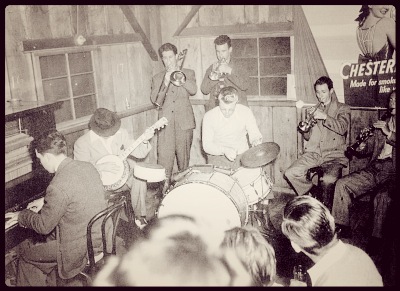 Big Bear Tavern,
memorialized in Lu's
"Big Bear Stomp"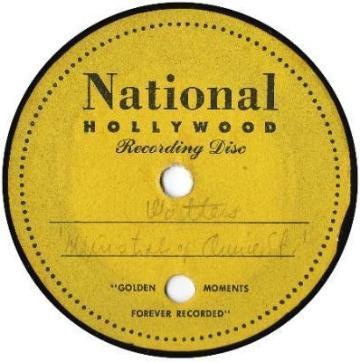 The Watters Sound
Lu modeled his band on the two-cornet front line of Joe "King" Oliver's Creole Jazz Band records, 1923-24. But he was also emulating the 'outdoor' sound of early New Orleans: the brassy style of music played in parks and pavilions, lakeside picnics and dances. Yerba Buena manifested a musical sensibility and repertoire dating back a generation. The rhythm section emphasized tuba, banjo and 2/4 time signature -- possibly adopted from the early Bennie Moten band -- an overt rejection of modern 4/4 swing.

The Yerba Buena sound was determined by Watters' vision, its structure, and its personnel. Watters seconded by Bob Scobey was a forceful and confident trumpet lead. Turk Murphy's tailgate trombone had huge volume and swing. Reed men Bob Helm and Ellis Horne played outside the mainstream in an acerbic, Johnny Dodds-influenced style from the 1920s, with an added edge to cut through the din of 4 brass instruments.

At full tilt Yerba Buena was stupendously loud. The front line horns were so raucous they usually stood behind or next to the rhythm instruments so as not to drown them out, or a second banjo was added. This configuration set the pattern for a slew of bands that followed and have kept this characteristic sound alive.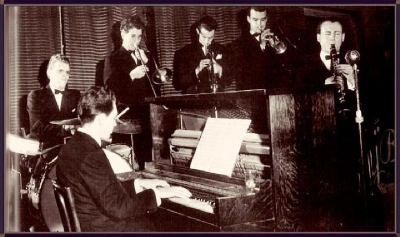 Pianist Wally Rose was integral to the band: a featured piano rag soloist, he was also leader of a world wide Ragtime revival.

Notably he continued his professional career as a classical concert pianist and performed often with the San Francisco Symphony.


ARCHIVE MUSIC

PASTIME RAG - YBJB broadcast [Wally Rose feature with rhythm] - Selman Collection
THE CASCADES - [Wally Rose feature with rhythm]- Selman Collection



CHRONOLOGY

1940
In rehearsals at the MARK TWAIN HOTEL the basic Yerba Buena Jazz Band takes shape: a two-trumpet front line with Watters and Scobey, drummer Bill Dart and Clancy Hayes (vocals, banjo, guitar, drums or washboard); they perform for the Hot Music Society of San Francisco.

Aug 1940
The DAWN CLUB operated by the band opens near Union Square in San Francisco, at 20 Annie Street. Friday night broadcasts begin on radio KYA.

Dec. 1941 - March 1942
First two Jazz Man record label recording sessions at the Dawn Club, and studios of radio station KFRC.



The Dawn Club (1941-44, 1946)
The Dawn Club in San Francisco was headquarters for the Trad Jazz revolution.

The former speakeasy was operated by the band with dancing 4 or 5 nights a week and broadcasts to the greater Northwestern United States. During and after WW II, San Francisco was a major port for troops departing or returning from the Pacific war. Many heard 'the truth' visiting the Dawn Club, sparking a lifelong interest in the genre.

In 1946 the ABC Radio network hosted a 15:00 minute radio broadcast from the club three nights a week via local affiliate KGO. Numerous airshots and disc-recordings from the Dawn Club have been issued over the years. These never published, or long out-of-print discs from the Selman collection convey the electric and uninhibited atmosphere surrounding the band.

Even Time Magazine took note of the big noise in Frisco, June 24, 1946:
"Fans gather in the dark Annie Street cellar, to the un-muted two-beat Dixieland rhythms
. . . The college students, sailors, socialites and nostalgic old timers who pack the joint don't come to sit and listen. Their dancing rocks the floor like an old fashioned fireman's ball."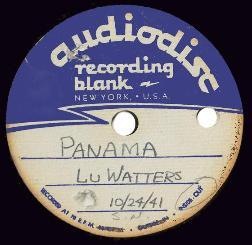 ARCHIVE MUSIC

OSTRICH WALK- Dawn Club
[1946, ABC/KGO sign-off] - Selman Collection

PANAMA - Dawn Club 10.24.41 - Selman Collection



World War Two and Yerba Buena
In December 1941 just as the Watters' band popularity was rising rapidly, the Second World War began for America. It disrupted orchestras across the country and many disbanded. But Yerba Buena held together despite the enlistment of Watters, Scobey, Wally Rose and Turk Murphy.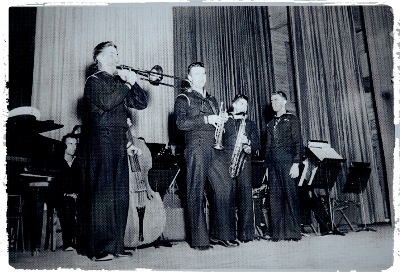 Turk almost succeeded enlisting the band in-whole -- as was done with the Glenn Miller orchestra -- but the negotiation failed. For a while Murphy and Watters served near San Francisco under a lenient commander who allowed them special dispensation to play jazz, and even maintain an unofficial Navy jazz band (seen right).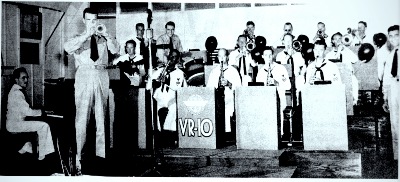 In Hawaii Watters led a service swing band of "competent amateurs and professionals," the 15-piece VR-10 Skymasters.

During the war Yerba Buena substitute trumpeters included the brief leadership of doomed genius Benny Strickler, Al Zohn or others. Burt Bales was at the piano bench for Wally Rose. Serving as "placeholder for Turk," in his own words, was 17 year old trombone player Bill Bardin, working by special permission of the musician's union, though Murphy was often allowed leave from his nearby Navy station to play . . . sometimes in uniform. Two clarinets were utililzed when no trumpet was available, or to fortify the single-trumpet front line.

Lu Watters wrote several of his signature tunes while shipping out to Hawaii in 1944: "Annie Street Rock," " Sage Hen Strut," "Big Bear Stomp," "Hambone Kelly," "Antigua Blues," and "Emperor Norton's Hunch."

Immediately upon discharge the band began rehearsing five hours a day for two months, building to the successful relaunch in March 1946. But it closed permanently at the end of that year.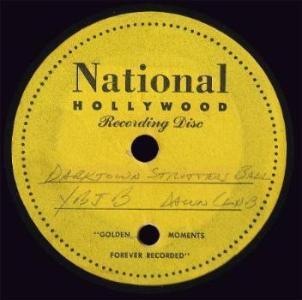 ARCHIVE MUSIC:

DARKTOWN STRUTTER'S BALL - ABC/KGO [Dawn Club 1946, vocal by Turk] - Selman Collection

TROMBONE RAG - Broadcast [featuring Turk Murphy] - Selman Collection

EMPEROR NORTON'S HUNCH - Dawn Club [or Hambone Kelly's] - Selman Collection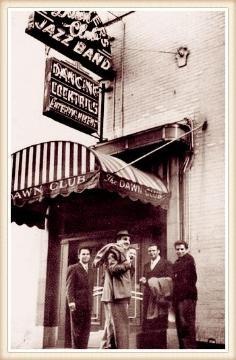 Tax and management troubles shut the Dawn Club more than once.

L to R: Wally Rose, Bob Helm, friend, Lu Watters, Turk Murphy anticipate the 1946 reopening.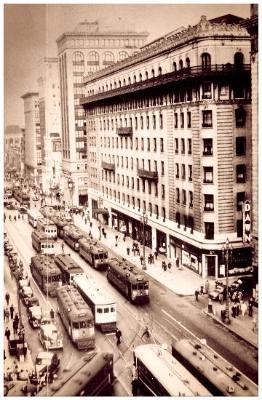 SIDEBAR:
"The nights at the Dawn Club were heaven . . . "

Broadcaster and writer, Phil Elwood recalls YBJB and the Dawn Club at 20 Annie St.: a short alley off Market Street, seen right

(Excerpted from Lu Watters Yerba Buena Jazz Band, The Complete Good Time Jazz Recordings, Good Time Jazz/Fantasy Records, 1993.)

I was 13 when I first heard the 1942 Watters band at the Dawn Club, a low-ceiling, dark-wood basement saloon with a dance floor, long bar, and more space than light. Although I'd bought a couple of the Jazz Man white-label 78 rpms (a paper-route income didn't support dollar-apiece record purchases) and had heard Hal MacIntyre's Friday night half-hour broadcasts from the Dawn Club on KYA. I wasn't ready for the power of the 'live' Yerba Buena Band, nor the richness of the arrangements or the brilliance of the solos.

For a teenage 'moldy fig' (that's what the beboppers called us traditional jazz freaks), the nights at the Dawn Club were heaven. The band's beat was solid; in fact, heavy -- danceable but hardly swinging. Most impressive was the ensemble work, a characteristic I still search: the two trumpets (a la Oliver's Creole Jazz Band), the rowdy, smearing trombone, the outdoor-style clarinet. Ellis Horne's clarinet was mellow, sensuous, and beautiful; he was ot of the thick-vibrato Johnny Dodds school but more introspective, like Leon Rappolo.

Watters was, of course, perpetuating the 'outdoor sound' of classic New Orleans instrumental jazz. If Lu's beat seemed too heavy, the banjo part still maintained the New Orleans four-beat meter.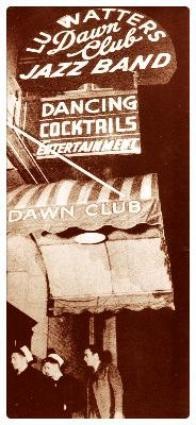 During the band's wartime hiatus, quite remarkably, the reputation and the sound of the Yerba Buena Jazz Band and indeed of the who New Orleans jazz revival, grew and flourished. Venerable New Orleans trumpeter Bunk Johnson played with various Watters' bandsmen around San Francisco in 1943, helping link the Yerba Buena with the New Orleans traditional jazz groups of the twenties and the Dawn Club often included Yerba Buena Bandsmen in it wartime jazz combos. Bill Bardin, trombonist in the Dawn Club wartime band, recalls that servicemen from all over would drop in and ask about the Watters Band. The trad-jazz revival had gone world-wide.

Though little note had been taken of the band's break-up four years earlier, the 1946 opening was of heroic proportions, noted not only in the S.F. Bay Area press but on entertainment newswires and in such jazz publications as Down Beat and Metronome, which had otherwise paid little attention to the trad-jazz revival.

From March until New Year's Eve, 1946-47, the Yerba Buena Jazz Band played marvelous music from its ever-expanding book, and the crowd turnout was impressive. In the fall of 1946, much to the astonishment and delight of the trad-jazz crowd, the Yerba Buena Band had regular midweek remote radio broadcasts from he Dawn Club on KGO . . . A number of stations in the West on the network picked up these broadcasts, expanding the band's following even more. The Watter's band was setting an example -- a very high standard, world-wide -- of what a traditional jazz band should sound like. Fans came form around the world: Annie Street became the moldy fig's 52nd Street."



ARCHIVE MUSIC
(Fiber-core Recordio discs in poor condition.)

SUNSET CAFE STOMP - Dawn Club 5.22.42 - Selman Collection

ROYAL GARDEN BLUES - Dawn Club 5.22.42 [vocal, Clancy Hayes] - Selman Collection

A GOOD MAN IS HARD TO FIND - Dawn Club 5.22.42 [vocal, Bob Best] - Selman Collection

CLARINET MARMALADE - Dawn Club 5.22.42 - Selman Collection

SENSATION RAG + announce - Dawn Club 5.22.42 - Selman Collection

IRISH BLACK BOTTOM - Selman Collection
(Very poor condition.)




CHRONOLOGY

1942, WW II
Enlistment in armed forces of Watters, Scobey, Murphy and Wally Rose. YBJB continues with substitutes and alternates.

April 1943-mid 1944
Arrival of rediscovered 65 year old New Orleans trumpet player Bunk Johnson. Bunk performs and records with YBJB personnel and related ensembles. (see: Bunk Johnson page this site)

Late 1944
DAWN CLUB closes due to taxes and finances.

March, 1946
DAWN CLUB reopening with expanded seating is a sell out.
Several dozen titles recorded in sessions at Avalon Ballroom released by Neshui Ertegun on West Coast Records. First gig in Southern California.

Dec. 31, 1946
Last performance at the DAWN CLUB, which closes permanently due to continuing financial and tax woes.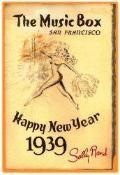 Hambone Kelly's on 'the Strip'
Seeking a new venue in 1947 they bought the former East Bay burlesque club of famed dancer, Sally Rand. It reopened as Hambone Kelly's under band management.

The nightclub was located in unincorporated El Cerrito on a section of San Pablo Avenue called "the strip." It was a vice district well-known for gambling, prostitution, and strip clubs along the "San Pablo drag."

The suddenly abandoned club even showed evidence of use as a brothel, with cribs and rococo ceiling frescoes. Bob Helm briefed John Buchanan, author of Emperor Norton's Hunch on the situation: "At 204 San Pablo Avenue, right beside Wildcat Creek, stood a gigantic white building . . . it had operated as Sally Rand's Hollywood Club . . . Surrounded by the wild nightlife up and down "the strip," this was an ideal location for a jazz club . . . ." On one side of the club stood a high-stakes all-night gambling joint. Over the back fence was a dog racing track. Nearby were 24-hour clubs with off-track betting, cards, dice and roulette.


Bay Area Jazz Clubs of the 'Fifties
Hambone Kelly's was highly rated
in this typewritten monograph by Brett Runkle, Berkeley 1978



ARCHIVE MUSIC

GET IT RIGHT - Hambone Kelly's - Selman Collection
THE PEARLS - Hambone Kelly's [Wally Rose with rhythm] - Selman Collection
GOT DEM BLUES - Hambone Kelly's [or possibly Dawn Club] - Selman Collection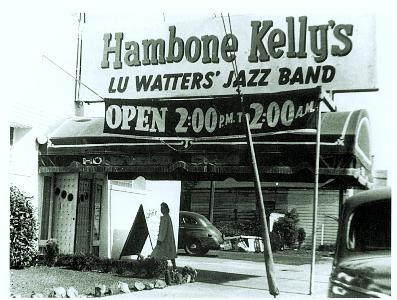 Hambone Kelly's might not have looked like much from the outside, but the interior was plush . . . first rate.


Major remodeling was organized by Murphy: construction of a 100 foot long bar, a dance floor accommodating 400, and a piano lounge with a second bar. Most of the band members took up residence. Watters oversaw construction and operation of the kitchen.

It was a collective effort says Buchanan: "Most of the band members and their families lived on the premises. It was a true co-operative by the members of the corporation -- they shared all the duties. Bob Helm opened, stocked and operated the bar until it was time for the first set . . . He then gave a hand over the barbecue pit where Lu had been toiling all afternoon. Lu's wife Pat was in charge of the staff."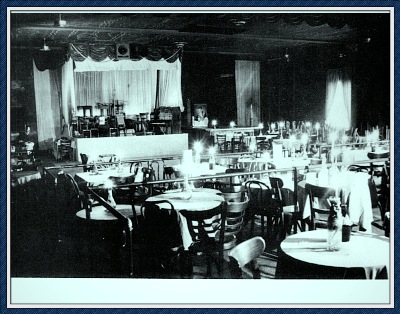 View across the dance floor to the stage at Hambone Kelly's.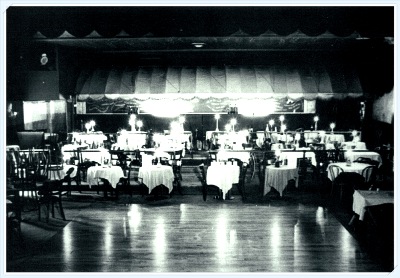 View across the main dance floor to the 100' bar.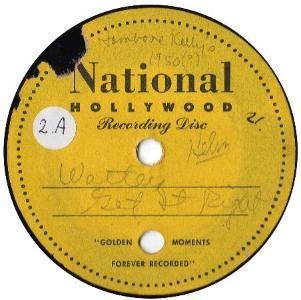 'The Biggest House Party in History'
Hambone Kelly's was a big success from the start with up to 1000 customers on a typical weekend, serving dinner five nights a week starting at 5 pm with music from 8 pm to 2 am. Diners were drawn not only by jazz, but offered silent movies or Charleston dance lessons. Lu operated a rather large barbecue operation.

The band's records were selling well, and the whole enterprise got a boost when two months after opening, Rudi Blesh hosted a coast to coast "This Is Jazz" broadcast from the club on August 16, 1947.

Bob Helm called it, "the biggest house party in history." Sundays were set aside for visiting musicians: James P. Johnson, Kid Ory, Mutt Carey, Ralph Sutton, Peanuts Hucko, Eddie Condon, Darnell Howard and Wild Bill Davison to mention a few.

But of course it couldn't last. Behind the scenes there were frictions, freeloading and financial tensions. In 1948 Watters had to reorganize after Turk and Scobey left to launch their own careers, and the departure of Rose and Dart. Only Helm and Dick Lammi remained from the original crew. Watters switched to a single trumpet format, and sounded very good.

During 1949 the band stabilized, sometimes with Fred Higuera drums, or without drums. No longer officially Yerba Buena except for marketing purposes, they cut a dozen sides for Down Home Record company, and another 25 for Mercury (produced by Norman Granz, with over 100 more projected). All were recorded at Hambone Kelly's 1949-50. Don Noaks was usually in the trombone chair. Rose and Dart returned to the fold and are heard on all the Down Home and Mercury sides.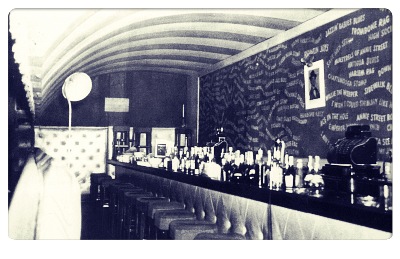 Hambone's bar had the titles of the band's unfamiliar repertoire on the wall as an aid to fans.

The End of the Strip, Hambones & YBJB
The shut down of illegal vices and some of the clubs on the strip around 1950 impacted their business. The band was reduced to playing three nights per week, and to seven pieces, then six, and finally to a quintet: Watters, Helm, Rose, Lammi, Dart, with occasional drop-ins from Clancy Hayes or Turk.

Toward the end of Hambone's, even with the band in seeming decline, the music took on an uninhibited quality. The "Whorehouse Five" as they called themselves, let loose with some of their finest jazz. Lu called it, "wild assed recklessness; we played a thousand tunes and never got bored. We were faking all the time."

Hambone Kelly's closed December 31, 1950, concluding the decade-long era of Lu Watters' Yerba Buena Jazz Band.

* * * * *



Special thanks to Hal Smith for research and assistance.Disc transfers by Eric Jacobs of Audio Archive.

Most of this account, the quotes and photos, are from the well-researched and easy-to-read history of Yerba Buena by John Buchanan: Emperor Norton's Hunch, Hambledon Productions, 1996.



CHRONOLOGY

1947
HAMBONE KELLY'S
After a short break the band buys, renovates, and successfully operates a nightclub called Hambone Kelly's in the East Bay.

1948
Departure of Scobey, Turk and original personnel except for Bob Helm and Dick Lammi.
Wally Rose and Bill Dart leave replaced by Johnny Wittwer (piano) and either no drums or Fred Higuera. Lu adopts a single-trumpet format ending the classic YBJB two-horn configuration.

1949
Short break while Watters undergoes hernia surgery. He switches to washboard for while in the related Clancy Hayes Washboard Five, with Helm, Rose, Lammi.

Scobey plays trumpet. Wittwer is replaced by Burt Bales (piano). The six-piece band with Scobey, Murphy, Helm, Bales, Mordecai and Lammi plays a concert at the Pasadena Civic Auditorium, billed as "Lu Watters' Yerba Buena Jazz Band," together with a trio consisting of Albert Nicholas, James P. Johnson and Zutty Singleton.

Watters Recording sessions at Hambone's generate 12 sides for Down Home and 25 for Mercury Records.

Scobey and Murphy leave the band permanently near the end of 1949. Watters, recovered, is the sole trumpet. Helm remains on clarinet and Lammi on tuba. Don Noakes replaces Murphy and the band stabilizes at 8 pieces: Clancy Hayes and Pat Patton are on banjos, and Rose and Dart return to the band.

1950
Music at Hambone Kelly's is reduced to three nights when nightlife declines on the San Pablo strip. The band gradually shrinks to a quintet, with drop-ins from Turk or Clancy.

Hambone Kelly's closes December 31, 1950.


New 4.2015

In Bay Area Jazz Clubs of the Fifties, Brett Runkle assessed Hambone Kelly's as the best Jazz Club in the Bay Area, setting the bar for all others. It was the only club he rated five stars:

"The number of asterisks after a club is an indication of how good a time I had there. Hambone Kelly's gets five stars right off the bat. I have never duplicated the level of excitement that came from standing "under the guns" while a hundred dancers picked them up and layed them down in precise Busby Berkeley fashion behind me.

Starting Sunday afternoons, Hambone's had a band (often a guest shot), cheap dinners and old-time movies. Physically, Hambone's looked like an old "wadhouse". It was set back from San Pablo Avenue and had ample parking in the rear. It had lots of shrubbery, part of which was illegal. Before the Watters band moved in, the place had been operated by Sally Rand. A county line bisected the club. Hambone's had a front bar in Alameda County and a large back-room bar in Contra Costa County.

On slow nights, Watters might rumble musical advice from the next bar stool: (Play big, not loud. If you play into a break by mistake, don't stop. Play right through it.") Bob Helm seldom missed an opportunity for a friendly chat and could field any question about jazz. The Watters band had charts for about 300 jazz tunes. They could play upwards of 100 tunes.

I'm told that the Watters band I heard in 1949 and '50 was a pale comparison of the one a few years back, and that the Dawn Club was superior to Hambone's. I suppose so, but I was in the Boy Scouts then."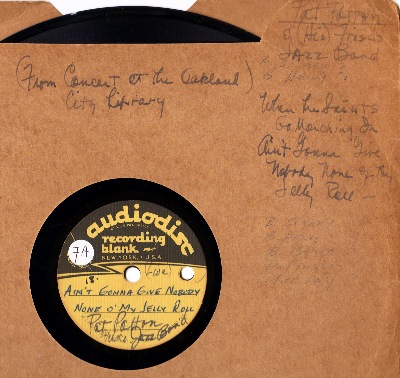 Lagniappe:

ARCHIVE MUSIC

Pat Patton's Frisco Jazz Band:

THE SAINTS - Oakland City Library - Selman Collection
[vocal Murphy]


AIN'T GONNA GIVE NOBODY NONE OF MY JELLY ROLL - Selman Collection
[vocal Bales]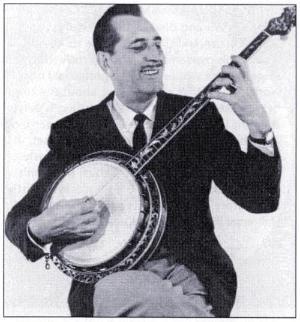 This disc is a curiosity, clearly identified on the label and sleeve, Pat Patton Frisco Jazz Band, Concert at Oakland City Library. Frisco Jazz Band was later run by Bob Scobey.

Probably 1947, Scobey (vocal), Turk doubles on washboard.

Likely personnel:
Bob Scobey (trumpet, vocal)
Bob Helm (clarinet)
Turk Murphy (trombone, washboard)
Burt Bales (piano)
Patton (string bass)


Patton (right) was a banjo and bass player involved in the early development of the West Coast jazz revival. He played with Bob Scobey, Turk Murphy, Bunk Johnson, Marty Marsala, Johnny Wittwer, Pete Daily, Jack Sheedy and the Yerba Buena.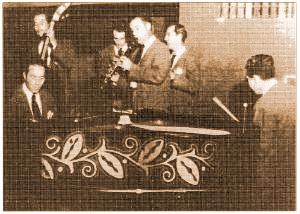 Yet another line-up of Frisco Jazz Band c. late 1940s.

L to R: Ray Jahnigen, Pat Patton (bass), Bob Scobey (tp), Jack Crook (clt), Jack Buck (tbn), Gordon Edwards (dr)

(Photo: Ed Lawless collection, from, Some Jazz Friends, Clute & Goggin, 2005)


Note on the Discs:
The 24 extremely rare Yerba Buena air shots and private recordings in this collection were amassed over decades by Bill Reynolds, and are currently in the possession of Frank Selman who has made them available.

Recorded between c. 1941-50, the dates and locations are provided where available, but many disc labels are erroneous. About half have been previously issued in small numbers by specialty labels: Fairmont, Down Home, or The San Francisco Trad Jazz Foundation.

Mostly recorded at or from the Dawn Club, they include some of the players who substituted during WW II such as: Bill Bardin (trombone), Burt Bales (piano), Russ Bennett (banjo) or Squire Girsback (tuba). Clarinet players are Bob Helm or Ellis Horne.

Vocals are by Turk Murphy, Clancy Hayes, or Bob Best on "A Good Man is Hard to Find."

Disc condition and sound quality vary widely.
Despite my restoration efforts a great deal of disc noise remains audible in these historic musical artifacts.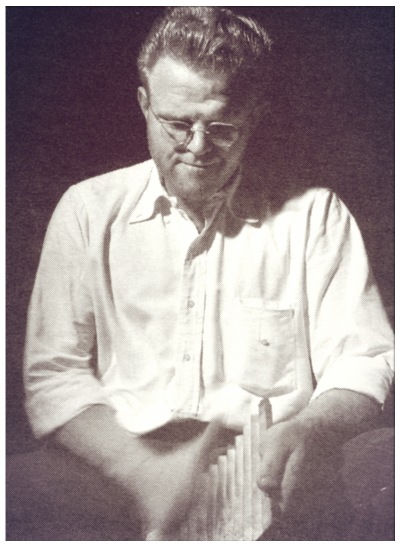 BILL DART

Commentary by drummer Hal Smith:

The distinctive drumming of Bill Dart is one of the hallmarks of the Yerba Buena Jazz Band sound. He played predominantly on the woodblocks (a variety of them, in different pitches) and, to a lesser extent, on choked cymbals and non-tunable tack-head tom-toms. The sound of the blocks, cymbals and toms blends perfectly with the various pianists, banjoists and bassists who comprised the YBJB rhythm section. Dart had a good instinct for which instrument to use behind the soloists -- for instance on the 1946 West Coast recordings, he tended to play blocks behind Wally Rose and Turk Murphy, choked cymbal behind the trumpets, tom-tom behind Bob Helm. Wayne Jones (another great Traditional Jazz drummer) once said to me, "I wish I could tell Bill Dart that he was exactly the right man for the job."

Woodblocks
Although Watters could not seem to get enough of the woodblock, that particular percussion sound did not appeal to everyone… Record producer George Buck recalled going into the Commodore Music Shop in New York and asking for the latest release by the Yerba Buena band. A clerk responded, "Oh. You mean Lu Watters and his musical tick-tocks?" At a recording session in 1993, I accompanied Wally Rose on a piano rag. After the first take, hoping that he approved of the way I mixed woodblock, cymbal and tom-tom I asked, "Was that o.k., Wally?" He replied, "Yes, that was good. Dart would have played woodblock through everything!" On the other side of the coin, pianist Burt Bales once told me that "Dart was a good tap-dancer" and he was obviously recalling Dart's expertise with the woodblock!

The restrictions on the drumming came to a head in 1948. One night Dart mounted the bandstand at Hambone Kelly's only to see that the cymbals, tom-toms and bass drum pedal had been removed from his set. The woodblocks had been left on the bass drum and there was a round plywood insert inside the snare drum rim -- with four additional woodblocks!

Choke Cymbal at Hambone's
In 1949, Dart returned to the YBJB at Hambone Kelly's. Scobey and Murphy had left to form their own bands, and banjoist Harry Mordecai had retired from playing. The sound of the band had changed quite a bit, as Watters was the only trumpet, and trombonist Don Noakes was much less aggressive than Turk. In the rhythm section, Mordecai's propulsive strumming was replaced by the easygoing twin banjos of Pat Patton and Clancy Hayes. The reorganized YBJB recorded extensively for Watters' own Down Home label as well as Norman Granz's Mercury label. Amazingly, the drumming on all these records indicates that Watters wanted to hear something besides woodblock as the dominant percussive sound. That "something" turned out to be the choke cymbal.

With precious few exceptions, Dart played choke cymbal not only on the commercial recordings, but on the broadcasts from Hambone Kelly's and the live recordings which were made by Bob Helm. Though choke cymbal is great for marking the time and driving a band, it takes a lot out of a drummer. The angle and height of the left arm can become tiresome and so can the repetitive motion of damping and striking the cymbal. Dart is not known to have suffered from bursitis or carpal tunnel syndrome, but some photos of his drum set at Hambone Kelly's show that the cymbals were lowered to a height where he would not have to raise his left arm so high.

Drummer, bandleader and jazz historian-writer, Hal Smith has studied and admired the work of YBJB drummer Bill Dart.

See the full article and more on Dart, here.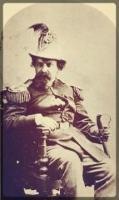 SIDEBAR:
Regarding Lu Watters' famed composition, "Emperor Norton's Hunch."
It celebrates the whimsical 21-year reign of Emperor Norton, the Mad Monarch of Montgomery Street, and his prescient 'hunch.'

After losing a great fortune c. 1859 he declared himself NORTON I, Emperor of the United States. Though penniless he was beloved and revered, conducting himself in the demeanor of a royal personage. Most locals granted him the obeisance of office, and he dined at the finest restaurants, lodged, drank, and was entertained gratis. Norton had an honored seat at any theatrical or musical performance, and issued his own currency notes which were locally honored.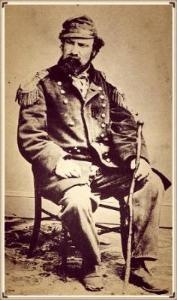 Joshua A. Norton 1819 – January 8, 1880
Emperor Norton I of San Francisco;
Emperor of the United States and Protector of Mexico

Today Emperor Norton is celebrated as one of that colorful city's more eccentric figures.



YBJB-related links (this site):

YBJB Archive

Phil Elwood on YBJB
Hear the legendary 1957/1966 series including interviews with Lu Watters and Bob Scobey,
and 97 rare recordings, broadcasts and acetates.

Benny Strickler
Bill Bardin
Bill Dart
Bob Helm
Bunk Johnson
Burt Bales
Clancy Hayes
Lu Watters
Turk Murphy
Wally Rose



YBJB-related links (external):

Lu Watters YBJB discography (original recording issues)
Lu Watters YBJB album index (LP albums 1941-62)



The US census of 1870 lists Joshua Norton age 50, residing at 624 Commerical St., occupation, Emperor. He was in many ways a rational man who spoke intelligently of politics and science, and was a good chess player. For better or worse, his many proclamations were ignored:

* July 16, 1860 – Decree from Norton I dissolved the United States of America.

* September 21, 1870 – Decree from Norton I that the Grand Hotel furnish him rooms under penalty of being banished.

* March 23, 1872 – Decree by Norton I that a suspension bridge be built as soon as convenient between Oakland Point and Goat Island, and then on to San Francisco.

* September 21, 1872 – Norton I ordered a survey to determine if a bridge or tunnel would be the best possible means to connect Oakland and San Francisco. He also ordered the arrest of the Board of Supervisors for ignoring his decrees.

Norton dropped dead on January 8, 1880 while strolling to a lecture at the Academy of Natural Sciences. His two mile long funeral cortege was attended by 10,000.

One might note that today the cities are connected by the Oakland-San Francisco Bay Bridge, and a rapid transit tunnel under the bay.

For more see, Emperor Norton of San Francisco, William M. Kramer, 1974, California State University Northridge, 1974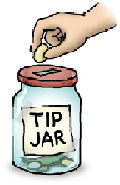 Tip Jar

This site is free. But you can help sustain it, and encourage me with donation to the tip jar. Secure payment through PayPal is anonymous, except that I will see your e-mail address.

Donation $5.00
Donation $10.00
Donation $20.00
Donation $35.00
Donation $50.00
Donation: You decide