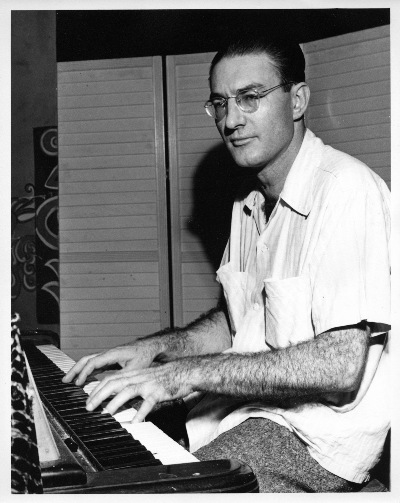 Burt Bales

1916 Stevenson, Montana - 1989
San Francisco

The best classic jazz piano player to emerge in the West and an incomparable interpreter of Jelly Roll Morton's piano style.



Not well known outside San Francisco, classic jazz pianist Burt Bales was among the best ever heard on the West Coast. A spectacular piano player with explosive dynamics, Burt was an incomparable Jelly Roll Morton interpreter who had a formidable left hand -- which I can testify to as someone who heard him.

Since the early-1940s Bales had worked with the San Francisco bands of Lu Watters (1943, 1949), Turk Murphy and Bob Scobey (1947-1950), and New Orleans stars Bunk Johnson (1943-44), Mutt Carey and Wingie Manone.

Largely self-taught, Bales spent his teen years playing speakeasies and bordellos in northern California becoming a professional musician around 1940 when he fell in with the Traditional Jazz revival and working for Watters, Scobey and Murphy. As a solo act he was featured at the 1018 Club in San Francisco in the late 1940s, and at Pier 23.

Burt held forth semi-regularly at Pier 23 on the San Francisco waterfront (1954-66). For a few years around 1960 he was joined by Frank Big Boy Goudie with whom he partnered for other gigs.


Piano player Peter Clute recall Bales from
Some Jazz Friends, Clute & Goggin, Trafford, 2005:

Burt was a very warm, friendly person who wore Hawaiian shirts in the middle of winter knew just about everyone and was eager to help a fledgling piano player make good."

"Burt had lived in in Santa Cruz in his youth and had become a friend of Stan Kenton before Kenton made a name for himself. Kenton showed Burt how to stretch his fingers and showed him exercises so that [he] was able to reach octaves. Burt spoke highly of the harmonies attained by Kenton and had a very warm feeling for modern jazz."

"Whenever I'd run into Burt, he'd laugh and make a comment about something completely 'off the wall,' and then chuckle a little more a give me a great big hug."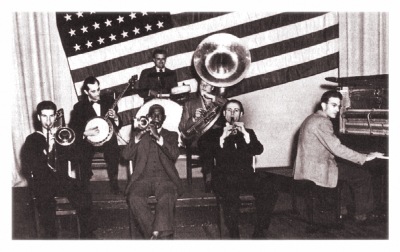 Burt Bales (right) with Bunk Johnson,
San Francisco, 1943

L to R:
Turk Murphy (on leave from US Navy), Pat Patton, Bill Dart, Bunk Johnson, Squire Girsback, Ellis Horne, Burt Bales

In San Francisco during this gig Bunk roomed with Bales.

(Photo: Ed Lawless, JAZZ WEST 2)



Jazz piano player Ray Skjelbred recalls Bales:

I was 18 the first time I saw Burt Bales playing at Pier 23 in San Francisco. There was a small table just to the left of the piano where I could watch his hands, especially the way his left hand and wrist moved back and forth like a gentle sea wave.

It would be several more years before I started playing, but I was getting the idea. I liked the humming, fat sound of 10ths in his left hand. I listened attentively to discover how he made round sounds by the way he touched the keys.

At first I was interested in the Jelly Roll Morton and ragtime compositions that he played, but the biggest repertoire lesson I learned came from his interest in choosing standard ballads to allow his deepest self expression. I remember in the first days hearing songs like "The Sweetheart of Sigma Chi" and "Darkness on the Delta."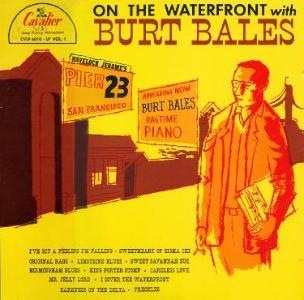 Tracks from the Album,
"On the Waterfront," c. 1955

King Porter Stomp.mp3
Darkness on the Delta.mp3
Sweet Savannah Sue.mp3
Mr. Jelly Lord.mp3





More about, and music from, Pier 23, here.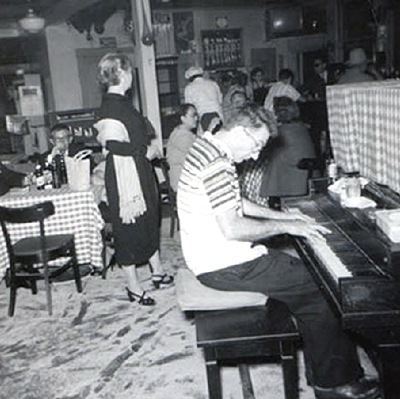 Bales, 1959 at Pier 23

Note what appears to be sawdust on the floor.

Photo: Ray Skjelbred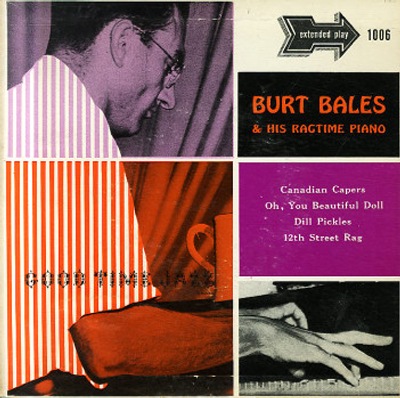 BURT BALES solos:
Good Time Jazz, 1949

New Orleans Joys.mp3
Wild Man Blues.mp3
Temptation Rag.mp3

Solos from San Francisco:

That' A Plenty, 1947.mp3 (1018 Club, San Francisco)
Mr. Jelly Lord, 1961.mp3 (San Francisco, 1961)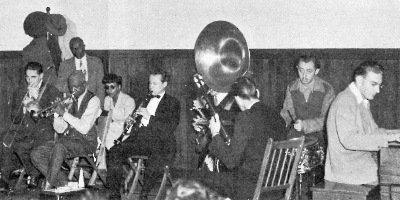 Burt Bales
Chronology

3.20.1916
Born in Stevenson, Montana.

date unknown
Family moved to Santa Cruz.

early-1930s
Played in Northern California speakeasys and bordellos.

Photo: with Bunk Johnson and selected Yerba Buenans.

1938
Began working full time as solo and band pianist, playing hotels and on the road.

1939
Plays at San Francisco World's Fair in various groups.

early-1940s
On the staff of National Broadcasting Company (NBC Radio) in San Francisco.

1943 - 44
Drafted to armed forces but later discharged due to poor eyesight.
Plays with wartime Yerba Buena Jazz band, with Bunk Johnson at concerts and the gig at CIO Hall in San Francisco. Broadcasting regularly on radio KPO with Lottie Peavy (?) as "The Tempo Twins."

1945
Correspondence by letter with Bunk Johnson.

(Continued below)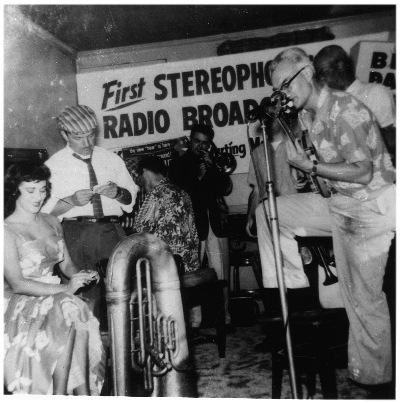 New 9.2015

ARCHIVE MUSIC

PIER 23 Stereo Broadcast
KGO 1959

Sound quality is mostly quite good except for some bad speed flutter toward the end.

Bill Erickson (trumpet)
Frank Goudie (clarinet)
Bob Mielke (trombone)
Burt Bales (piano, vocals)
Dick Oxtot (banjo, vocals)
Squire Girsback (string bass)
Bob Osibin (drums)
Suzanne Summers (vocals)

KGO Pier 23 stereo broadcast complete.mp3 45:00

Intro announce
Struttin' with Some Barbeque
London Blues (piano solo, Bales)
Wrap Your Troubles in Dreams ( vocal, Susanne Sommers)
Just a Closer Walk with Thee
Mack the Knife (vocal, Burt Bales)
High Society – (featuring Frank Goudie, clarinet)
Maple Leaf Rag (piano solo, Burt Bales)
Someday Sweetheart (vocal, Susanne Sommers)
Saturday Night Function
Should I Reveal? (theme)

Compiled by Orrfelt for Mielke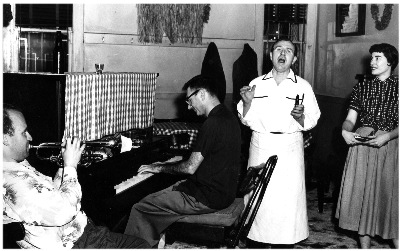 Burt Bales at Pier 23


Unknown trumpet player, left
Bales at the piano
Hadlock Jerome, owner/operator of Pier 23


Photo courtesy Richard Hadlock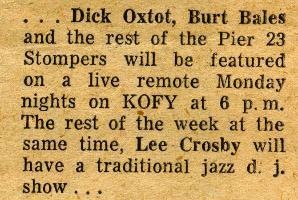 Broadcasts from Pier 23

These broadcasts feature everything great about Pier 23. Most of these swinging dixieland shows featured Burt Bales, then at his peak as an entertainer, clarinetist Frank "Big Boy" Goudie, and the singing of "Uncle Dick" Oxtot.

On-air host and producer 'Hambone Lee' Crosby self-consciously evoked the piquant waterfront atmosphere, "a little slice of old SanFransciscanner." Occasional local adverts and off the wall comments by Pier owner/host Havelock Jerome added local color.

Each show offered a generous serving of Burt Bales "The Old Perfessor" playing ragtime or his incomparable Jelly Roll Morton interpretations. Some programs over-emphasized local crooner Susan Sommers a bit much for my taste (not to be confused with a well-known actress with a similar name) or offered the contrasting skiffle blues of "railroad singer" and one-man-band, Jesse Fuller.

The fine Estuary Jazz group broadcast band was closely related to Bob Mielke's Bearcats. Featuring Bill Erickson on horn, it's a rare opportunity to hear his fine, and hard to classify trumpet sound.


Jazz on the Embarco:

In San Francisco for some years now the Embarcadero (the dockside road than runs along the Bay waterfront wharves) has been a sort of North Rampart Street with dixieland jazz floating out over the waters of the Bay every night from the Tin Angel and Pier 23, that converted dock wallopers lunchroom where Burt plays. For the past year the band at the Tin Angel has been led by Marty Marsala, a veteran of the early days of Chicago jazz. Burt and Marty have worked together before on numerous occasions and there is natural musical meeting of the minds.

-- Ralph J. Gleason, 1958
from liner notes to
Jazz From the San Francisco Waterfront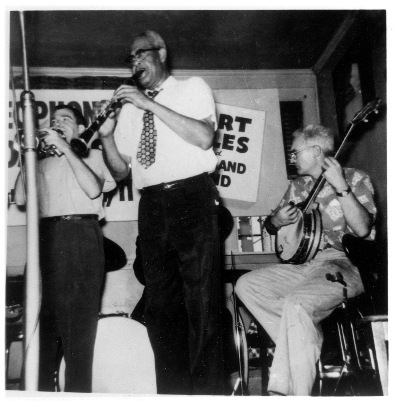 ARCHIVE MUSIC

Pier 23 Live KOFY broadcast, c. 1959
"WATERFRONT JAZZ SOCIETY"

This is an amazing live performance and extraordinary audio document. It has everything: Bill Erickson leading the band in fine form on trumpet, Burt Bales and Bob Mielke at the top of their games, a swashbuckling performance by Frank Goudie, a Dick Oxtot vocal, and the electric atmosphere of a jazz broadcast from the San Francisco waterfront with an appearance by owner Havelock Jerome (a world-class weirdo).

Photo: Oxtot collection

Despite heroic restoration efforts, this tape contains unavoidable gaps, distortion and musical flaws.

Bill Erickson (trumpet)
Frank Goudie (clarinet)
Bob Mielke (trombone)
Dick Oxtot (banjo, vocals)
Burt Bales (piano, vocals)
Squire Girsback (string bass)
Bob Osibin (drums)
Suzane Summers (vocals)
Hambone Lee Crosby (on-air host)

KOFY Pier 23 broadcast complete.mp3 (38:38)

or excerpts:
Mister Joe.mp3 (3:36, fragment)
fragment featuring Burt Bales, announcement by Havelock Jerome
Up a Lazy River.mp3 (2:59)
Suzanne Summers vocal duet with Burt Bales, piano
Original Dixieland One-step.mp3 (4:35)
Since My Best Gal Turned Me Down.mp3 (3:31, contains a brief gap)
announcing "Jazz As Is" from the Waterfront
I Had Someone Else Before I Had You.mp3 (3:00)
vocal Suzanne Summers
closing announcement and personnel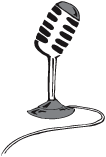 ARCHIVE INTERVIEW & MUSIC

In this interview clip Vince Cattolica tells how the 1958 album, Jazz from the San Francisco Waterfront was recorded, plus excerpts from "Hindustan" and "Tin Roof Blues."

Hindustan_Jazz on SF Waterfront_Tin Roof.mp3 (12:15)

Marty Marsala (trumpet), Cattolica (clarinet), Skipp Morr (trombone),
Burt Bales (piano), Cus Cousineau (drums)
[oddly, the album notes fail to name the bassist]



Bert at the Monterey Jazz Festival

Pete Clute (Some Jazz Friends, Clute & Goggin, Trafford, 2005):
Bales performed at the Monterey Jazz Festival in 1958 with the Marty Marsala band:
"The first year Burt played for the Monterey Jazz Festival -- he made a tremendous impression on the crowd, played wonderfully and was raved by critics."

A subsequent album, Jazz From the San Francisco Waterfront, was recorded afterward with Marsala (trumpet), Vince Cattolica (clarinet), Skip Morr (trombone) and Cus Cusineau (drums) was released on ABC Paramount.

But the next year at Monterey, Bales fell off the stage, and was not invited back for decades.



Burt Bales
Chronology (con't)

1946
Played at Hambone Kelly's.
Residency at 1018 Club in San Francisco for 18 months.

1948-51
Played and recorded 12 sides with Bob Scobey in a session with Albert Nicholas. ("Beale Street Mama" was considered by Burt to be one of his best records with Scobey). At Victor and Roxie's, Oakland, CA.

1950s
Played in Bob Mielke's Jazz Band
At Club Hangover
Victor and Roxie's, Oakland

1955-66
Starts residency at Pier 23. With intermittent breaks the residency continued until 1966. In the late '50s, Bales played frequently with Bob Mielke's Bearcats.

1957
Plays at Dixieland Ragtime Jamboree at the San Francisco Civic Auditorium, a benefit for the San Francisco Symphony. Others on the bill included: Wally Rose's Dixieland Band, Earl "Fatha" Hines, Bay City Jazz Band, Joe Sullivan, Kid Ory's Creole Jazz Band, Scobey's Frisco Jazz Band.

1958
Performed at Montery Jazz Festival with Marty Marsala band, and recorded on ABC Paramount LP with Marsala, Vince Cattolica, et al.

Residency at Pier 23 continued, often in a trio with Frank Goudie.

1960
In a serious pedestrian accident, Burt was struck by a car on the Embarcadero and badly injured. A subsequent jazz benefit concert raised money for his hospital and medical bills.

1968-75
Retired from performing, though he was heard with various bands such as Earl's New Orleans House Band.

1975-80
Burt played regularly at Dicks-at-the-Beach.

1977-89
At the Washington Square Bar and Grill.

1976-89
After a bout with serious illness and possible liver disease resulting from drinking and drugs Burt reformed his ways.
He re-married, performed regularly as a solo, and was invited back to the Monterey Jazz Festival.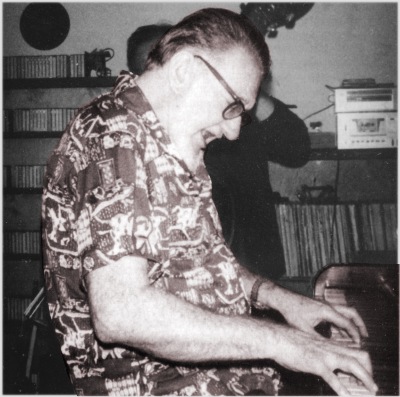 Numerous illnesses and misfortunes left Bales a wreck.

When I encountered him the late 80s he was a shrunken gnome in wool stocking cap. He seemed cranky, unsteady on his feet, and eccentric.

But he ALWAYS made superlative music.


ARCHIVE MUSIC

Bales at Pier 23 with Frank 'Big Boy' Goudie (clarinet), 1961:

Home Grown Blues.mp3 (8:00)
Who's Sorry Now.mp3 (5:00)
Fidgety Feet.mp3 (6:00)
Struttin' With Some Barbecue.mp3 (6:55)
Lady Be Good.mp3 7:15

Goudie sings "Basin Street Blues" at Pier 23 with commentary from Bill Bardin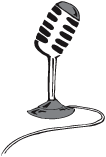 ARCHIVE INTERVIEW

Bill Bardin recalls Burt Bales:

Hanging with Burt c. 1950.mp3
". . . a wiggy guy . . . a rather high IQ," & Bales at the 1018 Club

After hours with Bales.mp3
" . . . a really good guy, very easy to get along with."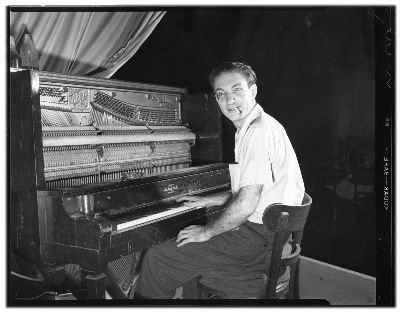 From the liner notes for the CD,
Burt Bales,
GHB Records in 1992,
by Ken Mills:

"Burt's depth was refreshing. On one occasion he played an unbelievable version of Chimes Blues. It was like Elijah boarding his holy space ship. When Bales finished, he sat there staring at the keyboard, silent, staggered.

Finally, I asked, 'Burt are you OK?' He said: 'You know, an artist who is a painter, like Rembrandt or Da Vinci or Van Gogh, its there, you can live it for all time. They have it over us musicians. Something like what just happened here is in the ether, lost forever'."

Photo: Bales, 1947, possibly 1018 Club. Mielke collection.



Bob Michaud, a jazz fan
(from Pete Clute,Some Jazz Friends, Clute & Goggin, Trafford, 2005)
"Burt's pickup combos at Dick's-at-the-Beach were unique. At one time or another just about every jazz musician in the Bay Area sat in and -- except for some of the worst vocalist in jazz history -- the music was usually good to great. I recall one session with five trombones, clarinet, plank cello, drums and Burt on piano. One never knew what instrumentation to expect out there."

"Burt Bales was a wonderful friend. Highly intelligent, considerate and entertaining, he was also a gifted musician. That his full potential was never realized could be attributed to the many temptations and pitfalls inherent in the 'Jazz Life.' It wasn't easy for Burt to say no!"















L to R: Freddie Higuera (drums), Burt Bales, Clancy Hayes

Victor and Roxies, Oakland, CA, 1948

Mielke collection


LINKS:

Pier 23 tapes
Burt Bales and Frank Big Boy Goudie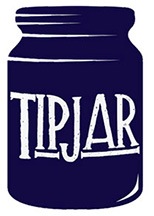 Tip Jar

This site is free.

But you can help sustain it, and encourage me with donation to the tip jar.

Secure payment through PayPal is anonymous, except that I will see your e-mail address.

Donations are paid securely through PayPal.

Donation $5.00
Donation $10.00
Donation $20.00
Donation $35.00
Donation $50.00
Donation: You decide