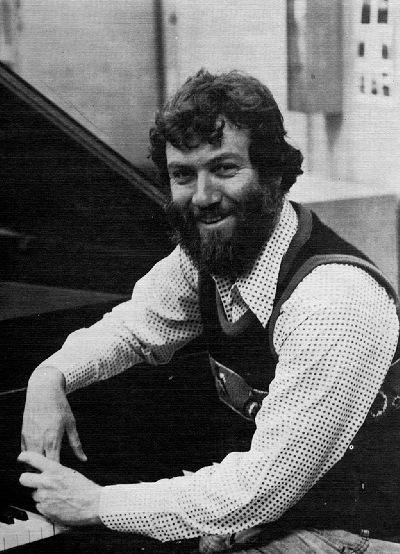 Ray Skjelbred
(b. 1940, Chicago)


The best Classic Jazz pianist to emerge on the West Coast, second only to Burt Bales. I doubt he'd object to that comparison because Bales was a strong inspiration.

Other influences include Earl Hines, Joe Sullivan, Jess Stacy and Art Hodes among others . . . but really all the piano literature of jazz. And Ray played decent trombone.


Photo: Ray Skjelbred, late 1970s.


Skjelbred grew up in Chicago where he contracted a lifelong case of Chicago Cubs baseball. His family moved to Portland, then to Seattle. Oddly Ray and Earl Scheelar graduated from the same high school near Portland, though a decade apart.

Beginning in the early 1960s Ray visited the San Francisco Bay Area often to jam, listen or play music. He moved to the East Bay in 1969, remaining until the 1990s. He married and owned a home Berkeley that was popular for jam sessions and music parties.


Bay Area 1969-early 1990s

Ray was very active in the San Francisco Bay Area, visiting often during the 1960s, and residing there from 1969 to the early 1990s. Most of the finest local musicians were eager to partner with Ray: Bob Helm, Richard Hadlock, Bob Mielke, Leon Oakley, P.T. Stanton, Earl Scheelar. They had a lengthy association, which in the Bay Area included Ray's longstanding residency in Port Costa at the Bull Valley Inn. Ray eventually returned to his hometown roots in the Northwest.

He had a long association with singer Barbara Lashley, watch for exclusive audio forthcoming.

Ray continues to play and perform. You can find his performing schedule here.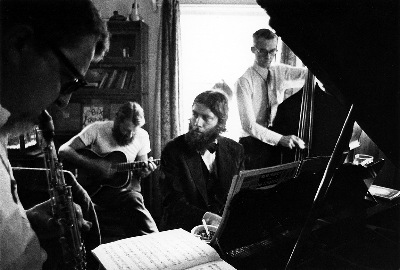 L to R:
Richard Hadlock (soprano), (unknown guitar), Ray Skjelbred, Jim Cumming (bass). Probably early 1970s


Mielke collection


The citation in K. O. Eckland's terse but indispensible
JAZZ WEST 2 for Skjelbred is one of the longest and broadest:

Bay City; [New] Bearcats; leader Berkeley Rhythm; Castle; Down Home; Golden Age; Golden State; Good News [Barbara Dane]; co-leader Great Excelsior; Jelly Roll Jazz Band (SFO); Jubilee; Lake Spanaway; Minstels of Annie Street; Turk Murphy; New Washboard Rhythm Kings; Swingin' A's Oakland Baseball; Original Sunset Five; Pier 23; leader Port Costa; Rhythmakers; co-leader Speakeasy; Tom Kats, SFO Jazz Band; Hal Smith Three; Solo. Studied with Johnny Wittwer.

Albums:
Ray Skjelbred, Berkeley Rhythm BR 2, 1974
Chicago High Life, Euphonic ESR 1223, 1983
Gin Mill Blues, Stomp Off SOS 1097, 1984



Early and Out-of-Print LP Albums and Rarities: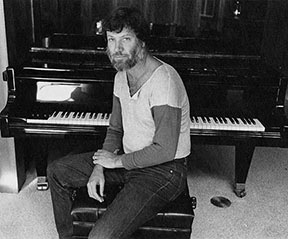 Stompin' 'em On Down
Ray Skjelbred
Stomp Off 1124, 1985

Ray plays not just piano music, but you can hear a whole band in his playing.
His selections for the album selections reflected his catholic personal musical tastes and inspirations:

Love Me Tonight (Bing Crosby)

Can't We Get Together (pianist Joe Sullivan)

Two Deuces (Hines/Armstrong)

Near North Side (original by Skjelbred dedicated to his beloved Chicago Cubs)

Stompin' em Down (Alex Hill)

Dance of the Witch Hazels (original by pianist Paul Lingle, "a gentle madman")

Arkansas Blues (James P. Johnson)

Lover Man ("a melodic and harmonic masterpiece")

Clarinet Marmalade ("I like band numbers played on the piano")

You've Got to Give Me Some (a Bessie Smith blues)



Stompin' Em Down was a fine Stomp Off solo album reflecting Skjelbred's eclectic personal tastes in music. It's an excellent recording of Ray playing a Bosendorfer Concert Grand piano at a home in the Northern California redwoods.

In his liner notes Ray spoke of his musical tastes, inspirations and admiration for Chicago blues piano players: "Their notion of swing, and more significantly, their poetic conceptions have helped me find my voice as a musician."

"Joe [Sullivan] means a lot to me. I got to know him through Richard Hadlock back in the late Sixties and discovered that he was just the kind of man I expected him to be: fiercely independent as an artist, though somewhat helpless with the problems of life. He was proud of his conceptions yet terribly concerned about his abilities. I am pleased we were friends, even though it was brief (he died in 1971) and thankful I was able to give him a ride to his last public performance – a solo concert for Hadlock's kindergarten class."

"Singers Like Crosby, the Boswell's Maxine Sullivan, Gene Autry (yes, Autry), Lee Wiley and a host of obscure blues, folk and ethnic performers mean so much to me. ON the other hand I like daring imagination, complex chance-taking and perhaps a touch of madness."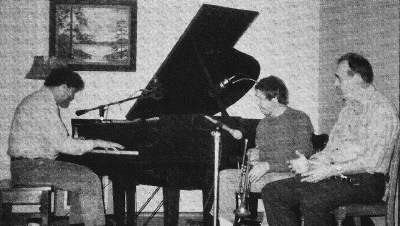 Taking a Chance . . .
Jim Goodwin and
Ray Skjelbred

Rhythm Master RM 101 (LP album)
Produced by John Ochs

Seattle, 1988

Add Hamilton Carson (clarinet) on select tracks

In the album liner notes Richard Hadlock suggests this relaxed session captured the "off-the-wall musical interplay" of the duo's legendary 1970s Bull Valley Inn residency in Port Costa, "a ghost town-like remnant of a once busy port on the Sacramento River."

Photo: Skjelbred, Goodwin and clarinetist Ham Carson.

He writes that Jim and Ray had been "rehearsing their act for more than twenty years," developing, "a seemingly bottomless bag of tunes and took delight in exchanging 'inside' melodic and stylistic references to earlier jazz performances . . . all made more appealing by frequent high-risk improvisations and plain good taste."

"Typical Port Costa music here: old warhorses brought to life, un-notatable cornet sounds, unexpected tempos, off beat tunes, seat-of-the-pants improvising (with an occasional fluff), spontaneous wit, and the blues." As usual, Ray is a one-man rhythm section, over which you'll hear his personal blend of Earl Hines, Jess Stacy and Art Hodes with a dash of Ellington, Thelonious Monk or Chicago blues piano here and there."

Side A
Every Minute of the Hour
Keep Smiling at Trouble
Copenhagen (add clarinet)
Home
A Cottage for Sale
Digga Digga Doo (add clarinet)

Side A complete

Side B
My Little Pride and Joy
Taking a Chance on Love (add clarinet)
Rosetta
Blues in C

Running Wild (add clarinet)
After Awhile

Side B complete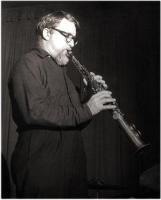 Richard Hadlock from liner notes for the LP,
Taking a Chance . . .

Speaking of the partnership between Goodwin and Skjelbred, Richard comments:

"I believe Jim and Ray are happiest when working together, with occasional drop-ins by musicians who can scramble well within their informal but quite intense musical setting. For a good part of the 1970s they worked just such a duet job in Port Costa."

"Best of all, I think, is the . . . off the wall musical interplay, always a delightful ingredient of the duo's work. On can't help thinking of Hines and Armstong in 1928 as these two friends develop one another's ideas."


Hadlock highlighted the positive impact these two Portlanders
had on Northern California jazz:

"They settled in the San Francisco Bay Area in the same week of 1969 and both were soon in demand for all sorts of jazz jobs." Both were admired for their "drive, swing and original ideas. The arrival in the Bay Area of Goodwin and Skjelbred was like heaven-sent fresh air from the North . . .

They revived in many of us a sense of the value of really HOT jazz, the excitement of commitment to the musical moment . . . Together or separately Jim and Ray could lift soggy ensembles off the ground."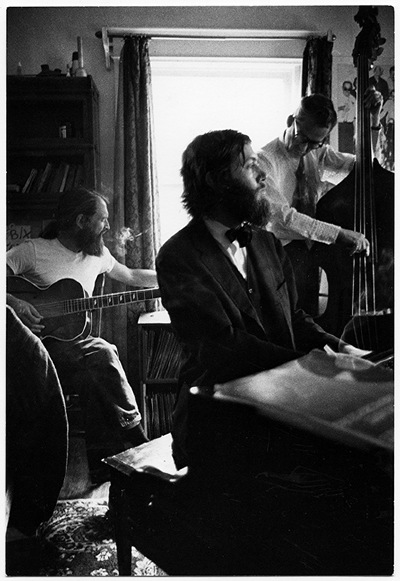 Chicago High Life
Ray Skjelbred

Ray's first solo album shows the imprint of Chicago blues piano on his personal style. Chicago High Life was compiled for a small independent label from from live performances.

The repertoire is notably eclectic, including music from piano pioneers and stylists like Eubie Blake and Earl Hines and a smattering of American masters: Gershwin, Berlin, Carmichael and Handy. Ray chose two compositions by his friend and inspiration Joe Sullivan, "My Little Pride and Joy," and "Onyx Bringdown."

In liner notes to the album, Chicago High Life, Richard Hadlock unpacks some of Ray's background and outlook:

"Like any good Chicagoan he always plays hard for right now, not for the ages . . . Although he is not a copier, Ray's approach to a given tune is often flavored by the work of one or more pianists whose music he has absorbed. Many of these pianists, not surprisingly, are associated with Chicago. All of them possess strong, individual styles, which blend muscle and wit."

"I met Ray around 1962, when he arrived in San Francisco for one of his annual visits from Seattle. He had been playing piano for less than three years at that time but I was struck by his feel for the blues and by his bandsmanship. He listened and responded to other musicians with extraordinary sensitivity."

"Ray decided to switch to piano upon hearing Burt Bales records on a Tacoma radio program. In 1960 he began studying with Johnny Wittwer in Seattle. As did the Chicago musicians of the Twenties, he learned by soaking up the spirit of the other players, not by imitating their solos. Wittwer took him through a wide range of pianists, from Jelly Roll Morton and Meade Lux Lewis to Erroll Garner and Ellis Larkins."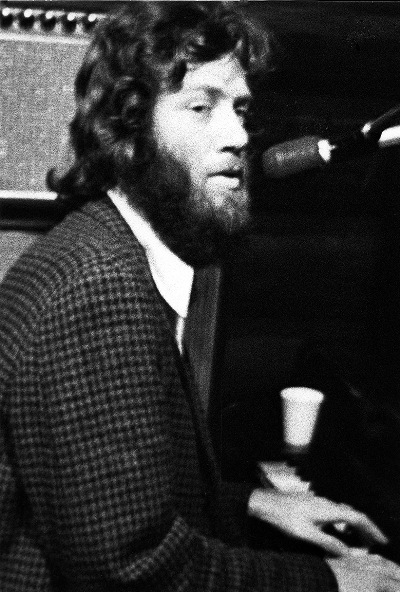 Chicago High Life
Euphonic Sound Recording Company, ESR 1223

Ray's first album was recorded by the late Mike Duffy, mostly at Bull Valley Inn, Port Costa, CA issued on a small independent label.

Add Clarence Johnson (drums) on selected tracks.

Side A

Chicago High Life - RR

Elinore - RR

Aunt Hagar's Blues - BV (CJ, drums)

On Wisconsin - BV

You're Lucky to Me - BV

Easter Parade - BV

Side A complete.mp3


Side B

Summertime - RR
(CJ, drums)

Sweet Lorraine - BV

My Little Pride and Joy - Berk Sq

Mary - BV

Onyx Bringdown - BV (CJ, drums)

Moon Country - BV

Side B complete.mp3

Tracks recorded at:
Bull Valley, Port Costa = BV
Berkeley Square, Berkley = Berk Sq
Red Rooster, Walnut Creek = RR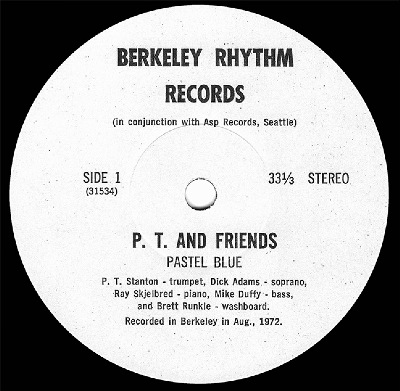 P.T. and Friends
Recorded in Berkeley in August, 1972

This unique item was issued on a 33 & 1/3
rpm extended play 7" vinyl disc by Berkeley Rhythm Records (in conjunction with Asp Records, Seattle). Skjelbred was the producer behind Berkeley Rhythm which issued a few discs in the 1970s.

Among P.T.'s most searing and mournful renditions, it's a shifting soundscape of contrasting light and dark tonal colors. His friend Ray Skjelbred provided a somber and fitting blues-infused piano accompaniment. A wrenching, primal sob uttered in quavering growls and tortured tones.

A Stanton signature "Pastel Blue" is from a surprising source. Authored by trumpeter Charlie Shavers and bandleader Artie Shaw, it was theme song for the John Kirby Sextet, a modern swing combo c. 1940.

Pastel Blue.mp3 (7:43)

PT Stanton (cornet)
Dick Adams (soprano)
Ray Skjelbred (piano)
Mike Duffy (bass)
Brett Runkle (washboard)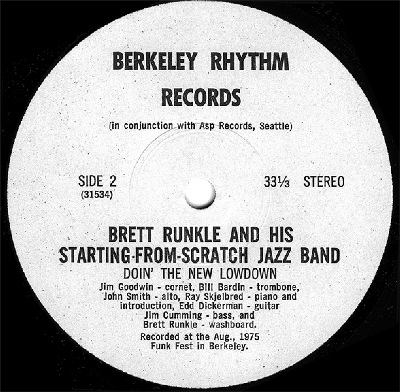 Bret Runkle
and his Starting-from-Scratch Jazz Band

Recorded 8/75 at Funk Fest in Berkeley


Bret Runkle (leader, washboard)
Jim Goodwin (cornet)
Bill Bardin
John Smith
Ray Skjelbred
Jim Cumming (bass)

Doin' the New Lowdown




Skjelbred and Bob Mielke

The association of Skjelbred with Bob Mielke was deep, wide and long. They were on several albums together in the 1970s and '80s, and Ray was part of Bob Mielke's New Bearcats in the early 1990s.

Skjelbred wrote a December 2005 Mississippi Rag cover-article profiling Bob, "Exploring the Mielke Way." Mielke said of Ray, "He is a marvelous deep jazz personality."

Skjelbred and Mielke's shared associations over the years included:

Berkeley Rhythm (Skjelbred leader)
Skjelbred's Bull Valley, Port Costa job
Bay City Music Company (that subbed for Turk Murphy when he was out of town)
Great Excelsior (co-led by Skjelbred and Mike Duffy)
Bob Schultz Frisco Jazz Band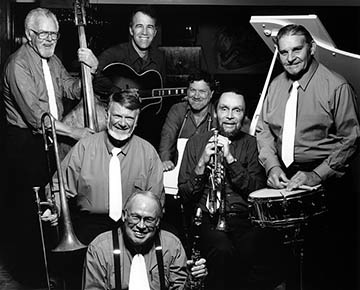 Skjelbred was part of Bob Mielke's New Bearcats.
L to R: Pete Allen, Bob Meilke, Bill Napier, Tony Marcus, Ray Skjelbred, Jack Minger, Don Marchant. Press photo, c. 1990.

Mielke collection

(Watch this space for exclusive New Bearcats live recordings.)


Archival tapes, Goodwin-Skjelbred and Earl Scheelar Sessions: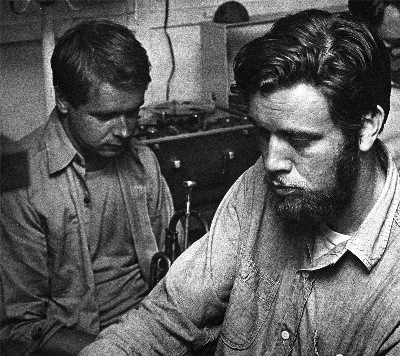 ARCHIVE MUSIC

Jim Goodwin-Ray Skjelbred Basement session, 1969

Jim Goodwin (cornet)
Earl Scheelar (clarinet)
John Farkas (trombone)
Ray Skjelbred (piano)
Dick Oxtot (banjo)
Pete Allen (string bass)

Ray Skjelbred (b. 1940, Chicago, IL) rarely sounded better in this session ranging from swinging sophistication to raucous barrel house. His nuanced piano fills and solos were picked up nicely, but only barely adequately for his vocal on "Glad Rag Doll." Scheelar switches to baritone horn on "Someday You'll be Sorry."

Photo: Jim Goodwin and Ray Skjelbred, late 1960s. Mielke collection.

The searing horn of Jim Goodwin served as focal point for this swinging session in the basement of Scheelar's Berkeley rental. All parties rose to the occasion and trombonist John Farkas was at his very best.

Glad Rag Doll
Red Roses for a Blue Lady
Mood Indigo
Just Because
Make Me a Pallet on Your Floor
Blues at Earl's
Someday Sweetheart
Someday You'll Be Sorry (Scheelar, baritone horn)
Lady Love
Yes, Yes in Your Eyes

Earl's Oct 1969 Skjelbred-Goodwin complete

Courtesy Earl Scheelar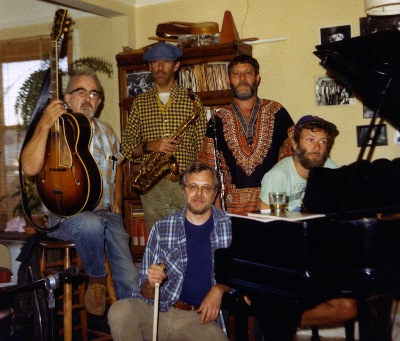 An "occasional band."

L to R: Stanton, Larry Stein, Mike Duffy, Earl Scheelar, Ray Skjelbred

Courtesy Earl Scheelar


Frank Chace, Ray Skjelbred, Dick Oxtot, Pete Allen, 1969
Location unknown, presumably Berkeley, 1969.According to Hal Smith, "Oxtot and

Skjelbred were really taken by Frank's playing at this session and they remembered it very well many years later."

Frank Chace (clarinet)
Ray Skjelbred (piano)
Dick Oxtot (banjo)
Pete Allen (string bass)

There'll Be Some Changes Made.mp3
Liza.mp3
Wrap Your Troubles in Dreams.mp3
What a Little Moonlight Can Do.mp3
Should I?.mp3
Please.mp3
You Took Advantage of Me.mp3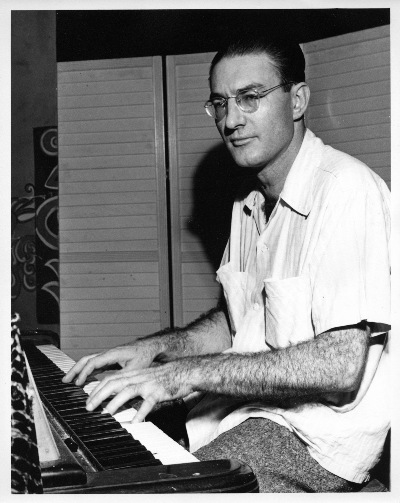 Skjelbred recalls
Burt Bales:

I was 18 the first time I saw Burt Bales playing at Pier 23 in San Francisco. There was a small table just to the left of the piano where I could watch his hands, especially the way his left hand and wrist moved back and forth like a gentle sea wave.

It would be several more years before I started playing, but I was getting the idea. I liked the humming, fat sound of 10ths in his left hand. I listened attentively to discover how he made round sounds by the way he touched the keys.

At first I was interested in the Jelly Roll Morton and ragtime compositions that he played, but the biggest repertoire lesson I learned came from his interest in choosing standard ballads to allow his deepest self expression. I remember in the first days hearing songs like "The Sweetheart of Sigma Chi" and "Darkness on the Delta."

Photo: Burt Bales, c. late 1940s.
Mielke collection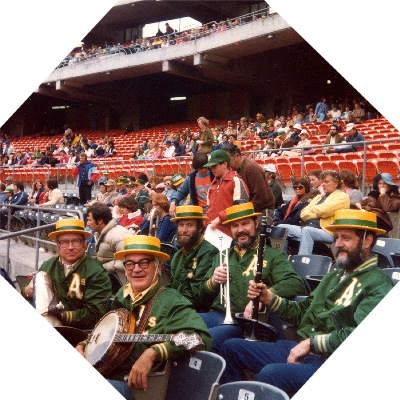 It's little-known that Ray was pretty good trombonist, and an occasional player in Mielke's Swingin' A's Oakland baseball band.

Basic personnel was Mielke (leader and trombone), Dick Oxtot (banjo and vocals), Bob Neighbor (trumpet), and starting their second season, tuba player, John Moore. Various reed players included Bob Helm, Bill Napier, Richard Hadlock and others.

Oxtot's notation the back of this photo:

"Fortunately there are plenty musicians in the Bay Area who are capable of subbing for A's Band regulars. On this occasion, Dick Bowman subs on tuba, Earl Scheelar on clarinet, and Ray Skjelbred on trombone."

Also seen: regulars Dick Oxtot (banjo) and Bob Neighbor (trumpet).
Oxtot collection



Visit Ray's online webpage at: http://rayskjelbred.com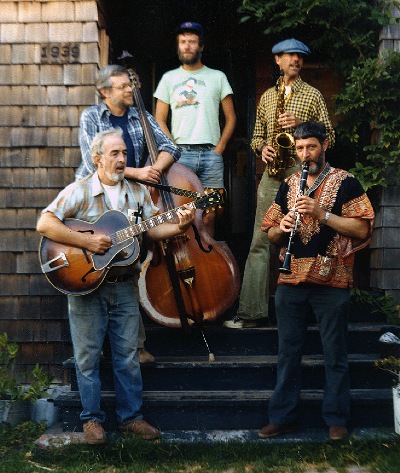 Occasional
Berkeley Band

L to R: P.T. Stanton, Mike Duffy, Ray Skjelbred, Larry Stein, Earl Scheelar

Courtesy Earl Scheelar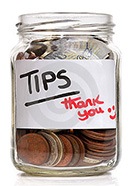 Tip Jar

This site is free. But you can help sustain it, and encourage me with donation to the tip jar. Secure payment through PayPal is anonymous, except that I will see your e-mail address.

Donation $5.00
Donation $10.00
Donation $20.00
Donation $35.00
Donation $50.00
Donation: You decide