DYNAMIC WOMEN OF EARLY JAZZ

Concealed in the shadows of Jazz, Swing and Blues history are dynamic women who nurtured, guided and developed early Jazz, Classic Blues and Swing.
On this page several of the most talented and accomplished female musicians are profiled: Ginger Smock, Blanche Calloway, Ma Rainey, Bessie Smith, Mary Lou Williams and Ina Rae Hutton, leader of the all-female Melodears Swing orchestra.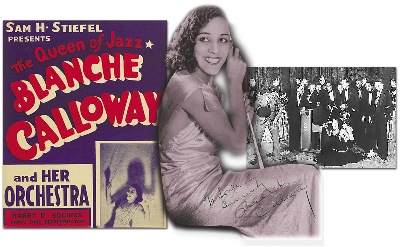 Listen to a five-part Women of Jazz series, here

Part One

Part Two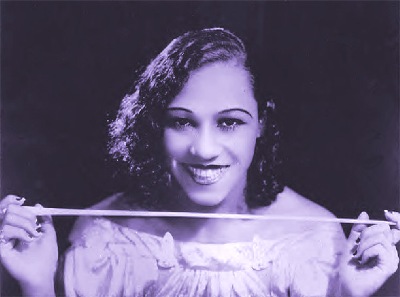 BLANCHE CALLOWAY (1904-1978)
Jazz Pioneer

Blanche Calloway

Singer, composer and bandleader Blanche Calloway (1902-1978) is recognized as the first woman to successfully lead an all-male Jazz orchestra under her own name. Waxing a couple dozen sides, Blanche Calloway and Her Joy Boys were a quite successful regional Midwestern band in the early 1930s. But she was eclipsed by the superstardom of her much more famous brother Cab Calloway.

Cab borrowed key elements from his elder sister's act -- her bravura vocal style and Hi-de-Ho call and response routines. His 1976 memoir acknowledges her influence, declaring Blanche "vivacious, lovely, personality plus and a hell of a singer and dancer," an all-around entertainer who was "fabulous, happy and extroverted."

Blanche's 12-piece outfit consisted of personnel often interchangeable with Andy Kirk and The Clouds of Joy including pianist and arranger Mary Lou Williams, but Calloway split off. In 1931 she was one of the first to hire young Kansas City tenor saxophonist Ben Webster -- heard on "Just a Crazy Song." Trombonist Vic Dickenson is featured in "I Need Lovin'." Both songs were probably arranged by talented trumpet player and arranger Edgar "Puddinghead" Battle, who later wrote for Cab.

Just a Crazy Song (Hi-Hi-Hi) (1931).mp3
I Need Lovin' (1934).mp3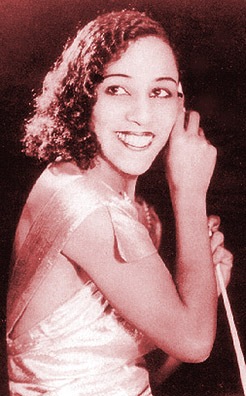 Calloway dropped out of college to enter show business with a Cabaret troupe, subsequently appearing in Sissle and Blake's "Shuffle Along" and the touring "Plantation Days." She was very successful in Chicago during the early 1920s at the prestigious Sunset Café and made a blues record accompanied by cornet player Louis Armstrong.

Her scintillating 1931 "Growlin' Dan" contains proto-Minnie the Moocher imagery. It again shows the deft hand of arranger Edgar Battle and drummer Cozy Cole. "You Ain't Livin' Right" is from her last recording session in November 1935.

Growlin' Dan (1931).mp3
You Ain't Livin' Right (1935).mp3


More on Blanche Calloway.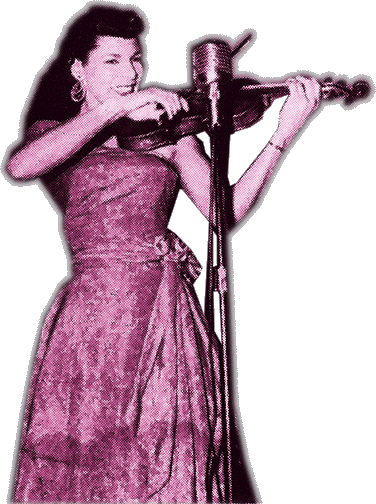 GINGER SMOCK (1920-1995)

Ginger Smock

Superb jazz violinist Emma "Ginger" Smock (1920-1995) was versatile and talented but has not received due recognition. Formally trained, she was a stunning beauty who played superb jazz violin in the style of Stuff Smith. Smock appeared on television in Los Angeles where she had her own TV show and performed with the Los Angeles Symphony. During the 1960s-70s Smock recorded with Rhythm and Blues groups and was concertmaster at several hotels in Las Vegas -- backing the likes of Sammy Davis, Jr.

On her web page, accomplished jazz violinist Laura Risk sums up her PhD research into Smock's "raucous, hard-swinging intensity. Her composition 'Strange Blues' . . . evidences a mature musical voice: her solo is rhythmically complex, technically demanding, alternately sassy and delicate, with long melodic lines spun out across the changes."

Until recently the only music available was Smock's 1946 session playing solid-body electric violin with the Vivien Garry Quintet. A collection of her recordings was issued for the first time in 2005 by a small British company called AB Fable. Among the rare contents are "Exactly Like You" from KTLA television, tracks from the 1946 'Girls in Jazz' RCA sessions and "Strange Blues" with the obscure septet of Cecil Count Carter.

Smock clip - Exactly Like You (1953), Strange Blues (1953), I'm in the Mood for Love (1946).mp3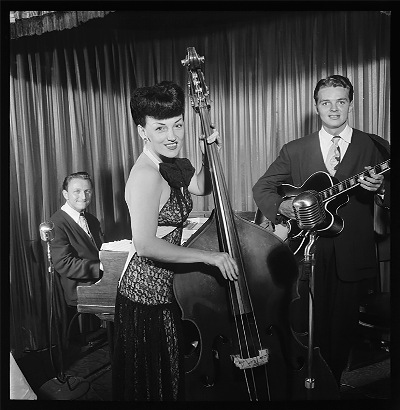 Vivien Garry

The fine bass player Vivien Garry (c. 1920-2008) had a moderately successful career for a decade initially recording for small labels starting around 1944. Garry had high-profile exposure on V-Disc during World War II and on RCA Victor. She then worked with vocalist Leo Watson and recorded for various independent labels until 1952.

Photo:
Vivien Garry Trio: Teddy Kaye, Vivien Garry and Arvin Charles Garrison, NYC c. 1946. Photo by William P. Gottlieb.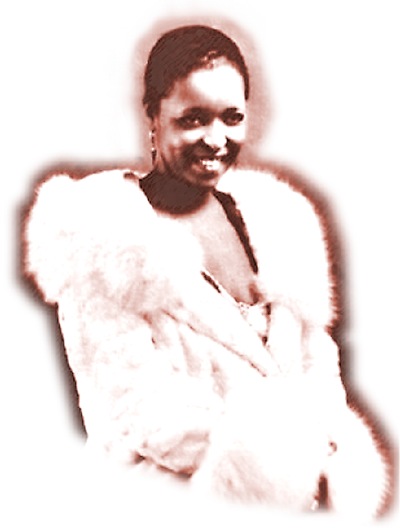 ETHEL WATERS (1900-1977)
"Sweet Mama Stringbean"

Ethel Waters was probably the most popular black female singer of the late 1920s and early '30s. Born 1896 in Philadelphia, Waters began performing in that area with a style steeped in the vaudeville and minstrel sounds of the day.

In New York in the early 1920s she was a superstar in black theatrical revues; and by the early 30's was the most popular, highest paid black woman in show business. Waters was first to break the color line in 1933 appearing on Broadway in the all-white show, "As Thousands Cheer," later moving successfully into film, her best-known being "Cabin in the Sky."

Tall and slim in her youth when she was billed as "Sweet Mama Stringbean," Ethel was often accompanied on record by the era's finest jazz instrumentalists: Coleman Hawkins, Benny Goodman, Ellington, Benny Carter, Fletcher Henderson & James P. Johnson.

The International Sweethearts of Rhythm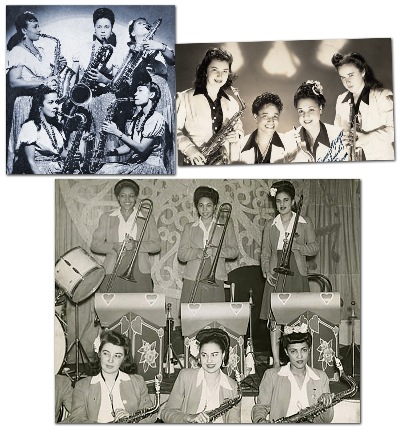 The International Sweethearts of Rhythm (1937-49) was a racially mixed orchestra, the term 'International' denoting its diverse ethnic makeup including Hispanic, Asian and Native American women.

It was a hot 16-piece Swing band in the image of the Count Basie Orchestra, evident in their rhythm style, riffing, soloing and the powerful Lester Young-inspired tenor saxophone playing of Viola Burnside. Among their onstage MCs were vocalist Anna Mae Winburn, who had previously led an all-male band and was a follower of Kansas City blues singer Jimmy Rushing.

Jump Children (1945) https://youtu.be/94fcqEkPmSk
She's Crazy with the Heat (1945) https://youtu.be/Hci4pFFViY8

International Sweethearts were excellent musicians capable of playing the toughest arrangements, some of which were written by arranger Eddie Durham from the Count Basie band.

The Basie influence is very strong in the riffing style and driving rhythms of the Sweethearts. In my opinion, the star of this band is a powerful tenor saxophone player deeply influenced by Lester Young, Viola Burnside.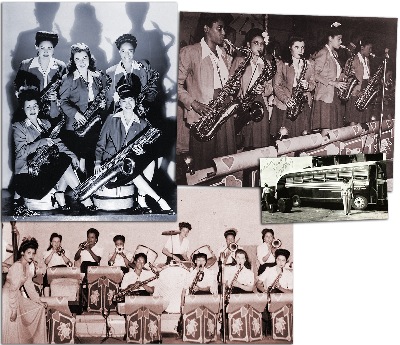 The band originated at the Piney Woods School of Mississippi for disadvantaged boys and girls. As the band matured, it moved to Virginia and began attracting professionals. During World War II most of the male musicians in the band (and across America) were drafted. Continuing as the all-female International Sweethearts of Rhythm, they were more successful than before.

The ensemble contained excellent musicians playing tough charts, some written by arranger Eddie Durham of the Basie orchestra who also ran his own all-women Swing band. For the duration of World War II "girl bands" were a popular and strategic reserve of morale-building, some even sponsored or organized by the US Army.

For a long time, recordings of the International Sweethearts of Rhythm were unavailable. Most of the extant performances have survived thanks to V-Discs -- the patriotic World War II consortium of record labels and music artists producing entertainment for distribution to troops and via Armed Forces Radio. A signature of that origin remains audible in the live applause (some of it probably canned) and announcers' attempts to sound "hep to the jive."

Sweethearts Clip (1944-46) - Diggin' Dykes, Central Avenue Boogie, Vi Vigor, Bugle Call Rag.mp3

As a mixed-race ensemble often touring in the Southern United States the Sweethearts were subject to racist local Jim Crow laws imposing vile restrictions. They experienced harsh limitations on their access to dining, lodging and sanitary public facilities. During their Southern tours the Caucasian girls in the band needed to wear dark makeup on stage to conceal the prohibited mixing of white and non-white women.

Beginning around 1940 the popular orchestra performed at the Apollo Theater in Harlem and across America -- once appearing for an audience of 11,000 in Kansas City. They toured American USO clubs in Europe after World War II in response to overwhelming demand from black soldiers. The International Sweethearts of Rhythm were a high-water mark for popularity and quality of all-women Swing ensembles.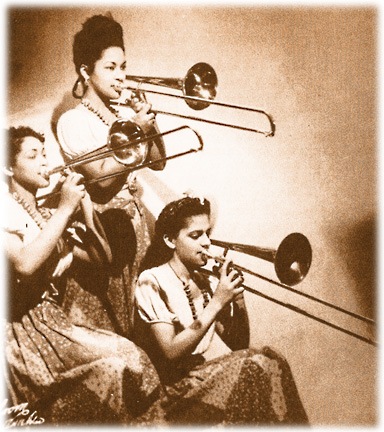 International Sweethearts of Rhythm

Trombone section


More about International Sweethearts and audio on this site, here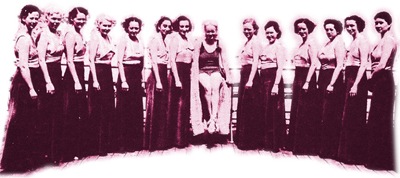 INA RAE HUTTON and her Melodears

Ina Rae Hutton and her Melodears

Ina Ray Hutton (Odessa Cowen, 1916-1984) became leader of the 15-piece all-female Melodears in 1934 at the initiation of promoter and agent Irving Mills. Hutton began her show business career tap dancing at age 8 or 9, progressing through Broadway, Ziegfeld Follies, movies and television.

Hutton - Melodears clip - (1936-37) Truckin,' High Steppin,' Melodear Swing, Suzi-Q.mp3

The Melodears (1934-39) were a decent Swing band playing good charts with enthusiastic riffing and hot solos loosely modeled on the popular Casa Loma Orchestra. They made a dozen records, appearing in two feature length films and several movie shorts. Their best material and the music heard here are from Paramount film shorts of 1936-37 where Ina Rae's is occasionally seen and heard tap dancing.

A lubricious platinum blonde who was married and divorced six times, Hutton went on to lead all-male bands through the late 1940s. She reorganized an all-female group that appeared on her nationally televised "Ina Rae Hutton Show" produced at KTLA-TV in Los Angeles from 1951-56.

Melodears - Accent on Girls https://youtu.be/Y-6QE7YJU8U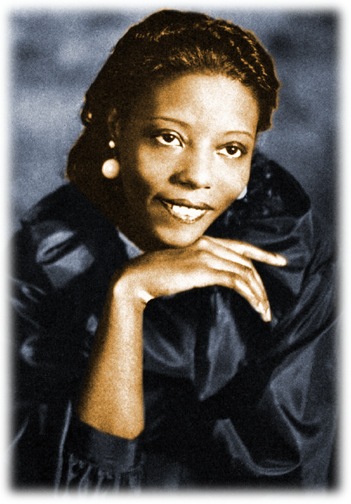 MARY LOU WILLIAMS (1910-1981)

Mary Lou Williams

Mary Lou Williams (Mary Elfrieda Scruggs, 1910-1981) was some kind of musical genius who did it all. She was an exceptionally talented and productive arranger, piano player, composer and bandleader. One of the most potent talents of Jazz, she was a terrific pianist, arranger of major stature and a gifted composer. Her piano style and writing developed in parallel with Jazz itself through Ragtime, Stride, Swing and Boogie to Bop, Modern and beyond.

Playing professionally from the age of fifteen, Mary Lou joined the band of saxophonist John "Bearcat" Williams whom she married in 1926. Their group was nucleus for the popular Andy Kirk orchestra touring and broadcasting out of Kansas City in the broad Midwestern dance band territory. Her distinctive arranging, skilled musical direction and dazzling keyboard artistry were major factors in the successful dozen-year run of Andy Kirk and the Twelve Clouds of Joy.

Williams' first piano solo recording was an original and striking stride masterpiece. The Earl Hines-inspired "Night Life" announced the debut of a major jazz talent.

Night Life – solo (1930).mp3


In the 1930s and '40s Williams wrote arrangements for the stellar Swing bands of Benny Goodman, Earl Hines, Tommy Dorsey and Duke Ellington. In the mid-1940s she progressed decisively into Modern jazz, becoming a bold avant-garde revolutionary. Her New York City apartment was a gathering place for a vanguard of emerging Be-Bop progressives like Thelonious Monk, Bud Powell and Charlie Parker.

Visionary innovations poured forth. She wrote tunes and arrangements for the orchestras of budding modernists, Dizzy Gillespie, and her own ensembles. "Taurus Mood" is from her inventive "Zodiac Suite" which was performed at Carnegie Hall in 1946 by the New York Philharmonic Orchestra.

Taurus Mood – solo (1944).mp3
After retiring from music for a few years in the mid-1950s and converting to Catholicism, Williams resumed composing, arranging and performing, writing large-scale sacred works, three masses and a cantata. "Music for Peace" (aka Mary Lou's Mass) was choreographed and performed by the Alvin Ailey Dance Theater. Her forward-leaning "Black Christ of the Andes" was groundbreaking, though misunderstood and even disparaged at the time.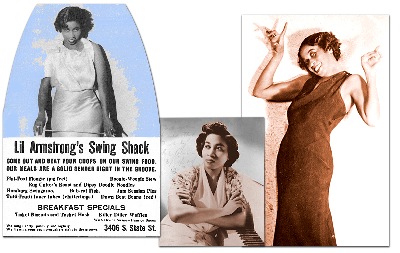 Dynamic Women of Jazz and Blues - Part Two

Concealed in the shadows of Jazz and Blues history are dynamic women who nurtured, guided and developed the music. Lil Hardin who was midwife to the birth of Jazz on record; Ma Rainey, the tough and independent "Mother of the Blues;" and supremely talented trumpet player and singer, Valaida Snow. Composer, arranger, bandleader and radical modernist Mary Lou Williams is featured.




More Links to Women of Jazz:

Ada Leonard All-American Girl Orchestra

Ada Leonard All-American Girl Orchestra - this site

Sharon Rogers Band in WWII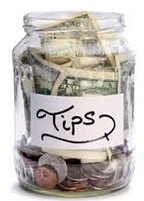 Tip Jar

This site is free. But you can help sustain it, and encourage me with donation to the tip jar. Secure payment through PayPal is anonymous, except that I will see your e-mail address.

Donation $5.00
Donation $10.00
Donation $20.00
Donation $35.00
Donation $50.00
Donation: You decide