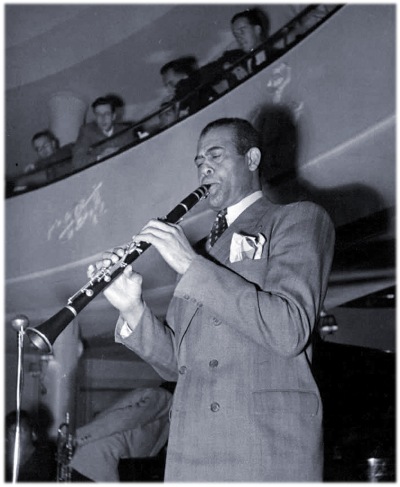 Frank "Big Boy" Goudie


His larger than life story spanning two-thirds of jazz history and three continents is told here for the first time.



Chikito Club,
Bern, Switzerland, 3.12.1949,

Foto Thierstein Bern,
JazzIndex



It is a mistake of jazz history that Goudie has been previously overlooked. These web pages and associated audio programs aim to correct that oversight.

As he traveled the world this master musician lived at least four musical lives:

New Orleans c. 1918-25: A skilled and flexible musician his whole life, Goudie had mastered trumpet before 1920. He went on the road working and traveling in the Southwestern states and northern Mexico.

Paris 1924-55: One of the few to arrive on his own initiative, Goudie concentrated on tenor saxophone, and easily made the transition to Swing. Staying three decades he recorded, played and jammed with the jazz elite of Europe.

South America 1939-45: During WW II Goudie played various kinds of music: samba and samba-swing in high profile bands; he owned a small restaurant in Rio de Janeiro, and traveled extensively with his wife, Madeleine.

San Francisco 1956-64: Returning to America in 1956 Frank became an esteemed New Orleans Creole-style clarinet player in the Bay Area, ubiquitous in the the thriving jazz revival.
(Download Frank Goudie in San Francisco, interactive article pdf.)

A striking figure fluent in several languages, Goudie was a thoroughly trained musician and cultured gentleman. Almost 6' 5" and at least 250 pounds, he was called "Tree" in his youth. Massive and broad, "Big Boy" was powerfully built, large and tall, remaining fit and strong into his sixties, when he frequently sported a beret.


Frank Goudie interviewed by Ken Mills

Tape on file with the Hogan Jazz Archive at Tulane University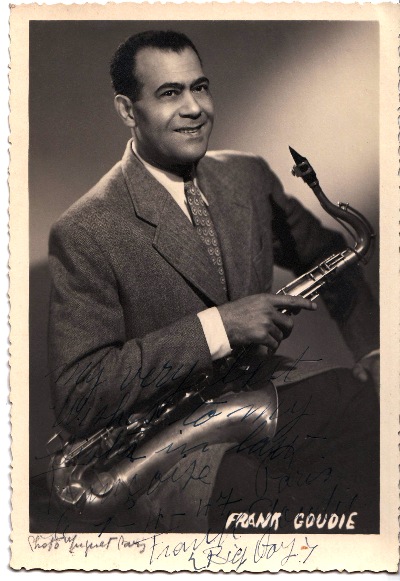 Despite being autographed 1947, my hunch is this is a publicity shot from much earlier, around the time of his 1939 records.


This photo courtesy of, and property of Christine Goudie, daughter of Frank Big Boy Goudie.






Latest iteration of this research is found at Syncopated Times:

Goudie Pt. 3 - San Francisco

Goudie Pt. 2 - South America and Return to Europe

Goudie Pt. 1 - Paris



Pt. 1 - Discovering Frank "Big Boy" Goudie.
Overview and introduction with music from Paris and San Francisco.

Introducing . . . Pt. 1A.mp3
YOU IN MY ARMS AND SWEET MUSIC -- Frank Big Boy Goudie and his Orch, Paris 1939
THE GOLD DIGGER'S SONG -- Bill Erickson Quartet, Berkeley, CA, 1961
YOU AND I, BABE -- Frank Big Boy Goudie and his Orch, Paris 1939
IT'S A SIN TO TELL A LIE -- Frank Big Boy Goudie and his Orch, Paris 1939
SWEET GEORGIA BROWN -- Freddy Johnson, Arthur Briggs & Orch, Paris 1933
WHO'S SORRY NOW? -- Frank Big Boy Goudie and his Orch, Paris 1939
THE SHEIK -- Andre Ekyan and his Orchestra, Goudie (trumpet), Paris 1939
I AIN'T GOT NOBODY -- Bill Coleman and his Orchestra, Paris 1937

Introducing . . . Pt. 1B.mp3
ORGAN GRINDER's SWING -- Willie Lewis and his Entertainers, Paris 1936
CHRISTOPHER COLUMBUS -- Willie Lewis and his Entertainers, Paris 1936
BIG BOY BLUES -- Bill Coleman and his Orchestra, Paris 1937
BOURBON STREET PARADE -- EL Dorado Jazz Band, San Francisco area, 1960
SAVOY BLUES -- Frank Goudie, Oxtot, Girsback, Bardin, San Francisco area, 1959
I'VE FOUND A NEW BABY -- Frank Big Boy Goudie (trumpet, clarinet, sax), Paris 1935
WHEN YOU AND I WERE YOUNG, MAGGIE -- El Dorado Jazz Band, San Francisco, 1960



Pt. 2 - Goudie in Paris and Rio de Janiero, 1925-50

Paris and Rio, Pt. 2A.mp3
Early jazz in Paris.
A description of Harlem in Montmartre between the world wars.
Introduction to Josephine Baker and Bricktop's famed cabaret.
Trumpet player Bill Coleman remembers Goudie and Paris.
Goudie and the influence of Coleman Hawkins on European saxophonists.

Paris and Rio, Pt. 2B.mp3
Goudie's friendship with gypsy guitarist Django Reinhardt.
The first eyewitness account of Goudie in Rio de Janeiro c. 1944.
With Bill Coleman at Club Chikito in Berne, Switzerland, 1949.

Meet Goudie's European associates, click here.
For only the music of Part Two, click here.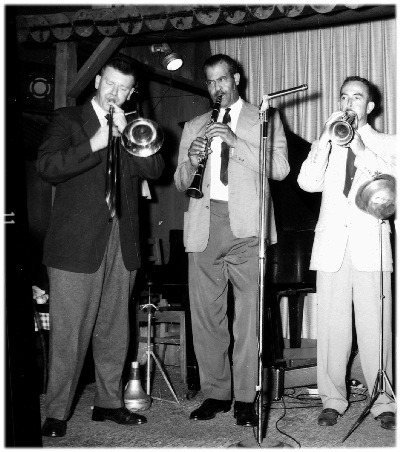 San Francisco associates c. 1959



Goudie with Bob Mielke left and P.T. Stanton,
at an East Bay
dance hall,
Pioneer Village c. 1958.

Mielke collection


Pt. 3 - Goudie in San Francisco.
Exploring his clarinet playing years in San Francisco, and New Orleans influences.

Goudie in San Francisco, Pt. 3A.mp3
Never previously issued performance tapes of Goudie with: Bill Erickson and Bob Mielke, Dick Oxtot from Pier 23 and Monkey Inn.
Recollections of musicians who knew him.

Goudie in San Francisco, Pt. 3B.mp3
An investigation with Chris Tyle of Goudie's New Orleans trumpet style & doubling on trumpet and reeds.
More from Monkey Inn.
Richard Hadlock reads Goudie's eulogy from 1964.

To meet Goudie's San Francisco associates, click here.
For only the music of Part Three, click here.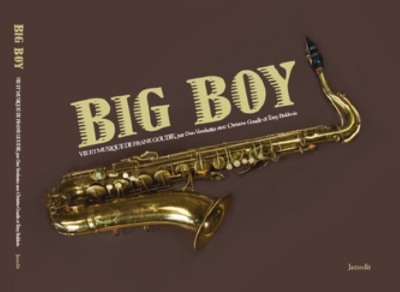 Big Boy: The Life and Music of Frank Goudie
By Dan Vernhettes with Christine Goudie and Tony Baldwin
76 pages, 100 photographs, index and discography, 30 euros + postage


A sampling of Goudie's music:

"You in my Arms and Sweet Music"
"You and I, Babe"
Frank Big Boy Goudie and his Orchestra, Paris 1939
These original Goudie compositions may be his most delightful European recordings. They're certainly among the best examples of his Coleman Hawkins-inspired tenor saxophone style. Leading this septet Goudie comes on strong, with solos from trumpeter Jack Butler, Joe Turner, piano and French alto saxophonist, Andre Ekyan.

"I've Found a New Baby"
Frank Big Boy Goudie, Paris 1935
Goudie's celebrated triple-threat recording. He solos on trumpet, tenor sax and clarinet in quick succession backed by Django on guitar and Grappelli, piano!

"Just a Closer Walk"
Estuary Jazz Band, San Francisco, 1959
With a band led by pianist (and sometimes trumpet player) Bill Erickson, Bob Mielke, trombone.

"Get Out of Here"
"Gold Diggers Song"
Frank Goudie with the Bill Erickson Quartet, Monkey Inn, c. 1961
Erickson piano, Bob Mielke trombone.

"When You and I Were Young, Maggie" El Dorado Jazz Band, 1960
Goudie in a relaxed New Orleans revival-style band.

More of his rare and unique music is archived below.

No recordings of Goudie from New Orleans are known to exist.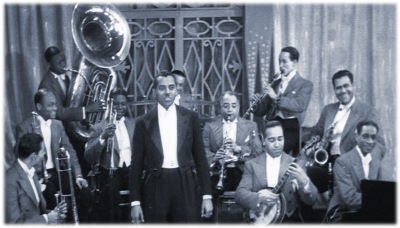 Newly discovered film footage of Frank Goudie!

Goudie is the tallest African American seen in this rare film clip c. 1930. He's seen generally to the left of the frame, from :45-:55, 1:18-1:33, 2:03-2:06 [hands only], 3:33-3:56.

Ostensibly a reception for mothers of fallen black World War I sons, the event proved to be the "Great Day in Harlem" of Paris.

Negro Mothers Drive In Paris (1920-1929)
https://www.youtube.com/watch?v=UoY7ucCcOeU&feature=youtu.be



At last a fitting and gorgeous biography of Frank "Big Boy" Goudie brings this overlooked, wandering jazz multi-instrumentalist into clear focus. With nearly 100 photos, this handsome full-color, limited edition 76-page volume encompasses the full scope of his monumental life.

Author Dan Vernhettes -- in association with Goudie's daughter and researcher Tony Baldwin -- fully documents and illustrates one of the most astonishing and colorful lives of jazz.

A remarkable feat of documentary research, the writing flows well, concisely cross-referencing eyewitness accounts, clippings, articles and swaths of previously unpublished photographs. For the first time a comprehensive illustrated discography of Goudie's music has been compiled, including his many unissued San Francisco performance tapes.

The main heft of the book lies in Big Boy's three decades playing tenor sax (mostly) in Europe and South America. Yet every aspect of his globe-spanning saga is given full measure. Each chapter presents vivid new details placing him in context among illustrious colleagues and circumstances.

• Emergence in golden era New Orleans and early travels through the Southwest and Mexico, an itinerant trumpet and clarinet player.
• His 1924 arrival in Paris even before Josephine Baker, and decades as an esteemed African American jazzman playing tenor sax in Europe.
• A detailed account of his years flourishing in South America, 1939-45.
• Frank's role in the San Francisco jazz revival 1956-63 playing clarinet (exclusively) peppered with photographs and recollections of his fellow musicians -- many supplied by this reviewer.


This book solidly establishes Frank Goudie's bona fides as a jazzman of the first order. It captures the vast sweep of a journey through the heart of jazz second to none in the last century: kudos to the authors.


Available exclusively from JAZZEDIT
http://www.jazzedit.org/English/EBb/Big-Boy.html

Also available in French language edition.

Jazzedit also offers a landmark book about Tommy Ladnier, and two fascinating volumes exploring Jazz Puzzles of early New Orleans.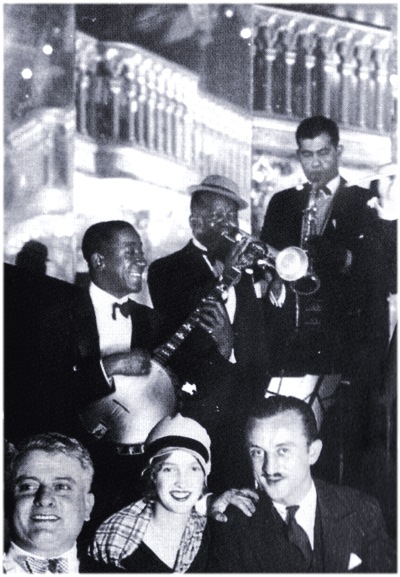 Joe Zelli's Royal Box
16 rue Fontaine
Montmartre, Paris, 1927


Musicians,
top to bottom:
Frank Big Boy Goudie, sax;
Cricket Smith, trumpet;
Ferdie Allen, banjo


(from Jazz in Paris - Montmartre,
Universal Music, France, 2004)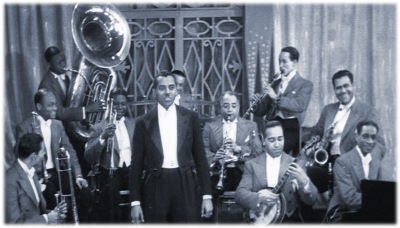 Frank Goudie
with the Noble Sissle Orchestra
from a music short in London, December 1930

Goudie is second from right, seated behind the pianist




L to R: Billy Burns, Tommy Ladnier, Edward Cole, Arthur Briggs, Jack Carter, Noble Sissle, Rudy Jackson, Frank Etheridge, Ramon Usera, Frank Goudie, Lloyd Pinckney


Click here to meet a roster of Goudie's American musical collaborators in Europe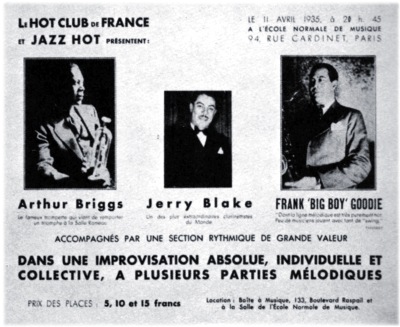 Big Boy Goudie was involved with the very first public concerts in Paris hosted by the Hot Club of France (a federation of jazz enthusiast clubs).


SIDEBAR:
Collègues Français

Goudie recalls Django.mp3 (3:20)

Django Reinhardt
Belgium, 1910 - France, 1953

Goudie waxed almost a dozen sides with Django and they're among his best. He and the gypsy guitarist were well acquainted and their intimate late-night jam sessions are legend. Being among the best black American jazz musicians performing in Paris, Goudie performed at a half-dozen of the important jazz concerts of 1934-36 that introduced Django to Parisian swing audiences.

Django is one of the few topics from his European years that Goudie was willing to discuss in California. He told Jim Leigh about Django's obsessive desire to play music endlessly after a trip away from Paris visiting his gypsy people:
"He always wants to be playing, even when everybody else is falling out . . . three jobs, one day. Always some one little place he wanted to go . . . a little out of town, some cafe, some little kind of place . . . . You better hide your head, go sleep at some woman's place, stay out of his way so he didn't keep you going three-four days, no stopping. The man will drive you to play, you understand?"
Heaven on the Side,
James Leigh, 2000 (self-published)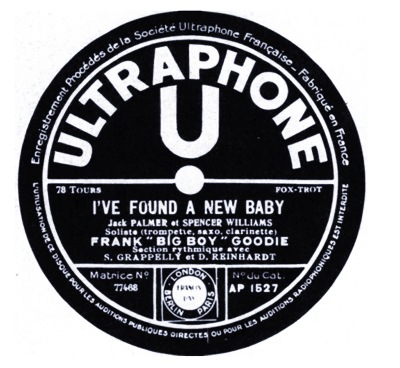 The astonishing Goudie triple-threat:

Recording on tenor sax, clarinet and trumpet, all on one disc, with Django and Grappelli (piano), 1935.


"I've Found a New Baby" mp3



Chris Tyle on Goudie's trumpet style:

Chris Tyle comments on New Orleans influences in Goudie's horn recordings.mp3
(w/ music mix 9:45)

New Orleans vs. Paris influences.mp3
Goudie's trumpet style derived from New Orleans.mp3
Notes on Goudie's "Darktown Strutters Ball".mp3
Style notes on Papa Celestin's Tuxedo Orchestra, 1915-25.mp3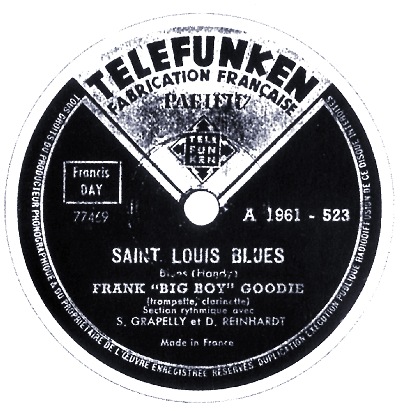 Goudie recorded playing trumpet and clarinet, with Django Reinhardt, guitar and Stephane Grappelli (piano), 1935.


"Saint Louis Blues" mp3



The Trumpet Records of Frank Goudie
by Chris Tyle

Although there's not a great deal of information on Goudie's earliest years in New Orleans, what does seem evident is his primary instrument was cornet. Jazz histories indicate he worked with Oscar "Papa" Celestin's Tuxedo Orchestra, and he would have been required to read music and play decent jazz solos as a member of that group. Celestin's orchestra was well regarded in New Orleans as a dance band, not strictly a jazz band. He always had a second cornetist who was a good jazz soloist, as he didn't feel he was good at it. "Kid Shots" Madison and Guy Kelly both held the second cornet chair in Celestin's band, and both men proved on recordings to be excellent jazz players.
"Black Rag," Tuxedo Orchestra, "Kid Shots" & Celestin, trumpets 1925
"Original Tuxedo Rag," Tuxedo Orchestra, "Kid Shots" & Celestin, trumpets 1925

By the time Goudie made his first records on trumpet in 1935, he would have had approximately 20 years of experience playing the horn, and what is apparent on these recordings is an assuredness and ability to get around the instrument easily. His playing of the lead especially illustrates the New Orleans concept of adhering closely to the melody for the first chorus - a quality that stuck with him for the rest of his life. (Trombonist Bob Mielke mentions Frank's excellent knowledge of melodies when playing clarinet.) For example, on Andre' Ekyan's recording of "The Sheik" from May 1939 his playing on the first chorus sounds as if he's reading it (which is definitely not the case, as by then it was a jam session chestnut).

His first session as a leader, from August 1935, could in some respects be considered a demonstration of his talents as a musician, as he switches between trumpet, tenor sax and clarinet. This is quite a feat, as each instrument utilizes a different embouchure and uses different facial muscles. Yet he pulls it off with seemingly great ease.

Goudie's trumpet playing on the last chorus of "St. Louis Blues," is remarkable as he plays up to a concert "D" above the staff, an impressive illustration of his command of the instrument.

Returning to "The Sheik" from 1939, his two choruses at the end suffer slightly from a roughness of tone which is likely attributed to his doubling with the reed instruments. Interestingly this same sound can be heard in the trumpet playing of Tommy Dorsey - another "doubler." Actually Goudie's playing is remarkably similar to Dorsey's.

On "Darktown Strutter's Ball" with Ekyan, Goudie exhibits a much more sparse approach in comparison to "The Sheik," where, when soloing, he plays more notes in a "swing" style. On this performance his playing seems more on the order of Bunk Johnson - definitely more of a New Orleans approach.

Unfortunately, the 1939 session with Ekyan would be his last recording on trumpet. Yet he didn't give it up completely. Although he was rarely heard on the instrument during his years in San Francisco, one musician described his playing as "...beautiful. Very sweet. A lot like Bix Beiderbecke, believe it or not."

"Darktown Strutter's Ball" 1939
"The Sheik" 1939
"Blues of Yesterdays" 1939 (© Ekyan)

Andre Ekyan Orchestra
Andre Ekyan, alto saxophone, clarinet
Frank Goudie, trumpet
Joe Turner, piano
Django Reinhardt, guitar
Lucien Simoens, bass
Tommy Benford, drums

Special thanks to Chris Tyle for his informed commentary.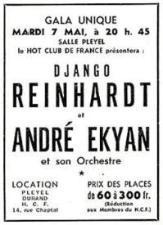 SIDEBAR:
Collègues Français

Andre Ekyan
France, 1907 - Spain, 1972

Clarinet and alto saxophone player Andre Ekyan was a significant pioneer of jazz in France. He was a self-taught arranger, bandleader and jazz organizer, born to a Hungarian mother and father from Armenia.

He was at the center of jazz development in France vigorously developing and promoting jazz at clubs and cabarets. He established wide popularity in London and Paris during the early thirties, and then from 1935-46 recorded as a leader and sideman.

Ekyan recorded with Big Boy Goudie several times, and the cream of French and American jazz musicians visiting Europe and Britain: Benny Carter, Coleman Hawkins, Fats Waller, Tommy Dorsey, Ray Ventura, Mezz Mezzrow and Tommy Benford.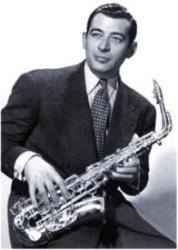 Andre Ekyan

He made several recordings with Goudie in the mid-30s. His clarinet and alto solos were frequently heard on Django's records.

Ekyan was a famed promoter of jam sessions, in French called "Des Boeufs."



These tracks from 1939-41 display Ekyan as a major talent and one of the few European saxophonists thinking beyond the style of Coleman Hawkins:

Frank Big Boy Goudie and his Orchestra, 5.28.39
Andre Ekyan clarinet and alto; Jack Butler, tpt; Goudie, tenor sax; Joe Turner, piano; Norman Langlois, gtr; Wilson Meyers, bass; Tommy Benford, drums
(Special thanks to Rune Sjögren)

"You and I Babe," 1939.mp3
"Who's Sorry Now," 1939.mp3

Ekyan, alto sax with Django:
"Hungaria," 1941.mp3
"Rosetta," 1940.mp3
"A Pretty Girl is Like a Melody," 1940.mp3

LINKS:
More on Ekyan



Music Archive

Frank Big Boy Goudie sur Disques Swing:
(Django Reinhardt guitar, all Coleman and Ekyan tracks.)

Bill Coleman and his Orchestra (septet), 1937
Goudie tenor and clarinet:
"Big Boy Blues"
"Baby Won't You Please Come Home"
"Swing Guitars"
"I Ain't Got Nobody"

Frank Big Boy Goudie and his Orchestra (septet), 1939
Goudie tenor sax, Ekyan alto sax
"You in my Arms and Sweet Music"
"You and I Babe"
"Heebie Jeebies"
"Who's Sorry Now?"

Andre Ekyan Orchestra (sextet), 1939
(Goudie, trumpet only)
"Blues of Yesterdays"
"The Sheik"
"Darktown Strutter's Ball"

Frank Big Boy Goudie Trio (Disques Swing & Jazz Time), 1946-47
Charlie "Dizzy" Lewis, piano
Mac Kac Reilles, drums
"Big Boy Boogie"
"Dizzy Boogie"
"Blue Drag"
"Please Don't Talk About Me When When I'm Gone"
"What is This Thing Called Love?"
"Swingin' Low" (Memphis Blues)
"St. Louis Blues Pt. 1 & Pt. 2"

Special thanks to Bo Scherman, Göran Söderwall, Rune Sjögren, Jean-François Villetard and Dan Vernhettes for some of these rare Goudie discs.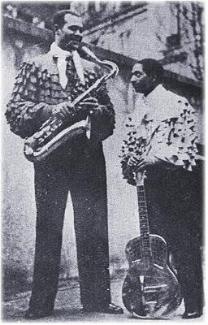 Goudie joined Argentine guitar wizard,
Oscar Aleman in Paris 1938-39


Oscar Aleman Project blog


"Joseph, Joseph"
Orchestre Musette Victor, 1939

No recordings from the partnership of Goudie and Aleman have yet surfaced. But this quintet of Aleman with clarinetist Eddie Bruner, Gus Viseur accordion and Tommy Benford drums in 1939 is a good representation of his music.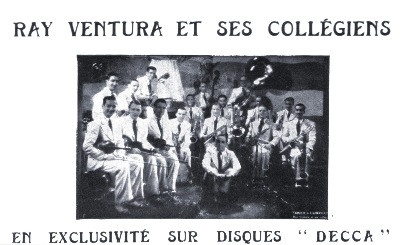 Frank Goudie's daughter reports that he worked with French bandleader, Ray Ventura, who was also in Latin America during WW II.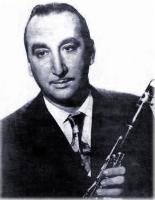 SIDEBAR:
Goudie à Rio de Janeiro

Goudie in Rio, 1944.mp3 (7:15)

Richard Hadlock, a noted clarinet and soprano saxophone player, jazz writer and broadcaster, knew of Goudie when he lived in South America c. 1944 (his father worked for RCA Victor in Rio). He later heard and worked with him in San Francisco.

At more than 6' 3" notes Hadlock, Frank "Big Boy" Goudie "stood out" among Brazilians. He was a local celebrity and versatile reed man in Samba bands at nightclubs, hotels and recording dates. Goudie was also playing reeds in the large swing & samba orchestra of Aristides Zaccarias (right).

An aspiring musician, Richard was taken to hear the Zaccarias orchestra of 5 brass, 5 reeds and 4 rhythm instruments at the Copacabana in Rio. He recalls that Goudie was "a section player" (clarinet, alto and tenor sax) who might have stood for a solo.

There's more to the story because Hadlock was tutored by the bandleader and allowed to rehearse with his band at the Copa. He speculates that, because Zaccarias was a very good saxophone player, its unlikely he gave many solos away to Big Boy. In Richard's opinion, 'Zac', as he calls him, was a very good saxophone player but lacked a feel for jazz:

Hadlock on Zaccarias.mp3
Hadlock rehearsed with Zaccarias.mp3

Later in San Francisco he visited Goudie's upholstery workshop. It was a tiny space slightly below street level that he found, "not very promising as an enterprise." He and Goudie were fellow working musicians in those years. Hadlock thought him a gentleman and sensible musician: "very pleasant, nice phrasing . . . no showing off on his instrument."

Great thanks to Mr. Hadlock for these recollections.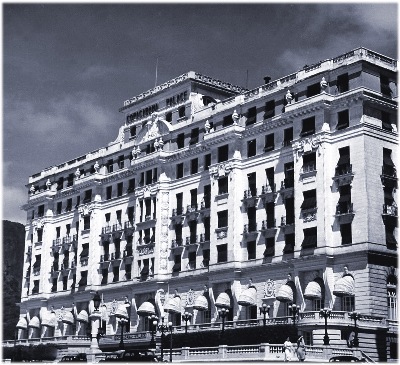 In Rio de Janeiro around 1944, Goudie was performing with the very successful band of Aristides Zaccarias at the luxurious Copacabana Palace Hotel (right).


Hadlock describes the Copacabana Casino c. 1944.mp3




Music Archive

In South America 1939-45 Big Boy's activities in Rio, Brazil included recording samba and samba-related music. He performed and probably recorded with Aristides Zaccarias who waxed some of the biggest hits of Brazilian music.

No records of Goudie in South America have yet surfaced. But these tracks are typical of the very popular samba-swing orchestra of Zaccarias e su Orchestra. The first two display the fine saxophone section and soloing by Aristides noted by Richard Hadlock.

"Morena Boca de Ouro," 1943
"Cai Cai," 1943
"O Caminho e Longo Para Tipperary" (It's a Long Way to Tipperary), 1945
"Tico Tico no Fuba," 1943

(Special thanks to Tony Baldwin.)



Open letter from Christine Goudie, daughter of FBBG:

A big thank you Dave for opening the door that allowed me to follow the path of Frank Big Boy Goudie, "Mon Père de Coeur" through his musical career. A career that you have so well reconstructed and that lives through your writings, the testimonies, the photos and recordings.

Our exchanges and your researches have transported me into this world many times: moments of great joy, through his music: great emotion and nostalgia.

My thoughts are going today towards my mother Madeleine Boissin. She was married with Frank during 13 years (she died November 16, 2012). She never forgot him, and he held such a big place in her heart.

Great thanks for your very nice gift to myself, my children, Aude and Arnaud, and My Little Girl Clara.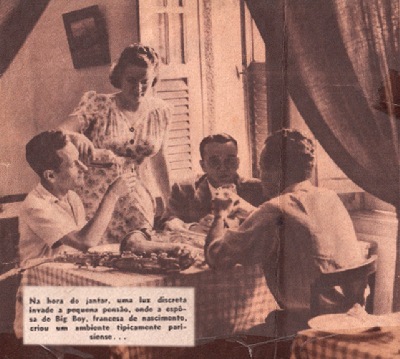 Le Cafe à Rio

Goudie also owned, "a very French restaurant just around the corner" from Hadlock's residence, which was operated by his wife, seen left.

Though Richard never ate there, he often glanced through the front window into its neat, "4 or 5 tables with red checked tablecloths, just like a Parisian movie set,"
adding, "Goudie always had something going."

Hadlock describes the restaurant.mp3

Caption read in Portuguese:
At dinnertime, a discrete light invades the small pensao where the wife of Big Boy, French by birth, created a typically Parisian atmosphere . . .

(Photo: Property of Christine Goudie, daughter of Frank Big Boy Goudie)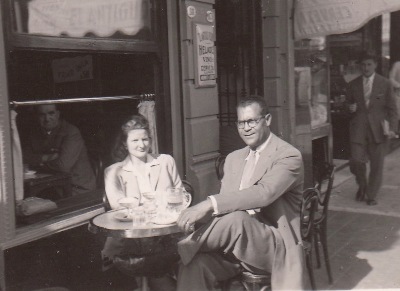 Frank Goudie and wife Madeleine Boissin

Buenos Aires, Argentina, c. 1944


(This photo courtesy of,
and property of Christine Goudie, daughter of Frank Big Boy Goudie.)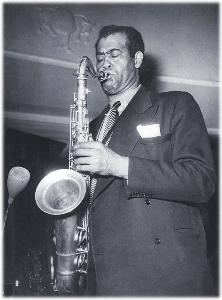 Frank Goudie
Switzerland, 1949

(Archive of Theo Zwicky,
JazzIndex)


For more photos and stories of Goudie's African-American jazz collaborators in Europe, click here.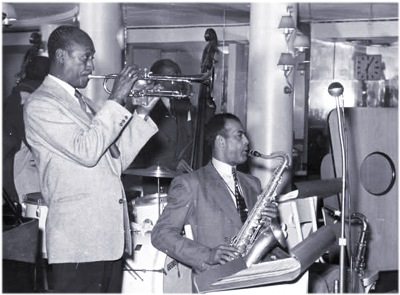 Goudie with Bill Coleman

Bern, Switzerland
1949

Probably at
the Chikito club


(Foto Tardy Bern
JazzIndex)


SIDEBAR:
Collègues Américain

Bill Coleman
Paris, Kentucky, 1904-1981 Toulouse, France

In his memoir, Bill Coleman says flatly that Goudie was seven feet tall. His book fills in some details of Goudie's European years, particularly the late 40s when they occasionally worked and traveled together.

He reports first seeing Goudie in Paris playing tenor sax with Spencer Williams at the hotel bar of Chez Lisieux in 1927, and with pianist Freddy Johnson's band at Bricktop's in 1929. Somewhere along the way they became well acquainted and worked together in the Willie Lewis band and with Django in the mid 30s.

Coleman fondly recalled the atmosphere of camaradarie among musicians in Montmartre: the sitting about, gambling and drinking in bars, bistros and billiard halls. Besides Bricktop's, popular hangouts included Lisieux's, a joint called the Flea Pit and Boudon's cafe, the latter memorialized in Dickie Wells' langorous "Hangin' Around Boudon," recorded in Paris 1936. His description of the situation in Montmartre is tantalizing: "Between Boudon's and Lisieux's was a little Harlem in the early morning when all the night spots were closed. The American musicians and entertainers gathered in those bars and the stores with the 'tabac' signs."
Trumpet Story, Bill Coleman
Northeastern University Press, 1981/1990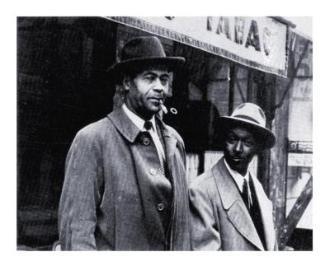 Coleman returned to Paris in the late 40s searching for his jazz buddies at the 'tabac.' When he found Goudie they sort of partnered-up, sometimes working and traveling together in the late 40s.

In fact, Goudie helped smooth the path for Bill Coleman's first job running his own band. He approached Bill in mid-1949 with organizers for a club he'd been playing in Bern, Switzerland with Glyn Paque, the "Chikito." And Goudie was on stage when Coleman opened at this very popular venue in November 1949. It's reported that Goudie also played with Coleman in Paris around this time. And yet despite a musical friendship of decades there are no recordings of them together after c. 1937.
Photo: Frank Driggs, Swing Records

I believe that many of the best photos of Goudie on this page were taken at the Chikito club in Bern, or around the time of those gigs. Photo above is Big Boy and Coleman in Paris, 1938. Note the 'tabac' sign.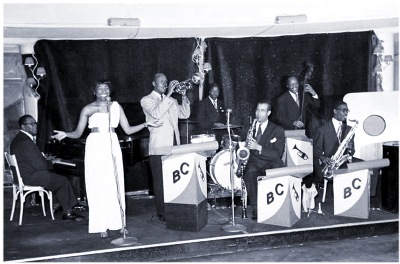 Goudie with the
Bill Coleman Orchestra, 1949
Bern, Switzerland

Aside from recording sessions this was Coleman's first band, initiated in part by Goudie.

L to R: Norman Lester, Arstella Whittier, Bill Coleman, trumpet and band leader, Georgie Smith, Frank Goudie, tenor, Bass Hill, Fred Palmer
(Bucher Bern, JazzIndex)



SIDEBAR:
Early years: In New Orleans and on the road, 1915-1925

Frank Goudie's decade playing trumpet 1915-25 is largely undocumented and there are no recordings.

In New Orleans Goudie had heard Freddie Keppard, Mutt Carey and Bunk Johnson and might have been tutored some by the latter. He must have been pretty good because observers rated him highly and he worked in a couple of the better Golden Age New Orleans bands: Magnolia and Papa Celestin's Tuxedo. Tuxedo followed the gradual evolution of early New Orleans bands from late ragtime to King Oliver-stye two trumpet front line. For context Celestin's New Orleans recordings provide a general point of reference (trumpets are Celestin & "Kid Shots" Madison:
"Original Tuxedo Rag" Original Tuxedo Jazz Orchestra, 1925
"Black Rag" Original Tuxedo Jazz Orchestra, 1925

One notable influence on Goudie around this time that may have inspired him to take up clarinet was George "Georgia Boy" Boyd. Between 1913 and the early 20s Boyd worked with several top New Orleans bandleaders: Jack Carey, Chris Kelly, Punch Miller and Kid Rena. Little is known of Boyd and he never recorded.

Golden Age New Orleans music ended abruptly around 1918 when the world famous bordellos of Storyville district were closed. Like notable Crescent City musicians, Freddie Keppard, Joe Oliver and Jelly Roll Morton, Goudie hit the road and ventured far from Louisiana.

Chris Tyle on Goudie's trumpet style:
Chris Tyle comments on New Orleans influences in Goudie's horn recordings.mp3
(w/ music mix 9:45)


On the Road, 1921-25
In the early 1920s Frank Goudie's travels took him to Texas, New Mexico and California performing in what has been loosely called Minstrel shows. This generic term requires some definition because it can describe a wide range of entertainments. It most commonly refers to the racist "black face" sketch comedy and music of the 1800s.

But in reference to the 1920s, it may refer to a spectrum of performance genres. Somewhere beneath the level called Vaudeville, there were a wide range of entertainments of various kinds and quality. These were offered by troupes at local theaters or open air tents and stages. Sometimes called medicine shows or tent shows, they were merely the bottom rung of show business and not necessarily "minstrel" at all. Such outfits could have required almost anything of Goudie musically: popular tunes, rags, rudimentary jazz, march music, accompaniment to singers; or backing for dancers, jugglers, comedians and animal acts. And there may have been blackface. It was in the Southern states.

Goudie was eventually invited to Tampico, Mexico around 1924-25 for an extended residency replacing Charlie Love at the Tivoli Club resort. There Love took time to teach him some of the music and routines and they apparently became good friends and roommates. This connection might be one clue to Goudie's trumpet influences. Of those who subsequently heard Goudie play, Charlie Love is the closest point of stylistic reference. Yet we must recall that this encounter came well after his New Orleans career.

I think one of the reasons Goudie was omitted from jazz histories is that he simply had been gone too long when the study of New Orleans jazz started in the 30s. In the decades when oral histories were being collected he was jamming with Django in Paris, waiting out the war in South America, or playing in Switzerland, Germany or San Francisco. And later in California, for unexplained reasons of his own, he was extremely reticent about discussing his previous life or music.



ARCHIVE MUSIC

Goudie in Germany
Berlin 4.13.53

Gabriel Dores and Wolf Schneider, trumpets
Goudie, clarinet and tenor sax
Helmuth Wernicke, piano
Wolf van Well, guitar
Teddy Lenz, bass
Tom "Eminenz Roberts, drums

Davenport Blues_Gabriel Dores & Frank Goudie
Lonesome Road_Gabriel Dores & Frank Goudie.mp3
When the Saints Go Marching In_Frank Goudie & Gabriel Dores.mp3
Sweet Georgia Brown_Gabriel Dores & Frank Goudie

Thanks to Jean-François Villetard and Dan Vernhettes for supplying these rare Goudie sides.




SIDEBAR:
Éducation musicale?

In general its been suggested that Goudie had no formal musical training, that he was largely self-taught. However, he played at least seven instruments at one time or another: clarinet, alto and tenor sax, trumpet and guitar; piano and fiddle in his youth. Jim Leigh wrote that, "He knew his horn, his ear was excellent, he could read anything."

In San Francisco around 1960 trombonist Bob Mielke, knowing almost nothing of his past, found Goudie to be "more knowledgeable than a lot of people probably assumed." Bob was impressed with the depth of his musical knowledge, well beyond jazz.

For instance, Goudie knew the musical technique known as solfeggio or solfege. (A complex ear training and vocal exercise in which notes are sung with the do-re-me-fa-sol-la syllables to represent the tones of a melody or scale.) He could perform it in both basic (fixed do) and advanced (moveable do) method.

Bob Mielke on Goudie's musical knowledge.mp3

He theorized Goudie must have had of some sort of formal musical training, calling him 'a musician's musician' who, "admired people who knew what they were doing and were well schooled." Mielke was firmly convinced that Goudie's level of musical knowledge could only involve conservatory training of some sort, perhaps in Paris. And there is other evidence of his advanced musical knowledge and studies.

His daughter, Christine Goudie, reports that Frank did composing and arranging work in Switzerland and Germany in the late Forties, publishing at least one composition of his own. Because he was often traveling, he used a harmonium when working.

ARCHIVE INTERVIEW
(transcript)

Transcript of Bob Mielke phone interview.pdf
regarding Frank Goudie, taped at KALW-FM, San Francisco, CA, 8.9.93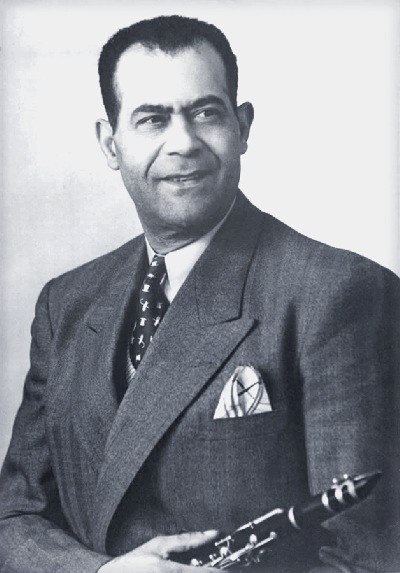 Frank Goudie
1949

(Archive of
Theo Zwicky
JazzIndex)




More about Goudie and the musicians he played with in San Francisco, here.

Download a pdf article about Goudie in San Francisco, here.

TRANSCRIPT of Bob Mielke (trombone) phone interview.pdf
regarding Frank Goudie, taped at KALW-FM, San Francisco, CA, 8.9.93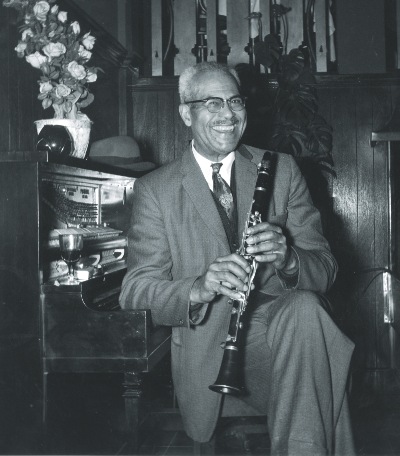 "Behind his easy smile lies one of the most colorful stories in jazz."
--Richard Hadlock, San Francisco Examiner, 7.63




(Photograph by
William Carter c.1960.)


SIDEBAR:
New Orléans à San Francisco, 1956-64
Despite his travels and worldly sophistication Goudie maintained several traditions from his Louisiana youth: the French language and pride in his upholsterer's trade craft. He followed the New Orleans musician's tradition of proudly keeping a trade, in his case upholstery. In fact one of his motivations for moving to San Francisco was that he had inherited a very small upholstery business from a relative.

During these years playing clarinet in West Coast New Orleans revival bands, the musical style and training of Frank's youth in Louisiana re-emerged. Among his confederates, Jim Leigh mentions his penchant for soul food: beans and rice, cooked greens and barbeque. But Leigh confided that most of their dining was done in restaurants, Goudie was NOT a good cook. (It was perhaps his one failing as a New Orleanean.)

I concur with Bill Carter that Goudie was, "good but not great." He was a very capable New Orleans clarinet player with a distinctly Louisiana Creole clarinet manner. (As to whether Goudie might have been Creole its unclear, but he was originally from French-speaking Louisiana Cajun country.)

Goudie's music c. 1960 is well documented by the performances archived on this web page. He was comfortable with collective New Orleans polyphony of multiple interacting melodic lines spontaneously improvised by the front-line horns. He could easily solo at length and was familiar with the repertory of pre-Swing jazz tunes. All of which made Frank desirable to the New Orleans revival style bands around San Francisco in which he worked during that era.

Though he was a cosmopolitan man of the world, Frank Big Boy Goudie remained a man of New Orleans to the core.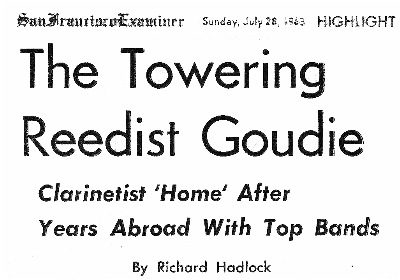 Goudie was profiled in the San Francisco Examiner by Richard Hadlock, Sunday July 28, 1963.

Click here or on the image to download a .pdf file of the entire article.


ARCHIVE MUSIC:

Despite numerous flaws these recordings are far superior to what has previously been heard of Goudie in San Francisco, in range, sound and performance quality.
Frank Goudie with El Dorado Jazz Band (under the direction of Jim Leigh)

These archival performances are notable for showing Goudie in a New Orleans revival setting. He demonstrates an ability to both support the ensemble with polyphonic counter melody or easily sustain lengthy improvised solos with clear purpose and stately ease.

Goudie lacks the power and thrust of the best New Orleans reed players players but his basic vocabulary is more Crescent City than Windy City: more New Orleans creole than hot Chicago. And evidence of Frank's New Orleans heritage is strong in the pungent burr to his tone and un-rushed even eighth notes (even if cornet, not clarinet was his instrument back in the day).

"Dallas Blues" is included despite lacking a Goudie solo for the under-appreciated singing of Danny Ruedger.

Mel's Palm Bowl 1960
Goudie, clarinet
Jim Borkenhagen, trumpet
Jim Leigh, trombone
Dan Ruedger, banjo & vocals
Squire Girsback, bass
Lindsey Greene, drums

When You and I Were Young, Maggie
All the Girls
Bourbon Street Parade.mp3
Dallas Blues, vocal Danny Ruedger
Alky Blues, vocal Danny Ruedger

Pete's Chicago Club 6.19.60
same front line plus:
Pete Fay [?]
Bill Carroll, bass
Greg Cabibi, drums

Shake That Thing, vocal Danny Ruedger
Panama



Pier 23 Broadcasts

Once Goudie cast his lot with the younger revival jazz crowd he was soon working regularly at Pier 23. The Pier was (and still is) a popular dive and jazz bar on the San Francisco waterfront.

Local music critic Ralph J. Gleason memorialized the dockside joint in liner notes for Burt Bales' 1958 album, On the Waterfront:

"In San Francisco for some years now the Embarcadero (the dockside road than runs along the Bay waterfront wharves) has been a sort of North Rampart Street with Dixieland jazz floating out over the waters of the Bay every night from the Tin Angel and Pier 23, that converted dock wallopers lunchroom where Burt plays."

In 1959 a few radio remotes briefly emanated from Pier 23, organized by radio DJ and personality "Hambone Lee" Crosby. So-called 'Estuary jazz group' (aka Waterfront Jazz Society) existed only for radio broadcast and was similar to Mielke's Bearcats, except that it featured Burt Bales, a girl singer (actually under 18 years of age), Dick Oxtot, Goudie stepping it up a notch on-air.

Estuary was directed by Burt Bales (piano and vocals), then at the top of his game and a frequent guest of the Bearcats with Bill Erickson (trumpet) and Bob Mielke (trombone). The swinging four-beat rhythm section was equivalent to Mielke's: Dick Oxtot (banjo), Squire Girsback (string bass) and Bob Osibin (drums). Notably, all these musicians hired Goudie at one time or another with the exception of Osibin.

Master of ceremonies Lee Crosby hosted the handful of shows touting the colorful dockside setting, "tugboats, switch engines and glasses clinking." Some were broadcast as early experiments in stereo: left and right signals transmitted simultaneously on mono AM and FM stations. But the hoped-for TV coverage never developed.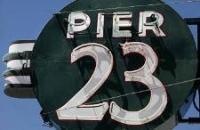 Archive music:

Frank Goudie with
Estuary Jazz group, 1959
Live broadcast from Pier 23, San Francisco, California
KGO (AM & FM dual mono/stereo broadcast)

(Thanks to Bob Mielke and Bill Raynolds.)

Just a Closer Walk with Thee.mp3
Saturday Night Function.mp3

Bill Erickson, trumpet
Bob Mielke, trombone
Dick Oxtot, banjo
Burt Bales, piano
Squire Girsback, bass
Bob Osibin, drums

Note on Estuary JB: This short-lived band was initially fronted by radio personality Hambone Lee Crosby. Musically it was Bill Erickson's band in various forms but usually with Goudie and Mielke. Sometimes at Pier 23 on the San Francisco Embarcadero or later at the Monkey Inn, Berkeley, 1961-62.

Bob Mielke Recalls Goudie, Interview, KALW-FM 1/93.mp3
Goudie, Monkey Inn, Estuary Jazz Band, Hambone Lee Crosby



Meet Big Boy's San Francisco colleagues, Burt Bales, Bill Erickson, Bob Mielke, Dick Oxtot and others.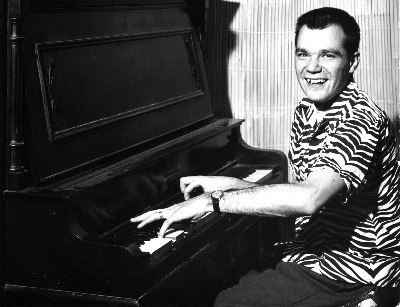 Archive music

Bill Erickson Quintet
Monkey Inn, Berkeley, CA

Personnel:
Frank Goudie, clarinet
Bob Mielke, trombone
Trumpet unknown
Bill Erickson, piano
Jimmy Carter, drums

Joseph Joseph.mp3
Isle of Capri.mp3
I'm Confessin'.mp3
Careless Love.mp3
Avalon.mp3
I Found a New Baby.mp3




Archive music:

Mielke introduction to Frank Goudie & Gold Diggers Song, 1961

Bill Erickson Quartet
Bob Mielke, trombone
Frank "Big Boy" Goudie, clarinet
Bill Erickson, piano
Jimmy Carter, trumpet

Get Out of Here.mp3
Gettysburg March.mp3
Joseph Joseph.mp3
Ring Dem Bells.mp3
Willie the Weeper.mp3
Gold Diggers Song.mp3

Monkey Inn, 1961-62
Berkeley, CA

(Thanks to Bob Mielke and Bill Reynolds.)

Despite flaws these late recordings of Goudie are far superior in sound and performance to what has previously been available.



SIDEBAR:
Ken Mills on Goudie

Ken Mills was an energetic young man interested in early New Orleans jazz. Starting around 1960 he helped organize Preservation Hall in New Orleans. But he had been very active in the Trad Jazz and New Orleans revival going on in San Francisco.

Mills wrote the informative liner notes for the one CD issued under Goudie's name, Frank Goudie with Amos White's Band & Burt Bales, American Music, 1991 AMCD-50. It sounds as if Mills was among the iconoclastic crowd Goudie gravitated to. A coterie including the legendary vintage record collector Norm Pierce, beat poets like Lawrence Ferlinghetti, jazz critic Ralph Gleason, and the West Coast jazz revivalists.

By his account, Goudie was the "best" cornet player in New Orleans, 1915-25. Mills compared him favorably to the young Charlie Love whom Goudie replaced in 1924 at the Tampico, Mexico gig. Fellow clarinet master Albert Nicholas called Goudie "faultless."

Mills quotes Goudie's musical philosophy:

"Two things are very important in playing jazz. First, you have to study your instrument right from the first page of the book. Second, you must always have a melody line. Without a melody line of some kind no one can perceive what is happening when you play and it becomes meaningless."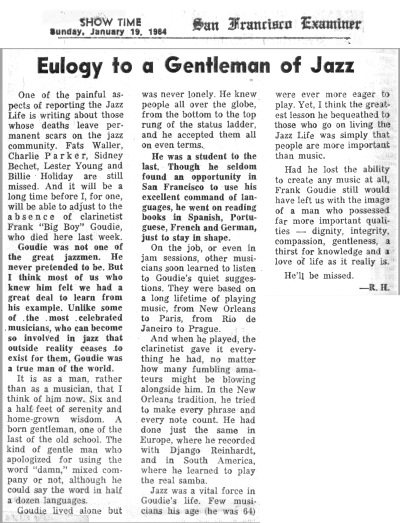 This heartfelt eulogy by Richard Hadlock, San Francisco Examiner, 1.19.64, expresses the warm personal feeling Bay Area musicians had for him.


Special thanks to Richard Hadlock for this and other out-of-print Examiner articles.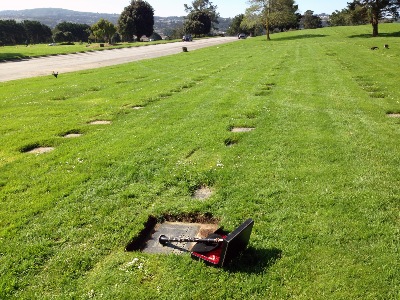 In the 1920s all of San Francisco's cemeteries were moved about 10 miles south to Colma. The "City of the Silent" has a population of 1.5 million departed, who exceed its living inhabitants by a thousand to one.

Thanks to Holy Cross staff for locating and preparing the site.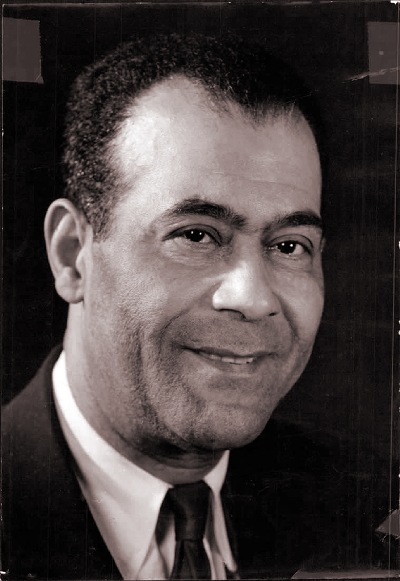 Frank Goudie

1899-1964


LINKS:

Goudie's Paris

Goudie's San Francisco

Pt. 2, Music only, Paris & Rio

Pt. 3, Music only, San Francisco & NOLA roots

Goudie Pt. 3 - San Francisco

Goudie Pt. 2 - South America and Return to Europe

Goudie Pt. 1 - Paris




LINKS (external):

Frank "Big Boy" Goudie on Wikipedia

Frank Goudie at Jazz Index, Switzerland




SOURCES for this and associated pages

Interviews:
Bardin, Bill, trombone 11.94 interview taped at KALW-FM (with Carter)

Carter, Bill, clarinet 11.94 interview taped at KALW-FM (with Bardin), and 5.13 (interview notes)

Dane, Barbara, vocal 5.13 (interview notes)

Hadlock, Richard, clarinet, soprano sax, 5.13 (interview notes), 6.13 interview, Berkeley, CA

Leigh, Carol, vocal 6.13 (interview notes)

Mielke, Bob, trombone, 1.93, 8.93, interviews taped at KALW-FM, and 5.13 (interview notes)

Sheelar, Earl, various, 5.13 (interview notes)

Tyle, Chris, trumpet and reeds 9.13 (commentary on Goudie's trumpet style)


Books:
Bricktop, Bricktop (Smith, Ada) with James Haskins, Welcome Rain Publishers, 2000

Carisella, P. J. and Ryan, James, W., The Black Swallow of Death: The Incredible Story of Eugene Jacques Bullard, the Worlds First Black Combat Aviator, Marlborough House, 1972

Charters, Samuel Barclay IV, Jazz: New Orleans 1885 - 1963, An Index . . ., Oak Publications, 1958/63

Chilton, John, Sidney Bechet: The Wizard of Jazz, University of Michigan Press, 1996,c1990

Chilton, John, The Song of the Hawk: The Life and Recordings of Coleman Hawkins, Da Capo, 1987

Chilton, John, Who's Who of Jazz: Storyville to Swing Street, Chilton Book Co, 1970

Coleman, Bill, Trumpet Story, Northeastern University Press, 1989 & 1991

Delaunay, Charles, Django Reinhardt, Da Capo Press, 1981

Dregni, Michael, Django: The Life and Music of a Gypsy Legend, Oxford University Press, 2004

Dregni, Michael, Django Reinhardt and the Illustrated History of Gypsy Jazz, Speck Press, 2006

Driggs, Frank and Lewine, Harris, Black Beauty, White Heat: A Pictorial History of Classic Jazz, Da Capo Press, 1995

Flannery, Janet, Paris Was Yesterday: 1925-1939, Viking Press, 1972

Goddard, Chris, Jazz Away from Home, Paddington, 1979

Grove, The New Dictionary of Jazz, Kernfeld Barry, ed., St. Martin's Press, 1988/94

Hughes, Langston, The Big Sea: An Autobiography, Hill and Wang, 1993

Jackson, Jeffrey H., Making Jazz French: Music and Modern Life in Interwar Paris, Duke University Press, 2003

Leigh, Jim Heaven on the Side: A Jazz Life, self published, 2000

Lloyd, Craig, Eugene Bullard: Black Expatriate in Jazz-Age Paris, University of Georgia Press, 2006

Miller, Mark, High Hat Trumpet and Rhythm: The Life and music of Valaida Snow, Mercury Press, 2007

Oxtot, Dick and Goggin, Jim, Jazz Scrapbook, Creative Arts Book Co, 1999

Rust, Brian, Jazz Records 1897-1942, Arlington House, 1978

Shack, William A., Harlem in Montmartre: A Paris Jazz Story Between the Great Wars, University of California Press, 2001

Stovall, Tyler Edward, Paris Noir: African Americans in the City of Light, Houghton Mifflin, 1996

Watkins, Earl and Goggin, Jim, Earl Watkins: The Life of a Jazz Drummer, Jim Goggin/Trafford Publishing, 2005

Liner notes, articles, online sources & misc:
Bales, Burt, Burt Bales, GHB Records BCD-13, 1992

Driggs, Frank (liner notes for audio LP:) Willie Lewis and his Entertainers, Swing/DRG Records, SW 8400/01, 1985

Eckland, K.O., Jazz West 2, The A-Z Guide to West Coast Jazz Music, Donna Ewald, 1995

Fox, Charles (liner notes for audio LP:) Bill Coleman a Paris 1936-38, Parlophone/EMI, n.d.

Goudie, Frank, Frank "Big Boy" Goudie with Amos White, American Music AMCD-50, 1991

Hadlock, Richard, "Towering Reedist Goudie: Clarinetist 'Home' After Years Abroad with Top Bands," San Francisco Examiner, Highlight, July 28, 1963

Hadlock, Richard, "Euology to a Gentleman of Jazz," San Francisco Examiner, January 19, 1964

Jazz in Paris 'Deluxe Edition' (CD box sets)
Vol. I Champs-Elysees 1917-1949, Universal Music 2004
Vol. II Montmartre 1924-1939, Universal Music 2004

Jazz Index, Switzerland, www.jazzindex.ch

Mills, Ken (liner notes for audio CD:) Frank Goudie with Amos White's Band and Burt Bales, American Music AMCD-50, 1991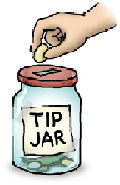 Tip Jar
This site is free. But you can help sustain it, and encourage me with donation to the tip jar. Secure payment through PayPal is anonymous, except that I will see your e-mail address.

Donation $5.00
Donation $10.00
Donation $20.00
Donation $35.00
Donation $50.00
Donation: You decide