Pee Wee Russell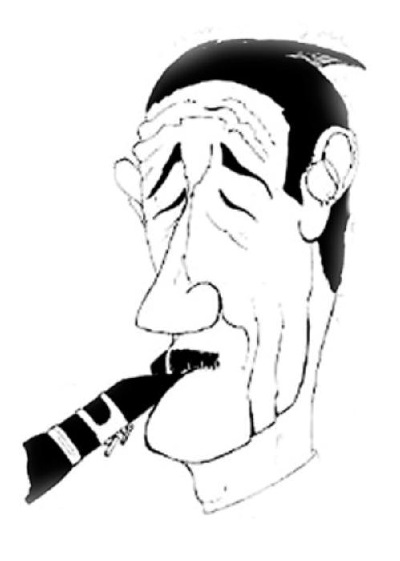 (Sketch by by fellow musician and friend, Jimmy Hamilton.)

Pee Wee Russell was an unconventional and individualistic jazz clarinet player. He had the retiring personality of a sad clown, lived the chaotic life of an alcoholic, yet in 1944 he bested Benny Goodman in the Downbeat Magazine Jazz poll for most popular clarinet player.

Born in 1916 in St. Louis, Missouri, Charles Ellsworth Russell grew up in Oklahoma. During his teen years in the early 1920's Pee Wee apprenticed with bands touring the Southwestern states: tours that ranged as far as northern Mexico, where he was once jailed in Juarez for three days. Legendary among these bands was Peck Kelly's Bad Boys where he met lifelong friend, trombonist Jack Teagarden.

Later, Russell fell in with the white Chicago crowd like Jimmy McPartland, Bud Freeman, Eddie Condon and became very close with Bix Beiderbecke. By the early 1930s he was gigging steadily in Boston, Chicago, Hollywood and New York City with the likes of trumpeters Bobby Hackett and Red Allen.


Pt. 1 - Pee Wee Russell

Pee Wee Russell 1A.mp3
D. A. BLUES -- Pee Wee Russell's Hot Four, 1944
WHO STOLE THE LOCK -- The Rhythmakers, 1932, vocal Red Allen
I STILL WANT YOU -- Louis Prima, 1936 Radio Broadcast
STRUT MISS LIZZIE -- Eddie Condon and his Band, 1939
BALLIN' THE JACK -- Eddie Condon and his Band, 1939
GEORGIA GRIND -- Eddie Condon and his Band, 1940
DON'T LEAVE ME, DADDY -- Eddie Condon and his Band, 1942
SERENADE TO A SHYLOCK -- Eddie Condon and his Band, 1938
THE LAST TIME I SAW CHICAGO -- Three Deuces, 1941

Pee Wee Russell 1B.mp3
CARNEGIE DRAG -- Eddie Condon and his Windy City Seven, 1938
LOVE IS JUST AROUND THE CORNER -- Windy City Seven, 1938
DEUCES WILD [Take 1] -- The Three Deuces, 1941
DEUCES WILD [Take 2] -- The Three Deuces, 1941
WAILIN' D.A. BLUES -- Pee Wee Russell's Hot Four, 1944



Pt. 2 - Pee Wee Russell

Pee Wee Russell 2A
KEEPIN' OUT OF MISCHIEF NOW -- Pee Wee Russell's Hot Four, 1944
SQUEEZE ME -- Muggsy Spanier & his V-Disc All Stars, 1944 V-Disc
PEE WEE SPEAKS -- Muggsy Spanier & his V-Disc All Stars, 1944
PAT'S BLUES -- Muggsy Spanier's Dixieland Band, 1944
MAKIN' FRIENDS -- Eddie Condon & his Band, 1944
ROYAL GARDEN BLUES -- Eddie Condon & his Band, 1944
ABOUT FACE -- Three Deuces, 1944

Pee Wee Russell 2B
OH YES -- Pee Wee Russell, 1959
CUTIE PIE -- Pee Wee Russell, 1959
PEE WEE'S TUNE -- Pee Wee Russell, 1959
THE BENDS BLUES -- George Wein & The Newport All Stars,1962
BLUES -- Pee Wee Russell & Gerry Mulligan, Montery Jazz Festival, 1964
MISSY -- Pee Wee Russell, 1959



Whitney Balliet an excellent jazz writer for the New Yorker Magazine, wrote eloquently about Pee Wee in an article entitled -- "Even his Feet Look Sad." Balliet described Russell as a jazz modernist stuck in a Dixieland costume who was nonetheless able to assert his nonconformist individuality, pointing out that Russell generates more than just the conventional notes: he twists the tones of his instrument into bizarre sounds -- growls, squeaks, slurs and croaking drops into the low register. His odd rhythms, risky solo adventures and tangents verging on abstract cubism -- evoke an essential element in jazz that Balliet coined, "the sound of surprise."

In New York in the late 1920s and the '30s Ree Wee Russell was at the center of Jazz activity. For instance, his popularity in the band of Red Nichols is well-known. But less well-known are his couple of years with Louis Prima (already a popular singer and bandleader in the '30s), detailed by Robert Hilbert in the excellent biography, PEE WEE RUSSELL: The Life of a Jazzman, published by Oxford University Press.

Pee Wee was first hired by Louis Prima for an opening in 1935 at the Famous Door, so-called for a door on display in the club which was autographed by celebrities. The Famous Door became cornerstone of a growing jazz & swing scene on 52nd street in New York and was packed every night. Pee Wee Russell was an important element in Prima's success. New Orleans-born trumpeter, singer and showman Prima knew how to please a crowd with his hot trumpet, similar in style to Wingie Manone -- clowning, and jiving in the manner of Louis Armstrong in later years.

The band became very popular, received wide press coverage, was one of the first to have their own regular CBS Radio broadcast, "Swing It" heard coast-to-coast. That led to national publicity, club dates in Hollywood and Chicago, film appearances, more radio hookups, and recording sessions. Prima later recalled Pee Wee Russell fondly saying that, "I was fortunate in having [him] with me . . . the most fabulous musical mind . . . . I've never run into anybody who had that much talent." And Pee Wee called that time, "the happiest period of my life."

From the mid-1930s through the '40s Pee Wee Russell was primarily associated with the coterie of dixielanders grouped around Eddie Condon. Russell became a regular feature at Nicks in Greenwich Village. A 1938 LIFE Magazine feature article and photo shoot focused on a Commodore Records session catapulting Russell to national fame. Well into the late 1950s he was recording and working frequently with the likes of saxist Bud Freeman, trumpeters Bobby Hackett, Muggsy Spanier, and Wild Bill Davison with whom he remained associated.

"Pee Wee" was a strange name for this strange man. He was not a tiny man in any way but a tall, thin and lanky, with a large prominent nose. His friends called him not Pee Wee, but Ellsworth (his middle name inherited from his father). Ellsworth was shy, unkempt, mumbled, had the demeanor of a sad clown, and was hopelessly dipsomaniac: that is alcoholic. His life was chaotic, higgledy-piggledy, and always on the brink of disaster.

Descriptions of Russell's music often include words like: "unpredictable" . . . "eccentric" . . . "abstract" . . . "cubist" . . . even "surrealist." That's why at least one commentator labelled him "the Gertrude Stein of the clarinet." So its not surprising that he later joined up with modernists like Thelonious Monk and Gerry Mulligan. He even took up abstract painting late in life.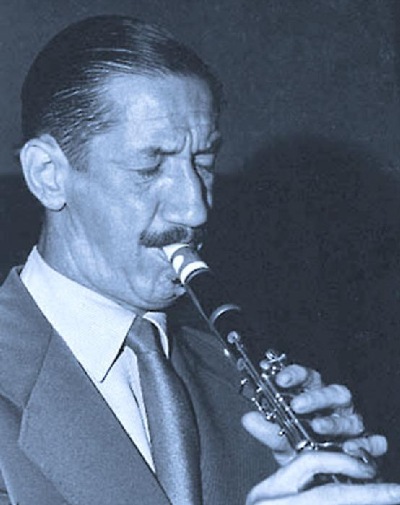 There are lots of funny stories about Pee Wee: like the time a rumor spread of his death. But the mourners at a wake were surprised when he walked in and joined the party. On another occasion he was playing a borrowed clarinet in Chicago, but forgot to give it back before returning to New York. Later, the clarinet's owner, Joe Rushton, rode his motorcycle non-stop to New York, walked into Nick's where Pee Wee was playing a solo at the time and yanked the clarinet out of his mouth, jumped back on the cycle and rode home to Chicago.

Several of these stories are recounted in a great little book called "Jazz Anecdotes" (by Bill Crow, from Oxford University Press) where Russell rates a chapter of his own.

By the way almost all of the discs by the 'Condon mob' of which Pee Wee was a prominent associate were recorded and released on the Commodore Records label. It was launched and run by Milt Gabler as an offshoot of his successful Manhattan jazz record store. Gabler was deeply committed to exposing the public to authentic music by brilliant jazz musicians through his record store and label. Gabler deserves credit for documenting some of the best efforts of Lester Young, Billie Holiday, Coleman Hawkins and Pee Wee Russell.

While researching this unique jazz clarinettist I was surprised to learn that due to a congenital defect in his esophagus Russell had difficulty swallowing food He survived -- in his own words -- on "brandy milkshakes & scrambled egg sandwiches." This was supplemented by canned tomatoes and other easily swallowed foods -- and beverages, most of them definitely alcoholic in nature. This problem with his stomach was one of the reasons why he was so skinny and came so close to dying in 1950 that only an operation to correct the condition saved his life.

During the 60's Pee Wee continued playing, and painting in his New York City apartment, touring Europe, Australia, New Zealand and Japan. Less than a month before his death in January 1969 he was still playing -- at President Richard Nixon's inaugural ball.

A strikingly expressive original, unorthodox instrumentalist and one of the more amusing personalities of American music, Pee Wee Russell ranks among the great clarinettists of Jazz.



For more about Russell see the thorough biography by Robert Hilbert, Pee Wee Russell: The Life of a Jazzman, Oxford University Press.

LINKS:

Pee Wee Russell at the New Red Hot Jazz Archive

Pee Wee Russell at All About Jazz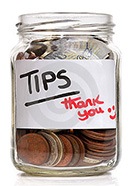 Tip Jar

This site is free. But you can help sustain it, and encourage me with donation to the tip jar. Secure payment through PayPal is anonymous, except that I will see your e-mail address.

Donation $5.00
Donation $10.00
Donation $20.00
Donation $35.00
Donation $50.00
Donation: You decide