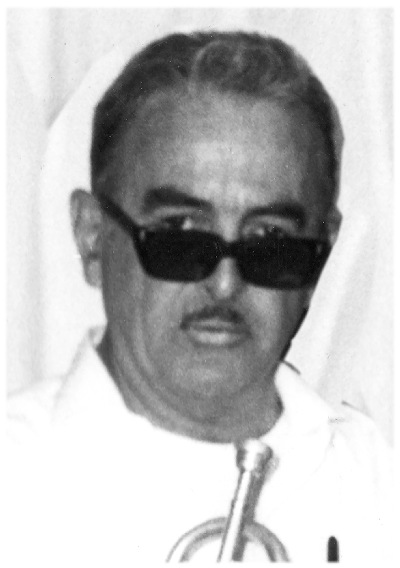 P.T. Stanton 1970s



An archive of P.T. Stanton's later recordings with his Stone Age Jazz Band, in Bearcats reunions and other curiosities.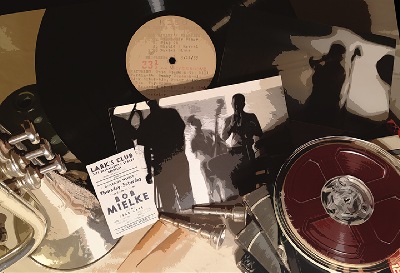 Don't miss PT Stanton's early years and music from the 1950s.

Hear PT live at the Lark's Club c. 1955.


PT Stanton Night, Iron Horse Restaurant, December 1972

There was a reform in Stanton's lifestyle in the 1970s. His friends pulled together a surprise party and benefit concert in December 1972. It marked the start of about seven years sobriety. During that time he launched and successfully ran his own P.T. Stanton's Stone Age Jazz Band.

At this rather large and remarkable gathering of Bay Area revival jazz talent and supporters, a check for several hundred dollars was presented to PT along with many well wishes. Despite the large size of this impromptu ensemble, a co-operative spirit prevailed.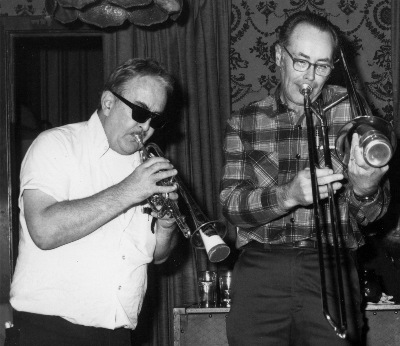 ARCHIVE MUSIC

P.T. Stanton Night, Iron Duke Restaurant, San Francisco, 1972
Large ensemble jam session, 12.16.72.

Collective personnel includes:
P.T. Stanton, Jim Goodwin (cornets)
Bill Bardin, Bob Mielke (trombones)
Bob Helm, Richard Hadlock (soprano saxophones)
Ray Skjelbred (piano), Dick Oxtot, Ed Dickerman (sousaphone and guitar), others.

Photo: P.T. and Bill Bardin, 12.16.72, by Ed Lawless

Battle Hymn of the Republic.mp3 (5:50)
Isle of Capri.mp3 (4:40)
Nobody Knows.mp3 (9:39)
Ice Cream.mp3 (6:33)
Dippermouth Blues.mp3 (4:44)

Thanks to Dave Greer/Oxtot collection.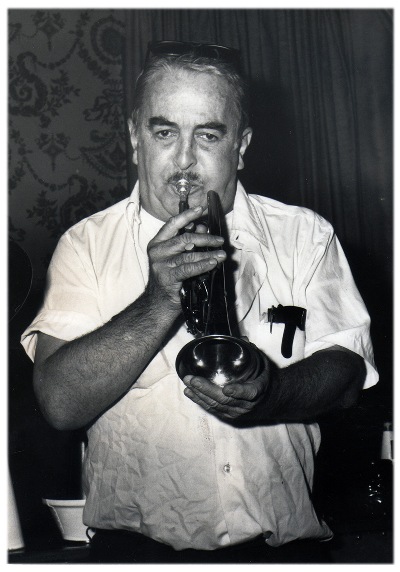 The Bay Area jazz community came together for "P.T. Stanton Night" in December 1972.


This terrific photo of P.T. shot by Ed Lawless was taken at the Iron Duke that night in San Francisco.



Photo courtesy SFTJF/Hal Smith




The Odd Brilliance of P.T. Stanton
Frisco Cricket, Fall 2014

Explore his music, personality and significant role shaping Bob Mielke's Bearcats into a powerful, original and independent voice in the West Coast jazz revival with this interactive article.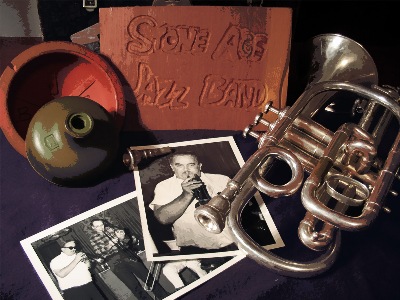 PT Stanton Stone Age Jazz Band
Berkeley, CA, 10/74
Location formerly Earl's New Orleans House

P.T. Stanton (cornet)
Earl Scheelar (clarinet)
Lisa Pollard (*tenor sax)
Bill Bardin (trombone)
guitar and banjo
Walter Yost (tuba)

Stone Age Artifacts: Two of P.T.'s plunger-mute cups, photos taken by Ed Lawless at P.T. Stanton Night 12.72 and a wood carving of unknown provenance that he owned. Courtois cornet courtesy Earl Scheelar.

Move the Body Over.mp3 - Stanton vocal off mic
*add tenor sax:
1919 Rag.mp3 - add washboard
Earl's Blues.mp3 - Scheelar featured
Mecca Flat Blues.mp3
Make Me a Pallet on the Floor.mp3
The Waltz You Saved for Me.mp3

Audio courtesy Earl Scheelar



Note on recordings:
The archival recordings heard on these pages are offered as historic artifacts. They contain many musical and technical flaws, or are incomplete or poorly balanced in places. Personnel are listed as available, or as deduced from educated guesses.




ARCHIVE MUSIC

Bob Mielke's Bearcats 7/76, with Bill Carter.

Though the Bearcats ended as a band by around 1970, Mielke kept the name and spirit alive for occasional events such as this at the Blue Dolphin in San Leandro, CA.

Clarinet player Bill Carter fit comfortably in the ensemble. You can hear why he was a well respected player, deeply seasoned in the New Orleans tradition and outlook.

P.T. Stanton (cornet)
Bill Carter (clarinet)
Bob Mielke (trombone)
Dick Oxtot (banjo)
(bass unknown)

Bourbon Street Parade.mp3
Sing On.mp3
Blue Guaiac Blues.mp3 (composition by Bunky Coleman)
Ice Cream.mp3

Mielke collection




Hal Smith (drums) recalls P.T. Stanton:

"I worked with P.T. Stanton's "Stone Age Jazz Band" at the Iron Gate Inn in Berkeley (or Oakland) in 1979. The band consisted of Bill Bardin (trombone), Earl Scheelar (clarinet), Paul Boberg (guitar) and Mike Duffy (bass). I remember Jack Knox substituting for Boberg and Chris Tyle substituting for me.

P.T. was definite concerning the feel he wanted from the drums on every tune, and his directions were very instructive. He understood the techniques of drumming, too. One time he told me to tilt the hi-hat cymbals toward the audience and to "fan" the sound out by moving the sticks forward and backward. That made a lot of sense, and I still play hi-hats that way!"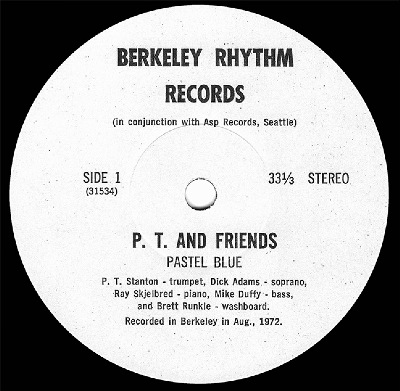 P.T. and Friends
Recorded in Berkeley in August, 1972

This unique item was issued on a 33 & 1/3 rpm extended play 7" vinyl disc by Berkeley Rhythm Records (in conjunction with Asp Records, Seattle).
Adapted from the John Kirby Sextet, Stanton brought this tune, written by Charlie Shavers and Artie Shaw, into the repertoire of Bob Mielke's Bearcats.

Pastel Blue.mp3 (7:43)

PT Stanton (cornet)
Dick Adams (soprano)
Ray Skjelbred (piano)
Mike Duffy (bass)
Brett Runkle (washboard)

(The "B side" of this disc is: Brett Runkle and his Starting from Scratch Jazz Band.)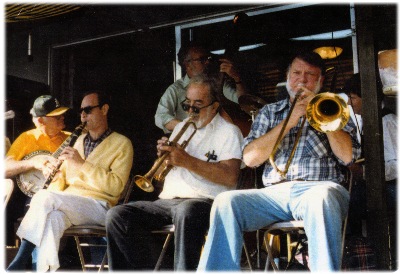 The Old Gang


L to R:
Dick Oxtot, Bunky Coleman, Pete Allen, P.T. Stanton, Bob Mielke

(Date and location unknown.)

Oxtot Collection

New 6.2015

ARCHIVE MUSIC

Dick Oxtot Birthday & jam session Winter 1978

PT Stanton (cornet)
Bob Mielke (trombone)
Dick Oxtot (banjo)
Pete Allen (string bass)

In places washboard, piano or a second trumpet or trombone player joined in.

Photo (above) is a similar lineup, but with clarinet, probably from the late 1970s. Oxtot collection.

This was a rough and ready jam party without clarinet or reed, location unknown. In places a second horn (possibly Jim Goodwin), washboard, or a piano player may join in. This historic music was recovered from a cassette in poor condition and is in places incomplete or interrupted.

This session is proof once again that the Bearcats often played better, hotter and looser, during after-hours or when playing for themselves.

Move_the_Body_Over.mp3 (group vocal, add washboard) 5:57
Buddy_Bolden_Blues.mp3 (vocal by PT Stanton, add washboard) 8:43
They Say Si, Si.mp3 7:10
Red_River_Valley.mp3 3:20
Old_Spinning _Wheel.mp3 6:49

Mielke collection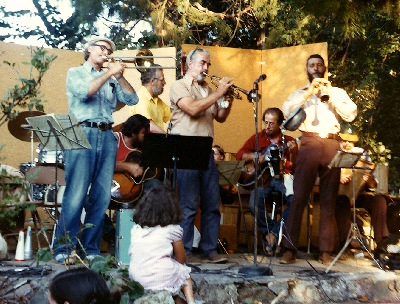 MUSIC ARCHIVE


P.T. Stanton's Stone Age Jazz Band
Stomp Off LP/cassette 1228, 1992
excerpts:


P.T. Stanton (cornet)
Earl Scheelar (clarinet)
Bill Bardin (trombone)
Peter Berg (guitar)
Paul Boberg (banjo)
Walter Yost (tuba) or
Peter Allen (string bass)

Moose March Stone Age LP.mp3
Stone Age Blues Stone Age LP.mp3 (aka Earl's Blues)
Move the Body Over Stone Age LP.mp3
Mecca Flat Blues Stone Age LP.mp3
Pastel Blue Stone Age LP.mp3
There's Yes Yes In Your Eyes Stone Age LP.mp3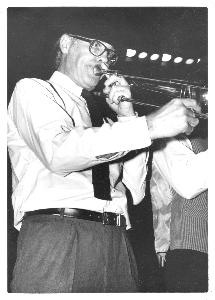 Bill Bardin interview, commentary on P.T. Stanton (1994)

One thing he did on the bandstand – not playing – he got directly from Bunk Johnson and I don't know how many other New Orleans trumpet players used to do this. But Bunk at any time might just stop playing, and wipe his mouth off. I've seen this happen with other bands since then. We didn't know what on earth to do about that. Even playing with Bunk we didn't know what to do.

But in the real New Orleans bands, the other horns just close in a little bit and make up for it. But we didn't know what to do. And it used to be very irritating when P.T. would just stop playing on the stompy part of the last chorus for instance.

From the time I first met him – he was around nineteen then – he always cultivated a dissipated image. He was an admirer of the Bix Beiderbecke life cycle I think. He thought Bix had had the right idea.

I think P.T. was a little disappointed to find himself carrying on after the age of thirty. It upset his plans.

And you might note that he make short work of it after that. He didn't live to the fullness of his life span. When he died he was about sixty I guess. He hadn't played for some time, oh, two or three years I guess. He had been on the wagon for a long time, and he fell off.



Earl Scheelar recalls P.T. Stanton:

"His cornet style was so sparse, so laid back, but he would punctuate and syncopate and do things that made other people respond. He was amazing. P.T. was the most understated back-in-the-background player.

But he had the ability to goose people and get the best out of them. And that's very evident in the Bearcats, in the Stone Age [Jazz Band]. I learned so much about lead cornet from that."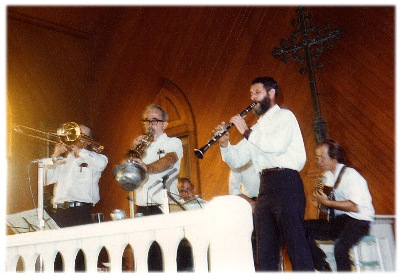 Stone Age Jazz Band
at Old St. Hilary Church

L to R:
Bill Bardin, P.T. Stanton, Paul Boberg, Pete Allen, Earl Sheelar, Peter Berg

(Photo courtesy Scheelar)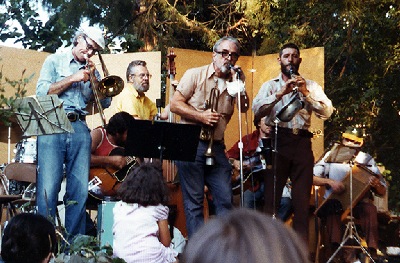 Bill Bardin interview, commentary on P.T. Stanton (1994)

When trombone player Bill Bardin played in his first real jazz band, Stanton was there:

[P.T.] was playing the cornet or trumpet, and every now and then he'd set it down and pick up the guitar, which added immeasurably to the rhythm section sound. Later on we had jam sessions at [bassist] Pete Allen's mother's living room in Berkeley.

He sounded much earthier as time went on. I believe that he was a Rex Stewart fan. Because you know how Rex Stewart sometimes would play a phrase, or a long phrase of eighth notes but it didn't have a be-bop sound. It had a rather dancing around sound like Bill Coleman used to get sometimes. And P.T. would get that sound too. He would play long phrases of eighth notes and it would really dance.

He didn't sound as jerky earlier. He never did sound smooth, never did sound like Buck Clayton or Harry James, playing legato. He never had a liquid vibrato.

I believe that he was Basie fan, we all were Basie fans, and still are. P.T. used to do a very creditable job of playing Basie-like piano.

But his trumpet playing really got more angular as time went on. He was a fan of Harry Edison and Buck Clayton . . . and Rex Stewart I believe.

One time, trying to get a point across to some other player and he said, "think of it as a series of one." [Laughs] He was always coming up with gems like that. He deliberately cultivated his own character.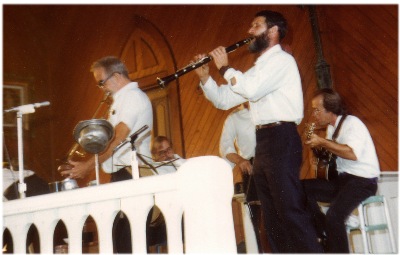 ARCHIVE MUSIC

P.T. Stanton's
Stone Age Jazz Band
Old St. Hilary's Church
Tiburon, CA, 1977-78

P.T. Stanton (cornet)
Earl Scheelar (clarinet)
Bill Bardin (trombone)
Peter Berg (guitar)
Paul Boberg (banjo)
Peter Allen (string bass)

Note: These unissued items were taped 9/77 & 1/78 under favored conditions -- a minimalist recording of a live but relaxed performance. Similar material -- and the first track below -- was issued on (LP or cassette) Stomp Off 1228.

Put on Your Old Grey Bonnet.mp3 (4:18)
Moose March.mp3 (2:47)
My Darling Nellie Grey.mp3 (4:48, group harmony vocal)
Do You Ever Think of Me.mp3 (4:18)
Sister Kate.mp3 (4:42)
Bugle Boy March.mp3 (3:45)
Dallas Blues.mp3 (4:42, excellent performance)
Pastel Blue.mp3 (6:35)
Swanee River.mp3 (4:52)
You Always Hurt the One You Love.mp3 (4:31)
Sing On.mp3 (4:36)
Beale St Blues.mp3 (4:40)
1919 March.mp3 (4:24)
I'm Forever Blowing Bubbles.mp3 (4:42)
Get Out Of Here.mp3 (3:46)

Special thanks to to Mili Bardin-Rosenblatt and the late Bill Bardin.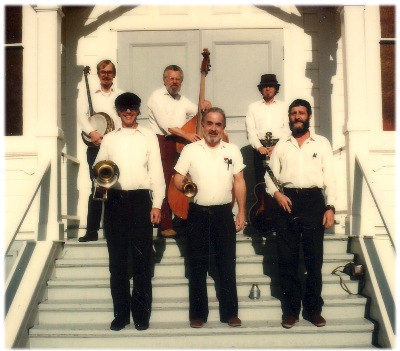 On the steps of
Old St. Hilary Church
Tiburon, CA



L to R:
Paul Boberg, Bill Bardin, Pete Allen, P.T. Stanton, Peter Berg, Earl Sheelar


(Photo courtesy Scheelar)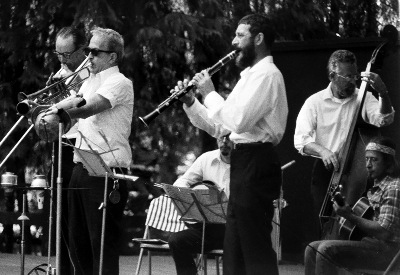 Mike Duffy (string bass) recalls P.T. Stanton
(from 1991 liner notes for P.T. Stanton Stone Age Jazz Band Stomp Off 1228)

"Peter Thomas, his back pockets stuffed with old rinsed-out and dried paper towels with which he would meticulously line the inside of his old, metal derby mutes: need 'em to get exactly the right sound, you know. P.T.: bleats and blats, smears, growls, nanny-goat quavers, elfin dances, whispers, wheezes, and more than a little Mexican mariachi music. P.T. died in 1987, something of legend overseas because of a 1955 session with George Lewis, but almost unknown here.

Almost all the chatter you will hear in the background on these live recordings is from P.T. Stanton, who was forever giving directions and encouraging his mates. And if you notice clattering metal sounds, that will be P.T. too, digging around among his mutes for the right one. But he will find it. He will step forward, cup his hand over the end of the horn and play a couple of choruses of the blues, and then, perhaps, all will be clear."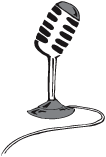 ARCHIVE INTERVIEW

Earl Scheelar recalls P.T. Stanton A horn style "goose" a band.mp3
Earl Scheelar recalls P.T. Stanton B sparse horn style.mp3
Earl Scheelar recalls P.T. Stanton C influences.mp3



Several of Stanton's former associates have remarked upon his skill and sensitivity backing singers, as heard in his accompaniment to singers on this page.





ARCHIVE MUSIC

This tape features a small Oxtot band with singer Terry Garthwaite and the famous Andy Stein. These two delightful items were recovered from a salvaged tape that was damaged as it was being recorded. Stein played spectacular jazz violin in the Bay Area for a few years around the time this was taped, June 1973, possibly at The Ordinary in Oakland, CA.

Andy Stein (violin)
P.T. Stanton (cornet)
Dick Oxtot (guitar)
Terry Garthwaite (vocal, "Summertime")
(any other personnel are unlisted and unknown)

Sunday.mp3
Summertime.mp3

Oxtot collection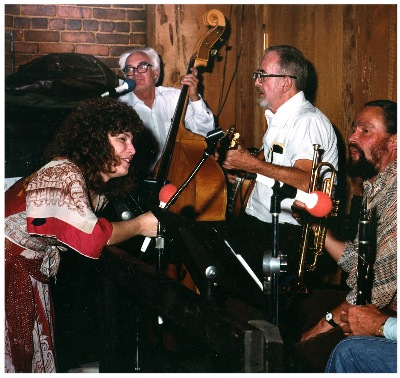 PT played other instruments besides cornet: decent Basie-style piano, and guitar in the manner of Basie's rhythm guitarist, Freddie Green.

L to R:
Barbara Rhodes (vocalist)
Dick Oxtot (bass)
P.T. Stanton (banjo)
Jack Minger (trumpet).

Oxtot collection


ARCHIVE MUSIC

Dick Oxtot Golden Age Jazz Band with singer Terry Garthwaite
[date and location unknown probably mid-1970s]

Jim Goodwin and P.T. Stanton (cornets)
Bob Helm (clarinet, soprano)
Bob Mielke (trombone)
Ray Skjelbred (piano)
Dick Oxtot (banjo)
John Moore (tuba)
Terry Garthwaite (vocals)

Dream Blues Golden Age mp3
Ain't Nobody Got The Blues.mp3

Oxtot collection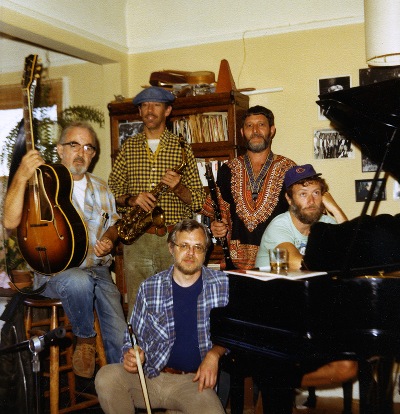 Just an Occasion

L to R: Stanton, Larry Stein, Mike Duffy, Earl Scheelar, Ray Skjelbred

Courtesy Earl Scheelar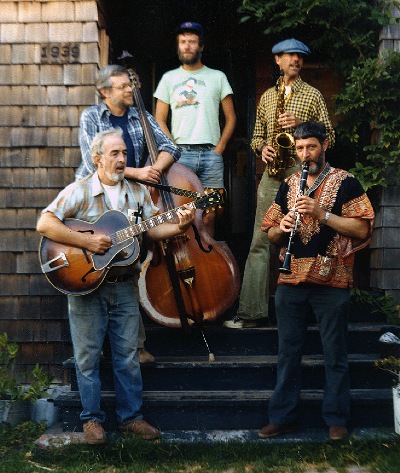 Occasional
Berkeley Band

L to R: P.T. Stanton, Mike Duffy, Ray Skjelbred, Larry Stein, Earl Scheelar

Courtesy Earl Scheelar


MIKE DUFFY
sought to explain P.T. Stanton's Stone Age Jazz Band
in liner notes to their one album, Stomp Off 1228

"Introducing the listener to the Stone Age Jazz Band is no easy matter, for they are so thoroughly odd. One cannot, for instance quite imagine them being invited to a standard traditional jazz festival. And they weren't. But they had their fans (musicians typically, and a collection of the Bohemians of the diverse, tolerant, notoriously goofy communities across the Oakland Bay from San Francisco), and for a good stretch they even had a steady gig at the old Berkeley Square bar a mile or so from the University of California campus.

The Stones were something of a reaction from the beginning. Their name, for example, was chosen as a gentle way of teasing their old pal Dick Oxtot, leader of the Golden Age Jazz Band. And their book was very small (maybe eighty tunes) -- in spite of the fact that they rehearsed weekly and could easily have played hundreds of things. But their motto was "Less Is More." They never used a drummer because they wanted neither the heaviness nor the cluttering of their carefully worked-out colors. Almost everything they did was deliberate of course, and much of it gleefully calculated to be appropriate to their 'Stone Age' sound."




PT Stanton Stone Age JB Sacramento Jazz Club 12.76

No personnel data; probably Stanton, Sheelar, Bardin, Allen, others

Sister Kate.mp3
You Always Hurt the One You Love.mp3
Dallas Blues.mp3 - vocal duet with Bardin
Get Out of Here.mp3 - PT announces outro, play closing theme

Coutesy Mili Bardin-Rosenblatt



Below are recollections of P.T. Stanton from a memorial held in 10.25.87: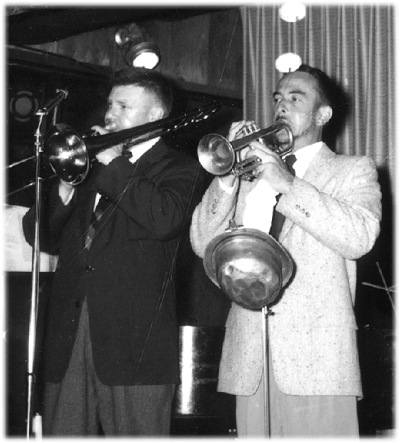 BOB MIELKE recorded these comments about P.T. Stanton shortly after his passing:


Mielke_on_Stanton_Linguist.mp3
Mielke_on_Stanton_memorial_The_Derby Hat.mp3
Mielke_on_Stanton_Shopping_bag.mp3
Mielke_on_Stanton_The_Workingmen.mp3

"There are two of P.T.'s trademarks that I don't think anybody mentioned. One was the tin hat on a stand into which he blew his horn. A very, very old fashioned device for altering the tone of the cornet that had gone out of use many, many years ago, probably in the early 1930s. But P.T. bore with it as did Papa Mutt Carey.

Another of P.T.'s trademarks was the little old ladies paper shopping bag with handles, like little old ladies used to carry their groceries home from the market. He used to carry it with him just about everywhere. To a gig, the job, or even to social occasions. No one every figured out quite what was in there. But maybe it was kind of like a security blanket or something.

P.T. was unique. He was a complex man. One of the most complicated human beings I've ever known, for sure. He was and intellectual and a romantic.

One of the things he was romantic about was the great proletariat, the ordinary workingman. During his various blue-collar jobs he used to love to hang out with the regular guys and pretend he was one of them, even though he was at all times an astute observer.

A good example of this was during the late years. For along period PT used to volunteer his services every weeknight as a custodian at a Berkeley junior high school building, just so he could hang out with the black guys on the night shift. He went just a regularly as if he'd been hired for the gig. Somehow he'd ingratiated himself with them and in return they let him practice his horn in an empty room. But he really dug those guys and called them his buddies.

Several people have mentioned PTs great skill as a linguist, but no one mentioned that his enthusiasm for each language was matched by an enthusiasm for each of the cultures. He knew a lot about them. During the last couple of years of his life PT had renewed his interest in foreign languages with his study of Japanese and of the Japanese characters.

He read a lot of Latin literature and poetry even before . . . the English-speaking literary establishment had taken note of these authors.

He use to get along with kids just wonderfully, kids and young people. They seemed to like him and remember him with great fondness including my own two sons."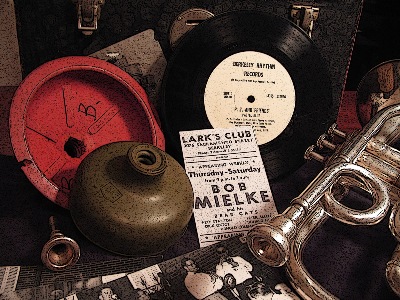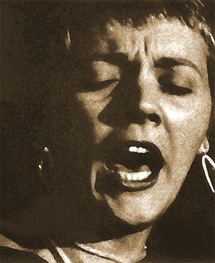 Vocalist BARBARA DANE
made this comment at P.T. Stanton's memorial:

"The thing about his playing [accompaniment to a singer was] dynamics: which means going from loud to soft. The guy was an absolute master at making the horn do what he wanted it to do, and get the maximum emotional mileage out of the soft, or medium or whatever it was.

His manipulation of time . . . it was something he could hardly help doing, was freshly approaching a phrase in terms of the time . . . y'know like, "I'm gonna do something different than I did last night. I'm going to make it come alive tonight."

I don't know anyone I've ever heard play a horn who could get you to grasp what potential would be in a melody without actually playing the melody. In other words to lead you to seeing that a melody is not just this line on a piece of paper; that it's just a guide and that out of that you could get all this other stuff. You could find all these other things.

When you sum it all up what he always seemed to do -- and every time I hear him play on this record and I hear it over and over -- it still makes me think of something new. On the record you can't change it. But what he makes you see or think about is different each time. What I think he did . . . was synthesize all these things.

He's got all this intellectual power that's been going on throughout his musical life. But in that moment of playing what set it all up and made it have the impact it did was pure heart."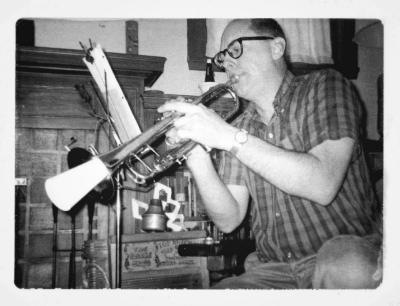 DAVE GREER
was a music fan and friend of P.T.:

"I came out here in 1955, a young fellow from the East Coast who used to follow that Eddie Condon Dixieland kind of thing. I heard the Bearcats at the old Lark's Club and was absolutely knocked out.

I was amazed at the wonderful band but what a kind of a feeble cornet player. Why don't they get somebody that sticks it out there.

It took me a while to realize what P.T. was doing, as a young East Coaster raised on Wild Bill Davison and Max Kaminsky and all those people. But it sunk in at the only good New Years Eve celebration I've ever had in my entire life when the Bearcats were playing at the old Lark's Club. It was one of the great experiences of my life.

He was an amazing man and an amazingly oblique man. I believe he told me one time that he could speak seven languages, or someone told me that. And he could speak seven languages in English actually, as all of you have known who've talked to Pete.

If you asked him a question which was yes or no, fifteen or twenty minutes later he'd finished up what he was saying, but it was such an amazing statement. And in the years that I've heard P.T. play I've heard him do things no cornet player in the world could have conceived, let alone executed. And sometimes P.T. couldn't execute 'em.

But he did amazing, amazing things. All I can say is I'm deeply grateful that I was privileged to hear P.T. and to know him and to love him as I think we all do."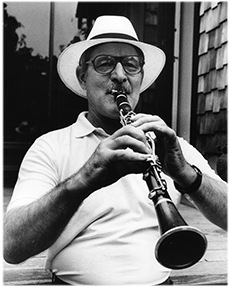 EARL SCHEELAR
Worked alongside P.T. for decades.

"He really was unique and he taught all of us so much about the music I love and you all love. I happened to be in the Bay Area at a very fortunate time in my life and be fortunate to play with people like Mielke, Bill Bardin and Dick Oxtot, and all the people that have made this music popular over the years . . . and obviously P.T. was. We had a great band I think; I really, really enjoyed being able to contribute to it."



ROBIN HODES, trumpet
Buddy

"I met P.T. on Broadway. I wasn't here very long I figured, gee, if I find a gig I can hire who I want. So he dropped in and introduced himself to me. I didn't call called him the teacher, I called him The Preacher because he had this thing about music that he talked about: form. He was a very graceful guy. He had his paper sack: a bottle, his horn and his shades. I fell in love with him.

The last time I saw him was Danny Klein's birthday party, we played over at Fort Mason. And I called him up to play guitar. Ellis Horne was on that gig. You couldn't really hear him, but you could feel him. That's the kind of guy he was."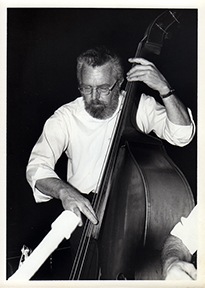 PETE ALLEN
Bass player Allen was P.T.'s
friend since high school:

"I knew P.T. from the time we were sixteen years old or so. In the late Thrities Berkeley high school kids naturally went to Berkeley High School. Parents who were aggressive enough sent their kids to University High School which was in North Oakland and was the demonstration high school for Cal.

I had not been there long when I was getting out of Physical Education by taking archery. I started a conversation with other fellow who was doing the same thing and we got to talking about the relative merits of Benny Goodman and Artie Shaw.
We agreed heartily on this, need I say it was Benny Goodman, of course.

We became fast friends and he was eventually kicked out of University High School and so was I. We wound up in Berkeley High School. I was not a musician then (although some would say I'm not now) but P.T. talked me into taking up the string bass, mainly because the little band he was playing with needed a bass player. They did not need a crooner, so that was the end of my career as a crooner. We worked together a great deal for $5 if we were lucky. We many, many dances at many halls and such like and the typical pay was $5 a man.

Remember the night I met Bill Bardin was at a barn dance in Lafayette and Bill Bardin came out of whatever woodwork he was hiding in and came to play with us. We all explained to him we wanted to play, instructed by P.T. and I about how to play. And then Bill Bardin played his trombone and you know what that's like.

Anyhow, I'll give you a couple of P.T. stories. I should say that PT first of all was a marvelous leader as many people have said; very, very different.

The only thing that prevented him from being a professional linguist or a professional ANYTHING is that he was a NUT! When it comes to nuts, I never met anyone who could even touch P.T. I'll give you an example or two.

When we were still going to Cal, that was back in the days before the Civil War. We formed a band. It was a kind of band that was popular at the time: it consisted of three tenor saxophones and was the king that played in hotels in San Francisco and everywhere in the late Thirties. Bill was in it.

We rehearsed and we rehearsed and we wrote arrangements and we did this and that, and we finally got the band sounding something like a band. And then PT told us he had arranged for us to play the annual whatever it was at his fraternity house. We were tremendously excited by this because this was a real job.

The day before this great event, P.T. called me up and said, 'Oh, by the way I can't make that, I'm taking the job with [another band].' And it was Stanton's band!

The other story is entirely personal. In the late Fifties I decided to move to San Francisco, having lived in Berkeley for many years, and I mentioned this to several of my friends including Bill and P.T. told me he would be very hurt if I didn't ask him to help me move. We discussed this: I had a very small car at the time and he had a fairly large one. After some discussion we agreed that he would provide the car and rent a trailer because his car was much more capable of towing a large load than mine. I didn't realize at the time, but I should have because I'd already known him a quite a while, I should have realize that I was putting myself into his hands. And I finally after many years learned this was a mistake. Needless to say that at the appointed hour P.T. did not show up with the trailer.

What happened, of course, was that later in the day Bill and I went our and rented a truck and moved the whole thing ourselves. I didn't see P.T. for three years."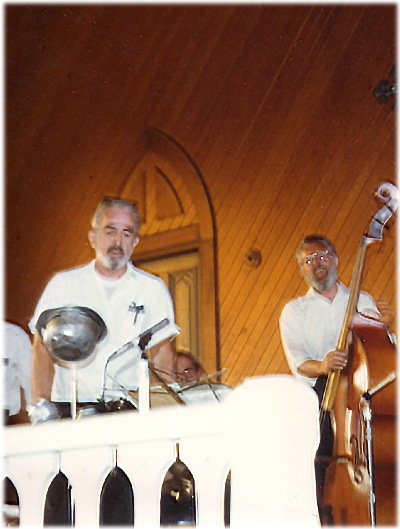 Peter Thomas Stanton and Peter Allen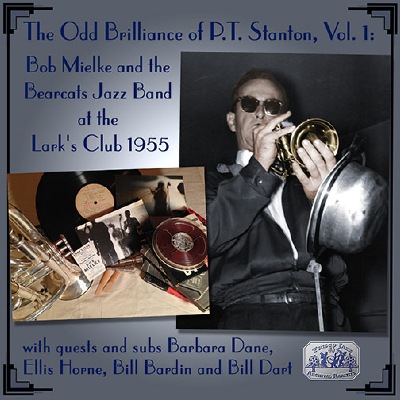 Forthcoming:

The
Odd Brilliance of
PT Stanton, Vol 1-3

Unissued Bearcats Lark's Club, Transcriptions Concerts, Gigs and Jam Sessions, 1955-77

Featuring Bob Mielke, Frank "Big Boy" Goudie, Bill Carter, Bunky Colman, Bill Napier, Pete Allen and Dick Oxtot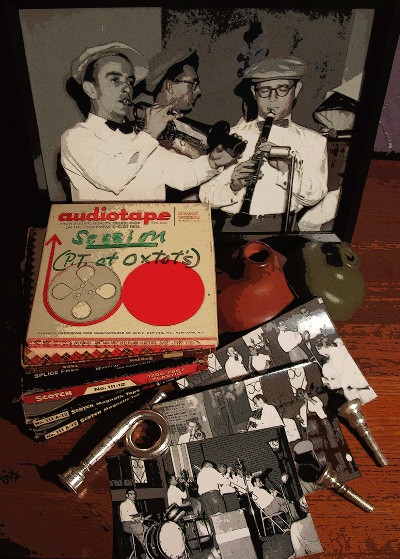 LINKS to more of P.T.:


PT Stanton 1950s-60s

Berkeley Jazz house

Bill Erickson archive

Bob Mielke

Dick Oxtot

Earl Scheelar

Frank Goudie in San Francisco

Lark's Club tapes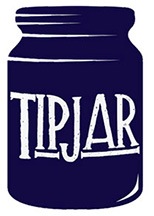 Tip Jar

This site is free. But you can help sustain it, and encourage me with donation to the tip jar. Secure payment through PayPal is anonymous, except that I will see your e-mail address.

Donation $5.00
Donation $10.00
Donation $20.00
Donation $35.00
Donation $50.00
Donation: You decide