SIDNEY BECHET
First soprano saxophonist of jazz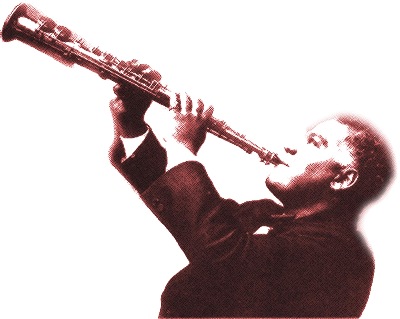 Sidney Bechet was the first to make the soprano saxophone a jazz intstrument.

He led a tumultous life and vividly expressed his emotions in music.

Beloved musician

Sidney Bechet is one of the best-loved musicians of early jazz. His music is fundamental to its development and central to the story of New Orleans clarinet. And he was the first to introduce soprano saxophone to jazz.

Bechet was a contradictory musician. He was uniquely talented with a keen understanding of music, yet never learned to read or write it. Despite his prodigious gifts he failed to achieve wide success, in part because he distrusted managers and bookers and never stayed in one place long.

By age 30 he had taken Europe by storm alongside Josephine Baker. Though he toured Europe (including the Soviet Union) twice, he was once deported from France, and from Britain, despite a command performance at Buckingham Palace. Decades later he settled in France, becoming a national icon.


LOVING SIDNEY BECHET

Pt. 1: Best of Bechet's early years, with the revivalists in the late 1940s, late years in France.

SIDNEY BECHET 1A.mp3
OKEY DOKE -- Noble Sissle's Swingsters, 1937
DEAR OLD SOUTHLAND -- Noble Sissle Orchestra, 1937
BLACKSTICK -- Noble Sissle's Swingsters, 1938
WASTE NO TEARS -- Dry Throat Fellows, 1991
CAKE WALKIN' BABIES FROM HOME -- Red Onion Jazz Babies, 1924
KANSAS CITY MAN BLUES -- Clarence Williams Blue Five, 1923
WILD CAT BLUES -- Bob Wilber and his Wildcats, 1947
WHO'S SORRY NOW -- Humphrey Lyttleton Band with Sidney Bechet, 1949
GHOST OF THE BLUES -- Jacques Gauthe Creole Rice Jazz Band, 1997
WHAT IS THIS THING CALLED LOVE -- Sidney Bechet & New Orleans Feetwarmers, 1941

SIDNEY BECHET 1B.mp3
BLUES IN THIRDS -- Sidney Bechet Trio, 1940
BABY'S PRAYER -- Sidney Bechet Trio, Paris 1952
BLACK BOTTOM -- Sidney Bechet Trio, Paris 1952
BIG CHIEF -- Sidney Bechet with Michel Attenoux & Orchestra, Brussels, 1954
CRAZY RHYTHM -- Sidney Bechet w/ Andre Persiani Quartet, France, 1954
WHAT A DREAM -- Sidney Bechet & his Orchestra, 1938



Lyrical and Rhapsodic

Bechet enchants the ear with a wide range of sounds and inventive tricks: growls, blue and bent notes, and of course his pronounced vibrato. He improvises on the chords while keeping melody subordinate to his own conception of the music. And he has an unmatched feeling for the blues. Creating rhapsodic micro-concertos, Bechet had a special talent for lyrically concertizing in a jazz context.

The distinctive husky reed tone that Bechet developed was also heritage of an earlier generation of New Orleans Creole reed players. His bravura, almost operatic interpretation of blues and ballads may echo the French Opera in New Orleans and his brief studies with some of the Creole clarinet masters who had played there before 1900.

Building on that legacy Sidney created richly expressive virtuoso performances full of hushed theatricality and bravura expression. Excellent examples are his treatment of composer Victor Herbert's "Indian Summer," Bechet's original "Out of the Gallion," the melodramatic "Egyptian Fantasy," and his greatest masterpiece, "Blue Horizon."

Bechet developed a wide range of tone qualities ranging from a round oboe-like richness, to a cutting harshness that rang out like a brass instrument. At times he would drown out unwary trumpeters who might attempt competition for the limelight.

Like many New Orleans Creole clarinetists Bechet grew up playing in the older Albert keying-system clarinet (vs the modern Boehm system) which tend to have a richer fuller sound. Sidney amplified that, switching to soprano sax which has a greater sound volume and even more assertive timbre. On soprano sax, Sidney built up a huge sound that could easily compete with the brass, at times even utilizing a steel reed in his mouthpiece.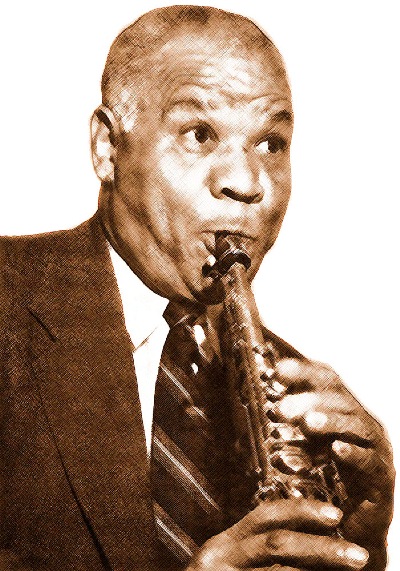 Largely self-taught, so masterful was Bechet's command of soprano saxophone that he had the field to himself for decades.

His enormous volume, forceful tone, and assertive sound dominated any ensemble.


Pt. 2: New Orleans Feetwarmers, Bunk Johnson and Albert Nicholas,
late 40s small groups.

SIDNEY BECHET 2A.mp3
SWEET LORRAINE -- Bechet-Spanier Big Four, 1940
I'VE FOUND A NEW BABY -- New Orleans Feetwarmers, 1932
SWEETIE DEAR -- New Orleans Feetwarmers, 1932
SHAG -- New Orleans Feetwarmers, 1932
WEARY BLUES -- Tommy Ladnier and his Orch, 1938
FISH VENDOR (Le Marchand de Poissons) -- Jacques Gauthe Creole Rice Jazz Band, 1997

SIDNEY BECHET 2B.mp3
PORTO RICO -- Bunk Johnson-Sidney Bechet & Their Orchestra, 1945
WEARY WAY BLUES -- Bechet-Nicholas Blue Five, 1946
QUNICY STREET STOMP -- Bechet -Nicholas Blue Five, 1946
POLKA DOT STOMP -- This is Jazz All Stars broadcast with Bob Wilbur, 1947
BROKEN WINDMILL -- Bob Wilbur's Wildcats, 1949
TIME ON MY HANDS -- Sidney Bechet overdub, 1940
TI RALPH -- The Haitian Orchestra, 1939
THE ONIONS -- Jacques Gauthe and his Creole Rice Jazz Band, 1997
LOVE ME WITH A FEELING -- Bob Wilber's Wildcats, vocal by Bechet, 1949



Autumnal Years

Financial success eluded Bechet most of his life, due in part to his distrust of bookers and managers, his wanderlust, arrogance, and enigmatic, unpredictable ways. Only after a permanent move to France in the 1950s did he achieve the widespread respect, success and adulation he craved . . . and deserved.

Living in France during the last decade of his life, Sidney married a German woman he'd known in the Twenties and kept a mistress with whom he had a son. Bechet bought a small estate outside Paris and drove a fancy coupe at high speeds through the countryside. He seems to have been very happy in France -- where he made a lot of money and was worshiped like royalty. Almost forgotten in America at the time of his passing in 1959, his death was practically a national day of mourning in France.

A complex and contradictory individual, Bechet was a man of swift passions: which was his strength as a musician but weakness as a man. Clearly a musical genius, he was a brilliant and intuitive composer, unparalleled soloist, and skilful musical director. Until the later emergence of John Coltrane he completely dominated the field of soprano saxophone.

As love for Sidney Bechet's music endures, estimation of his genius and vision has continued to grow.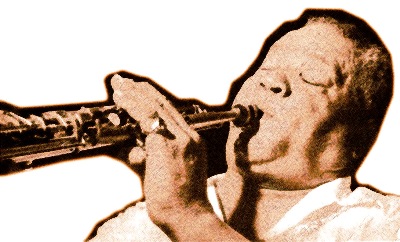 Pt. 3: Excerpts from Bechet's fanciful autobiography
are read by SPECIAL GUEST, actor Peter Coyote.

Focus on Bechet's tendency to rhapsodize, partnership with Mezz Mezzrow, and the large symphonic orchestrations of his musical conceptions: "The Night is a Sorcerer" and "La Colline du Delta."

SIDNEY BECHET 3A.mp3
DELTA MOOD -- Mezzrow-Bechet Quintet, 1947
WHEN THE SUN SETS DOWN SOUTH -- Noble Sissles Swingsters, 1938
BLUES IN THE AIR -- Sidney Bechet and his New Orleans Feetwarmers, 1941
EGYPTIAN FANTASY -- Sidney Bechet ,1941
INDIAN SUMMER -- Sidney Bechet & his New Orleans Feetwarmers, 1940
OUT OF THE GALLION -- Kenneth Arnstrom and Tomas Ornberg, 1995
I'M SPEAKING MY MIND -- Mezzrow-Bechet Quintet, 1947
REALLY THE BLUES -- Mezzrow - Bechet Quintet, 1946

SIDNEY BECHET 3B.mp3
SUMMERTIME -- Sidney Bechet [w/ quartet: Port of Harlem Seven], 1939
WASTE NO TEARS -- Sidney Bechet with Bob Wilber's Jazz Band, 1949
"DANCE OF THE SERVANT" from NIGHT IS A SORCERER -- Bechet soloist, 1953
"PRAYER TO THE RIVER" from LA COLLINE DU DELTA -- Claude Luter, soloist, 1964
LE PETIT FLEUR -- Sidney Bechet w/ Michel Attenoux Orchestra, 1954
BLUE HORIZON -- Sidney Bechet & his Blue Note Jazzmen, 1944



Followers of Bechet

Bechet's influence on jazz has been massive. Part of his lasting impact is a legay of a half-dozen young followers who adopted his soprano saxophone style in part, or in whole. In fact the first three on this list studied, apprenticed or performed with Sidney in the late 1940s or early '50s:

Bob Wilber (USA)
Claude Luter (France)
Richard Hadlock (USA)
George Probert (USA) Firehouse Five
Jacques Gauthe (France, USA) Yerba Buena Creole Rice, Silver Leaf
Stan McDonald (USA) New Black Eagle, Blue Horizon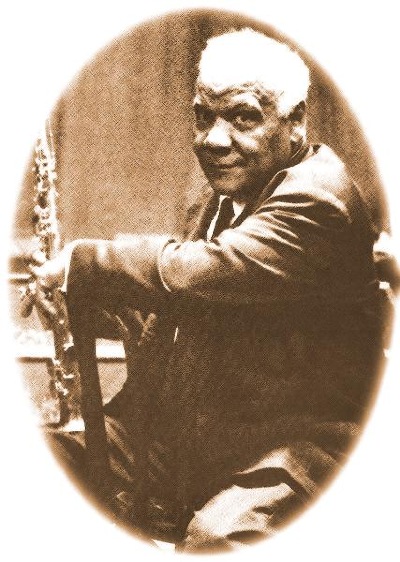 A consistently inventive improvisor and major force in New Orleans music, Sidney was a daring musician who continued breaking new ground late into life.





Links:

Bechet at New Red Hot Jazz Archive
Sidney_Bechet on Wikipedia
The Sidney Bechet Society
Bechet at Ken Burn JAZZ/PBS
Bechet on NPR
John Chilton's definitive Bechet biography, The Wizard of Jazz (at Amazon.com)
Wizard of Jazz review from publisher, Univ of Illinois Press
Sidney Bechet NPS
The Night is a Sorcerer (video clip of ballet with music)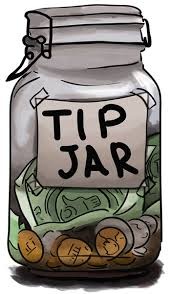 Tip Jar

This site is free. But you can help sustain it, and encourage me with donation to the tip jar.

Secure payment through PayPal is anonymous, except that I will see your e-mail address.

Donations are paid securely through PayPal.

Donation $5.00
Donation $10.00
Donation $20.00
Donation $35.00
Donation $50.00
Donation: You decide