JAZZ GUITAR PIONEERS, 1926-39
Featuring the little-known early Jazz guitarists working before WW II.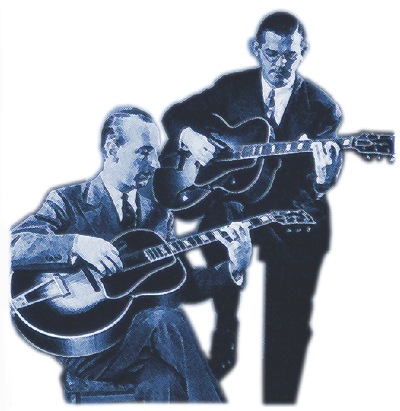 Early Jazz Guitar
Masters:
Carl Kress & Dick McDonough


Part One explores the amazing Eddie Lang, the first great virtuoso of Jazz guitar. He became popular with a vast American audience, invented the basic vocabulary of Jazz guitar and paved the way for Swing.

Pioneers of Jazz Guitar Pt. 1A, Eddie Lang.mp3
Goin' Places -- Joe Venuti & Eddie Lang, 1927
Add a Little Wiggle -- Eddie Lang guitar with Frank Signorelli piano, 1927
Pickin' My Way (Guitar Mania Pt. 1) -- Eddie Lang & Carl Kress, guitars 1932
Raggin' the Scale -- Joe Venuti's Blue Four, 1928
Wildcat -- JOE Venuti's Blue Four, 1927
I'll Never Be the Same -- Eddie Lang with Frank Signorelli piano, 1927
Melody Man's Dream -- Eddie Lang with Frank Signorelli piano, 1927
Litlle Girl [excerpt] -- Joe Venuti's Rhythm Boys, 1931

Pioneers of Jazz Guitar Pt 1B Eddie Lang.mp3
Goin' Places -- Joe Venuti & Eddie Lang, 1927
Add a Little Wiggle -- Eddie Lang guitar with Frank Signorelli piano, 1927
Pickin' My Way (Guitar Mania Pt. 1) -- Eddie Lang & Carl Kress, guitars 1932
Raggin' the Scale -- Joe Venuti's Blue Four, 1928
Wildcat -- JOE Venuti's Blue Four, 1927
I'll Never Be the Same -- Eddie Lang with Frank Signorelli piano, 1927
Melody Man's Dream -- Eddie Lang with Frank Signorelli piano, 1927
Litlle Girl [excerpt] -- Joe Venuti's Rhythm Boys, 1931

More about Lang, here



Part Two features guitarists, Dick McDonough, Carl Kress, Teddy Bunn, Snoozer Quinn, and an example of the first solo guitar recording in America. And I was truly amazed to learn about guitarist and inventor, George Van Eps.

Pioneers of Jazz Guitar, Pt. 2A.mp3
DICK MCDONOUGH:
Chasing a Buck -- Dick McDonough, guitar solo, c. 1937
Dick Bernstein Ramble -- Dick McDonough, guitar solo, c. 1937
Heat Wave -- Dick McDonough & Carl Kress, guitar duet, 1937

TEDDY BUNN:
King Porter Stomp [excerpt] -- Teddy Bunn, guitar solo, 1940
Junk Man [excerpt] -- The Spirits of Rhythm, 1934
I'm Walkin' This Town -- Five Spirits of Rhythm, 1934
Guitar in High -- Teddy Bunn, guitar solo, 1940

SNOOZER QUINN:
Out of Nowhere [excerpt] -- Snoozer Quinn, solo guitar, 1948
Nobody's Sweetheart Now [excert] -- Snoozer Quinn, guitar & Johnny Wiggs, trumpet, 1948

Pioneers of Jazz Guitar, Pt. 2B.mp3
TONY GUTTUSO & JOHN CALI:
HIittin' on All Six -- Tony Guttuso and John Cali, guitar duet, 1937
A Study in Brown -- Tony Guttuso and John Cali, guitar duet, 1937

NICK LUCAS:
Teasing the Frets -- Nick Lucas, guitar solo w/ piano accompaniment, 1932

GEORGE VAN EPS:
Somebody Loves Me [excerpt] -- [Van Eps, guitar] Adrian Rollini & his Orchestra, 1934
At Sundown [excerpt] -- Manny Klein and his Orchestra, 1946
Once in a While -- Geroge Van Eps [guitar], et al , 1946

CARL KRESS:
S'Wonderful [excerpt] -- Frankie Trumbauer and his Orchestra, 193
Chicken a la Swing -- Carl Kress & Dick Mcdonough, guitar duet, 1937
Stage Guitar -- Carl Kress & Dick Mcdonough, guitar duet, 1937
Peg Leg Shuffle -- Carl Kress, guitar solo, 1939




Part Three examines how electric guitarist Charlie Christian changed the direction of Jazz and Popular music during 1939-40 before his untimely death at age 25.
Charlie Christian electric guitar on all selections.

Pioneers of Jazz Guitar Pt. 3A Charlie Christian.mp3
Flying Home -- The Benny Goodman Sextet, 1939
Stardust [excerpt] -- The Benny Goodman Sextet, 1939
Breakfast Feud -- The Benny Goodman Sextet, 1941
Rose Room -- The Benny Goodman Sextet, 1939
Till Tom Special -- The Benny Goodman Sextet, 1940
Charlie's Dream -- The Benny Goodman Sextet, 1940

Pioneers of Jazz Guitar, Pt. 3B, Charlie Christian.mp3
Soft Winds [excerpt] -- The Benny Goodman Sextet, 1939
Wholly Cats -- The Benny Goodman Sextet, 1940
Seven Come Eleven -- The Benny Goodman Sextet,1939
Shivers -- The Benny Goodman Sextet, 1939
AC/DC Current -- The Benny Goodman Sextet, 1939
Swing to Bop [excerpt] -- Jam Session at Minton's Nightclub, 1941
Up on Teddy's Hill [excerpt] -- Jam Session at Minton's Nightclub, 1941
Waitin' for Benny [excerpt] -- The Benny Goodman Sextet, rehearsal, 1941
Solo Flight -- Benny Goodman and his Orchestra, 1941
Airmail Special -- The Benny Goodman Sextet, 1941

More about Charlie Christian, here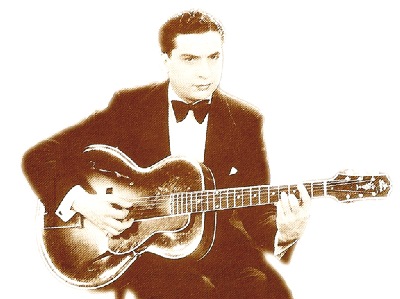 Eddie Lang:
Virtuoso of early jazz guitar


Jazz Guitar Revolution
1926-33

This program focuses on Pioneering Guitarists in the era from the late Twenties, when Eddie Lang was making his first Jazz records, to the moment in 1939-40 when electric guitarist Charlie Christian burst onto the scene. While Christian heralded the future, he also signaled the end of a rather sweet, elegant . . . what I'm calling a 'BAROQUE ERA' of early Jazz guitar.

When Eddie Lang, Carl Kress and these other early Jazz guitar pioneers began recording in the late twenties the BANJO was king for concertizing, soloing and accompaniment, well established as the most popular plucked or strummed instrument in American popular culture. In the rhythm section of dance orchestras and Jazz bands its metallic voice rang out over the din of horns. Many of these early Jazz guitarists started as banjo players, continued to play it or adapted banjo tuning or techniques for guitar.

Guitar pioneers of the late-'20s and early-'30s fashioned a new style of Jazz guitar a decade or more before the emergence of Django Reinhardt or Charlie Christian. The raw materials for this new sound were the instrument's malleable harmonic structure, and its ability to voice either a single melodic line OR chordal passage -- and to alternate between or combine the two.



EDDIE LANG (Salvatore Masaro)

Eddie Lang was the greatest master of blending single-string and chordal techniques. After his untimely passing in 1933 it was Carl Kress, Dick McDonough and George Van Eps who further developed Lang's approach to "chord supported" solo and melody lines: plucking the melody with mainly single notes while strumming 3- or 4-note chords for underpinning.

In the late 1920s introduction of more sensitive electrical microphones in recording, broadcast and public address systems allowed the subtle tones and refined harmonics of guitar to emerge from the background.

Starting around 1930 these Jazz guitar pioneers forged a smoother, more modern and highly sophisticated sound -- both as rhythm players & soloists -- that developed, spread quickly and became widely popular in the late 1920s. By the time of Lang's sudden death in 1933 Dance orchestras rarely had banjos, and every decent Swing band had a guitar in the rhythm section.


Melody_Man's_Dream - Eddie_Lang.mp3
Add_a_Little_Wiggle - Eddie_Lang.mp3




NICK LUCAS (Domenic Antonio Nicola Lucalese)

Nick_Lucas,_"Teasing_the_Frets".mp3

Though there are almost no SOLO guitar records before 1926, there was at least one star of the instrument. He was the first to play solo guitar on record in 1922, "Pickin' the Guitar" and "Teasing the Frets," predating Eddie Lang by several years.

Lucas learned guitar, banjo, mandolin and ukulele early in life. By age 10 he was busking on trains, quickly moving on to cafes, vaudeville, radio and records. Primarily an easygoing crooner and banjo player, he was billed as "The Singing Troubador." He sold 84 million records in a decade and was so famous that in 1928 Gibson introduced the "Nick Lucas Special": the first guitar named after a specific artist.

Lucas went on to make Jazz records with Bailey's Lucky Seven and others, was on the radio often, and worked regularly in Hollywood clubs during the '30s. He later performed in Las Vegas and was a favorite on the Ed Sullivan Show.



DICK McDONOUGH

Guitarists like McDonough brought a fresh new voice to Jazz and Popular music by drawing on the guitar's ability to play both single-string lines and chords. In the mid-Thrities Dick McDonough was one of the busiest guitarists in New York City, making several hundred recordings. He shared a common outlook and style with other pioneers of Jazz guitar and was brilliant in the guitar duet form, waxing elaborately structured, seemingly impossible duets with Carl Kress.

Heat_Wave - Dick McDonough & Carl Kress.mp3

During a brief music career McDonough became one of the busiest session players in Jazz, performing and recording with the Dorsey brothers, Red Nichols, Benny Goodman and a half-dozen other bands; singers Billie Holiday, Lee Wiley and the Boswell sisters; and on NBC radio.

His own short lived orchestra recorded a couple dozen discs in 1936-37 with such luminaries on the roster as trumpeter Bunny Berigan; pianist Claude Thornhill and drummer Cozy Cole. Clarinetist Artie Shaw, who was in one of those sessions himself credited McDonough with developing, "a whole new approach to the guitar as a Jazz instrument."

Dick_Bernstein_Ramble - Dick_McDonough.mp3
Chasing_a_Buck - Dick McDonough.mp3

Sadly, McDonogh's life was cut short; he was dead of alcoholism at age 33 or 34.



TEDDY BUNN, SPIRITS OF RHYTHM and FRIENDS

Introducing TEDDY BUNN.mp3

Unlike Lang and Django Reinhardt, who recorded prolifically with their names prominently displayed, Teddy Bunn's recording career was slight and relatively obscure. Even though he was a versatile performer on record in the 1920's, '30s, and '40s with Duke Ellington, Trixie Smith, James P. Johnson, Lionel Hampton, Mezz Mezzrow & Johnny Dodds, Teddy's discography is skimpy.

At Blue Note Records 1939-40 Bunn was part of the legendary Port of Harlem Seven (what amounted to a series of jam sessions), accompanied Bechet's soprano sax on Sidney's first big hit "Summertime," and recorded his only guitar solos.

To me Bunn's most uplifting music comes from the 'Five Spirits of Rhythm.' This was a delightful little vocal-harmony Hokum & Jive band. It was notable for Leo Watson's uninhibited scat vocals. Spirits of Rhythm had a lilting swing propelled by the unusual guitar-oriented instrumentation including the 4- and 10-string tiples played by brothers Douglas and Wilbur Daniels. The tiple is a diminutive soprano member of the guitar family, often having double runs of strings, like a mandolin giving it a distinctly sweet sound.) The setting proved friendly for Bunn's guitar.

Known for their wild antics and Leo Watson's zany scatting the Spirits recorded only two dozen sides under various names, but they were quite popular on 52nd street in NYC billed as the 'Mad Monks of Rhythm.'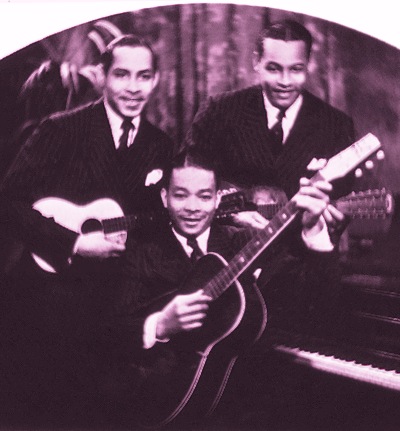 Teddy Bunn
& the Brothers Daniels

Despite his stellar swing credentials Teddy Bunn's sound was firmly based in the Blues, a predominantly single string tradition. Unusual for his Teddy did not use a pick, but strummed with his thumb. This gave him a richer mellower tone than his contemporaries though he was known to strike vigorously enough to at times to break strings.

Bunn was always forward-looking. Early to amplify his guitar around 1940 when he was with Lionel Hampton, Teddy's Blues outlook assisted his later transition to Jump Blues and Rock 'n Roll working for Louis Jordan and Big Joe Turner. Even in his final years, blind and in poor health Teddy was planning a comeback shortly before his passing in Lancaster, California in 1978.


SNOOZER QUINN (Edward Mcintosh Quinn)

Introducing Snoozer Quinn.mp3

Of late there's been a renewal of interest in Snoozer Quinn thanks in large part to the music archive of Tulane University which recently exhibited archival film footage, photos, instruments and mementos of guitarist "Snoozer" Quinn.

Raised in or near New Orleans he was yet another prodigy: by age seven Quinn was fluent on several stringed instruments. He was a shy, private individual who suffered from tuberculosis, alcoholism, and apparently a slightly misshapen head.

In his early days Snoozer toured the Southwest with various bands, most notably Peck Kelly's Bad Boys. (The Kelly band is legendary; during the time of Quinn's apprenticeship it served to nurture such future greats as Jack Teagarden, Wingy Manone, Louis Prima and Pee Wee Russell.)

Snoozer was "discovered" at a New Orleans jam session in 1928; Frankie Trumbauer and Bix Beiderbeke urged Paul Whiteman to hire him -- and after just a few minutes audition for the bandleader he was hired on the spot.

Quinn soon had one of the highest reputations in New York City. Many declaimed him even better than Eddie Lang; and Snoozer in fact was idolized by Eddie. But his 1928 solo recordings were lost and never issued; and you can't really hear him on the Whiteman stuff. Fortunately, Snoozer is heard briefly on a couple of Trumbauer discs, backing Beiderbeke.

Snoozer Quinn wasn't really cut out for the music business: shy and retiring, unwilling to tour, he soon left New York. Shortly after leaving Whiteman, Snoozer recorded a few sides with hillbilly singer Jimmie Davis (1931) and continued traveling and playing around Louisiana with various groups, including the Red Cap Orchestra and with Earl Crumb's band (former members of the New Orleans Owls) in New Orleans. In later years, he led his own band in Bogalusa.

There is evidence that his music career continued. For a while he led the Louisiana Ramblers, performed in and around Galveston and San Antonio, Texas and Shreveport, Louisiana. Snoozer eventually returned home disappearing from music history . . . except for a remarkable footnote.

His last chapter was like a scene from a movie. Only a year before the end of Snoozer's life, out of nowhere, New Orleans trumpeter Johnny Wiggs walked into Quinn's hospital room with his trumpet and a home disc recorder. He and Wiggs recorded there together, and Wiggs thereby unwittingly helped rescue from complete obscurity this poor, misshapen, tuberculosis riddled, alcoholic wreck of a man. Snoozer died quite young, at age 42 in 1949, after a long battle with tuberculosis.

Recently Snoozer's life and music have been preserved and documented by the Tulane University archives; and details can be found at the website, dedicated to his name and music, SnoozerQuinn.com.

SnoozerQuinn.com


GEORGE VAN EPS

Introducing George Van Eps.mp3
Once_in_a_While - George Van Eps.mp3

George Van Eps was a quiet legend and significant pioneer among Jazz guitarists. He was able to play bass lines simultaneously with chords and lead solos creating a Jazz equivalent of the finger-picking country style of Merle Travis and Chet Atkins. He performed on radio and records with the swing orchestras of Freddy Martin, Benny Goodman, Ray Noble and others.

Notably his father Fred Van Eps was one of the first and best-selling ragtime-era banjo players on record . . . and later a banjo manufacturer and sound recordist. Fred Van Eps was probably the greatest banjoist on early records, notwithstanding stiff competition for that title.

Even more than his three brothers who all became professional musicians, George was a child prodigy awarded his musicians union license at age 11 by special exemption!

Called "one of the most talented persons I ever met" by a fellow musician, among George Van Eps hobbies were:

* Musical instrument design and modification.

* Building working miniature steam-powered locomotives just inches long (he was fascinated by miniature engineering, having studied watchmaking as a youngster).

* And apparently as a hobby, George studied advanced aeronautics, designing, building and piloting his own flying-boat . . . as a hobby!

Van Eps guitar style combined chords with single-string runs like slightly earlier masters Carl Kress and Eddie Lang (George had known, worked with and idolized Eddie). But he was a remarkable innovator and stylist in his own right from an early age.

Van Eps developed not only his own style, but a competely radical method and harmonic system for guitar. In the late-'30s, in partnership with the Epiphone Guitar company, he invented a guitar that added a seventh bass string . . . and published a method for playing it. The added bass string gave his guitar richer chord textures, stronger bass for rhythm and expanded its range, making it what he called a "lap piano."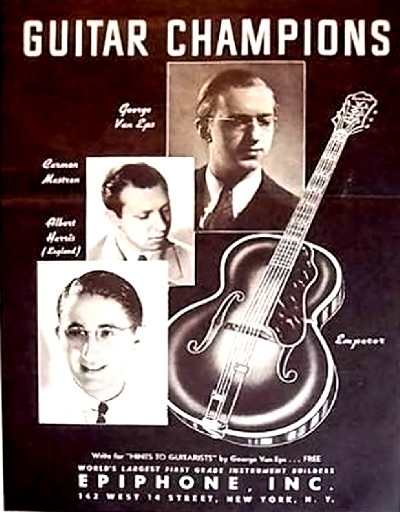 Among Van Eps innovations was adapting techniques from classical guitar that enabled him to simultaneously play melody, harmony and bass rhythm; connecting his chords with constantly moving inner voices. Like the best early pioneers of Jazz guitar he alternates between single-string and chord articulation of the melody, but eps then bolsters his single notes with two or three supporting notes beneath.

Van Eps' musical brilliance put him in heavy demand with the best-known names in music through the 1930s and '40s. By his own estimate he made 2,200 sides one year, most of them uncredited.

In the late '30s he moved West, made music for movies and television, recorded for the Capitol, Columbia and Concord Jazz labels, and for decades contnued his extraordinary experiments in music and aeronautics. Before passing in the 1990s he partnered on several albums with guitarist Howard Alden, who adopted George Van Eps seven-string method.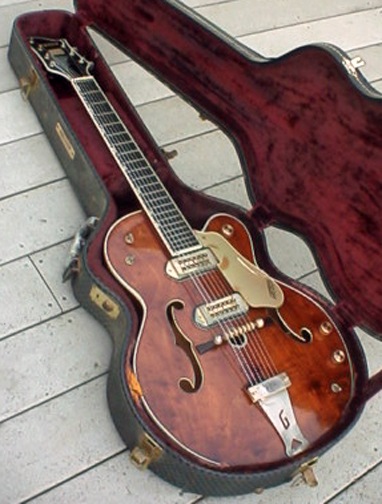 A version of Van Eps 7-string design



CARL KRESS

Introducing Carl Kress.mp3

Guitarist Carl Kress was very successful in New York in the late-1920's and early '30's. For nearly a decade Eddie Lang, Dick McDonough, and Carl Kress pretty much locked-up all the choice recording work in top New York bands like the Dorseys, Miff Mole and Red Nichols. Upon Eddie Lang's unexpected death at age 30, McDonough and Carl Kress were in even heavier demand for recording and radio gigs.

Widely respected, Kress was hired by Frankie Trumbauer and Paul Whiteman for records with Bix Beiderbeke . . . an accomplishment that on its own seems to have granted a kind of immortality to guitarists of the late 1920s.

Kress had a pleasant life and long career. For a while he was owner of the Onyx Club, one of New York City's hottest nightspots. He had his own orchestra, appeared widely on radio including frequently with Jack Benny, and enjoyed a long marriage to Helen Carroll, a vocalist with the Satisfiers vocal harmony group.

Originally a banjo player Kress later made use of tenor banjo tuning as he developed an innovative guitar style. He expanded the range and versatility of the instrument, introducing unique chordal and tuning techniques. His buoyant rhythms, rich harmonics and inventive style inspired many guitarists to adopt his sound.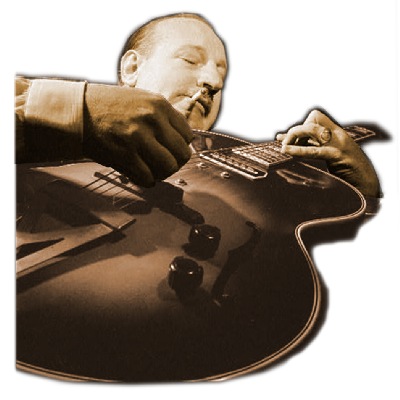 Carl Kress
c. 1940

Of the early pioneers, Kress made guitar shine brightest in the duet form, though surprisingly he was often satisfied to be the 'backup' guitarist: sometimes to Eddie Lang (to whom he was closest in style and outlook) or Dick McDonough in spectacular duets.

Pickin_My_Way - Eddie Lang & Carl Kress.mp3
Feeling My Way - Eddie Lang & Carl Kress.mp3

Peg_Leg_Shuffle - Carl Kress.mp3
Heat_Wave - Dick_McDonough & Carl Kress.mp3

Kress spent his later years in the West doing tons of session work for Capitol Records, his band broadcasting on radio and television, and enjoying a long partnership with guitarist George Barnes, before passing in 1965.


The revolutionary Sound of Charlie Christian

Charlie Christian & the Benny Goodman Sextet.mp3

Amplified guitar in the hands of Charlie Christian was a striking innovation. He was a remarkable improviser who, upon hearing a melody and chord structure was instantly ready to solo for 25 choruses. His confident line, bell-like tone, adventurous chords, angular phrasing and innovative style vastly impacted Jazz, Swing, Popular music, and the record buying public.

In 1939 there was radical change in Jazz and Swing: the Benny Goodman Sextet featuring Charlie Christian was at the cutting edge of that innovation. When Benny Goodman featured the guitarist in his newly formed 1939 Sextet he brought an eloquent new voice to Jazz and Popular music.

Waitin' for Benny, excerpt.mp3

The influence of Christian's forward-leaning sound on Jazz went well beyond his work with Goodman. In Down Beat Magazine polls of 1940, '41 and '42 he was voted best guitarist. And he soon became a significant influence at a crucial inflection point: the cutting edge jam sessions in New York City that foreshadowed the development of modern Jazz.

CHARLIE CHRISTIAN_in_New York City.mp3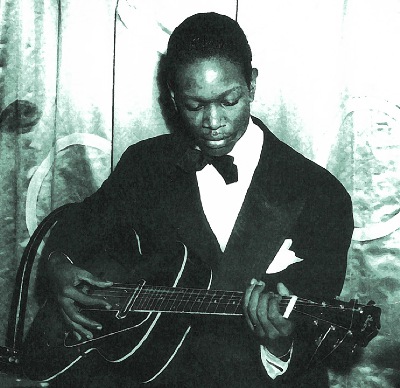 Charlie Christian brought guitar to the cusp of Modern Jazz, 1939-41



More about Christian on JAZZ RHYTHM, here



Pioneering Age of Jazz Guitar, 1926-41

Innovative and pioneering Jazz guitarists from Eddie Lang to Charlie Christian earned popularity, fame and respect for their instrument. Lang and Christian bracket a unique Baroque era of early jazz guitar between 1926-1941. And there are spooky parallels in their impact and shocking early deaths (Christian at 25, Lang at 30).

Guitarist Eddie Lang created a basic vocabulary for the guitar in Jazz and Pop music, displaced the banjo, and paved the way for the nuanced rhythms of Swing.

Charlie Christian showed how the guitar could compete with horns in volume, drive, tone and articulation. His talent for endless riffing, adopting Lester Young's long angular sax lines and improvising on the harmonic elements -- brought guitar to the cusp of Modern Jazz.

With little more than their own in-born musical talent early guitar pioneers invented Jazz guitar and changed the course of American music.



Related links:


Charlie Christian on Wikipedia.org

SnoozerQuinn.com

Django Reinhardt



Jazz Guitar Pioneers on YouTube:

Eddie Lang and Carl Kress, "Pickin' My Way"

Eddie Lang with Bing Crosby on film, 1932

Charlie Christian jamming at Minton's on YouTube

Teddy Bunn with the Spirits of Rhythm on film, 1941

George Van Eps, "I Wrote it for Jo"




Tip Jar

This site is free. But you can help sustain it, and encourage me with donation to the tip jar. Secure payment through PayPal is anonymous, except that I will see your e-mail address.

Donation $5.00
Donation $10.00
Donation $20.00
Donation $35.00
Donation $50.00
Donation: You decide