MEN of the BLUES

The lives, music and oversized personalities of male Blues singers are an endless source of entertainment. They shaped the blues in Mid-twentieth Century America and made rich contributions to music while setting the stage for Rock 'n Roll.

These men of the blues often drew their influences from New Orleans, Chicago, Kansas City or the West Coast and were colorful entertainers with oversized personalities and voices. The songs they sang, while often drawn from a collective literature and tradition, nonetheless expressed personal feelings and even intimate details.

While hard to precisely define the Blues is really a loose collection of elements:
* a well-established progression of chord patterns;
* an inflected diatonic scale of flatted 3rd and 7th notes,
* use of bent or "blue notes" -- slurring or bending tone;
* and at its most basic, a 12 bar song structure based on 3 stanzas of:
one line, that line repeated, and a third rhyming or answering line, as in:
"I hate to see that evenin' sun go down
I hate to see that evenin' sun go down
'Cause my baby, he done lef' this town."



Pt. 1 - Men of the Blues

MEN OF THE BLUES 1A.mp3
GOIN' TO CHICAGO BLUES -- Jimmy Rushing w/ Count Basie & his Orch, 1941
KILROY'S IN TOWN -- Roosevelt Sykes and his Original Honeydripper, 1947
BLUES AFTER HOURS -- Jack Teagarden's Big Eight, 1947
CAKEWALK INTO TOWN -- Ranier Jazz Band, 1986
ITS STILL THE SAME OLD STORY -- Big Joe Turner acc by Pete Johnson, 1944
AROUND THE CLOCK, Pt. 1 -- Big Joe Turner acc by Pete Johnson, 1947
GOIN' AWAY BLUES -- Big Joe Turner & Pete Johnson, 1938
MY OWN TROUBLES -- Big Maceo Merriweather, 1945
WORRIED LIFE BLUES -- Big Maceo Merriweather, 1941

MEN OF THE BLUES 1B.mp3
JELLY BEAN BLUES -- Magnolia Jazz Five with Jimmy Mazzy, 1985
ST. LOUIS BLUES -- Jack Teagarden's Big Eight, 1947
AROUND THE CLOCK, Pt. 2 -- Big Joe Turner acc by Pete Johnson, 1947
SALLY ZU-ZAZZ -- Big Joe Turner acc. by Albert Ammons, 1946
LOVIN' MAMA BLUES -- Pete Johnson & his Boogie Woogie Boys, 1939
ST. JAMES INFIRMARY -- Oran "Hot Lips" Page and his Orchestra, 1947
JUMP FOR JOY -- Joe Turner with Pete Johnson & his Boogie Woogie Boys, 1939
I WON'T BE HERE LONG -- Hot Lips Page and his Band, 1940



Pt. 2 - Men of the Blues

MEN OF THE BLUES 2A.mp3
DON'T YOU MISS YOUR BABY -- Count Basie Orchestra with Jimmy Rushing vocal, 1937
I LEFT MY BABY -- Count Basie Orchestra with Jimmy Rushing vocal, 1939
BOOGIE WOOGIE -- Count Basie Orchestra with Jimmy Rushing vocal, 1936
CAN'T USE YOU NO MORE -- Buddy Moss & Charlie Weaver, 1933
BEER DRINKING WOMAN -- Willie Dixon & Memphis Slim, n.d.
DON'T CRY BABY -- Bob Wills and his Texas Playboys, Tommy Duncan, vocal, 1946
BASIN STREET BLUES -- Bob Wills and his Texas Playboys, Tommy Duncan, vocal, 1946
TIA JUANA MAN -- Jimmy Mazzy and Eli Newberger, 1985

MEN OF THE BLUES 2B.mp3
SENT FOR YOU YESTERDAY -- Count Basie Orch. with Jimmy Rushing vocal, 1938
EVERY DAY I HAVE THE BLUES -- Joe Williams, 1963
IF I JUST KEEP STILL -- [Cousin Joe] Brother Joshua with Earl Bostic's Orchestra, 1946
WHEN YOUR MOTHER'S GONE -- Brother Joshua with Earl Bostic's Orchestra, 1947
BAD LUCK BLUES -- Cousin Joe, 1947
EVENIN' -- Count Basie Orchestra with Jimmy Rushing vocal, 1939
YOUR RED WAGON -- Count Basie Orchestra with Jimmy Rushing vocal, 1947
BYE BYE, BABY -- Count Basie Orchestra with Jimmy Rushing vocal, 1947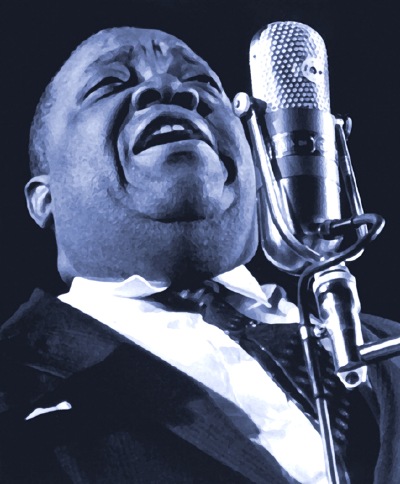 Jimmy Rushing
"Mr. Five by Five"

JIMMY RUSHING

JIMMY RUSHING PT. 1 (mp3)
JIMMY RUSHING PT. 2 (mp3)

Singer Jimmy Rushing brought the Blues to mainstream popularity during the Swing era with Count Basie's Orchestra and kept it there through the 1950s and '60s. Short, stubby and rotund, he was called 'Mr. Five by Five' (five feet tall, five feet wide). With onstage antics that could bring a smile to any face, Rushing made ballads, pop tunes, even nursery rhymes swing and could dominate the loudest bands with his astonishing carrying power. Despite his tremendous girth Jimmy was surprisingly agile, and he was much loved by his fellow musicians.

The most urbane of blues singers, Jimmy Rushing's voice was surprisingly light with a boyish playfulness. A musical innovator with accurate pitch and supple phrasing he effortlessly fused blues idiom with jazz style. Rushing made songs his own by altering song rhythms, that is by singing off the beat: slightly ahead of or behind the beat to create his own accents. The Basie band was rarely blusier than when backing a Jimmy Rushing vocal.

Like 'Big Joe' Turner, he was a complete embodiment of Kansas City and in the vanguard of midwestern jazz style. Born in 1903 to a musical family in Oklahoma City he learned violin and piano. Discovered singing in his fathers cafe he was first recruited into the seminal "Blue Devils" band around 1927; then stolen by rival Benny Moten. He was still in the Moten Orchestra five years later when Count Basie inherited it.

Altogether Jimmy Rushing spent nearly three decades alongside Basie, and strongly influenced the band toward the blues. Long after his official departure in the early '50s he remained one of Basie's most popular guest stars.

After leaving Basie, Rushing had a very successful solo career for two decades: recording and performing with Benny Goodman, Coleman Hawkins, Earl Hines, Duke Ellington and Dave Brubeck; touring jazz festivals all over the world; and making numerous film and television appearances before his passing in 1972. In 1994 Jimmy Rushing was honored on a United States Postage Stamp.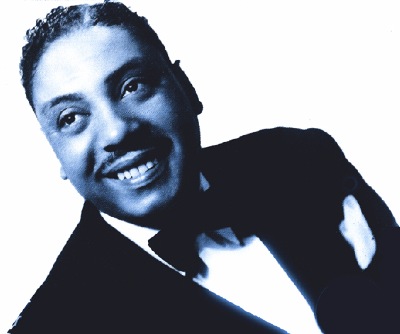 Big Joe Turner,
"The Boss of the Blues"


BIG JOE TURNER PT. 1 (mp3)
BIG JOE TURNER PT. 2 (mp3)

I guess I'd have to say that my all-time personal favorite male blues singer is Big Joe Turner. His power, range of emotion, sense of rhythm, and personality are unsurpassed. He's also the total embodiment of Kansas City music, born there in 1911. Teaming up with pianist Pete Johnson around 1930 they became the town's hottest attraction for a decade and a half. Their 1928 joint appearance at Carnegie Hall in John Hammond's Spirituals to Swing concert was a landmark for the Blues and launched Turner's national career.

Aside from his impressive power and volume, Big Joe sang like a great horn player: reshaping a melody, adding his own rhythmic interpretation to make a song his own. And 'Big Joe was indeed 'big': big boned as a youth, massively rotund in later years, with a voice to match. His career in Kansas City began as a bartender belting out the blues from behind the bar. It was said that, even un-amplified, he could shake the rafters.

Known as the 'Boss of the Blues' for 40 years Turner waxed a huge number of superb and often very popular discs, performing with top names in jazz, blues and boogie: Albert Ammons, Benny Carter, Art Tatum and Count Basie.

On the West Coast from the mid 1940s on there was hardly a
Rhythm and Blues label that didn't have a Turner release: National, Aladdin, RPM, Coast, MGM, Imperial, Swingtime. In the Fifties, working at Atlantic Records with producer Ahmet Ertegun he had a long streak of rock 'n roll hits like "Shake, Rattle and Roll," appearing alongside fats domino in the 1957 'Rock 'n Roll' film of that name.

Turner's K.C. roots found their way to mainstream American music through his late 40s R & B records that laid a foundation for Rock 'n Roll. "Chain's of Love," "Flip Flop and Fly," "Sweet Sixteen" and "Honey Hush," were all chart toppers, covered by the likes of Bill Haley, Jerry Lee Lewis and Elvis Presley, making him a bona fide Rock star in his forties. His popularity continued into the 1980s recording LPs and performing until shortly before his death in 1985.

LINKS:
Big Joe Turner at Wikipedia
Big Joe Turner & Meade Lux Lewis video on YouTube.com
Big Joe Turner live at the Apollo video on YouTube.com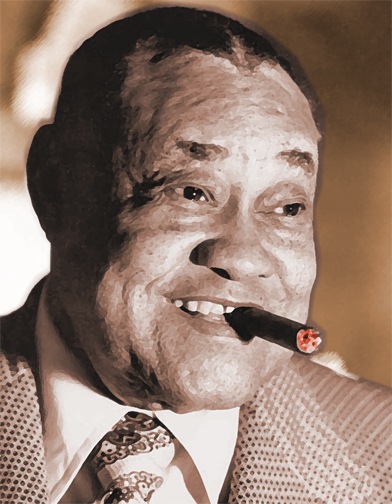 ROOSEVELT SYKES
"The Honeydripper"

ROOSEVELT SYKES

ROOSEVELT SYKES - "Kilroy's in Town" (mp3)

Sykes was an excellent and highly influential Blues, Boogie and Barrelhouse piano player and singer. Very popular for five decades commencing around 1930 the roly poly, effervescent cigar-chomping Sykes recorded countless records under a half-dozen monikers like Easy Papa Johnson, Dobby Bragg; and St. Louis Johnny -- but was best-known as "the Honeydripper". In Chicago he recorded prolifically with a lot of great blues and R & B folks like Lonnie Johnson, Willie Dixon, Buddy Guy and Junior Wells.

Roosevelt Sykes' hits and originals included "44 Blues" "Drivin' Wheel" "Night Time is the Right Time" and "Sweet Home Chicago."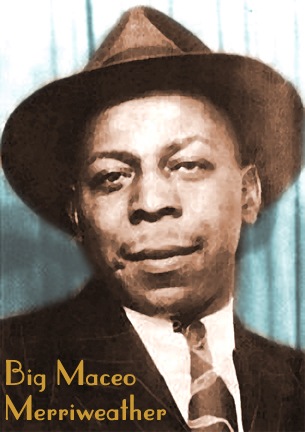 BIG MACEO
MERRIWEATHER


BIG MACEO - "My Own Troubles" & "Worried Life Blues" (mp3)

'Big Maceo' Merriweather was one of the top bluesmen in Detroit from the mid-1920s to the late '40s. A fine singer and pianist Maceo worked often with guitarists 'Big Bill' Broonzy and Tampa Red cutting about 30 sides for RCA in the 1940s.

Being left-handed helped gave Big Maceo considerable strength in the bass, as he taught himself to play piano by ear and by listening to influential blues and boogie pianists like Albert Ammons, Meade Lux Lewis and Roosevelt Sykes. His husky, smokey voice steeped in melancholy gave his Blues depth and conviction.

His "Worried Life Blues" became a blues classic. And though he was sidelined by a stroke in his forties, Big Maceo's legacy remains strong, thanks to his mentoring Otis Spann and inspiring many of the greatest Chicago piano talents who followed.

LINKS:

Big Maceo at Wikipedia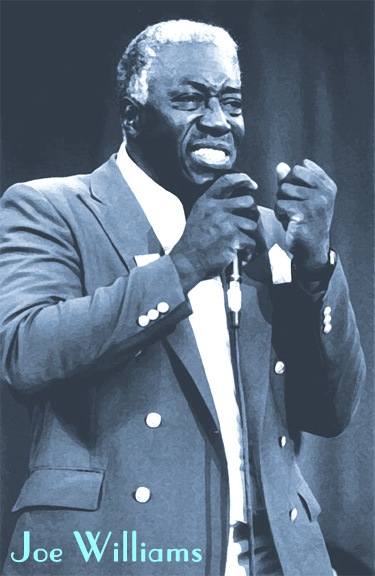 JOE WILLIAMS

JOE WILLIAMS - "Everyday I Have the Blues" (mp3)

Born in rural Georgia and raised in Chicago, he sang church harmony and gospel music as a boy. Handsome, over six feet tall and possessed of a rich, warm baritone Joe Williams worked mainly in Chicago with top Swing bands: Earl Hines, Andy Kirk, Lionel Hampton, Coleman Hawkins, and in the 1950s, seven years with Count Basie. (By the way, he's not to be confused with delta bluesman "Big Joe" Williams.)

Typical of his very basic and intensely rhythmic approach to the blues is Joe Williams' triumphal performance at the 1963 Newport Jazz Festival of "Every Day I Have the Blues." It was his biggest hit, and was added to the Recording Academy Hall of Fame in 1993.

LINKS:

Joe Williams at Wikipedia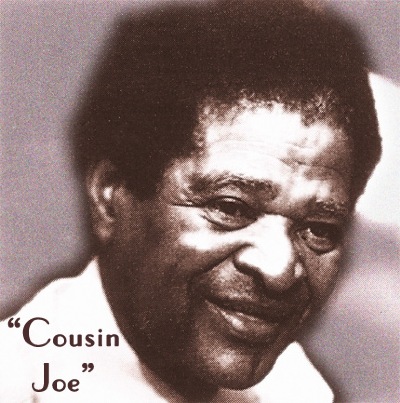 COUSIN JOE:
aka "Pleasant Joe," "Smilin' Joe," "Brother Joshua"

COUSIN JOE - "If I Just Keep Still"/"When Your Mother is Gone"/"Bad Luck Blues"

In the late '40s Cousin Joe returned to New Orleans where he was a popular attraction for decades at top venues in the French Quarter: most notably at the Absinthe House and Preservation Hall. During the folk, blues and gospel revivals of the '60s and '70s Cousin Joe recorded albums and was invited to music festivals, tours, and venues in Europe, Canada, New York and Chicago. His last appearance was at the 1989 New Orleans Jazz and Heritage Festival just months before his peaceful passing.

LINKS:
Biography: Cousin Joe: Blues From New Orleans, Univ. of Chicago Press, 1987



The Blues have always been an integral element of Jazz and a rich source for song writers and popular musicians to borrow from. Men of the Blues created their music from personal experience, a shared tradition and their native talent as entertainers. These bluesmen brought the Blues firmly into the mainstream of American culture, while laying the foundation for the Rhythm & Blues, and Rock 'n Roll music that followed.



Tip Jar

This site is free. But you can help sustain it, and encourage me with donation to the tip jar. Secure payment through PayPal is anonymous, except that I will see your e-mail address.

Donation $5.00
Donation $10.00
Donation $20.00
Donation $35.00
Donation $50.00
Donation: You decide