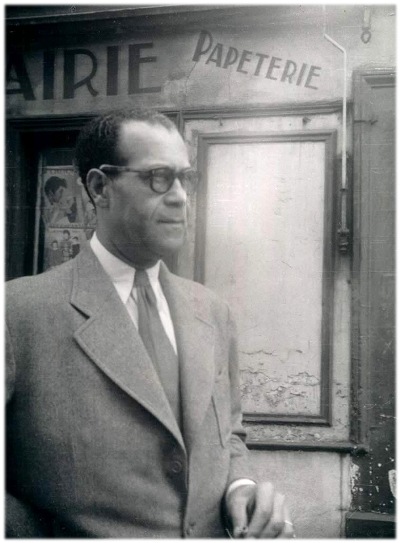 Goudie's Paris associates

and

Harlem in Montmartre



Frank Goudie
1949



(Archive of Theo Zwicky Zürich
JazzIndex)

This page, and associated audio program, document for the first time Goudie's three decades recording, playing and jamming with the jazz elite of Europe. It's a nuanced portrait of the African-American community in Paris between the world wars, so-called Harlem-in-Montmartre, drawn from memoirs, interviews, photos, ephemera, and rare recordings of "Big Boy" and associates.


Pt. 2 - Goudie in Paris and Rio de Janiero, 1925-50

Paris and Rio, Pt. 2A.mp3
Early jazz in Paris.
A description of Harlem in Montmartre between the world wars.
Introduction to Josephine Baker and Bricktop's famed cabaret.
Trumpet player Bill Coleman remembers Goudie and Paris.
Goudie and the influence of Coleman Hawkins on European saxophonists.

Paris and Rio, Pt. 2B.mp3
Goudie's friendship with gypsy guitarist Django Reinhardt.
The first eyewitness account of Goudie in Rio de Janeiro c. 1944.
With Bill Coleman at Club Chikito in Berne, Switzerland, 1949.

For only the music of Part Two, click here.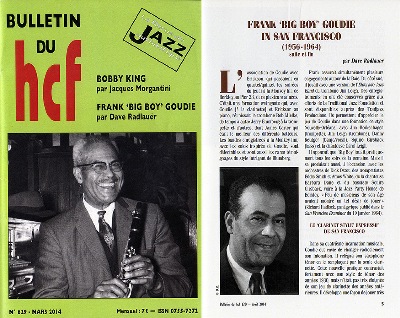 News item

I'm honored that my 2013 article profiling Frank Goudie in San Francisco has been re-published in French by the Bulletin of the Hot Club of France, 2014.

Founded in 1950 by French jazz critic Hugues Panassie, Bulletin du HCF "La revue du jazz authentic" is one of the longest-lived jazz publications.

Download French.pdf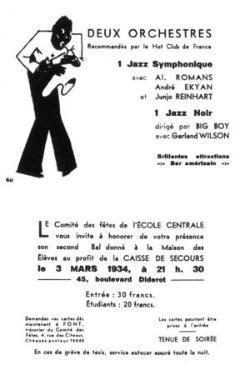 UBIQUITOUS IN PARIS

In 1925 Frank Big Boy Goudie was among the first African American musicians to arrive in Paris, and one of the few to come on his own initiative. He stayed the longest, 1925-55, except for WW II in South America. Starting around 1927 he was fully employed playing music at the top venues of Paris, and still available for jams with colleagues after hours.

For over a decade Goudie is ubiquitous in Paris, becoming one of the most celebrated black American musicians in France:

Zellis Royal Box, c. 1927-30: By 1927 Goudie is playing sax at the top nightclub in Paris.

Bricktop's Cabaret, 1928-30: He's heard in the band at the premier jazz/social club of the Montmartre district.

Johnson-Briggs Orchestra, c. 1932-34: Goudie plays tenor and records his first solo with this Harlem-style swing band, the best to record there in the early '30s. It's jointly run by trumpet player Arthur Briggs, and pianist Freddie Johnson, both heard at Bricktop's.
Foxey and Grapesy.mp3 Freddy Johnson-Arthur Briggs Orch, 1933

Hot Club societies of France, 1934-38: Goudie is utilized for concerts organized by the nascent club. Later "Big Boy" is a marquee name for concerts introducing Django to Parisians.

Multi-instrumental records, 1935: On the first records issued under his own name, Goudie doubles on on trumpet, clarinet and/or sax, accompanied by Django and Grappelli.
St. Louis Blues.mp3 (Goudie trumpet and clarinet)
I Found a New Baby.mp3 (Goudie trumpet, clarinet and sax)

Willie Lewis and his Entertainers, 1936-37: Goudie is tenor sax soloist for the top swing orchestra in France. Staffed by black-American musicians, it broadcasts from Chez Florence and performs at the swankest digs on the continent.
Swingin' for a Swiss Miss.mp3
Christopher Columbus.mp3

Bill Coleman Orchestra, 1937: Goudie plays tenor on Coleman's outstanding small band swing records with Django, among the finest waxed by Americans in Europe between the wars.
Big Boy Blues.mp3
Swing Guitars.mp3

Disque Swing, 1939: Goudie records for the Swing label under his own name playing tenor sax, and on trumpet with Andre Ekyan.
You and I, Babe.mp3
You in My Arms and Sweet Music.mp3
Darktown Strutters Ball.mp3 (Goudie, trumpet)

Oscar Aleman, 1938-39: Frank teams up with the phenomenal Argentine guitarist at Le Chantilly in Paris; both depart simultaneously for South America in late 1939.
Joseph, Joseph.mp3 Oscar Aleman, Orchestre Musette Victor (Goudie not present) 1939.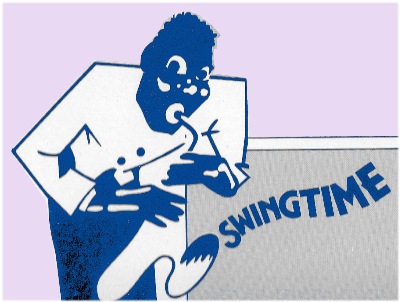 This image might seem racist today.

But it first appeared on a 1934 flyer promoting a concert featuring "Big Boy" Goudie (seen above), and became symbolic of the Jazz Age in Paris.

I suggest this iconic image was inspired by Goudie.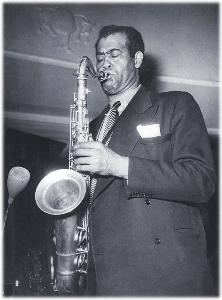 Amercians in Europe
The Scene

Frank Goudie was among the first of a significant number of African-American jazz performers who moved to Europe in the 1920s and 30s. But few equaled his three decades there (excluding WW II in South America).

Harlem in Montmartre_1.mp3 (3:45)
Harlem in Montmartre_2.mp3 (8:00)
The Divas of Harlem in Montmartre.mp3 (5:45)

Paris drew black American musicians, writers, painters, and poets after the First World War . An outpost of the Harlem Renaissance thrived in Paris during the 1920s and 30s. Jazz in the bars, bistros and nightclubs of Paris was part of the general atmosphere of artistic ferment and revolutionary politics. Harlem jazz was the soundtrack for the Moveable Feast that was Paris between the wars. Especially in Montmartre.

During the 1930s, 40s and early-50s the list included trumpet players Arthur Briggs, Jack Butler and Bill Coleman, famed cabaret operator Bricktop, dancer and singer Josephine Baker, chanteuse Alberta Hunter, pianist Joe Turner, and drummer Tommy Benford. Valaida Snow who was a very good Louis Armstrong-style trumpeter, jazz singer and dancer spent most of the 30s there. And New Orleans-born reed players Albert Nicholas and Sidney Bechet both lived in Paris in the '40s and '50s.

Goudie left France for Argentina in October of 1939 (last seen in the company of Oscar Aleman, so to speak). But several of his colleagues remained a little too long and had serious encounters with the rising German Reich. Valaida Snow, pianist Freddy Johnson and trumpeter Arthur Briggs were all interned by German authorities under a range of conditions before eventual release.

Goudie returned to Europe in 1946, performing in France, Switzerland and Germany before leaving in 1956.

For all the music selections from Discovering Goudie in Paris & Rio, click here.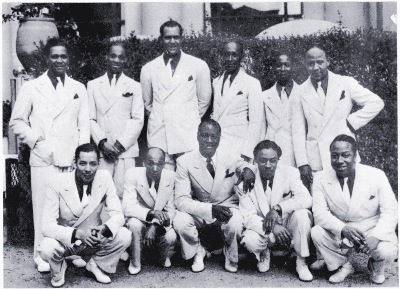 Frank Goudie, center, with Willie Lewis and his Entertainers c. 1937

From 1935-40 Willie Lewis ran a formidable all-black American swing orchestra, with a lengthy residency at Chez Florence and radio broadcast heard across the continent.

L to R: Ted Fields, Jack Butler, Billy Burns, Herman Chittison, Frank Goudie, Willie Lewis, Bill Coleman, George Johnson, Wilson Myers, Joe Hayman, Johnny Mitchell



Willie Lewis and his Entertainers, Apr. 1936-Oct. 1937
Frank Goudie, tenor saxophone and clarinet

Principal trumpeters are Bill Coleman or Jack Butler:

"Swingin' for a Swiss Miss" (featuring Goudie on tenor sax)
"Organ Grinder's Swing" (featuring Goudie on clarinet)
"Stompin' at the Savoy"
"Swing Time"
"Swing, Brother, Swing"
"Ol' Man River"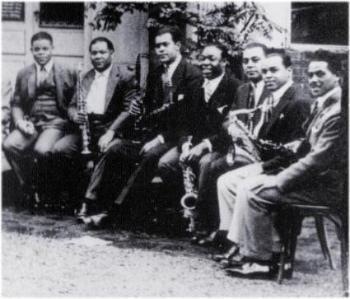 Regarding Bechet

Sidney Bechet
New Orleans, 1897 - Paris, 1959
Over the decades Bechet and Goudie encountered each other in Europe. Le gran Bechet was always a sensation in France, which blossomed into a frenzy in the 1950s when he lived there.

Though Goudie deflected a question from Bill Carter about Bechet, he did reveal his feelings to Jim Leigh expressing admiration but no affection. In my estimation he thought the fuss made over Bechet in France got out of hand and the way women fawned over him undignified. (Heaven on the Side, 2000)
A photo of the two from 1927
Bechet second from left, Goudie third, holding clarinet




Harlem in Montmartre

Le Grand Duc club anchored a thriving black-American community in Montmartre from the early 1920s. It became a kind of headquarters for African-American musicians who gathered after hours playing jam sessions until 7:00 or 8:00 in the morning.

Bricktop Smith was an American entertainer, dancer and cabaret singer who ran the nightclub Chez Bricktop in Paris from 1924 to 1961, as well as clubs in Mexico City and Rome. She was born Ada Beatrice Queen Victoria Louise Virginia Smith to a former slave in West Virginia. But she inherited her prominent freckles and flaming red hair from her father. Conducting Charleston dance contests at Cole Porter's Paris apartments in the mid-20s launched her notoriety.

Introducing Bricktop.mp3 (2:30)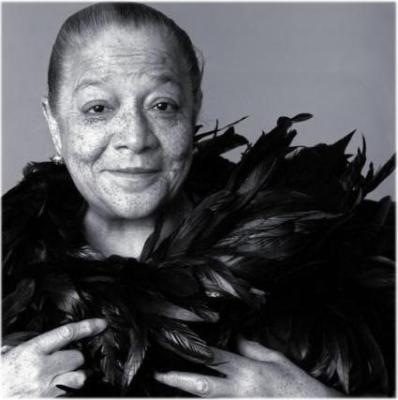 Langston Hughes' thumbnail from his autobiography is direct and enduring:
"Bricktop sang in a cute little voice, with nice, wistful notes. She danced a few cute little steps, tossed her head and smiled, and went around to all the tables and was pleasant to everybody - from guests who could afford only one quart of champagne to those who bought a dozen bottles. French, or American, tourist or diplomat, white or colored, were all the same to Brick. Her professional manner was simply her own manner, in the club or out."


Le Grand Duc was where Bricktop first performed in 1924, quickly establishing herself as the matriarch of American ex-pats living in or visiting Paris. She then ran her own cabaret at several clubs, relaunching it numerous times. More than a nightclub her establishment served as social club, post office and bank for black American Parisian ex-patriots, or visitors.

Bricktop's was among the most chic clubs in Paris and a firm base for the Harlem Renaissance in Montmartre. It was de rigueur for English-speaking celebrities visiting Paris to drop-in: Josephine Baker, F. Scott Fitzgerald, the Prince of Wales, Noel Coward, singer Sophie Tucker, Ernest Hemingway and John Steinbeck, artist Man Ray, Charlie Chaplin, and poet Langston Hughes who worked there.

Big Boy Goudie was spotted playing tenor in the Freddy Johnson band at one of Bricktop's clubs in 1929. Besides Freddy, house pianists included Garland Wilson and Herman Chittison. Fats Waller stopped by on his 1932 visit; Louis Armstrong was once heard singing a duet there with Django Reinhardt. She was the first to present Django and Stephane Grappelli as a headline act in Paris.

Her most famous quote: "I'm not a singer. I'm not a dancer. I'm a performer and a saloon-keeper."

Autobiography, Bricktop by Bricktop, published in 1999.
Riverwalk tribute to Bricktop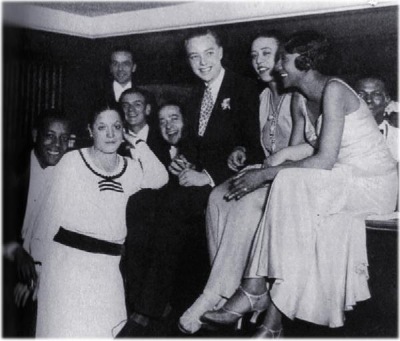 Alberta Hunter was part of the crowd at Bricktop's. She and Bricktop were at various times competitors, colleagues and, possibly, lovers.

Hunter was a versatile singer of blues, early black theater and cabaret. She was in Paris and London often between 1927-29. She lived, traveled or performed abroad, 1933-39 in Paris, Greece, Italy, Egypt and Turkey.

Bricktop, left Alberta, right


Cole Porter wrote the ironic "Miss Otis Regrets (She's Unable to Lunch Today)" for Bricktop and her cabaret style, but she never recorded it. Nor do we have recordings of Bricktop in her prime. However, Hunter's 1934 "Miss Otis" probably borrows some of the flavor of Bricktop's.

Unlike this recording the cabaret operator would have been accompanied by one or few instruments, if at all, singing while wandering between tables, interacting with her staff and clientele or conducting other business.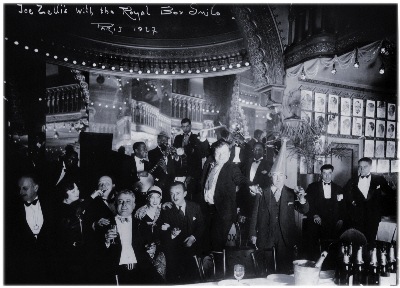 Zelli's was the wildest party in town and jazz central when Goudie played there 1927-30, as seen here.


Zelli's Royal Box was the highest profile venue for jazz performance during the era in Montmartre, and had an exclusive permit to serve alcohol (champagne, of course) all night. It was directed by entrepreneur Joe Zelli who ran several venues, including an upstairs after hours club for musicians. Goudie played tenor sax and clarinet in the house band at Zelli's during 1927-30.

The band at Zelli's was led by J. Glover Compton, a remarkable fellow who cut a pretty wide swath. Compton was a ragtime and jazz piano player in the Willie-the-Lion mold, who had a storied career before Paris. He was wounded in a celebrated street shooting for which Sidney Bechet no less spent nearly a year in prison during 1928-29, before being ejected from France.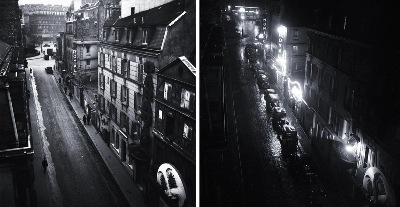 rue Pigale in Montmartre

Daytime, nightime

(photographs by Emile Savitry)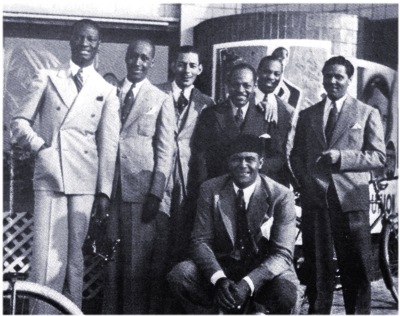 Big Boy and Hawk

Coleman Hawkins was a towering influence on European jazz when he lived there c. 1934-39; few continental tenor saxophone players didn't imitate him. He was Goudie's biggest influence, his tenor style was indelibly stamped with Hawkins' approach to rhythm and phrasing. And he was deeply impressed by his powers of improvisation. In those days Hawkins was famed for his variations on pop tunes lasting up to 90 minutes.

L to R standing: Willie Lewis, Bill Coleman, Billy Burns,
Coleman Hawkins, Billy Butler, Ted Fields
Kneeling: Goudie
(Knokke-le-Zoute, Belgium, August 1938)




Coleman Hawkins in Belgium
Multiple takes are included to show his process of improvisation and invention.

Coleman Hawkins Trio, 1938
Freddy Johnson, piano; Maurice van Cleef, drums

"Dear Old Southland"
"I Know That You Know"
"Way Down Yonder in New Orleans"
"Way Down Yonder in New Orleans" (Take 2)
"When Buddah Smiles"
"When Buddah Smiles" (Take 2)



Frank Goudie story and chronology



American jazz musicians in Europe

Frank Goudie's friends and colleagues in Europe were the cream of black American jazz talent there, c. 1925-55. He seems to have been in steady demand among the black-American impresario bandleaders there, Noble Sissle, Benny Peyton, Sam Wooding, Willie Lewis, Arthur Briggs and Freddy Johnson.

And he was comfortable with the top European players, best known of whom was Django Reinhardt. They're together on several recordings. Goudie and Django's intimate late night sessions are documented legend.

What follows is a partial roster of Goudie's African-American collaborators during his nearly three decades in Europe.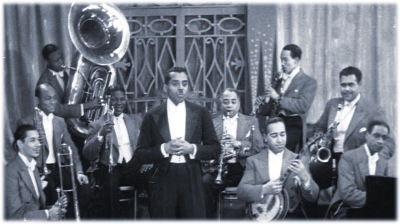 Goudie with the Noble Sissle Orchestra,
from a music short,
London, December 1930

Frank is second from right behind the pianist



Noble Sissle
Indiana, 1889 - Florida, 1975

Sissle had a significant role producing early black musical theater in London and Europe. He partnered with Eubie Blake producing Shuffle Along (1921) and was an important catalyst nurturing and introducing such stellar talent to Europe as Sidney Bechet, Tommy Ladnier, Arthur Briggs and Johnny Dunn. Sissle returned to the United States after 1930.

In 1930 Goudie performed with Sissle at the chic Ciro's nightclub in Paris and was on portions of the 1930 London tour.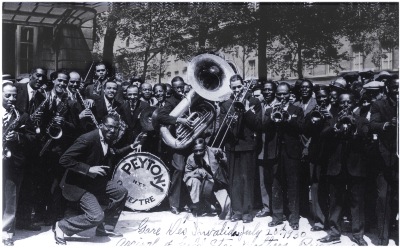 A cross section of American Jazz talent in Paris, 1930

Musicians assembled to greet American Gold Star Families (mothers of fallen soldiers). Many seen here including Goudie were working for Noble Sissle, seen crouching front left, at Les Ambassadeurs. The prestigious club, just off the Champs-Elysee, catered to a clientele of statesmen, diplomats & prime ministers, kings of commerce & multimillionaires.

This is the Paris equivalent of A Great Day in Harlem.

L to R: Rudy Jackson, alto; Albert Tines, alto; George Warren or Ramon Usera tenor; Horace Eubanks, clarinet; Big Boy Goudie, alto; Jack Carter (with cigarette), drums; Bennie Peyton, drums; Warren Harrison, guitar; Oliver Tines, drums; Edward Cole, tuba; Glover Compton (beneath tuba) piano; Billy Burns, trombone; Gene Bullard, drums; Tommy Ladnier, Snow Fisher, Arthur Briggs, Crickett Smith, trumpets.

(Photo: Traveling Blues, Lindstrom & Vernhettes)



Newly discovered film footage of Frank Goudie from the event seen above.

Goudie is the tallest African American seen in this rare film clip c. 1930, generally to the left of the frame, from :45-:55, 1:18-1:33, 2:03-2:06 [hands only], 3:33-3:56.

Ostensibly a reception for mothers of fallen black World War I soldiers, the event proved to be the "Great Day in Harlem" of Paris.

Negro Mothers Drive In Paris (1920-1929)
https://www.youtube.com/watch?v=UoY7ucCcOeU&feature=youtu.be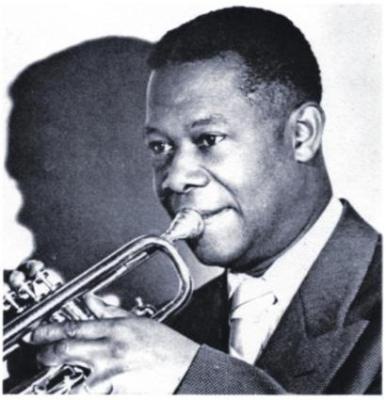 Trumpet player and band leader
Arthur Briggs





Arthur Briggs
South Carolina, 1899 - Paris, 1991

Trumpet player Briggs was a graduate of the famed Jenkins Orphanage Band. He visited, toured, or lived in Europe almost continuously from about 1920 working in Brussels, Belgium, Vienna and Germany during 1926-28. Briggs was with Noble Sissle in 1928, '29, '30, and a sideman for Louis Armstrong's European tours.

Briggs led or co-led his own bands mostly in Paris during the early thirties. He recorded with Coleman Hawkins and had a 1937 residency in Egypt. Goudie worked for Briggs again after the war when he had a successful recording and performing career.

"Braggin' the Briggs" 1 & 2.mp3
Arthur Briggs and his Swing Band, Paris, 1940
Briggs, tpt; Christian Wagner, clt; Alix Combelle, Alto & tenor sax; Ray Stokes, pno; Django Reinhardt, gtr; Tony Rovira, bass

Arthur Briggs at Charleston Jazz Initiative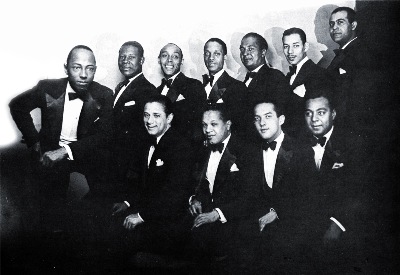 The Freddy Johnson - Arthur Briggs Harlemites
Paris, 1933
Goudie far right

"Harlem Bound".mp3
Freddy Johnson and his outanding Harlemites, Paris 1933

For me, "Harlem Bound" is the best tune recorded by an American band in Paris.
(personnel similar to, but not the same as band pictured)

Standing L to R: Freddy Johnson, Arthur Briggs, Billy Taylor, Sterling Conaway, Juan Fernandez, Billy Burns, Frank Big Boy Goudie

Seated L to R: Peter Du Conge, Teddy Brock, Alcide Castellanos, Bobby Jones



Frank Goudie story and chronology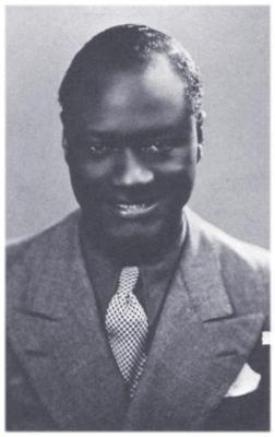 Willie Lewis
Texas, 1905 - NY City, 1971

Alto saxophone and clarinet player, bandleader and vocalist, he was first brought to Europe by Sam Wooding and stayed a 1925-31 stint. His success leading bands built during 1931-34 in Cannes, Berlin and Brussels. Goudie was with Willie Lewis and his Entertainers during 1936-37.

In Paris 1935, the celebrated residency at Chez Florence, with a Saturday night radio broadcast, helped to make the Willie Lewis orchestra the best known and most popular in Europe 1935-40. The brief tenure of Benny Carter playing trumpet in 1935 added cachet and a book of excellent arrangements.

"Swing Time"
"Stay Out of Love" vocal by Lewis
"Doin' the New Lowdown"
"Christopher Columbus"
"Stompin' at the Savoy"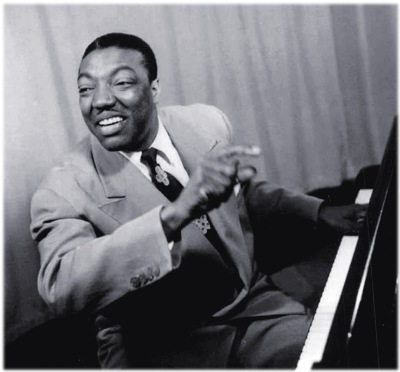 Joe Turner
(the other one)

Stride piano master who lived mostly in France after 1931.


(Bucher Bern,
JazzIndex)


Joe Turner
Maryland 1907 - Paris 1990
(Not to be confused with Kansas City blues singer Big Joe Turner.)

He was chosen for Goudie's second recording under his own name on the jazz-friendly Swing label, May 28, 1939. Four days earlier he'd been in a session for alto saxist Andre Ekyan that included Goudie, Django and drummer Tommy Benford.

Turner started on piano at age five and by his teens made a name for himself as an outstanding Stride piano player in Harlem. That led to jobs with Benny Carter and Louis Armstrong in 1929-30. After touring Europe with Adelaide Hall in 1931 he stayed as a solo act.

He resided first in Czechoslovakia, then Hungary, and France where he remained until 1939. Grove Dictionary of Jazz calls Turner a true stride pianist with, "faultless phrasing, a brilliant technique, and strong sense of swing" plus a touch of Art Tatum and Erroll Garner.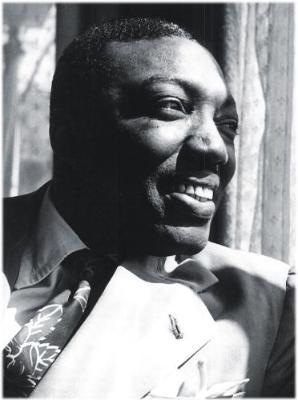 Joe Turner returned to the USA in 1939. He served in the US Army 1944-45 as a musician in the all-star band directed by Sy Oliver at Camp Kilner, New Jersey. Later, he returned to Europe: Hungary in 1948 and Switzerland from 1949-62.

Settling in Paris 1962, he held forth on piano at La Calavados nightclub on the Champs-Elysee for nearly three decades. Turner was the last surviving of the major first generation Harlem stride soloists.

"The Ladder" Joe Turner, Paris 1939

Special thanks to Mark Borowsky and Sig Mohr.

Joe Turner,
A Personal Reminiscence.pdf

By Mark Borowsky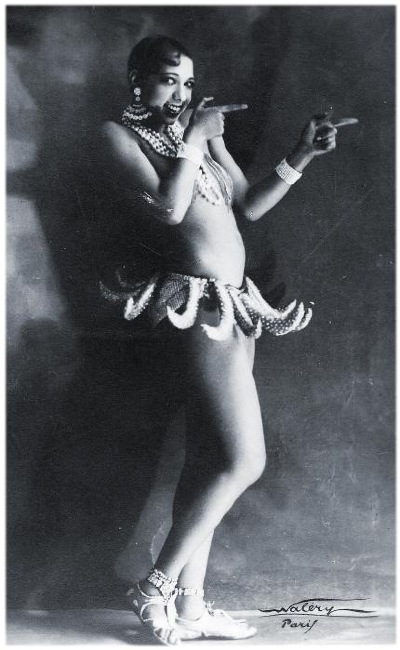 SIDEBAR:
La Baker
Josephine Baker
Missouri 1906 - 1975 Paris, France

No discussion of black Americans in Paris would be complete without mention of Josephine Baker who was ubiquitous in Paris from the mid-20s on, becoming a French citizen in 1937.

The Divas of Montmartre: Valaida Snow & Josephine Baker.mp3 (5:45)

Her performance in the 1925 Revue Negre astounded jaded Parisians. Appearing in the Folies-Bergere semi nude, in skimpy outfits or miming sex, Baker instantly became the rave of Paris, Brussels and Berlin. No less than Bricktop introduced her to Paris society. But she soon distanced herself from Harlem-in-Paris, took a "Count" for a lover and launched Chez Josephine, a chic late night club of her own in Montmartre. Operated in the intimate Bricktop cabaret style, it charged the highest prices in Paris to an exclusive coterie.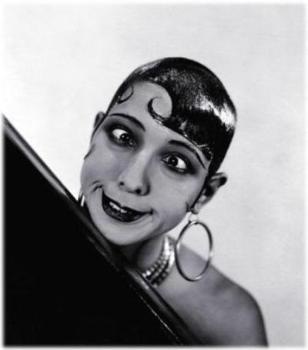 "La Baker" became a popular sensation: a cult almost without equal in France. Women imitated her hairstyle, some darkened their skin using walnut oil. "Bakair" dolls, perfumes and pomades were fashionable. Excitement over Josephine launched "Le Tumulte Noir:" the Parisian mania for black American entertainment and interest in all things African American. Her vast success had little to do with her singing, which was neither jazz nor blues but a mélange of cabaret, music hall theatrical and popular song.

During the next half century her remarkable achievements included being the first African-American female to star in a major motion picture (Zouzou, 1934), assisting the French Resistance for which she was decorated, and becoming a fierce civil rights pioneer and international figure of stature.

No American was more beloved by the French nation than Josephine Baker.

LINKS:
The Lavish and elegant offical Josephine Baker website
Josephine Baker at Wikipedia
Josephine Baker's Banana Dance, Folies Bergere, 1927
Josephine Baker at Red Hot Jazz.com
Keeping the Baker tradition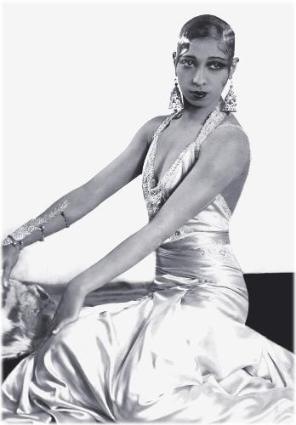 Josephine Baker had a gift for projecting her appealing persona through glittering spectacles mounted in the most fashionable theaters of Paris. One Paris observer's memoir describes her dazzling 1930 extravaganza:
" . . . excellent imported British dancing choruses of both sexes, a complete Russian ballet, trained pigeons, a live cheetah, roller-skaters, the prettiest Venetian set of the century, a marvelous first-act finale, acres of fine costumes, the four best cancan dancers in captivity . . . and an aerial ballet of heavy Italian ladies caroming about on wires. The show even contains long glimpses of the beautiful Baker . . . .
She has, alas, almost become a little lady. Her caramel-colored body, which overnight became a legend in Europe, is still magnificent, but it has become thinned, trained, almost civilized. There is a rumor that she wants to sing refined ballads . . . . On that lovely animal visage lies now a sad look, not of captivity, but of dawning intelligence."

Paris Was Yesterday, 1925-1939,
Janet Flannery, Viking Press, 1972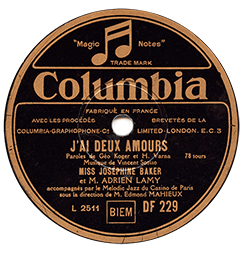 "Jai Deux Amours".mp3
(I Have Two Loves)

Josephine's declaration of love for Paris, and possibly her biggest hit.
(excerpts)

I have two loves
My country and Paris.
By them always
Is my heart ravished.
My savannah is beautiful,
But why deny that
what puts a spell on me is Paris,
Paris in its entirety.

Seeing it one day
Is my pretty dream.
I have two loves,
My country and Paris.
. . . .

When at the distant shore
I sometimes see a ship depart
To him I extend my arms
And heart beating with excitement,
Whisper softly, I say, "Take me!"

More of Josephine:
RAM-PAM-PAM -- Josephine Baker, 1932.mp3
I'M LEAVING FOR ALABAMY -- Josephine Baker.mp3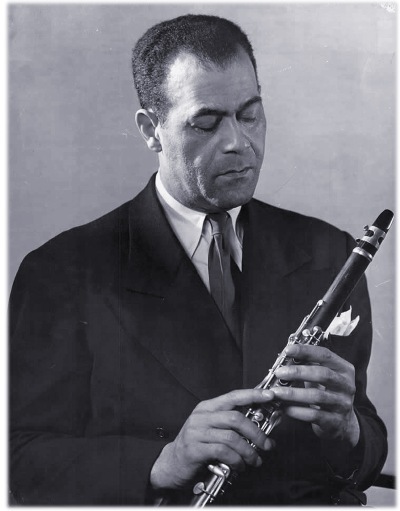 A deeper musician than one might at first think, c. 1949.




Photo:
JazzIndex)


SIDEBAR:
Was Frank Goudie a boxer?

Like many who knew him, Bob Mielke said that Goudie was a remarkable physical specimen: massive and solid, strong and fit. He told me Frank instructed him in some of the physical training learned in his career as a professional boxer.

Bob Mielke says Goudie was a prizefighter.mp3
It has not yet been possible to corroborate Goudie's boxing career, but I've got a theory: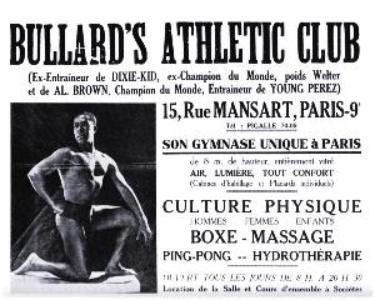 Gymnasiums were an established tradition in the African-American community of Montmartre in the 20s and 30s. Professional boxer Eugene Bullard was one of the first notable African-Americans living in Paris before WW I, and was at the center of black American jazz and ex-pat communities.
(His story is remarkable including the fact that, through an odd arrangement with France, he was a black American air ace flying in WW I known as the "Black Swallow of Death.")

Bullard was original manager of the Le Grand Duc, played drums (sort of) and booked the music at Zelli's when Goudie worked there, 1927-30. As the Depression hit hardest in the early 30s Bullard had to sell his clubs. But he retained ownership of an American-style bar and Bullards Athletic Club.

The club catered to VIPs including Satchmo, the Chinese ambassador to France and Fats Waller (really?), offering massage, whirlpool bathing and boxing lessons. Gyms were an antidote, says Bullard biographer Craig Lloyd, to "balance their champagne-soaked bacchanalia with exercise."

Bullard ALSO promoted fights and trained professionals: the 1934 bantam-weight world champion, "Panama" Al Brown and his challenger. Brown became yet another black American Parisian celebrity, "as much at ease with admirers like Jean Cocteau as with the half-boxer, half-musician world of Montmartre."
Eugene Bullard, Black Ex-patriot in Jazz-Age Paris
Craig Lloyd, Univ. of Georgia Press, 2000

I'm speculating that IF Goudie ever boxed professionally it may well have been in similar circumstances. So the question remains: Was Frank "Big Boy" Goudie ever a prizefighter?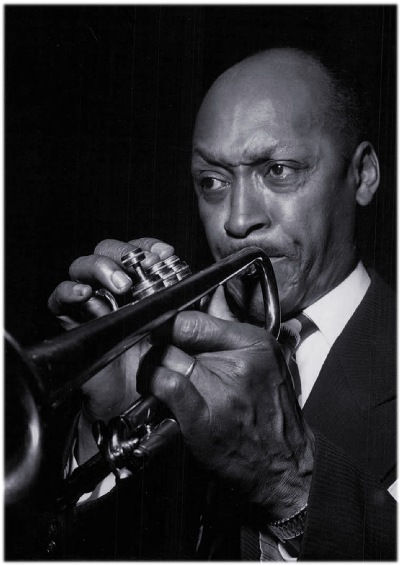 Bill Coleman
Paris, Kentucky, 1904 - Toulose, France, 1981


A fine jazz trumpet player Bill Coleman made notable recordings in the 1930s and 40s with Fats Waller, Benny Carter, Teddy Wilson, Mary Lou Williams, Billie Holiday, Coleman Hawkins and Django Reinhardt.

In Europe, Goudie and Coleman had several significant associations. They recorded together in the '30s and Goudie played in Bill Coleman's bands in 1949-51.

Coleman first came to Europe with Lucky Millinder in 1933. He had a stellar and celebrated career mostly in Paris, living in France permanently after 1948.



SWING GUITARS -- Bill Coleman and his Orchestra, 1937.mp3
BABY WON'T YOU PLEASE COME HOME -- Bill Coleman and Orchestra, 1937.mp3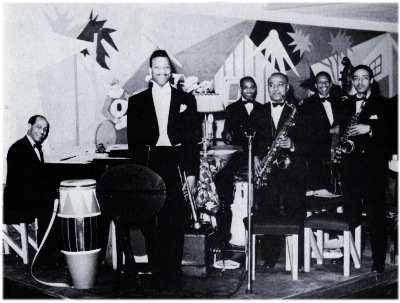 Jack (Jacques) Butler
b. 1909

Though he studied dentistry where he grew up in Washington D.C., Butler became a jazz trumpeter. After work with Cliff Jackson and Willie Bryant he went to Europe about 1935 where he played mostly in the band of Willie Lewis 1936-39. Butler was in Norway on a Scandinavian tour when WW II started in mid-1939; it took him nearly a year to get home to the USA.

The Jack Butler Band in the late 1930s.
(Photo: Noel Chaboust)

In the 40s he worked with Mezz Mezzrow, Art Hodes and others but returned to France in 1950. He led his own band on tours, played a famed Paris residency at La Cigale 1953-68, and appeared the 1961 film, Paris Blues.

Butler sounds terrific on Goudie's 1939 Swing session and the Willie Lewis records. Information about him is hard to come by; for instance he lived past the late 1980s, but I can't even find a date of death.

Frank Big Boy Goudie and his Orchestra, 5.28.39
Jack Butler, tpt; Andre Ekyan, clarinet & alto; Goudie, tenor sax; Joe Turner, piano; Norman Langlois, gtr; Wilson Meyers, bass; Tommy Benford, drums
(Special thanks to Rune Sjögren)

"You and I Babe".mp3, 1939
"Who's Sorry Now".mp3, 1939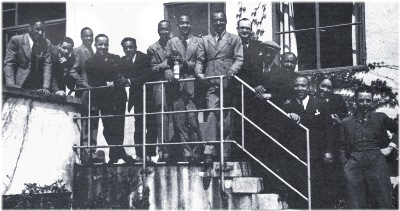 Bobby Martin
All Stars, 1938

Hilversum, Holland





L to R: Glyn Paque, Billy Burns, Jack Butler, Ernest Purce, Ram Ramirez, Bill Coleman, Johnny Russell, Bass Hill, [unknown non-musicians], Kaiser Marshall, Bobby Martin, Thelma Minor-Martin, [unknown non-musicians]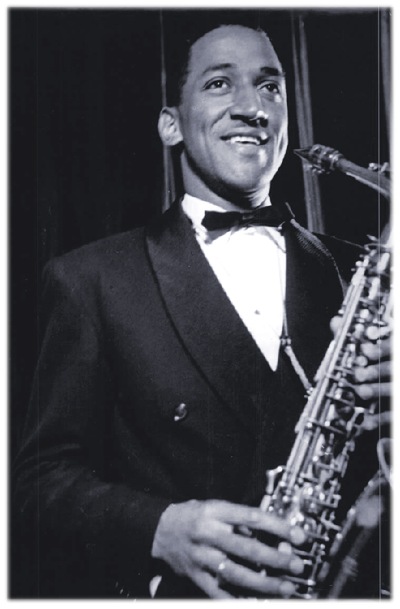 Glyn Paque
Missouri, Aug. 29, 1907 - Basel, Switzerland, Aug. 29, 1953

Paque was a Missouri-born alto and clarinet player who had also been in the famed Missourians orchestra. He gigged and toured with Joe 'King' Oliver around 1930. Also with Dave Nelson, Benny Carter, Jelly Roll Morton, Luis Russell and Willie Bryant.

In Europe, Paque was with the Bobby Martin band in Amsterdam 1937-39. He moved to Switzerland in 1940 and stayed there during World War Two running a band called the Cotton Club Serenaders. After the war he had sextets in Zurich, Geneva, Basel and Bern. Goudie joined him in Switzerland during 1948-49.


Paque in Bern
October, 1940

(Photo:
Hans Matter Bern,
JazzIndex)

"Smokehouse Blues".mp3 Eddie Bruner & his Band (sextet feat. Glyn Paque, alto sax), Zurich 1940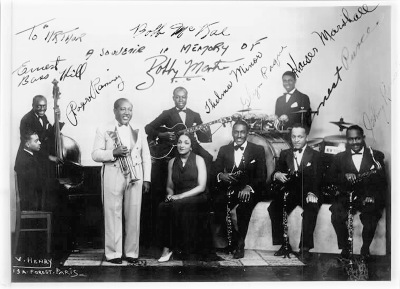 Glyn Paque with Bobby Martin in
Copenhagen, 1937-38

L to R: Ernest 'Bass' Hill, Roger 'Ram' Ramirez, Bobby Martin, Bobby McRae, Thelma Minor, Glyn Paque, Kaiser Marshall, Ernest Purce, Johnny Russell



SIDEBAR:
Early Jazz in Paris

Some of the best interviews and writing on very early French jazz can be found in Chris Goddard's Jazz Away from Home (Paddington, 1979). He points out that, while Paris was quick to accept African-American jazz after the First World War, Parisian understanding of jazz developed slowly.

To the French in the Twenties, Jazz was almost any music played by African-American musicians as long as there was a drum kit and some horns, no matter how badly played. Most of the jazz in Paris prior to around 1927 was a melange of ragtime, brass band music and corny effects on horns, driven by an excitable drummer making as much noise as possible.

Alain Romans, a very good French musician who later performed with Goudie and other Americans, described early jazz performance in Paris: "The drummer used to be in front and he had all these different things for making noises -- cow bells and so forth -- he used to throw his sticks about and sometimes even stick his tongue out . . . . the drummer was the big attraction and the musicians used to be behind him on the stand. Little by little they learned they had to make some music as well." (p. 278 )

Parisian cabaret and nightclub operators hired black American dancers who were not musicians, and drummers without any training, to run "jazz orchestras." French musicians with the exception of very few rare individuals were generally unable to improvise or swing until the mid-1930s, when they coalesced around Django Reinhardt and the federation of Hot Clubs in France.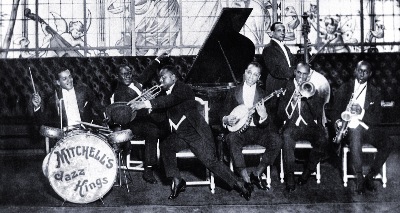 Mitchell's Jazz Kings
Casino de Paris, 1919

L to R: Louis Mitchell, Dan Parrish, Crickett Smith, Vance Lowry, Walter Kildare, Frank Withers James Shaw

(Photo: Frank Driggs Collection, Jazz in Paris III, Champs-Elysees)


The first music even close to a real jazz band in Paris was Louis Mitchell's Jazz Kings, c. 1920 (above). Mitchell was a close friend of early bandleader James Reese Europe and a decent drummer. He first performed in London at the early date of 1914, France in 1917. He returned a couple years later with six other black musicians hired in the US, most notably trumpet player Cricket Smith.

Smith was ubiquitous in Paris during the 20s. Competent with his horn, he worked alongside Goudie and Glover Compton at Zellis c. 1927-30. Smith traveled the world playing jazz but did not record in his prime.

"Sing 'em Blues," Mitchell's Jazz Kings, Paris, 1923
"C'est Paris!," Mitchell's Jazz Kings, Paris, 1923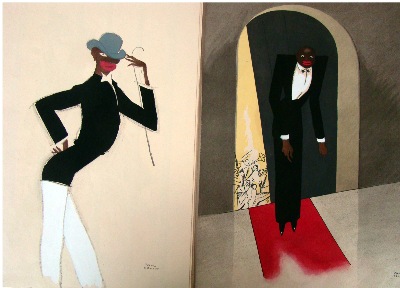 The work of Deco artist, Paul Colin seen here, captured the Parisian view of African-Americans in the 1920s.


The syncopated 2-beat and 4-beat rhythm of Mitchell's antic drumming was the main attraction at Casino de Paris. It set the pattern for most Parisian nightclubs and cabarets: the jazz ensemble played twenty to thirty minute sets, alternating with another band playing waltzes, tangos or tame dance music.

The venue was a huge financial success for Mitchell earning him 7,000 francs per week -- or about 10 times the salary of a cabinet member. But Mitchell's was a pretty crude outfit, similar to Original Dixieland Jazz Band, though less strident and nowhere near as good. Based on the 50-odd sides recorded in 1922-23, the band lacked swing: "A rough blend of brass band music and ragtime . . . mostly written out parts and little improvisation . . . . closer to the cakewalk style of Jim Europe's 'Memphis Blues'." (p. 58)
-- Chris Goddard, Jazz Away from Home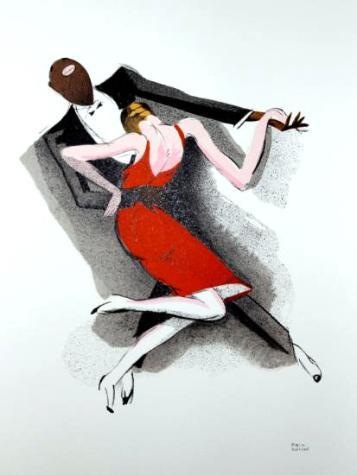 The sleek Deco art of Paul Colin in his folio, "Le Tumulte Noir," perfectly expressed the 20s Parisian idea of African-Americans.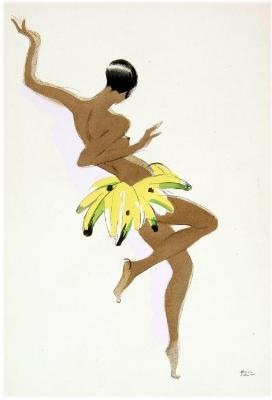 Jazz didn't truly arrive in France until after Josephine Baker's wild success of 1925-26. The "tumult noir," and demand for black American entertainers that followed in her wake drew musicians like Bechet, Goudie, Arthur Briggs, Alberta Hunter and Glover Compton. Many others initially arrived on tour with bandleaders Benny Peyton, Noble Sissle or Sam Wooding and decided to stay.




Further exploration:

Divas, Jazz and Paris 1924-39 Pt 1

Divas Jazz and Paris 1924-39 Pt 2

For sources and links see Goudie main page.

Goudie in Paris 1924-39

Goudie in South America 1929-46, Europe 1946-56

Goudie in San Francisco 1956-64



Tip Jar

This site is free. But you can help sustain it, and encourage me with donation to the tip jar. Secure payment through PayPal is anonymous, except that I will see your e-mail address.

Donation $5.00
Donation $10.00
Donation $20.00
Donation $35.00
Donation $50.00
Donation: You decide