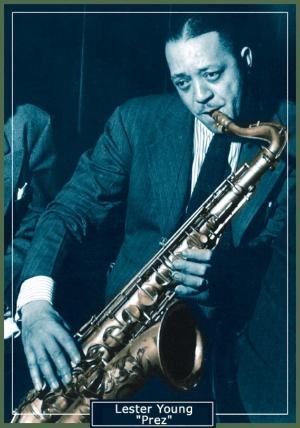 Lester Young:
"PREZ"


"Prez" became a jazz icon, his sax jutting oddly to one side
as he reshaped the art of tenor saxophone in the late 1930s and 1940s.















JAZZ RHYTHM Tribute to Lester Young:

LESTER YOUNG Pt. 1.mp3
Shoe Shine Boy -- Smith-Jones Inc., 1936
Lady Be Good -- Jones-Smith Inc., 1936
Clap Hands Here Comes Charlie -- Count Basie Orch,1939
Ham 'n Eggs -- Count Basie Orchestra,1939
I Got Rhythm -- Kansas Six, 1944
Three Little Words -- Kansas City Six, 1944
The Man I Love -- Billie Holiday and her Orch, 1939
All of Me -- Billie Holiday and her Orch, 1941
Way Down Yonder in New Orleans -- Kansas City Six, 1938
You Can Depend On Me -- Count Basie Orch., vocal Jimmy Rushing, 1939

LESTER YOUNG Pt. 2.mp3
Lester Leaps In -- Count Basie's Kansas City Seven, 1939
Lester Leaps Again -- Kansas City Five, 1944
Blue Lester -- Lester Young Quintet, 1944
All of Me -- Lester Young, 1956
After Theater Jump -- Kansas City Seven, 1944




The Cult of Lester
Many consider Lester Young the greatest tenor saxophone player of all time. He was undoubtedly a masterful innovator from the mid 1930's to the mid 1940s changing the way saxophone was played and changing the art of Jazz itself. As a saxist -- and as major contributor to the Count Basie band -- Lester Young brought a strong personal voice; a cool modernism; and a new rhythmic flexibility to jazz in the freely dancing rhythms of 4-beat swing.

His very first recordings: "Shoe Shine Boy" and "Lady Be Good" announced to the world in 1936 that a revolutionary musical force had arrived in jazz. The first recordings of Lester Young contain all the important traits of his style:

1st -- His unique saxophone sound was light in tone and very UN-saxophone-like. At times his tenor sounds more like a brass horn than a reed instrument. I describe his sax tone as "hollowed out." In contrast to the predominant sax style of his day Lester plays largely without the pronounced vibrato or rich, resonant overtones heard in other saxoophone players of his day like Coleman Hawkins, Johnny Hodges or Ben Webster.

2nd -- Lester Young's phrasing is smooth, singing and very economical: using a minimum of notes and is constantly surprising. The notes that he chooses NOT to play are as important as the notes he DOES play.

3rd -- His rhythm: Lester, and the Basie Band, brought the all-out Swing of 4-beat rhythm to jazz.

4th -- His conception of melody improvisation was totally fresh. Rejecting jazz orthodoxy he focused his energy on the melody line, again turning away from Coleman Hawkins prevalent approach to sax based on explorations of harmony, and on technical bravura. By contrast, "Prez" placed his emphasis on an intricate but very spare treatment of melody: abbreviating, editing, smoothing out and streamlining melodic lines with a cool modernism, way ahead of its time.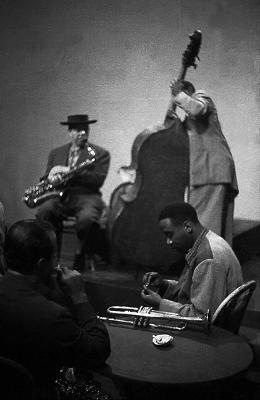 New 6.2015

ARCHIVE PHOTOS

These excellent photos of Lester are newly available to JAZZ RHYTHM. Click on the image for full size.

Shot by Paul Nodler at an improvisation session in New York City, 1950. This was a session run by Norman Granz at studio on 23rd St.

Personnel (these photos):

Lester Young (tenor sax)
Harry Edison (trumpet)
Flip Philips (tenor sax)
Bill Harris (trombone)
Hank Jones (piano)
Ray Brown (bass)
Buddy Rich (drums)

LIFE Magazine photographer, Gjon Mili is visible in shots #5 and #7

Excerpts on youtube:
https://www.youtube.com/watch?v=9vDW0ANRim8&list=RD9vDW0ANRim8#t=50

DVD on Amazon:
http://www.amazon.com/Norman-Granz-Montreux-Jazz-Improvisation/dp/B000ADKY4Y/ref=sr_1_1?s=movies-tv&ie=UTF8&qid=1434160310&sr=1-1&keywords=improvisation+Lester+Young

Thanks Norman



LESTER LEAPS IN (mp3)
TAKE IT PREZ (mp3)



Recording with Basie and the Kansas City Five, Six and Seven
Lester made his greatest impact on jazz and swing as a crucial component in the Count Basie Orchestra between 1936-41. The smooth, modern rhythm of the Basie band pointed the way for Swing music, introducing a radical 4-beats to the bar rhythm that made for a looser sound and greater freedom for soloing. Like Lester, the Basie rhythm section simplified what had gone before: Basie himself played a very minimal abstract piano line of very few notes; drummer Jo Jones pedaled his bass drum very lightly, and shifted from snare drum to cymbals to carry the beat. With the Basie orchestra, as with Lester, LESS was often MORE as heard in his 1939 recordings with the Basie band like "Clap Hands Here Comes Charlie" and "Ham 'n Eggs."

The small-band recordings of the Kansas City Six were somewhat akin to the Ellington small bands: the best qualities and finest players of the outfit placed in an intimate and purely jazz setting. It was the genius of Commodore Records founder Milt Gabler to realize that small band sessions around Prez and the Basie rhythm section would distill the essence of the Basie band swing into an even more potent blend.

Those recordings bring us up-close and personal with Lester's trade craft: the unusual rhythm patterns, the unexpected harmonic leaps and melodic abbreviations. And one of his most daring tricks was his discovery of so-called "false fingerings": discovering that some notes could be produced using more than one set of finger positions, resulting in different densities of sound. He would repeat a single pitch making it sound like several different notes

These Kansas City Six records also have great performances by trumpeter Bill Coleman, trombonist Dicky Wells, and drummer Jo Jones in "Three Little Words"; and "Jo-Jo." "Way Down Yonder in New Orleans", where Lester plays both tenor sax and a bit of clarinet (as he did from time to time) reminds us that Young was in fact born and raised very near New Orleans -- though by his early teens he was touring the mid-west and southwest with various groups, including a family band led by his father. "I Got Rhythm" is a perfect demonstration of Lester drawing from this bag of tricks to make great music from very little, pulling brilliant sounds out of the air with ease.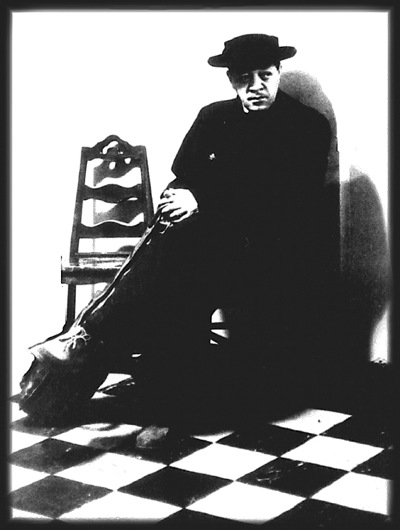 Billie and Prez
The special contribution to jazz of tenor saxophone jazz giant, Lester Willis Young, is signified in the name Billie Holiday gave him: "Prez" to suggest his 'prezidental' supremacy (as she saw it) among tenor saxists.

The musical love affair between Lester Young and Billie Holiday is legendary, yet it was only musical (though Billie did have a romance with trumpeter Buck Clayton of the Basie band). But the extraordinary musical rapport between Prez and Lady Day has been much written about -- their music making together on Billie's records like "The Man I Love" (1939) and "All of Me" (1941) have been described as: "thinking each others thoughts," and "a single voice split in two."

Jazz Icon
Lots of people seem to have a strong affection for Lester Young: he clearly has a cult following and has reached the remarkable mythic status of Jazz icon. Oddly, though Prez was one of the most influential musicians in jazz, his influences are very hard to trace -- and in fact seemed to fade out quickly as bop and the music of Charlie Parker emerged. Still he's often cited as an inspiration by boppers and even Parker himself, who said that he dug Prez, but that there were large differences between what they did.

For another example, I know a very good swing tenor player who says Lester is his main influence, yet he sounds nothing like Lester: his tone and vibrato are much more reminiscent of Coleman Hawkins. Lester has been often imitated, never equaled.

One jazz writer -- Benny Green in his book, The Reluctant Art (Da Capo Press 1962/1991) -- makes a convincing argument that Young's innovations and influences were confined to the late '30s and early '40s fading rapidly, along with his powers. Yet green does agree that Lester was special, his impact vast and electrifying, his ideas brilliant and revolutionary; even going so far as to suggest that Lester "permeated the entire jazz cosmology."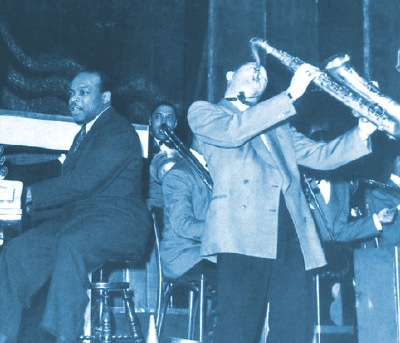 Prezology
Another part of the fascination with Lester Young lies in his odd personal habits, contradictions, and bizarre language. Of course, there's the way he stuck out his sax at a strange 45-degree angle unlike any other saxist before or since. Oddly, though he was extremely wary of white racism his two big influences were white saxophonists Frankie Trumbauer and Jimmy Dorsey!

Lester's speech was always obtuse:
* he called everybody "Lady" this and "Lady" that; its how Billie Holiday came to be called "Lady Day."

* taking his sax to a repair shop he complained of trouble with the keys by saying "my people won't play"

* if something was a drag to Lester, it was "von Hangman"

* he referred to a female as a "hat", "homburg" or "mexican hat", an attractive young female was "poundcake."

* if he sensed bigotry he'd say "I feel a draft."

* "can madame burn?" was asking if your wife could cook and so on.

Prez was by most accounts rather shy and sensitive: a loner, quiet and polite. If offended he would take out a small whisk broom he carried in a coat pocket and dust off his left shoulder. In the 1950s Young toured with Jazz at the Philharmonic, recorded for Verve, and gradually sank into depression and alcoholism. But from time to time he still sounded great!

Lester Young will remain a towering figure for as long as people listen to saxophone. Yet to me he stands as a lonely and possibly even tragic Giant of Jazz. He was a solitary spirit who shone brightly, all too briefly, creating a whole new world of music in a few fleeting wisps of sound. He was one of those special few musicians who find that most elusive of prizes: ORIGINALITY. Lester Young had a distinctly fresh, unique voice. Speaking his truth -- he expanded the language of music and left an indelible personal signature on jazz.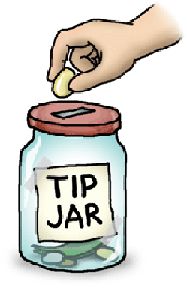 Tip Jar
This site is free.

But you can help sustain it, and encourage me with donation to the tip jar. Secure payment through PayPal is anonymous, except that I will see your e-mail address.

Donation $5.00
Donation $10.00
Donation $20.00
Donation $35.00
Donation $50.00
Donation $100.00