JAZZ RHYTHM:
Jumping Swing, Classic Blues
and Hot Jazz: Old and New


JAZZ RHYTHM explores the lore, culture and personalities of early jazz bringing you the colorful characters, inside stories, that define the origin, growth and worldwide spread of jazz music: America's most original contribution to world culture.


After three decades, I've renewed and expanded my mission:
offering content advancing our understanding and enjoyment of early Jazz, Swing and Blues. The pages and programs contain a great deal of rare archival music, interviews, primary sources, and articles from collaborators worldwide.



JAZZ RHYTHM aims to significantly enrich our understanding of early jazz before 1960. Newly available programs and pages are thoroughly researched, offering rich online resources for exploration and interaction.

The broadcast programs are underpinned and expanded by these pages, onnline archives and unique online resources for further exploration.



New 10.14


Dick Oxtot was at the center of San Francisco Bay Area revival jazz: from his junior apprenticeship with Yerba Buena Jazz Band to the Swingin' A's baseball band, or leading his Golden Age Jazz Band for three decades.
Thanks to Darylene Oxtot, rare photos, music and clippings from Dick's personal archives offer fresh views of his life in jazz.



The Bagatelle

Newly available historic recordings from this San Francisco jazz joint feature Oxtot's hot little bands of 1958-59 with Ted Butterman (cornet), Bunky Coleman and Frank Goudie (clarinets) and Bill Bardin (trombone) among others.

Also featured are the 1958 Clem Raymond sessions recorded in part at The Bagatelle.





P.T. Stanton
Exciting new audiotapes, stories and images of this unique and peculiar jazz horn player continue to emerge. This page continues to develop in parallel with a forthcoming article on the legendary cornet player.



JAZZ RHYTHM EXCLUSIVE:

The Janis Joplin Jazz tapes.
Joplin was taped in 1963 & 1965 with Dick Oxtot jazz bands in the San Francisco area.
A raw young talent, she had an unmistakable feeling for the blues.
Fresh transfers of archival tapes restore missing jazz horn solos.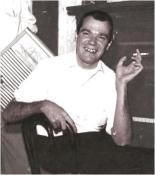 Bill Erickson's One Man Band discs newly posted
(Among the more successful of their kind, they're tight and polished with some delightful Bixian trumpet solos and overdubbed horn-section passages. This is excellent arranging that is both a tongue-in-cheek send-up, and affectionate tribute to the popular music of an earlier generation. Formidable musicianship.)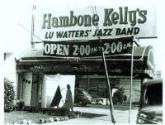 New and exclusive!

Yerba Buena Jazz Band (A reassessment of the West Coast Traditional Jazz rebellion of the Forties is accompanied by fresh transfers of unissued live performance discs.)

YBJB - Phil Elwood (His legendary broadcasts of 1957/66 celebrating Yerba Buena.)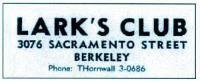 NEW AND RECENT:

The Larks Club (Live music and photos from Bob Mielke's Bearcats, c. 1955)

Berkeley Jazz House (Music preserved from the legendary parties and jam sessions from more than a half century ago.)

Writing and Essays (My carefully crafted essays and recollections. Not jazz-related.)

Earl Scheelar (Outstanding classic jazz cornet and clarinet player; exclusive audio content)

Pier 23 tapes - Exciting new transcription of a live KOFY broadcast from Pier 23 (c. 1959). Featuring Erickson (trumpet), Frank Goudie (clarinet), Bob Mielke (trombone), and vocals by pianist Burt Bales and banjo player, Dick Oxtot. Extremely rare!

Interactive article about Erickson.pdf recently published by SF Trad Jazz Foundation

Burp Hollow tapes (One of the best jazz revival clarinet players on the West Coast.)

Bill Napier (One of the best jazz revival clarinet players on the West Coast.)

Byron Berry (rare tapes and photos; new March, 2014)

Monkey Inn tapes (newly available tapes continue to emerge from the personal collection of Bob Mielke)

Turk Murphy (New and under construction)

The Radlauer books
(Not Jazz-related: a convenient place for me to offer to enthusiasts of the books about motorsports written by my late parents, Ed and Ruth Radlauer scans of some of their books.)

Bill Dart (remembrance of the drummer for Yerba Buena Jazz Band)

Andre Ekyan (French alto sax jazz pioneer, Django associate)

Bunk Johnson (re-discovery of this early New Orleans trumpet player launched the New Orleans revival)

Pier 23 tapes (rare performances of Ray Ronnei, Frank Goudie, Jim Leigh and Bill Erickson)

Vince Cattolica (one of San Francisco's best, and best-loved clarinet players)

Washboard Rhythm Kings (skiffle, jazz and hokum sessions from the 1930s)


Expanded, revised or upgraded pages on this site:

Frank Big Boy Goudie (pages updated and overhauled with new items):
Frank Goudie's Paris (reassessing his ubiquity in Paris between the wars)
Goudie's San Francisco (Janis Joplin jazz tape added)

Bill Erickson (ongoing additional archival music and photos)

Casa Loma Orchestra (Pioneering swing orchestra)

Duke Ellington and his Famous Orchestra live (Live performances 1938-63)

West Coast Traditional Jazz (recently added BBC documentary)


JAZZ RHYTHM / Dave Radlauer
email: Dradjazz@Gmail.com
Phone: 510.848.8323
Berkeley, CA 94705 USA